October 14, 2019

Week of October 13, 2019
Happy Thanksgiving! We have so much to be thankful for at HDSMS!
On this Thanksgiving Monday,  we get one day to take a moment and "give thanks" for the people and places in our lives that bring us happiness and that help shape who we are.  I hope that you are able to find a moment to stop and appreciate the good in your life, no matter how small and insignificant it may seem to be at times…  it is in this moment of gratitude that we turn our focus to the positive, and it is in the positive that we find hope!
PICTURES FROM THE WEEK
The Annual Fall Festival is coming up October 24th, 2019 from 5:30-8:30pm – Come out and join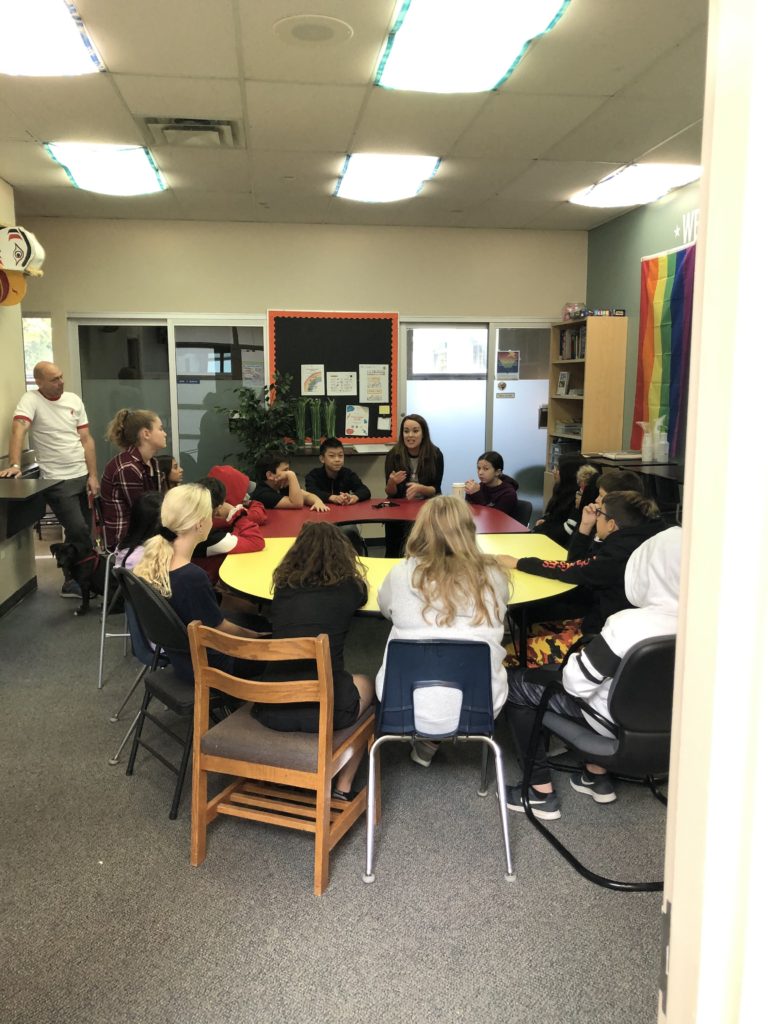 Ms. Vaughn talking with her FLOCK about how our actions can change the trajectory of someone's day.
The "Math-letes" in Mr. Van Meer's class attacking the concept of Cube Roots!
Scaredy Pumpkin Display from Ms. Favero's Room
All of our Terry Fox Run grade champions having a complimentary Victory lunch in the Principal's office with Mr. Hantke! (the irony is real!)
NEW INFORMATION TO SHARE
STAFFING:
We are happy to announce the following updates to HDSMS:
Nick Bruce – Has accepted Mr. Plocktis's leave of absence. – Nick will be joining BLUE 6 until Scott's return.
David Hilder – Has accepted Ms. C-K's leave of absence – David will be joining the Resource team and taking on Ms. C-K's caseload for now.
CLOTHES2U EVENT:
We will be giving away clothes, toys, linens, books, footwear, diapers, personal and smaller household items FREE to those in need, male/female, baby to adult. This takes place at Nicomekl Elementary School, 53 Ave. at 200 St. Langley on Saturday Oct. 26 . Admission is $2 at the door, kids 11 and under admitted free. Event hours are 10 AM to 12:30 PM. More information is available atwww.clothes2u.ca. Volunteers will get first pick.
PAC UPDATES
If you are interested in the PAC minutes – Here are the latest PAC minutes
NSTEP AFTER-SCHOOL
We are happy to offer a new after school program called NStep. NStep is a nutritional snack making program for students after-school. NStep will run once a week for 6 weeks in the Home Ec room. We are looking for interested students to sign up for the course. Have students see Mr.Hendy to sign up. The course will cost $10 for the 6 weeks.
INFORMATION FROM LAST WEEK:
NEW BELL SCHEDULE WITH FLOCK
Here is the link to the new HDSMS Bell Schedule with FLOCK included.
PAC MEETING:
This week was our first PAC meeting of the year and during this meeting the PAC election was held.  Here are the minutes from the first meeting.
MIXED MARTIAL ARTS CLUB – We have a group coming in to coach MMA for the entire year. They will start next week from 3:00 – 4:30pm in the multi-purpose room. The days have not been sorted out yet, that information will come soon. If you have students asking please have them sign up with Mr.Hendy.
KWANTLEN NURSES:
Our first round of practicum nurses will be in the building this week. Besides hygiene they are open to coming into classrooms for any health or body related topics. This could include but is not limited to nutrition, sleep, and self-care.  This is a great resource for our students – thank you KPU!

THIS WEEK AT HDSMS REGULARS
Intramurals: These will be starting very soon – stay tuned!
PAC Update: Our first PAC meeting was on Sept 25th beginning at 6:30 pm – Here are the minutes from the meeting
What's Up At LSS: Langley Secondary regularly puts out a blog celebrating the awesome things going on there. Click here to access the Saints Scoop.
District Community Bulletin Board: The District regularly updates parents and families on communities opportunities in and around Langley. Please click here to regularly check in with what opportunities are available.
Coming Up This Week
MONDAY
–        Orange Shirt Day Assembly 9 -10 am
–        Dance Club at Lunchtime – in Dance Studio with Ms. Lyth
–        Games Club – 3:00 -4:00 pm in the Community Room
TUESDAY
–        Open Gym 7:30 -8:30 am
–        Photography Club  – 3:00 – 4:00 pm with Mr. Mitchell in the Woodshop
–        Indoor Soccer 3:00 – 4:00 pm Small Gym
–        Art Club 3:00 – 5:00 pm in the Community Room
WEDNESDAY            
–        SOGI Club at Lunchtime with Ms. Cowling
–        Dance Club at Lunchtime – in Dance Studio with Ms. Lyth
THURSDAY
–        Team Leader Meeting (7:30 am)
–        Open Gym 7:30 -8:30 am
FRIDAY
–
ON THE HORIZON…
October 17th – Staff Meeting (3:00 – 4:30)
October 21st  –  Middle Networking Meeting hosted by HD Stafford
October 24th – Fall Festival (Gyms occupied all day)  5:30-8:30 pm
October 25th – Pro-D Day (School not in Session)
QUOTE OF THE WEEK
Thankfulness is the beginning of gratitude.
Gratitude is the completion of thankfulness.
Thankfulness may consist merely of words.
Gratitude is shown in acts.