November 11, 2019

Week of November 10, 2019
As the country takes time this weekend to remember those who have been affected by war, HDSMS also took some time this past Thursday to remember and reflect during our Remembrance Day Assembly with a beautiful student-led tribute to our heroes.  Thank you again to all the incredible Skyhawk leaders and staff that came together to create a meaningful and powerful message of peace. I want to wish all our Skyhawk families a thoughtful and reflective weekend with your loved ones.
PICTURES FROM THE WEEK


An incredible Student led tribute to our fallen heroes during our Remembrance Day Assembly.
Red 6 visiting the Langley Lodge – building connections with our community.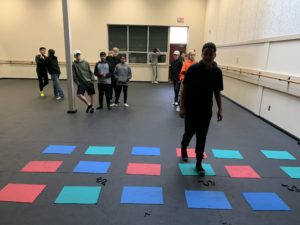 Ms. V's FLOCK group having "Three Tea Time" – Fostering deep connections with our classes.
Authentic science learning through experimentation and observation with Ms. Ashcroft's class!

LSS Fine Arts Department came and visited this week involving our kids in Music, Drama, Dance, and Visual Art.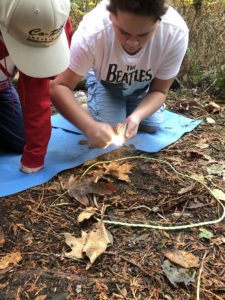 Another magical week in the OACES program!

Our Grade 8 Girls and Boys Volleyball wrapped up their seasons this week! Love the Skyhawks Swag ladies!
NEW INFORMATION TO SHARE
WORLD DIABETES DAY FUNDRAISER: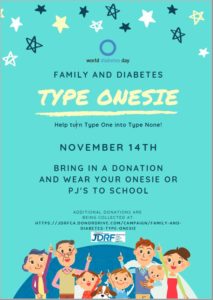 One of our Skyhawks, Sydney Swain in Blue 6, has approached us and challenged us to participate in the World Diabetes Day fundraiser this week.  She is doing this in honour of her little sister and posted this message on FB this week.
My best friend Lucy and I's families have both been greatly effected by the diagnoses of Type 1 diabetes. Lucy's mom and grandpa were diagnosed in their 20's and my baby sister Emy at age 2, almost lost her life last year to the complications of Type 1 diabetes. There have been many sleepless nights, regular hospital visits and constant monitoring of health and nutrition of our family members. We are starting an annual fundraising and awareness campaign within our school and community to highlight this very serious life threatening auto immune disease that effects over 300,000 Canadians. With all money raised going to the Juvenile Diabetes Research Foundation, we are hoping to find a cure one day.
We are asking students & staff of H.D. Stafford Middle School and James Hill Elementary (Langley) to show their support by bringing in a donation to school on November 14th which is "World Diabetes Day" and wear a onesie (#typeonesie) or PJ's in solidarity.
Our goal is to one day make this an annual fun fundraising & awareness event in all schools and communities across BC until a cure is found.
If you would like to support and donate as a community member, please click here: https://jdrfca.donordrive.com/…/Family-and-Diabetes-Type-On…
Thank you for helping to turn type one into type none!
-Sydney, Lucy, Sienna & Emy
NEW WEBSITES WITHIN HDSMS:
We have so much amazing stuff happening within our school we can't contain it!  Here are two new site for you to check out!
Photography Club Website:  https://www.hdsphotography.org
Music Program Website:  https://hdsmsmusic.weebly.com/
SOCIAL/EMOTIONAL LEARNING
Supporting Kids at Home and School "Where You Are" Listen on Apple Podcasts
Social and Emotional Learning (SEL) is a hot topic in schools and parent communities right now. Gail Markin (parent, school counsellor and District SEL Lead) and Dr. Kimberly Schonert-Reichl (Psychologist, Professor and world-renowned SEL expert) unpack what parents and caregivers can do to support SEL at home, as well as learn about the role of schools in promoting SEL. Brought to you by BC Children's Kelty Mental Health Resource Centre.
SD35 COMMUNITY BULLETIN BOARD
Here are a few items from the Langley School District's Community Bulletin Board. For more community events please visit https://www.sd35.bc.ca/news-events/community-bulletin-board
CLIMATE ACTION STRATEGY: TOWNSHIP OF LANGLEY
The TOL Climate Action Strategy will provide strategic direction, targets and actions for both adapting to future climate change impacts and reducing energy consumption and greenhouse gas emissions, both corporately and throughout the community. Please join us on Tuesday, November 5th from 7pm – 8:30pm at the TOL Civic Facility (20338 65th Avenue) in the Fraser River Presentation Theatre to learn more.
PAC UPDATES
If you are interested in the PAC minutes – Here are the latest PAC minutes
NSTEP AFTER-SCHOOL
We are happy to offer a new after school program called NStep. NStep is a nutritional snack making program for students after-school. NStep will run once a week for 6 weeks in the Home Ec room. We are looking for interested students to sign up for the course. Have students see Mr.Hendy to sign up. The course will cost $10 for the 6 weeks.
INFORMATION FROM LAST WEEK:
NEW BELL SCHEDULE WITH FLOCK
Here is the link to the new HDSMS Bell Schedule with FLOCK included.
MIXED MARTIAL ARTS CLUB – We have a group coming in to coach MMA for the entire year. They will start next week from 3:00 – 4:30pm in the multi-purpose room. The days have not been sorted out yet, that information will come soon. If you have students asking please have them sign up with Mr.Hendy.
Coming Up This Week
MONDAY
–        Remembrance Day
TUESDAY
–        Open Gym 7:30 -8:30 am
–        Girls Basketball Large Gym  3:00 pm
–        Photography Club  – 3:00 – 4:00 pm with Mr. Mitchell in the Woodshop
–        Indoor Soccer 3:00 – 4:00 pm Small Gym
–        MMA Club 3:15- 4:15 in the Dance Studio
–        Art Club 3:00 – 5:00 pm in the Community Room
WEDNESDAY            
–        SOGI Club at Lunchtime with Ms. Cowling
–        Dance Club at Lunchtime – in Dance Studio with Ms. Lyth
THURSDAY
–        Bring a Donation & Wear a Onesie or PJ's for World Diabetes Day
–        Open Gym 7:30 -8:30 am
–        Staff Meeting 3:00 pm
–        Grade 8 Girls Basketball Practice 3 – 4:30
–        NSTEP 3:00-4:00 pm Room 111
FRIDAY
–       Happy Friday!
ON THE HORIZON…
November 18th – Report Card Writing 101
November 19th – Grade 6 Shots in Sewing Room
November 19th – 22nd – Aboriginal Leadership Conference @ Newlands
November 21st – PAC "Snowball" Dance – 6:30 pm
November 22nd – Aboriginal Family Dinner – Large & Small Gym 2:00pm – 10pm
November 23rd  – Winter Market – Saturday 10am – 5pm
November 25th   – Design & Assessment Pro – D – Students not in Session
QUOTE OF THE WEEK
"Trust is the highest form of human motivation.  It brings out the very best in people.  But it takes time and patience."
– Stephen Covey