December 1, 2019

Week of Dec. 1st, 2019
And then it was December?! It's a weird feeling – in many ways the first term of the year has flown by, and yet it also feels like we have had a number of LONG days to get here.  Thank you Skyhawk Nation Parents/Volunteers/ Supporters for all your tremendous work with/for our kids.  With that, I want to encourage you to take care of yourselves during this season.  Find the activities or hobbies that feed your soul because you cannot model taking care of others, unless you model taking care of yourself!
The need at Christmas time can be high in our community, however I think Desmond Tutu said it best,
"Do your little bit of good where you are; it's those little bits of good put together that overwhelm the world."
Thank you Skyhawk Nation Parents/Guardians, for all the "bits of good" you do everyday – Know that you are making an impact in the lives of our students and our community!
PICTURES FROM THE WEEK:
Fun Friday with Mr. Lane in Culinary Arts Expos!  Custom Pancakes in your signature style!
Christmas Door Decorations in with Green & Blue 7 – Tis the Season!
Grade 8 Girls Basketball is underway with Coach Hendy & Briscoe! A great first game against DWP.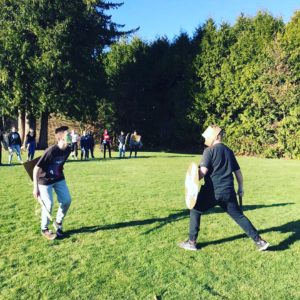 Grade 8 Viking Battles on the back field – only the strongest survive!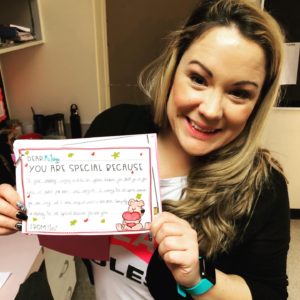 A special Birthday for Ms. Twigg with Oreo Towers and special messages from Red House
Games club with Mr. Horrocks at Lunch.
Christmas Decorations Creation with Mr. Wood, exact specifications only!

NEW INFORMATION TO SHARE:

NEW BELL SCHEDULE WITH MODIFIED FLOCK SCHEDULE:
Please find the updated BELL SCHEDULE with FLOCK moving to Mondays & Thursdays.
A reminder we will be beginning this change TOMORROW MONDAY DEC. 2nd

INTERESTED IN LEARNING TO BE A BASKETBALL REFEREE?
Langley will be hosting a FREE Referee Training Session on Wednesday, November 27th from 4:30-8:00pm at Langley Christian School. Improve your knowledge and skills to referee high school basketball. Email Jamie if interested in attending.
CHRISTMAS NITE IN DECEMBER
Me to WE is starting to put together our Nite in December concert on Wednesday December 18th starting at 6:30 pm. We are hoping to have contributions from all over the school, cross-grade and cross-house.  It should be a wonderful night of performances!
NEW WEBSITES WITHIN HDSMS:
We have so much amazing stuff happening within our school we can't contain it!  Here are two new sites for you to check out!
Photography Club Website:  https://www.hdsphotography.org
Music Program Website:  https://hdsmsmusic.weebly.com/
LANGLEY UNITED WRESTLING CLUB:
Come try out one of the toughest sports in the world!
Open to all Langley District students, Grade 8-12.
Contact Mr. Kooner: gkooner@sd35.bc.ca
Practices are held at Langley Secondary School.
Tuesday and Wednesday at 4:30pm and Thursday at 6:00pm
SD35 COMMUNITY BULLETIN BOARD
Here are a few items from the Langley School District's Community Bulletin Board. For more community events please visit https://www.sd35.bc.ca/news-events/community-bulletin-board
PAC UPDATES
If you are interested in the PAC minutes – Here are the latest PAC minutes
INFORMATION ABOUT SCHOOL STATUS DURING INCLEMENT WEATHER:
Snow closures and power outages are an annual occurrence in Langley School District. So where do you go to get information about the status of schools during periods of inclement weather? If you are able to access the internet via computer or smartphone, current information about Langley schools can be accessed on all school websites or www.sd35.bc.ca. Updates are also posted to Twitter @LangleySchools and Facebook at www.facebook.com/langleyschooldistrict. If you don't have internet connectivity but your phone is working, call a relative or friend in an area that has not been affected by the storm and ask them to check the district website for you. Local radio stations are also informed of school status in Langley. Tune in to CKWX 1130AM, CKNW 980AM, Country Radio 107.1FM, Pulse 107.7 or CBC 690AM or 88.1FM for updates.
Please note that Langley District schools are all considered 'open' until a decision to close is required. Decisions on school closures are usually made by 6:30am. As always, it is a parent's decision whether to send their child to school based on safety and individual circumstances. If you feel it is unsafe for you or your child to travel to or attend an open school for any reason, please keep your child home and report an absence to the school.
COMING UP THIS WEEK:
MONDAY
–      Games Club

–      Archery

–      Gr.8 Boys Basketball Home Opener

TUESDAY
–         Photography Club

–         ArtClub

–         Indoor Soccer

WEDNESDAY
–        SOGI Club at Lunchtime with Ms. Cowling

–        Dance Club at Lunchtime – in Dance Studio with Ms. Lyth

–        Painting Event – Rainbow Tree of Life 3:30-5:30 in Ms. Cowling's Room.

–        Kids Play 3:00 – 4:30

–        TIPping Point Meeting – 2:45 – 3:15 Library Annex

THURSDAY
–        Nstep 3:00 – 4:30
FRIDAY
–        SkyHawks Invitational Basketball Tournament (Large Gym Closed at 11:35am)
ATHLETICS UPDATE 🏐🏀⚽🎾🏸🎯🏐🏀⚽🎾🏸🎯
Here is the Athletics schedule for this week.
| | | |
| --- | --- | --- |
| TUES Dec 3 | 3:00pm | G6 Girls vs. LFMS 1 |
| TUES Dec 3 | 3:00pm | G6 Boys vs. LCS 2 |
| WED Dec. 4 | 3:00pm | G7 Girls vs. BGMS |
Volleyball Play Days are booked! Here are the Play Days for every Grade 6/7 Volleyball team (details will be sent to coaches)
Grade 6 Girls – Tuesday December 3rd, 3:00-6:00pm, Langley Christian School
Grade 6 Boys – Monday December 2nd, 3:30-6:00pm, Langley Fine Arts
Grade 7 Girls – Wednesday December 4th, 3:00-6:00pm, HD Stafford
PLANNING AHEAD:
Dec. 4 – Middle Networking Meeting (John out of the building)
Dec. 5 – Report Cards Due
Dec. 5 / 6 – Skyhawks Invitational Basketball Tournament
Dec. 11 – Superintendents Meeting (John out of the building)
Dec. 12 – WEB Christmas Activity
Dec. 12 – Staff Meeting 3:00 pm (All staff)
Dec. 13 – Report Cards Issued
Dec. 13 – Christmas Staff Party – Begins in the Library at 3:10 pm
Dec. 18 – Christmas Nite to Remember Concert – 6:00 pm
Dec. 20 – Christmas Spirit Assembly – 10:30 am
QUOTE OF THE WEEK
"In the long run, we shape our lives, and we shape ourselves.  The process never ends until we die.  And the choices we make are ultimately our own responsibility."
Eleanor Roosevelt