September 25, 2020

Week of Sept 25, 2020
What a week here at HDSMS!  It has been so encouraging to see all our Skyhawks back in the building – laughing, learning and growing together.  Week two is in the books – along with student photo day and a school improvement day with staff!  Here's the Scoop for this week!
PICTURES FROM THE WEEK:
( We are waiting for parent signed media release forms before we share some of the amazing student photos!)
Here are some pictures from our Pro-D Sessions today – working on our School Goals:
1) Continuing to foster our Culture of Care, Belonging, and Connection
2) Continuing to foster our Culture of Literacy & Learning
Ms. Bhamra & Ms. Mickelby sharing their passion for literacy in the classroom.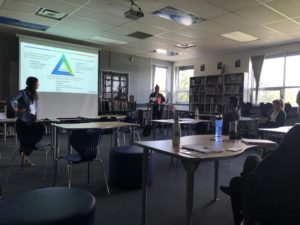 Ms. Favero & Ms. Robinson sharing their passion for quality assessment and the latest updates from the district CSL group.
Ms. Jammu has been busy creating some amazing spaces in her classroom!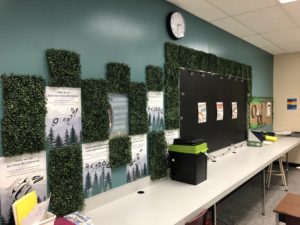 NEW INFORMATION TO SHARE:

STUDENT PERMISSION FORMS TO BE SIGNED & RETURNED: 
Originally we tried to have these done electronically through the KEV system, however the permissions around this procedure have changed and we will need to be do them on paper now.
Paper student permission form packages will be given out to Students to bring home on Monday.  Please complete these and return them to the school before Friday Oct. 2nd
MEET THE TEACHER OCTOBER 2nd:
We are going to be doing Meet the Teacher a little different this year.  We will be sending either a video interview/tour or a newsletter to our class parents.  If there is something you need to discuss about your child – please feel free reach out to the teacher via phone/email.
Staff emails can be found on our website https://hdsms.sd35.bc.ca/staff-connection/staff-directory/
STAYING CONNECTED:
HDSMS will continue to work towards being a completely paperless school when it comes to communication with parents. In order to stay informed, please be sure you use at least one of the following on-line methods:
CLUBS & ACTIVITES:
At this point there is a hold on all after school clubs and activities, we will keep you up-to-date as soon as we know more
COMING UP THIS WEEK:
| | | | |
| --- | --- | --- | --- |
| DAY | EVENT | WHERE/WHO | WHEN |
| MONDAY | | | |
| TUESDAY | Meet the Teacher Night Information to go out | Newsletters or Videos for all teaching staff | All day |
|   | | | |
| WEDNESDAY | Orange Shirt Day – Every Child Matters – WEAR ORANGE | HDSMS | All Day |
|   | | | |
| THURSDAY | | | |
|   | | | |
| FRIDAY | Terry Fox Run Day – Classes will be staggered all day. | Trails around HDSMS | 8:30 – 2:30pm |
|   | | | |
ATHLETICS UPDATE 🏐🏀⚽🎾🏸🎯🏐🏀⚽🎾🏸🎯
There is no athletics at this time – we will keep you updated as this situation progresses.
Classroom Outdoor Sports Bags 
All Grade 7 divisions have received their own bags with new outdoor equipment, including a brand new soccer ball, basketball, football, volleyball, rugby ball, and a frisbee! Grade 6 & 8 bags are on the way!

MS. LOREE'S COUNSELLING CONNECTION:
Stay Tuned!
PLANNING AHEAD:
UPCOMING DATES TO NOTE IN THE CALENDAR:
Sept 30th – Orange Shirt Day
Oct. 2nd – Terry Fox Run Day
FROM THE DISTRICT:
No new news at this time.
QUOTE OF THE WEEK: