October 9, 2020

Week of October 9, 2020
Thanksgiving is the day that gives gratitude a good name.
But I think to truly understand it, you have to develop a relationship with gratitude, perhaps even a dependence on it, in your own daily life in a way that is deeply personal and only yours (imagine a fingerprint) — but you have to be able to share it, too, (imagine an outstretched hand).  It's a two-step process, really: You generate gratitude from within — and in my case, from above — then push it back out into the world.
But here's the thing: When things go haywire (2020 anyone?), that's when we need gratitude more than ever. My relationship with it has evolved over the years, and today I carry it around with me as a constant companion.
Thankfulness is much more than a warm-and-fuzzy feeling. It's a purposeful process that requires a push every now and then to remain vibrant; a gentle shove, from time to time, to maintain its momentum. Left alone and untended, it can get lazy and leave.  As you sit down either in person or virtually with those you love this Thanksgiving, don't forget that exploring and expressing your own gratitude can be a constant pursuit, not a one-day affair. Not just today, but every day. So seek it. Find it. Pass it along.
We need it now more than ever.
Here's the Scoop…
PICTURES FROM THE WEEK:
Ms. Kaur's room is full of ideas around the "Maker" Process and for our budding Mathematicians!
Intra-Pod Video Conferencing in Blue 6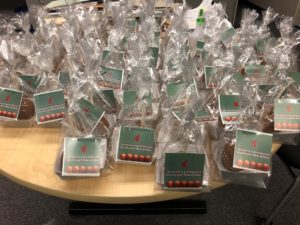 Celebrating World Teacher with the most Amazing Staff on the Planet!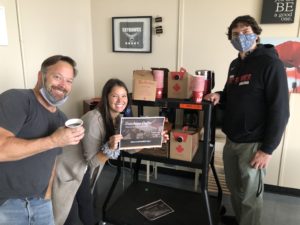 Staff highlight of the Week – THE CONVERT COFFEE CART CREW! Thanks again Sunshine Team!
Ms. Mickelby & Ms. Vaughan running our DART crash course!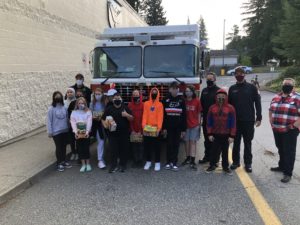 Langley FD stopped by to drop off our breakfast supplies and got a photo with Gold 7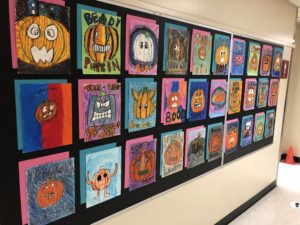 In the Gold 7 Hallway – the Pumpkins are coming!
NEW INFORMATION TO SHARE:
EARTHQUAKE DRILL
We will be participating in the Great Canadian Shakeout on Thursday October 15 near the end of Block 2 (approx. 9:40am).  We will NOT be exiting the building during this first drill.
FIRST PAC MEETING AND AGM – OCT. 14th Via Zoom
Information should have been sent to your mailbox via School Messager – please get involved in our PAC this year!  Any questions or if you have not received the information please contact hdsmspac@gmail.com
PARENT – TEACHER CONFERENCES
We will be offering both in-person meetings and virtual meetings during out Parent – Teacher Conferences this year.
They will take place on Oct. 27th ( 2:00-7:00pm) & Oct. 28th (2:00-4:30pm)
Signup will again be available via School appointments on our website and will open on Oct. 20th.
Sign up can be found here https://hdsms.sd35.bc.ca/news-events/parent-teacher-interview-online-booking/
MEET THE TEACHER NEWSLETTERS & VIDEOS
We have sent either a video interview/tour or a newsletter to our class parents.  If there is something you need to discuss about your child – please feel free reach out to the teacher via phone/email.
Newsletters should have been sent to your class emails OR…
You can find the videos posted here: https://hdsms.sd35.bc.ca/staff-connection/staff-directory/
STAYING CONNECTED:
HDSMS will continue to work towards being a completely paperless school when it comes to communication with parents. In order to stay informed, please be sure you use at least one of the following on-line methods:
CLUBS & ACTIVITES:
At this point there is a hold on all after school clubs and activities, we will keep you up-to-date as soon as we know more
COMING UP THIS WEEK:
DAY
EVENT
WHERE/WHO
WHEN
MONDAY
HAPPY THANKSGIVING

 

EVERYONE!
ALL DAY
TUESDAY
 
Red 7 Grade Assembly
Main Gym
beginning of 7/8
WEDNESDAY
Red 6 Grade Assembly

Gold 6 Grade Assembly

Main Gym
Beginning of 1/2

Beginning of 3/4

 
PAC Meeting
Zoom
6:30pm
THURSDAY
Earthquake Drill
Whole School
9:40am
 
FRIDAY
Interim Reports Home
All Divisions
End of Day
 
ATHLETICS UPDATE 🏐🏀⚽🎾🏸🎯🏐🏀⚽🎾🏸🎯
There is no athletics at this time – we will keep you updated as this situation progresses.
Classroom Outdoor Sports Bags 
All Grades have now received their activity bags!

MS. LOREE'S COUNSELLING CONNECTION:
FROM THE DISTRICT:
Be sure to checkout the district's webpage for the latest updates: www.sd35.bc.ca
QUOTE OF THE WEEK: