October 31, 2021


Week of Oct. 31, 2021
Happy Halloween Everyone!  A what a tremendous week it was!  The theme-based learning and school spirit that was displayed this "Halloweek" was just fantastic!  Whether preparing Remembrance cards for our local veterans, or learning French vocabulary through "La Maison Hantee", excavating ancient fossils, or even communicating with "the beyond" by coding with Morse Code – it's just fantastic!
Friday was an INCREDIBLE display of Skyhawk Spirit!  Our staff theme was candy and it was AMAZING to see just how many staff and students were dressed up to celebrate the day!  I hope all you have a wonderful and SAFE Halloween !
Here's the Scoop…
PICTURES FROM THE LAST WEEK: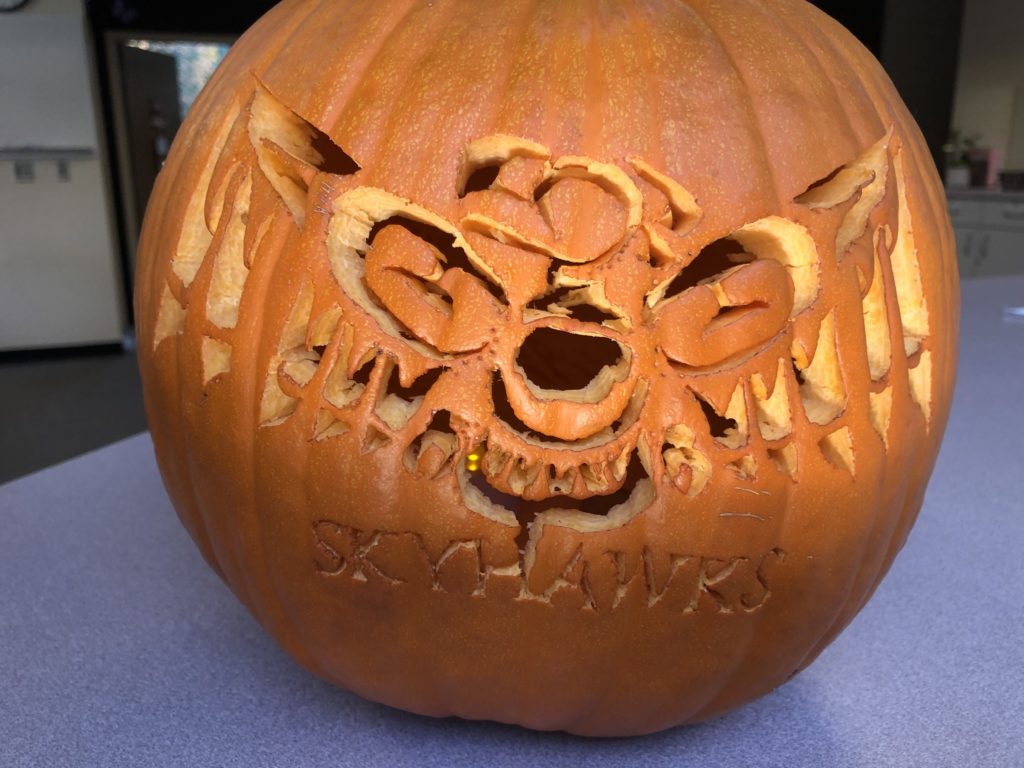 Thanks to the entire Hubbs family for this amazing Skyhawks Pumpkin!  The crew in our ACCESS room totally approves of the festivities this week especially when they are learning all about money!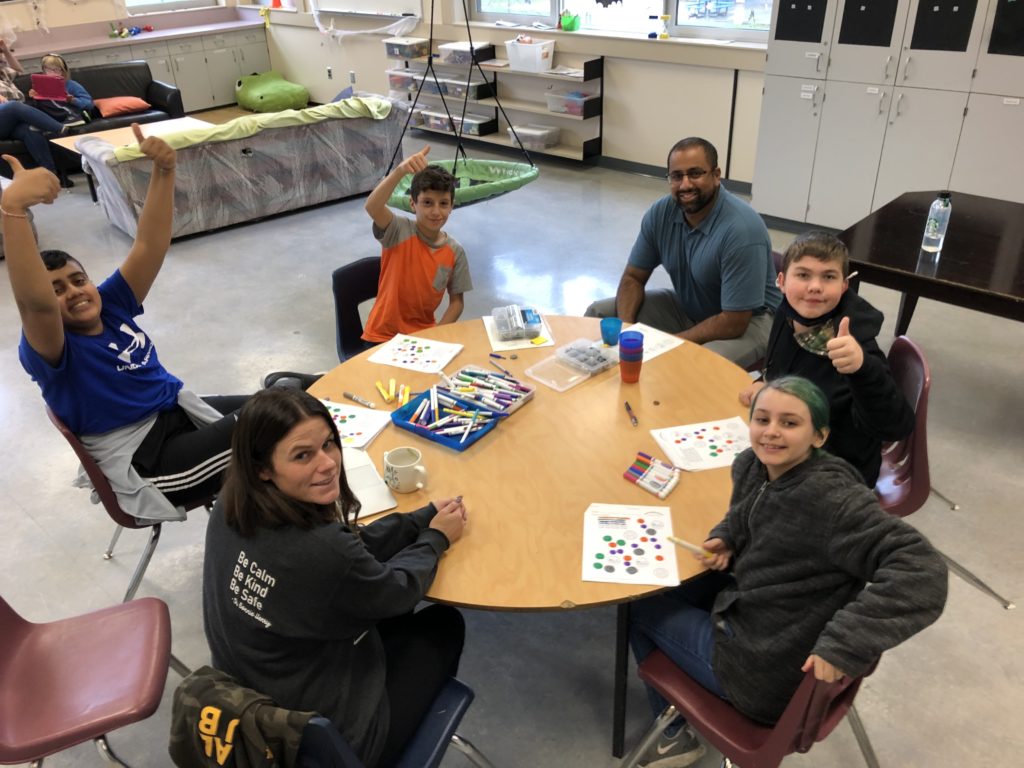 Students from all grade levels have written encouraging messages of thankfulness for our local seniors. Remembrance Day Cards for Seniors
Students outside of BLUE 6 were displaying their new found French vocabulary through the Halloween theme of "La Maison Hantee"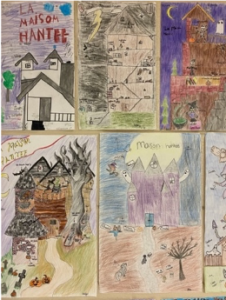 Number sense in Math: Understanding the relationship between percent, decimals and fractions.
The Pumpkins Are Coming! There are a few days left for entries to our Pumpkin Book Character Decorating Contest, and the entries we've received have set the bar high!
Students work to carefull excavate fossils in Science (above) meanwhile students are coding radios and sending morse code messages in Tech time.
Students have been collaborating to create displays for both Halloween and Remembrance Day.
Our Grade 8 Girls Volleyball Team finished their fantastic season this past week – Congratulations Skyhawks!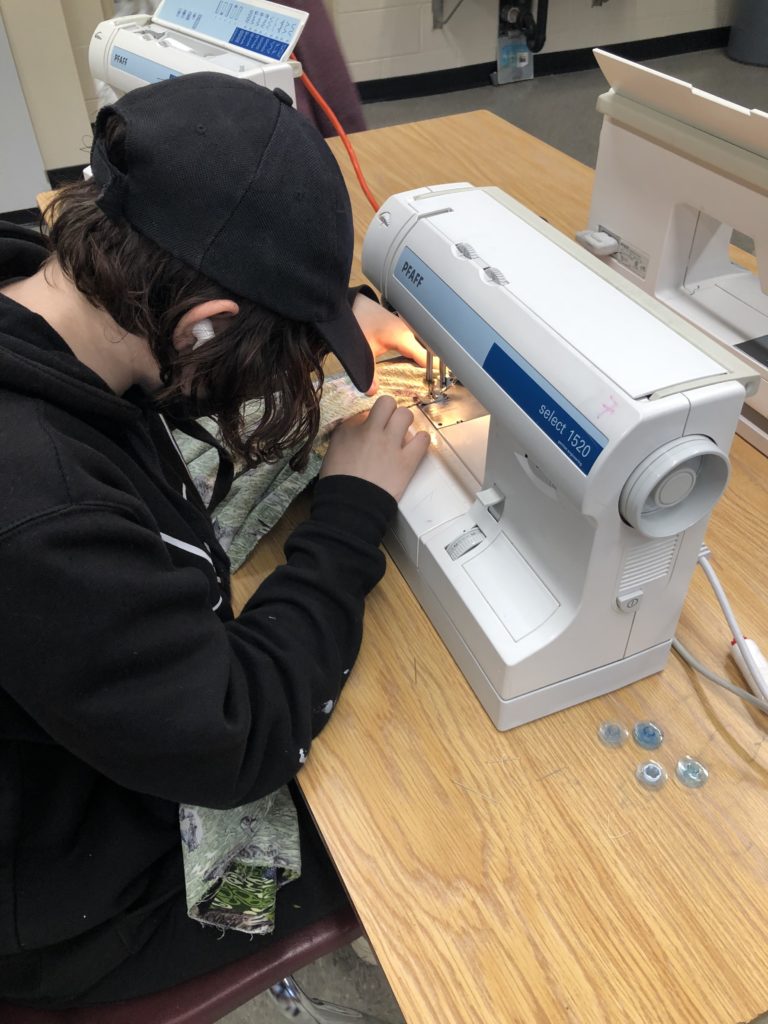 Students were sewing Halloween Shorts in Explorations with Ms. Fontaine this week!
Students were expanding their vocabulary in GOLD 7 this week with Ms. Jammu (left) meanwhile KIDSPLAY came and spoke to all Gr. 7 & 8 students on the dangers of vaping, drugs and gangs.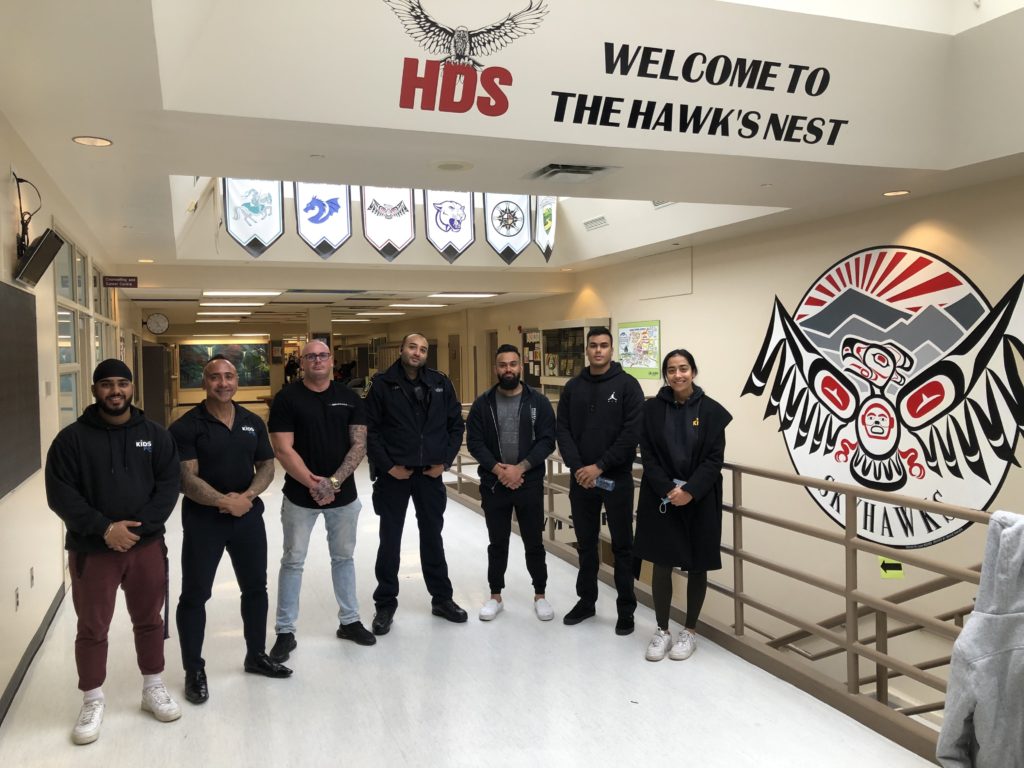 Skyhawks Staff took the Halloween Costumes to the next level! It was so amazing to see all the students and staff that made Friday such a special day!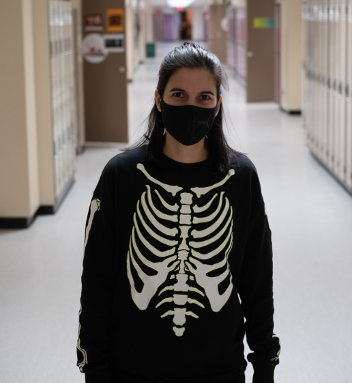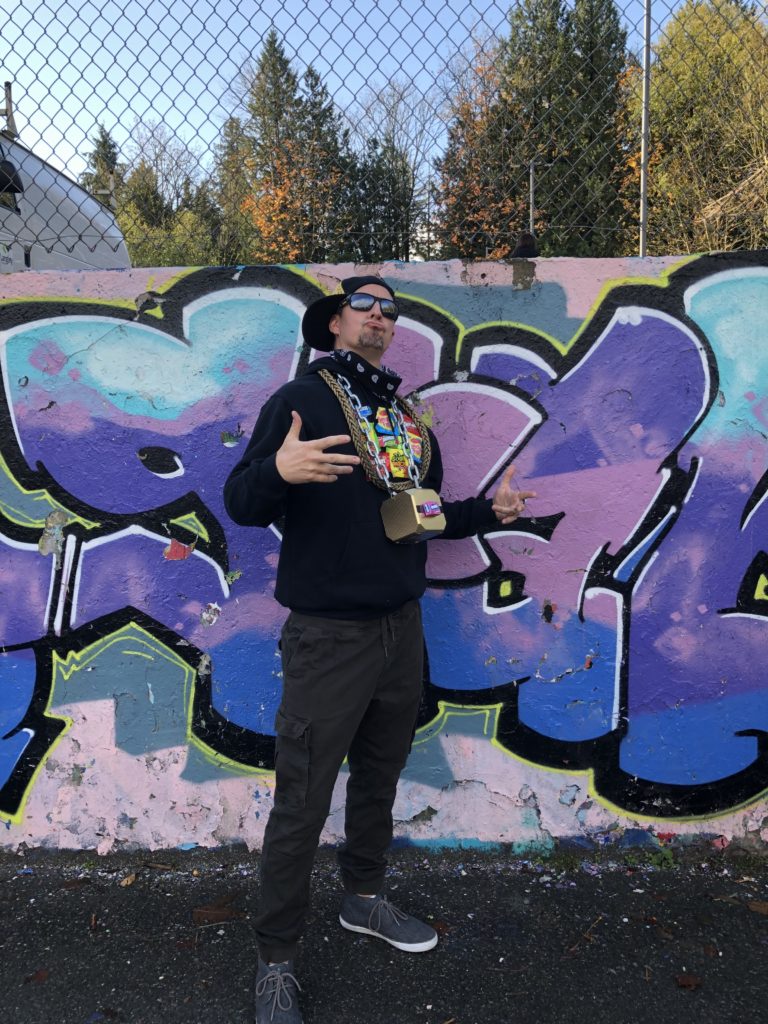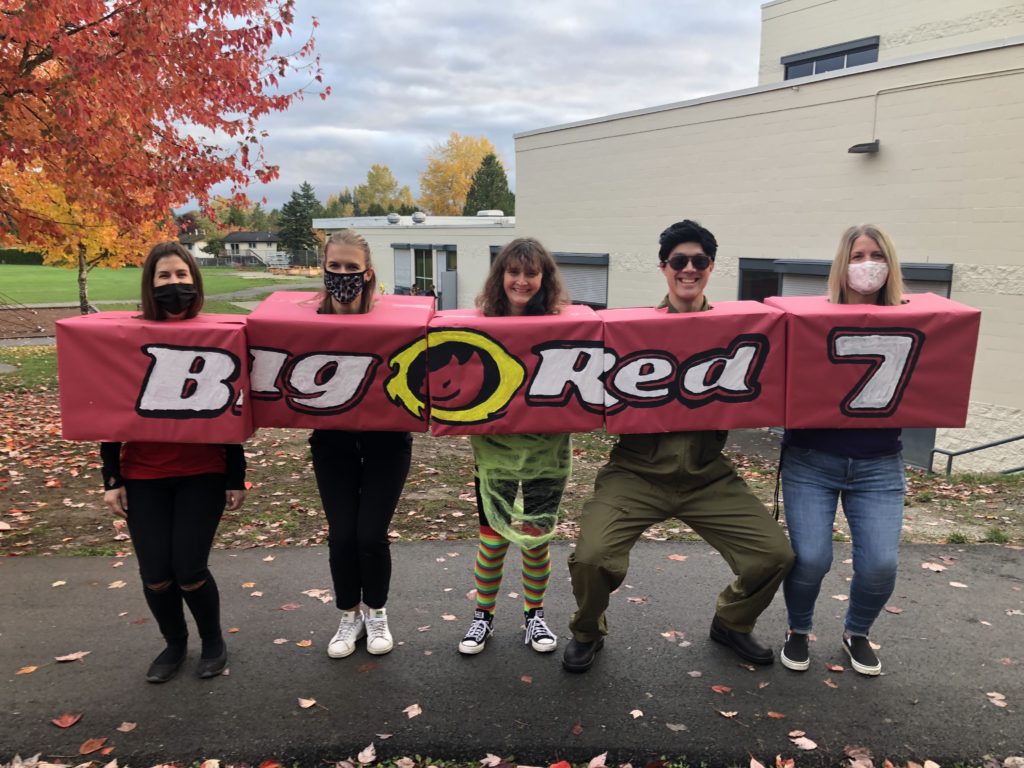 One of Skyhawks even was able to wear her mother's Skyhawks Cheerleading outfit from 1995! #SKYHAWK LEGACY!
NEW INFORMATION TO SHARE:
Remembrance Day – Legion's Poppy Campaign
It is a long-standing tradition for schools to support our veterans and the efforts of the Royal Canadian Legion. Due to our COVID-19 health and safety guidelines, the distribution and collection of funds for poppies will be different again this year. Please note that our school will be receiving a poppy for every student. We will be distributing them to classes in a safe manner. We will continue to collect funds this year in support of the Legion's Poppy Campaign but kindly ask students and their families to donate online via School Cash Online.
Please do not send any cash or cheques with your child to school. We appreciate your generosity. As always, our school is committed to educating our community about the meaning of the poppy and Remembrance Day.
Derek Doubleday "A Month to Remember"
A Walk to Remember
Spearheaded by two Langley youth and their organization, Langley Youth for the Fallen: A Walk to Remember, the Walk commemorates Canadian Forces personnel who lost their lives while serving in the Canadian mission in Afghanistan (2002-2011). A total of 162 trees were planted at the Arboretum in honour of the 162 Canadians who lost their lives (including four civilians) through the nine years of the Afghan mission. The central commemorative feature is symbolic of a tree whose life has been cut short. Wrapped around the trunk, a steel ribbon ascends towards the sky, carrying the names of the fallen Canadians.  Please see the attached overview of the initiative as well as a press release and please share out with your school communities in your next newsletter. Not only is this a great initiative to promote with Remembrance Day around the corner but it also serves as a fundraiser for the ABSL.
Information About School Status During Inclement Weather
Snow closures and power outages are an annual occurrence in Langley School District. So, where do you go to get information about the status of schools during periods of inclement weather? If you are able to access the internet via computer or smartphone, current information about Langley schools can be accessed on all school websites or www.sd35.bc.ca. Updates are also posted to Twitter @LangleySchools and Facebook at www.facebook.com/langleyschooldistrict. If you don't have internet connectivity but your phone is working, call a relative or friend in an area that has not been affected by the storm and ask them to check the district website for you. Local radio stations are also informed of school status in Langley. Tune in to CKWX 1130AM, CKNW 980AM, Country Radio 107.1FM, Pulse 107.7 or CBC 690AM or 88.1FM for updates.
Please note that Langley District schools are all considered 'open' until a decision to close is required. Decisions on school closures are usually made by 6:30am. As always, it is a parent's decision whether to send their child to school based on safety and individual circumstances. If you feel it is unsafe for you or your child to travel to or attend an open school for any reason, please keep your child home and report an absence to the school.
Possible Change of Clothes
Just a quick reminder that students do go outside for recess and lunch on most days, including those rainy days.  A change of clothes that can be kept in the locker may help stop you having to come pick up your children or coming to drop off clothes.
SUPPORTS FOR PARENTS
I wanted to pass along some community supports that are being offered in the near future.  I've attached a PDF to this email with information, workshops and opportunities that are coming up. Some of these events are  time sensitive and are happening in the next week, so I wanted to make sure you had this information in time. I've also included a list of mental health supports that can be accessed locally.
PAC FUNDRAISER THANK YOUS!
Thank you all so much for helping us  in the 2021 Adopt a School program! Indigo set up some incredible engagement from both stores and schools, including "Blind Date with a Book" displays, 3D printed bookmarks, photos, videos, posters, and more. The community response was truly inspiring, with our school reaching our fundraising goals well before the campaign ended.
Together we raised an amazing  $1,145.85  for HD Stafford Middle School!
Thanks for your support of the Community Value Coupon Books fundraiser! 
We've raised over $2000!
Congratulations to the top-selling class, Division 602, Mr. Goulet's Class who will receive a visit from Urban Safari in the next few months.
Students who sold 10 books or more are:
Heather Worrall, Callum Mathers, Lexi Hurry, James Hanna, and Madison McKinnon.
Coupon prizes to students who sold 2 books or more have been given to teachers to distribute.
Unfortunately the book distributor is still having issues as the printer is still looking for glue! To those still waiting for books, I will send them out as soon as I have them – all schools are waiting for the next printing of the books.
Thanks for your support of HDSMS PAC Fundraising!
PARKING REMINDER
Just a reminder that there is no stopping/parking on Grade Crescent in front of HD Stafford Middle School.

In consideration of our community neighbours and for the safety of our students, please refrain from blocking driveways and crosswalks and jaywalking

. Please have a conversation with your child(ren) of where an appropriate place to meet up after school could be. There is lots of available parking by City Park on 48th Ave which is just a short walk away for our students.
STUDENTS and MASKS
Please ensure that your children have their masks each day.
Students MUST always have their masks on – in the classroom, including their workstation (even if physically distanced), working on bulletin boards, going to washroom, filling their water bottles up, going outside, in PE class inside, etc.
Masks do not need to be worn when students are eating/drinking, or participating in high intensity activities outdoors (limited physical contact).
In band, the mask can only come off when they are playing their instrument (brass/woodwind).
REMINDER TO FAMILIES ABOUT DAILY HEALTH CHECK FORM:
As we enter into enhanced safety measures the health and safety of your children continues to be our top priority. As we start this new year, we want to remind students and families to complete the Daily Health Check. Thank you for your ongoing cooperation and doing your part to ensure our school community is healthy and safe.
The form is available in multiple languages on the District website here: https://bit.ly/2Mw0jo5
STAYING CONNECTED:
HDSMS will continue to work towards being a completely paperless school when it comes to communication with parents. In order to stay informed, please be sure you use at least one of the following on-line methods:
COMMUNITY ROOM
The community room supports building confidence in our Skyhawks
Afterschool Programming: 
Mondays:
Wednesdays:
Kids' Play Starting October 27th Multi-sport and mentorship program. Everyone is welcome. This program will be in the Community Room and Multi-purpose Room 3:00pm – 4:15pm. Sign up with Mr.Hendy Bhendy@sd35.bc.ca
Archery 3-5pm Small Gym, Everyone welcome. Please email Dsandquist@sd35.bc.ca to register.
Thursdays:
Rustic Sign Making Course Starting November 18th – December 9th $50.00 for two projects Please see Mr.Hendy to register  Bhendy@sd35.bc.ca Community Room 3pm – 5pm.
Fridays:
After 3 Starting October 15th 3:00pm – 5:00pm  Students will be able to create arts and crafts as well as baking food and play board games.
PUCKS Starting October 29th at Twin Rinks. This program is for students who have always wanted to try ice-hockey but have never had the opportunity. Please see Mr.Hendy for the registration forms. 1:45pm – 4:00pm Transportation and gear is supplied.
Archery 5pm – 9pm Small Gym, Everyone welcome. Please email Dsandquist@sd35.bc.ca to register.
ATHLETICS UPDATE 🏐🏀⚽🎾🏸🎯🏐🏀⚽🎾🏸🎯
It was great seeing athletes in our gyms these past couple weeks! Here is the schedule for this week in HD Stafford Athletics!
Stafford Athletics Schedule this week:
Stafford Athletics Schedule this week:
Monday:
G6 Girls VBALL Practice 7:30am Large Gym
G8 Girls VBALL Practice 3:00pm Large Gym
Archery 3:00pm Small Gym
Tuesday:
Girls BBALL Skills 7:30am;
Archery 5:00pm Small Gym
Wednesday:
Boys BBALL Skills 3:00 – 4:00 pm Large Gym
Thursday:
G7 VBALL Practice 7:30am Large Gym;
Archery 5:00pm Small Gym
Friday:
COMING UP THIS WEEK @ HDSMS:
| | | | |
| --- | --- | --- | --- |
| DAY | EVENT | WHERE/WHO | WHEN |
| MONDAY | | | |
| TUESDAY | Intervention Team | Counselling Area | 9:30-10:30 |
| WEDNESDAY | Class Photos and Retakes Day | Small Gym | Throughout the day |
| THURSDAY | Staff Meeting | Small Gym | Afterschool |
| FRIDAY | Day 1 | | |
PLANNING AHEAD:
November 2 – Intervention Team Meeting
November 3 – Photo Retakes AND Class Photos
November 4 – Staff Meeting
November 5 – Day 1
November 10 – Remembrance Day Assemblies (more information to come)
November 11 – Remembrance Day (School Closed)
November 12 – Design and Assessment Day (Students do not attend)
November 16 – BC Wall and Ceiling Arrival!
November 16 – Intervention Team Meeting
November 19 – Day 2
November 23 – Team Leader Meeting 3pm
November 24 – SBT
November 24 – Ensouling Our Schools 3:30-6:00pm
November 26 – Day 1
November 26 – School Spirit Day!
PAC NEWS:
NEW INFORMATION TO SHARE:
The 75 books left to be delivered for the Community Value Coupons Book Fundraiser should be delivered Nov 2 or 3rd. Thanks again for your patience.
Congratulations to the following students who won prizes in the coupon book draw! Every purchase was a chance to win. Prizes were sent home with students on Friday:
Hannah Sharma – USB Fan
Emmett Fisher – USB Fan
Evelyn Farrell – USB Fan
Cody Grinder  -USB Fan
Nolan Perry  – earbud headphones
Madison McKinnon – earbud headphones
Heather Worrall – dancing speaker
Juliano Morris – dancing speaker
Marley Peebles – dancing speaker
Sydney Leakey – a pizza floaty
Isaac Silva – tickets for a family to Urban Safari
Callum Mathers – Abbotsford Canucks hockey tickets
The next Hot lunch is November 19th! Order deadline is one week before. Please contact hdsmspac@gmail.com if you are able to volunteer on these days, 9-11:30am. Email support@munchalunch.com if you have any problems registering.
The next PAC meeting is on Tuesday, November 16th, 6:30pm in the HD Stafford Library. PAC meetings will alternate between zoom and in person meetings this year. 
Getting ready for Christmas! 
A chance for everyone to order pointsettias or other greenery by going to:
https://hdstafford.growingsmilesfundraising.com
Order deadline Nov 19th – Pick up Sat, Dec 4th (time to be confirmed)
(Credit card or cheques accepted)
Yummy chocolate treats for yourself or gifts! Order at:
https://fundraising.purdys.com    Join campaign #59343
Order deadline Nov 24th – Pick up Thurs, Dec 9th, 3-4 pm
(Credit card accepted)
Keep updated with PAC fundraisers and info through Facebook and Instagram at:
If you have any questions or if you are interested to volunteer at our PAC initiatives, please contact hdsmspac@gmail.com
PAC GENERAL INFORMATION:
Our PAC works to help create effective partnerships between the school and parent community. Building the triangle of support between parent, school, and child will create powerful learning opportunities and ensure our children's success.
Each and every parent or guardian is a member of our PAC. We encourage you to join us for the monthly meetings to participate in the building of PAC community and create learning opportunities for your child.
The meeting schedule for the year – Time: 6:30pm
The 2021/22 executive is up and running.
LOVING LITERACY:
What did you just finish reading?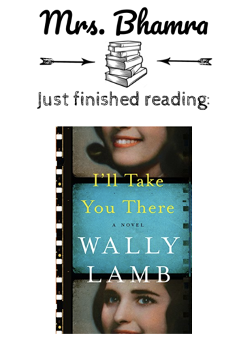 Share what you just read! One of the easiest ways to open a conversation about a book, or to model reading for pleasure, is to post what you are reading in your room. Feel free to post all the YA books you get through, as well as any adult fiction or nonfiction you read (using your discretion of course!) It lets the kids know and see all the different things that are available to read and gives those of us walking past your room so book suggestions too!
FROM THE LIBRARY LEARNING COMMONS:
The Langley Book of the Year nominees are here! Check out the following link to the trailers for the 2021 Langley Book of the Year nominees.
https://www.sd35.bc.ca/our-district/instructional-departments/langley-book-of-the-year/
Feel free to show them in class, or we can show them in the library. All of the books are also available on SORA. Please reach out for any help! Happy Reading!
MS. LOREE'S COUNSELLING CONNECTION:

.
Over the last few weeks many of you have shared with me about ways you are incorporating mindfulness and grounding practices into your classroom and home routines.  Below is a video you may wish to share with children to introduce the idea that taking a moment to stop and breathe can help them become more self-aware and less reactive.  It may take months for some of your children to be able to successfully participate in mindfulness activities. They may not be used to the feeling of "calm".  Hang in there … research shows that your persistence will pay off!
FROM THE DISTRICT: