October 26, 2020

Week of October 23, 2020
I don't know why but I've often thought that four day weeks seem longer than five day weeks. Maybe that's because we try to cram five days worth of work into four days, maybe that's because we think it's going to be shorter that it actually is, or maybe that's because we all secretly hope that all work weeks are four days long!  But this week was a long week for everyone. I'm thankful for a staff and parent community that has the courage to say what needs to be said, can ask the tough questions so that we can come to a better place of care for students. Through experiences like this, we become stronger as parents, stronger as educators, and stronger as people. And like I said last week – the only way through this is TOGETHER – so thank you to all our parents / guardians who continue to encourage us everyday with your emails and thankful notes – they are so appreciated!
Here's the Scoop…
PICTURES FROM THE WEEK:
Our literacy grant books arrived this week and we are so excited to share them with the school.
Math games and strategy combined in Ms. Kaur's Class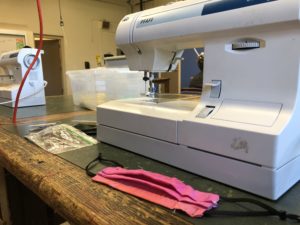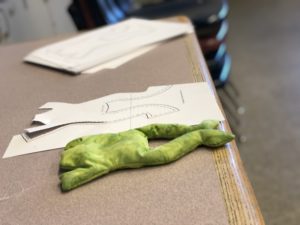 Explorations are in full swing!  Ms. Fontaine's students are sewing up a storm and proud of their products!
Students In visual arts with Ms. Parchoma – Creating, thinking, designing, expressing – It's all amazing!!
The prototype are refine Process is alive and well in all of our exploration classes!
Back to the mad scientist Mr. Mitchell – who's creating a submersible unit using 3-D printed parts and electronics #wow!
Mr. Briscoe's class was investigating Newton's laws this week using experiential learning Labs
Shelby Showtime (Ms. Twigg) was outside with Ms. Hibbs – Cheering on students to follow the protocols and wear their masks.
In Mr. Horrocks's class – Positive messages were appearing everywhere – Including his face.
But she's completely allowed to as she put on incredible Pro-D And withStaff created the beginnings of a writing continuing for HD Stafford!  Wow!
NEW INFORMATION TO SHARE:
PARENT – TEACHER CONFERENCES (Tuesday & Wednesday)
We will be offering both in-person meetings and virtual meetings during out Parent – Teacher Conferences this year.
They will take place on Oct. 27th ( 2:00-7:00pm) & Oct. 28th (2:00-4:30pm)
Conferences will be 15 minutes in length.
If you've signed up for a Virtual Meeting:

Teachers will be sending you an invite to your "Parent/Teacher Conference" with a link the MS TEAMS meeting.
Please login in 5 minutes before your scheduled time to ensure you are able to join the meeting.

If you've signed up for an In-Person Meeting:

Please enter from the one of designated entrances (see map below)
All individuals will be required to follow our COVID-19 Safety Protocols and sanitize their hands upon entry into the building.
Parents will be required to have their masks on at all times during the meeting.
Please be sure to limit the number of people attending the meeting (if possible avoid bringing extra children)
Please maintain proper social distancing guidelines within the building at all times.
PHOTO RETAKES:
Photo retakes will take place on Wednesday, October 28th. There will also be a photo session for our Transition students starting at 12:00pm.  Transition students can enter the small gym on the east side of the building.
LOCKDOWN DRILL:
We will be having a Lockdown drill on Tuesday November 3 – 10:20am in accordance with our Health and Safety Guidelines.
COMMUNICATING STUDENT LEARNING INFORMATION SESSION (RECORDING):
As a district, we are moving away from letter grades toward proficiency scales.  This is an exciting change and HDSMS has been a leader in the district in this area for a couple of years.  Please take a moment ( or 40 ) and watch the Parent info session as presented by our Director of Instruction Dawne Tomlinson.
STAYING CONNECTED:
HDSMS will continue to work towards being a completely paperless school when it comes to communication with parents. In order to stay informed, please be sure you use at least one of the following on-line methods:
PAC NEWS:
We had a great first PAC meeting of the year and the PAC elections were completed. Meet you're new HDSMS PAC TEAM!
  Any questions or if you are interested in joining our PAC initiatives please contact hdsmspac@gmail.com
CLUBS & ACTIVITES:
At this point there is a hold on all after school clubs and activities, we will keep you up-to-date as soon as we know more
COMING UP THIS WEEK:
| | | | |
| --- | --- | --- | --- |
| DAY | EVENT | WHERE/WHO | WHEN |
| MONDAY |  Remembrance Day Planning | Anyone & Everyone | 7:30am-Les's Room |
| TUESDAY | Interventions Team Meeting | Office | 9:00am-10:00am |
|   | DEAR – Drop Everything & Read! | Everyone! | 9am |
|   | Early Dismissal | | 1:40pm |
|   | Parent teacher interviews | Virtual/Phone | 2 – 7pm (dinner 4:30-5:30) |
| WEDNESDAY | Early Dismissal | | 1:40pm |
|   | Parent teacher interviews | | 2 – 4:30pm |
|   | Photo Re-takes | Small Gym | All Day – See emailed schedule |
| THURSDAY | Spirit Day – Pajama Day | Everyone! | School-wide 😊 |
|   | School Based Team Meeting | Library Annex | Block 7/8 |
| FRIDAY | Spirit Day – Halloween Costume or Halloween Colours | Everyone! | School-wide 😊 |
|   | JHSC Meeting | Library Annex | 9am |
ATHLETICS UPDATE 🏐🏀⚽🎾🏸🎯🏐🏀⚽🎾🏸🎯
There is no athletics at this time – we will keep you updated as this situation progresses.
Classroom Outdoor Sports Bags 
All Grades have now received their activity bags!

MS. LOREE'S COUNSELLING CONNECTION:
We can only reach a certain level of success all on our own.
To reach our full potential we need to work together.
More and more, research and experience point to the important
roles belonging and connection play in ensuring health and well-being,
both for individuals and for our success in teams and organizations.
I could be a very healthy individual and have strong practices
of self-care, but if I go into the workplace where I don't
feel valued and cared for, I will not be well.
The highest performing teams are not the ones with the
smartest or hardest working individuals, but the ones where
everyone feels connected and valued.
FROM THE DISTRICT:
Be sure to checkout the district's webpage for the latest updates: www.sd35.bc.ca
QUOTE OF THE WEEK: