October 16, 2020

Week of October 16, 2020
Another great week here at Stafford!  It is soooo encouraging to see the great teaching, thinking, and learning that is happening the classrooms!  You could be in a genetics discussion with Ms. Chapman, or discussing Thor's point of view with Mr. Safiq, wondering about rogue static electrons with Mr. Wood, participating in a class reading with Ms. Kobzos, reciting War of the Worlds with Mr. Gundy, or even find Sammy the Skyhawk getting some Stafford Swag – there is a tonne happening in this place!  Thanks again to everyone who contributed to our Staff Meeting yesterday and shared their passions and expertise.  These are the conversations we need to continue moving forward.  Giving our students the belief in themselves as learners and the providing them with skills to back up that belief!
We also want to welcome our newest PAC members to the nest!
Here's the Scoop…
PICTURES FROM THE WEEK: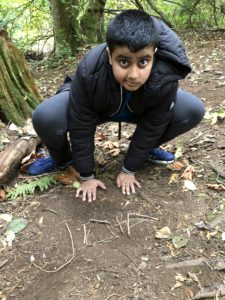 Ms. V spent some time in the forest with Jora, Daniel and Matias!
OACES in the Fall investigating fungi, leaves, and the cycle of life!
Our soon-to-be-dad Mr. Horrocks was Staff Meeting Mission #1 – We had to find a way to creatively get a photo with him – without him realizing it – Mr. Hendy or Mr. Bond 🙂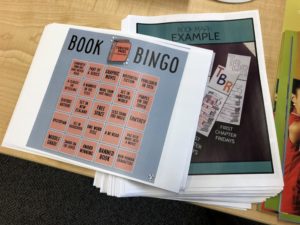 Stafford show and share resources for teachers to build the joy of reading in our classrooms – Thanks Ms. Bharma!
Ms. Favero provided us with fantastic Core Competency magnets and context to keep the learning at the forefront of our thinking!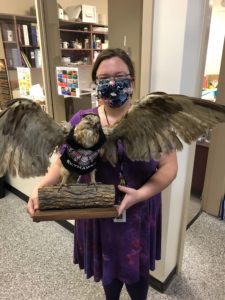 Sammy was given his first round of Swag thanks to Ms. Markle – so fresh!
The incredible Mrs. Sander's office is where Sammy will be nesting for the month! She's PUMPED!
NEW INFORMATION TO SHARE:
PAC NEWS:
We had a great first PAC meeting of the year and the PAC elections were completed. Meet you're new HDSMS PAC TEAM!
  Any questions or if you are interested in joining our PAC initiatives please contact hdsmspac@gmail.com
INTERIM REPORTS – OCTOBER 19th, 2020
Your child will be bringing home their interim report card on Monday October, 19th.
Please take some time to go through it with them as they complete a self reflection portion of it and it can provide valuable insight in how they see themselves as learners so far this year.
PARENT – TEACHER CONFERENCES
We will be offering both in-person meetings and virtual meetings during out Parent – Teacher Conferences this year.
They will take place on Oct. 27th ( 2:00-7:00pm) & Oct. 28th (2:00-4:30pm)
Signup will again be available via School appointments on our website and will open on Oct. 20th.
Sign up can be found here https://hdsms.sd35.bc.ca/news-events/parent-teacher-interview-online-booking/
PHOTO RETAKES:
Photo retakes will take place on Wednesday, October 28th. There will also be a photo session for our Transition students starting at 12:00pm.  Transition students can enter the small gym on the east side of the building.
MEET THE TEACHER NEWSLETTERS & VIDEOS
We have sent either a video interview/tour or a newsletter to our class parents.  If there is something you need to discuss about your child – please feel free reach out to the teacher via phone/email.
Newsletters should have been sent to your class emails OR…
You can find the videos posted here: https://hdsms.sd35.bc.ca/staff-connection/staff-directory/
STAYING CONNECTED:
HDSMS will continue to work towards being a completely paperless school when it comes to communication with parents. In order to stay informed, please be sure you use at least one of the following on-line methods:
CLUBS & ACTIVITES:
At this point there is a hold on all after school clubs and activities, we will keep you up-to-date as soon as we know more
COMING UP THIS WEEK:
| | | | |
| --- | --- | --- | --- |
| DAY | EVENT | WHERE/WHO | WHEN |
| MONDAY | Interim Reports to Go Home with Students | HDSMS | End of the Day |
| TUESDAY | Interventions Team Meeting | Office | 9:00am-10:00am |
|   | Parent Portal for P/T Conferences Opens | For Parents | 9:00 am |
|   | Board of Education Meeting | SBO | 7:00pm |
| WEDNESDAY | | | |
|   | | | |
| THURSDAY | Team Leader Meeting | Team Leaders | 7:15am |
|   | | | |
| FRIDAY | Pro-D Day! | HDSMS Staff | All day |
|   | Less Inking More Thinking & Let's Play Workshops | HDSMS | All day |
ATHLETICS UPDATE 🏐🏀⚽🎾🏸🎯🏐🏀⚽🎾🏸🎯
There is no athletics at this time – we will keep you updated as this situation progresses.
Classroom Outdoor Sports Bags 
All Grades have now received their activity bags!

MS. LOREE'S COUNSELLING CONNECTION:
FROM THE DISTRICT:
Be sure to checkout the district's webpage for the latest updates: www.sd35.bc.ca
QUOTE OF THE WEEK: