November 22, 2020

Week of November 20, 2020
As we begin the march to Christmas break, there are so many things that we need to be mindful of that it can be exhausting!  In the midst of this time, I really appreciate the moments of gratitude and thankfulness that this week brought.  Whether it was an encouraging sticker on Monday morning, a thoughtful note/comment from a colleague, hearing our PAC parents excitement around our school's direction, or watching a student struggle and then experience success in their presentation.  I was reminded by a colleague of just what a tremendous opportunity we have to positivity impact our students through in-person teaching.   These are the "Happy File" moments we need to keep us going when we're tried and the "long dark" is upon us.  I feel blessed to work with "magic makers, world changers, game shakers" – thank you for being part of our "TRIBE" (see the quote at the end).
Here's the scoop…
PICTURES FROM THE WEEK:
Inspiring messages for our TRIBE!  Thanks Mrs. Roberts raising all of our spirits on a rainy Monday!
So proud of Mr. Safiq's class and their presentations around Mental Health Challenges – Informative, Well spoken, and interesting!
Sammy the Skyhawk Has found a new home in the library with Ms. Jones and Ms. Markle!
Mrs. Chapman in Gold 8 and Mr. Lane in Explorations collaborating with students to create gelatin and candy based 3-D cell models!  A match made in heaven – Science and Candy together!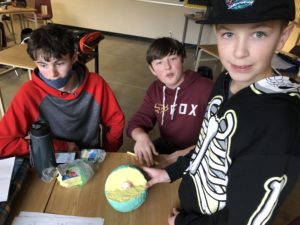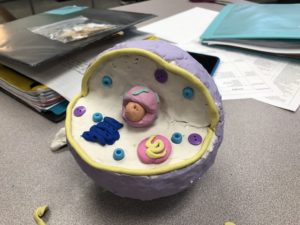 In Mrs Mickelby's class Newton's laws were being tested in many different ways
Miss Kaur's class was full of math games and multiplication competitions!
Design thinking in action as students begin to map out their marble maze with Mr. Mitchell in Woodworking.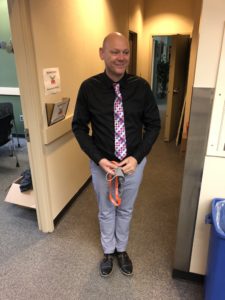 Mr. Bailie aka The best looking Irishman in the school showing off his "Fancy" Friday attire!
NEW INFORMATION TO SHARE:
PARKING
Just a reminder that there is no stopping/parking on Grade Crescent in front of HD Stafford Middle School. In consideration of our community neighbours and for the safety of our students, please refrain from blocking driveways and crosswalks and jaywalking. Please have a conversation with your child(ren) of where an appropriate place to meet up after school could be. There is lots of available parking by City Park which is just a short walk away for our students.
STUDENT SAFETY AROUND SCHOOLS – WEATHER
With the days growing shorter and the weather changing to rain, fog, and frost, HD Stafford Middle is reminding all our students to take extra precaution when walking to and from school. Please be aware of your surroundings, walk on the sidewalk and with someone whenever possible, and avoid wearing headphones. We also ask drivers in our school community to be vigilant on our roads. Student safety is our priority. Thank you for your cooperation and support in keeping everyone safe.
MASKS AND WATERBOTTLES:
MASKS – Please ensure that your children have their masks each day.

We have no more masks to give out in the office at the moment.
WATER BOTTLES – please remind your children that they need to have a  water bottle at school.
LANGLEY SCHOOL DISTRICT FOUNDATION SURVEY – 2020-2021
The Langley School District Foundation was established with a mission to make learning UNFORGETTABLE for every Langley student. Our mandate is to support and provide programs that are not funded or fully funded by the Ministry of Education and our goal is to ensure that every Langley student receives the maximum benefit of the education to which they are entitled.
We value your opinion. To better understand the impact our programs and the emerging needs of Langley students, we'd appreciate your participation in this short survey. Please click on the following link: https://bit.ly/SD35-FoundationSurvey.
REUNIFICATION FORMS
Student Reunification forms will be going home with students on Monday. They will be located in your mailboxes. These forms will let the school know who the child can go home with in the event of an emergency.
ABOVE AND BEYOND NOMINATIONS:
The Langley Advance Times is highlighting the efforts of seven local educators who go "Above and Beyond" in an upcoming special publication. The paper is looking for anyone involved in education in Langley – teachers, administrators, education assistants, Aboriginal support workers, coaches, club leaders, custodial staff, bus drivers – who have made a big difference for Langley students during the pandemic. Each person selected will be the subject of a feature article and photo in an upcoming publication. To nominate someone, email contests@langleyadvancetimes.com and submit up to 250 words explaining why the person you are nominating deserves to be featured. Please include your contact information so staff at the paper can follow up with you and reach out to your nominee. A small committee at the Langley Advance Times will be making decisions, so there is a November 13th (5 pm) deadline for nominations.
COMMUNICATING STUDENT LEARNING INFORMATION SESSION (RECORDING):
As a district, we are moving away from letter grades toward proficiency scales.  This is an exciting change and HDSMS has been a leader in the district in this area for a couple of years.  Please take a moment ( or 40 ) and watch the Parent info session as presented by our Director of Instruction Dawne Tomlinson.
STAYING CONNECTED:
HDSMS will continue to work towards being a completely paperless school when it comes to communication with parents. In order to stay informed, please be sure you use at least one of the following on-line methods:
PAC NEWS:
New Information Below:
We had a great first PAC meeting of the year and the PAC elections were completed. Meet you're new HDSMS PAC TEAM!
  Any questions or if you are interested in joining our PAC initiatives please contact hdsmspac@gmail.com
CLUBS & ACTIVITES:
At this point there is a hold on all after school clubs and activities, we will keep you up-to-date as soon as we know more
COMING UP THIS WEEK:
DAY
EVENT
WHERE/WHO
WHEN
MONDAY
Design and Assessment Day
Staff

Students not in Session

All Day 
 
FASD Team
Library
3-5pm
TUESDAY
Equity In Action
Roberts
Teams call 9-2:30pm
 
 
 
WEDNESDAY
Workout Wednesdays
Big Gym
3-4:30pm
 
 
THURSDAY
School Based Team
Library Annex
1:45-2:45pm
 
Cards for Canadian Soldiers Due
Office – Labelled Box
End of day
 
FRIDAY
Health and Safety Meeting
Library Annex
9:00am
 
Resource Meeting
Library Annex
Block 7/8
 
Aboriginal Christmas Gathering
TBD
5:00-7:30pm
ATHLETICS UPDATE 🏐🏀⚽🎾🏸🎯🏐🏀⚽🎾🏸🎯
There is no athletics at this time – we will keep you updated as this situation progresses.
Classroom Outdoor Sports Bags 
All Grades have now received their activity bags!

MS. LOREE'S COUNSELLING CONNECTION:
No new items this week.
FROM THE DISTRICT:
Be sure to checkout the district's webpage for the latest updates: www.sd35.bc.ca
4th Annual West Fine Art Show
The Foundation, in partnership with The West Fine Art Show Society, is holding the 4th Annual Art Show at the Glass House Winery in South Langley. Eighteen professional artists will be showing and selling their exquisite pieces. At the same time, the Foundation will host an online exhibition and adjudication of student art with cash prizes for first, second and third. Photography, paintings and 3-D sculptures are eligible and should follow a theme of COVID-19 and what it has wrought on our society (the positives, negatives, changes, trends). Please send images via email to scairns@sd35.bc.ca and rosemary_creative@hotmail.com.
Friday, March 5, 2021 • 5 pm to 9 pm
Saturday, March 6 • 11 am to 7 pm
Sunday, March 7 • 11 am to 5 pm
QUOTE OF THE WEEK: