January 23, 2022


Week of Jan. 23, 2022
January has flown by and we have another busy week ahead here in Skyhawk Nation!  This past week was highlighted by our basketball teams starting at the grade 6 & 7 level, along with trips to Game Ready Fitness, "Wig Wednesdays", and a beautiful act of kindness to our special neighbour by our Kindness Crew!
Daily Health Check
A friendly reminder to everyone to conduct the daily health check before coming to school or boarding a bus. Please note, the Ministry is currently updating the K-12 Health Check App, to reflect the current COVID-19 landscape. Students, staff, and visitors are asked to use the Thrive BC COVID-19 Self-Assessment Tool until further notice. The District will provide an update as soon as information is made available.
Supporting the Foundry Langley
The District continues to prioritize student safety, wellness and diversity. We have made efforts to support youth mental health initiatives in the District and through our local community partners. In show of support, we are sharing the following information regarding the Langley Memorial Hospital Foundation, Encompass, and Foundry's campaign to raise funds to open the Foundry Langley, which is a centre providing youth mental health support.
Did you know that 70 per cent of mental health problems begin during childhood or adolescence? While one in five young people aged 15 to 24 report experiencing mental illness or substance use problems, fewer than 25 per cent of those in need receive appropriate services! Behind these statistics is a vulnerable young person with a future of potential and promise. Let's show them they are not alone!
Join Langley Memorial Hospital Foundation in fundraising to build Foundry Langley, a centre dedicated to providing young people aged 12-24 access to mental health and substance use support, primary care, peer support and social services.
Together, we can raise the $2.1 million needed to provide Langley's youth the much-needed support. To make a donation to Foundry Langley in support of youth wellness, visit FoundryLangley.ca
New Community Resources/ Opportunities
 I wanted to pass along some community supports that are being offered in the near future.  I've attached a PDF to this email with information, workshops and opportunities that are coming up. Some of these events are  time sensitive and are happening in the next week, so I wanted to make sure you had this information in time. I've also included a list of mental health supports that can be accessed locally.
THE WEEK AHEAD AT HD STAFFORD
STAFFORD ATHLETICS & AFTER SCHOOL EVENTS
🏐🏀⚽🎾🏸🎯🏐🏀⚽🎾🏸🎯
It was great seeing athletes in our gyms these past couple weeks! Here is the schedule for this week in HD Stafford Athletics!
 
GYM
MONDAY
TUESDAY
WEDNESDAY
THURSDAY
FRIDAY
MORNING
LARGE GYM

G8 Boys Basketball Practice
Girls Basketball Skills
G8 Boys Basketball Practice
Girls Basketball Skills
SMALL GYM

AFTER SCHOOL
LARGE GYM

Grade 6 Boys Basketball
SMALL GYM

3:00pm Archery
5:00pm Archery
5:00pm Archery
3:00pm Archery

 
Community Room
3:00pm After School with Taran

1:45 – 4:00pm PUCKS
REMINDERS
We are very excited to roll out the new online Skyhawks Apparel Store to all staff, students and our Stafford community!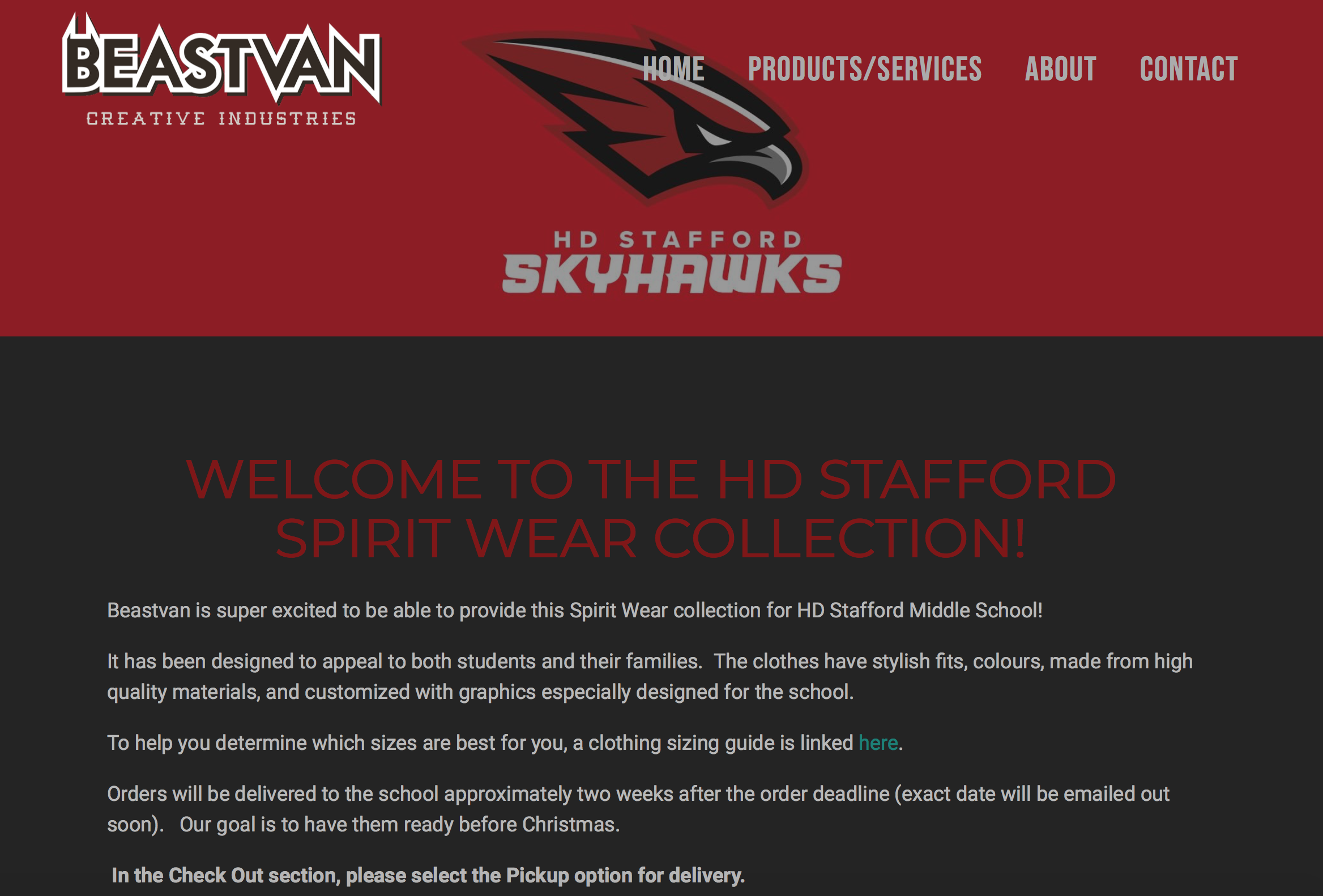 Information About School Status During Inclement Weather
Snow closures and power outages are an annual occurrence in Langley School District. So, where do you go to get information about the status of schools during periods of inclement weather? If you are able to access the internet via computer or smartphone, current information about Langley schools can be accessed on all school websites or www.sd35.bc.ca. Updates are also posted to Twitter @LangleySchools and Facebook at www.facebook.com/langleyschooldistrict. If you don't have internet connectivity but your phone is working, call a relative or friend in an area that has not been affected by the storm and ask them to check the district website for you. Local radio stations are also informed of school status in Langley. Tune in to CKWX 1130AM, CKNW 980AM, Country Radio 107.1FM, Pulse 107.7 or CBC 690AM or 88.1FM for updates.
Please note that Langley District schools are all considered 'open' until a decision to close is required. Decisions on school closures are usually made by 6:30am. As always, it is a parent's decision whether to send their child to school based on safety and individual circumstances. If you feel it is unsafe for you or your child to travel to or attend an open school for any reason, please keep your child home and report an absence to the school.
PARKING
Just a reminder that there is no stopping/parking on Grade Crescent in front of HD Stafford Middle School.

In consideration of our community neighbours and for the safety of our students, please refrain from blocking driveways and crosswalks and jaywalking

. Please have a conversation with your child(ren) of where an appropriate place to meet up after school could be. There is lots of available parking by City Park on 48th Ave which is just a short walk away for our students.
STUDENTS and MASKS
Please ensure that your children have their masks each day.
Students MUST always have their masks on – in the classroom, including their workstation (even if physically distanced), working on bulletin boards, going to washroom, filling their water bottles up, going outside, in PE class inside, etc.
Masks do not need to be worn when students are eating/drinking, or participating in high intensity activities outdoors (limited physical contact).
In band, the mask can only come off when they are playing their instrument (brass/woodwind).
REMINDER TO FAMILIES ABOUT DAILY HEALTH CHECK FORM:
As we enter into enhanced safety measures the health and safety of your children continues to be our top priority. As we start this new year, we want to remind students and families to complete the Daily Health Check. Thank you for your ongoing cooperation and doing your part to ensure our school community is healthy and safe.
The form is available in multiple languages on the District website here: https://bit.ly/2Mw0jo5
STAYING CONNECTED:
HDSMS will continue to work towards being a completely paperless school when it comes to communication with parents. In order to stay informed, please be sure you use at least one of the following on-line methods:
PAC NEWS:
NEW INFORMATION TO SHARE:
Virtual heart donation fundraiser with a prize draw and Easter Purdy's are coming soon! Look out for info via the Stafford Scoop, HDSMS Parent Hub page and HDSMS PAC page and emails for upcoming fundraiser info.  Social media is a great way to stay connected and ask questions.  Check out the parent hub page HDSMS Parent Hub page on Facebook and invite other parents of HD Stafford students.
Re: Hot lunches – Ordering has been temporarily paused until we have approval to run hot lunch again due to health protocols limiting visitors to the school.
The next PAC meeting is on Wednesday, Feb 9th, 6:30pm via Zoom. PAC meetings will alternate between zoom and in person meetings this year. If you're interested to be more involved in the PAC this year or next, reach out to hdsmspresident@gmail.com
Keep updated with PAC fundraisers and info through Facebook and Instagram at:
If you have any questions or if you are interested to volunteer at our PAC initiatives, please contact hdsmspac@gmail.com
PAC GENERAL INFORMATION:
Our PAC works to help create effective partnerships between the school and parent community. Building the triangle of support between parent, school, and child will create powerful learning opportunities and ensure our children's success.
Each and every parent or guardian is a member of our PAC. We encourage you to join us for the monthly meetings to participate in the building of PAC community and create learning opportunities for your child.
The meeting schedule for the year – Time: 6:30pm
Wednesday, February 9th, 2022, Zoom
Tuesday, April 5th, 2022, HD Stafford Library
Wednesday, May 4th, 2022, Zoom
Wednesday, June 1st, 2022 (AGM) HD Stafford Library
The 2021/22 HDSMS PAC EXECUTIVE:
LOVING LITERACY:
A really simple thing to do to promote reading culture in the classroom, is to put up a sign that says, "We read every day." It also serves as a great reminder to squeeze in some reading, even on those really busy days! Poems or short stories count too! Books written in verse are a quick read idea as well.
FROM THE LIBRARY LEARNING COMMONS:
Pernille Ripp is coming to the defence of graphic novels, again. This article, as well as the accompanying research, resources and strategies for learning is incredibly important and valuable in expanding our thinking and use of graphic novels. Our students love graphic novels, and rather than restricting them, the research encourages us to use them and encourage them for enjoyment and the building of literacy skills.
https://pernillesripp.com/2021/12/15/in-defense-of-graphic-novels-again/#comments
MS. LOREE'S COUNSELLING CONNECTION:

.
FROM THE DISTRICT:
Be sure to check out the SD#35 Homepage for the latest Community Opportunities!
QUOTE OF THE WEEK: