January 16, 2022


Week of Jan. 16, 2022
We made it through Week 1!  In our staff meeting this past I spoke about something that is common topic in the beginning of a year – that staying focused on our goals is critical. One of our goals here is that we would instill a belief in our students as learners and then teach them the skills so they can back up that belief.  I won't deny that I'm passionate about giving kids our very best every day, and in the words of Rita Pearson "INSISTING that they become the very best that they can be".  I'm so fortunate to work alongside a group of educators who aren't afraid of this challenge and are born to make a difference. I'm also fully aware that everyone's plate right now is full right now even beyond full, but it's about progress not perfection – and the indigenous principles of learning teach us that this journey takes both Patience and Time  – I'm still working on this myself.
Daily Health Check
A friendly reminder to everyone to conduct the daily health check before coming to school or boarding a bus. Please note, the Ministry is currently updating the K-12 Health Check App, to reflect the current COVID-19 landscape. Students, staff, and visitors are asked to use the Thrive BC COVID-19 Self-Assessment Tool until further notice. The District will provide an update as soon as information is made available.
Reporting School Absences
The school appreciates the work of families in following our processes when it comes to reporting student absences. As per Ministry guidelines, students and their families are being asked to indicate if the reason for the absence is due to illness. As per Ministry guidance, students do not need to disclose if their absence is specific to COVID-19; however, those who test positive for COVID-19 should be diligent in ensuring their school is aware their absence is illness-related. Providing us with accurate information regarding the reason your child is away, is extremely critical in helping keep our school community safe. This data will help our school, the District, and Fraser Health work together to assess and make decisions about closures which could impact operations and student learning. The attendance information families provide remains confidential, will not be shared, and is only used for reporting and planning purposes. If you have any questions about reporting absences, please feel free to contact the school. 
New Community Resources/ Opportunities
THE WEEK AHEAD AT HD STAFFORD
STAFFORD ATHLETICS & AFTER SCHOOL EVENTS
🏐🏀⚽🎾🏸🎯🏐🏀⚽🎾🏸🎯
It was great seeing athletes in our gyms these past couple weeks! Here is the schedule for this week in HD Stafford Athletics!
 
GYM
MONDAY
TUESDAY
WEDNESDAY
THURSDAY
FRIDAY
MORNING
LARGE GYM

G8 Boys Basketball Practice
Girls Basketball Skills
G8 Boys Basketball Practice
Girls Basketball Skills
SMALL GYM

AFTER SCHOOL
LARGE GYM

SMALL GYM

3:00pm Archery
5:00pm Archery
5:00pm Archery
3:00pm Archery

 
Community Room
3:00pm After School with Taran

1:45 – 4:00pm PUCKS
REMINDERS
We are very excited to roll out the new online Skyhawks Apparel Store to all staff, students and our Stafford community!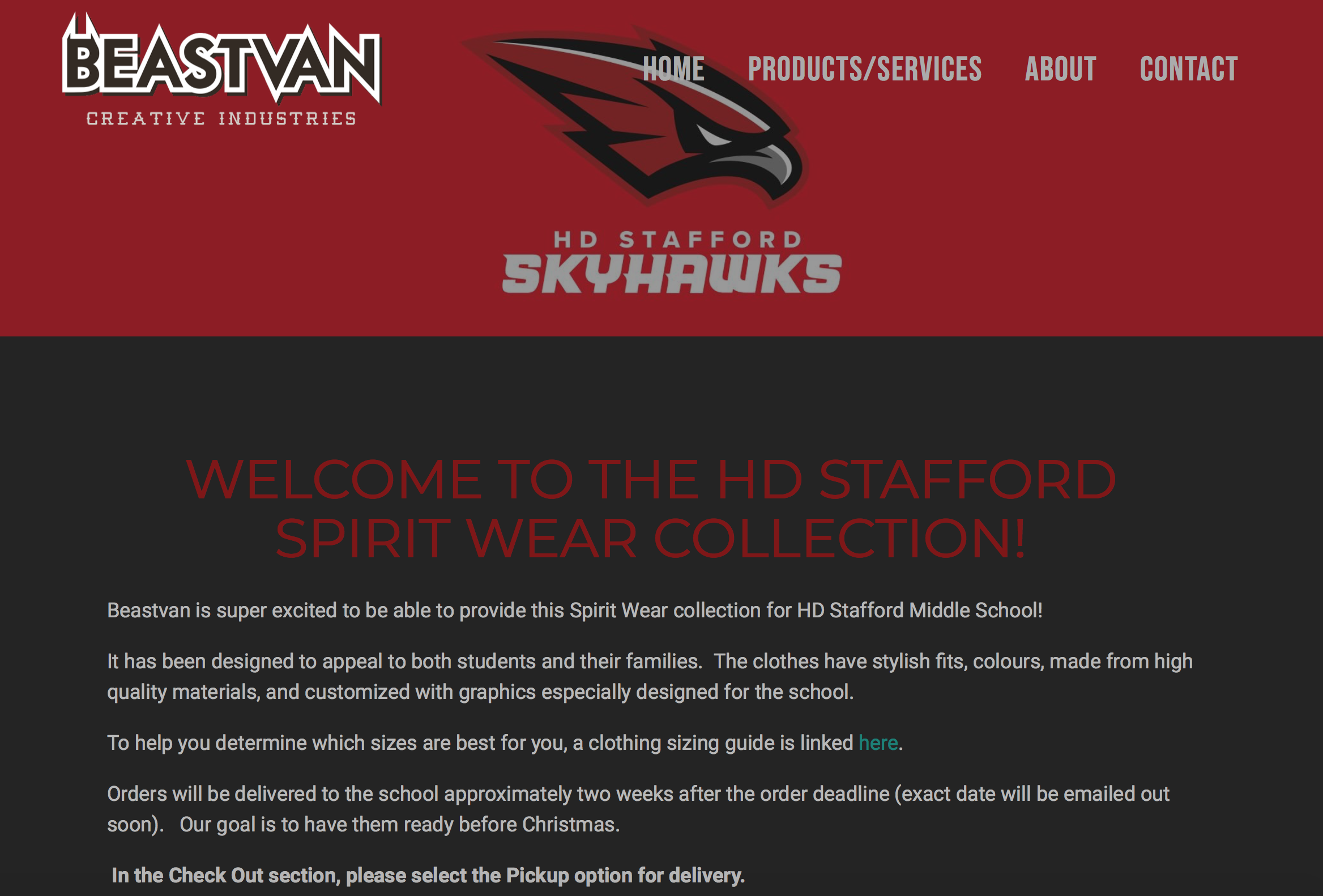 Information About School Status During Inclement Weather
Snow closures and power outages are an annual occurrence in Langley School District. So, where do you go to get information about the status of schools during periods of inclement weather? If you are able to access the internet via computer or smartphone, current information about Langley schools can be accessed on all school websites or www.sd35.bc.ca. Updates are also posted to Twitter @LangleySchools and Facebook at www.facebook.com/langleyschooldistrict. If you don't have internet connectivity but your phone is working, call a relative or friend in an area that has not been affected by the storm and ask them to check the district website for you. Local radio stations are also informed of school status in Langley. Tune in to CKWX 1130AM, CKNW 980AM, Country Radio 107.1FM, Pulse 107.7 or CBC 690AM or 88.1FM for updates.
Please note that Langley District schools are all considered 'open' until a decision to close is required. Decisions on school closures are usually made by 6:30am. As always, it is a parent's decision whether to send their child to school based on safety and individual circumstances. If you feel it is unsafe for you or your child to travel to or attend an open school for any reason, please keep your child home and report an absence to the school.
Possible Change of Clothes
Just a quick reminder that students do go outside for recess and lunch on most days, including those rainy days.  A change of clothes that can be kept in the locker may help stop you having to come pick up your children or coming to drop off clothes.
SUPPORTS FOR PARENTS
I wanted to pass along some community supports that are being offered in the near future.  I've attached a PDF to this email with information, workshops and opportunities that are coming up. Some of these events are  time sensitive and are happening in the next week, so I wanted to make sure you had this information in time. I've also included a list of mental health supports that can be accessed locally.
PARKING
Just a reminder that there is no stopping/parking on Grade Crescent in front of HD Stafford Middle School.

In consideration of our community neighbours and for the safety of our students, please refrain from blocking driveways and crosswalks and jaywalking

. Please have a conversation with your child(ren) of where an appropriate place to meet up after school could be. There is lots of available parking by City Park on 48th Ave which is just a short walk away for our students.
STUDENTS and MASKS
Please ensure that your children have their masks each day.
Students MUST always have their masks on – in the classroom, including their workstation (even if physically distanced), working on bulletin boards, going to washroom, filling their water bottles up, going outside, in PE class inside, etc.
Masks do not need to be worn when students are eating/drinking, or participating in high intensity activities outdoors (limited physical contact).
In band, the mask can only come off when they are playing their instrument (brass/woodwind).
REMINDER TO FAMILIES ABOUT DAILY HEALTH CHECK FORM:
As we enter into enhanced safety measures the health and safety of your children continues to be our top priority. As we start this new year, we want to remind students and families to complete the Daily Health Check. Thank you for your ongoing cooperation and doing your part to ensure our school community is healthy and safe.
The form is available in multiple languages on the District website here: https://bit.ly/2Mw0jo5
STAYING CONNECTED:
HDSMS will continue to work towards being a completely paperless school when it comes to communication with parents. In order to stay informed, please be sure you use at least one of the following on-line methods:
PAC NEWS:
NEW INFORMATION TO SHARE:
Welcome to 2022! Look out for upcoming emails and info via the Stafford Scoop for upcoming fundraisers. Social media is a great way to stay connected and ask questions.  Check out the parent hub page HDSMS Parent Hub page on Facebook and invite other parents of HD Stafford students.
Keep an eye out for info about hot lunch ordering for Feb 10th. Ordering has been temporarily paused until we have approval to run hot lunch again due to health protocols limiting visitors to the school.
The next PAC meeting is on Wednesday, Feb 9th, 6:30pm via Zoom. PAC meetings will alternate between zoom and in person meetings this year. If you're interested to be more involved in the PAC this year or next, reach out to hdsmspresident@gmail.com
Keep updated with PAC fundraisers and info through Facebook and Instagram at:
If you have any questions or if you are interested to volunteer at our PAC initiatives, please contact hdsmspac@gmail.com
PAC GENERAL INFORMATION:
Our PAC works to help create effective partnerships between the school and parent community. Building the triangle of support between parent, school, and child will create powerful learning opportunities and ensure our children's success.
Each and every parent or guardian is a member of our PAC. We encourage you to join us for the monthly meetings to participate in the building of PAC community and create learning opportunities for your child.
The meeting schedule for the year – Time: 6:30pm
Wednesday, January 12th, 2022, HD Stafford Library
Wednesday, February 9th, 2022, Zoom
Tuesday, April 5th, 2022, HD Stafford Library
Wednesday, May 4th, 2022, Zoom
Wednesday, June 1st, 2022 (AGM) HD Stafford Library
The 2021/22 HDSMS PAC EXECUTIVE:
LOVING LITERACY:
FROM THE LIBRARY LEARNING COMMONS:
Do your students like scary books or horror books? We often get requests, and while this genre is not my personal preference, there is some reasoning behind why many of our students love a good scare: https://www.slj.com/?detailStory=Happily-horrified-why-tweens-crave-horror-books-in-scary-times-libraries-pandemic-libraries. If your students are looking for a middle school appropriate fright, send them our way!
MS. LOREE'S COUNSELLING CONNECTION:

.
FROM THE DISTRICT:
Be sure to check out the SD#35 Homepage for the latest Community Opportunities!
QUOTE OF THE WEEK: