February 7, 2021


Week of February 5th, 2021
That was a long week.
With all the situations we are working through as staff, seeing our staff come together and take care of each other is incredible.  I continue to be thankful for this caring and supportive community of educators whose care for kids and each other goes well beyond the walls of our school.
Happy Super Bowl Sunday Everyone!
Here's the scoop…
PICTURES FROM THE WEEK:
Ms. Sander has her Kindness Crew back at it again – sharing acts of kindness throught the school – #awesome!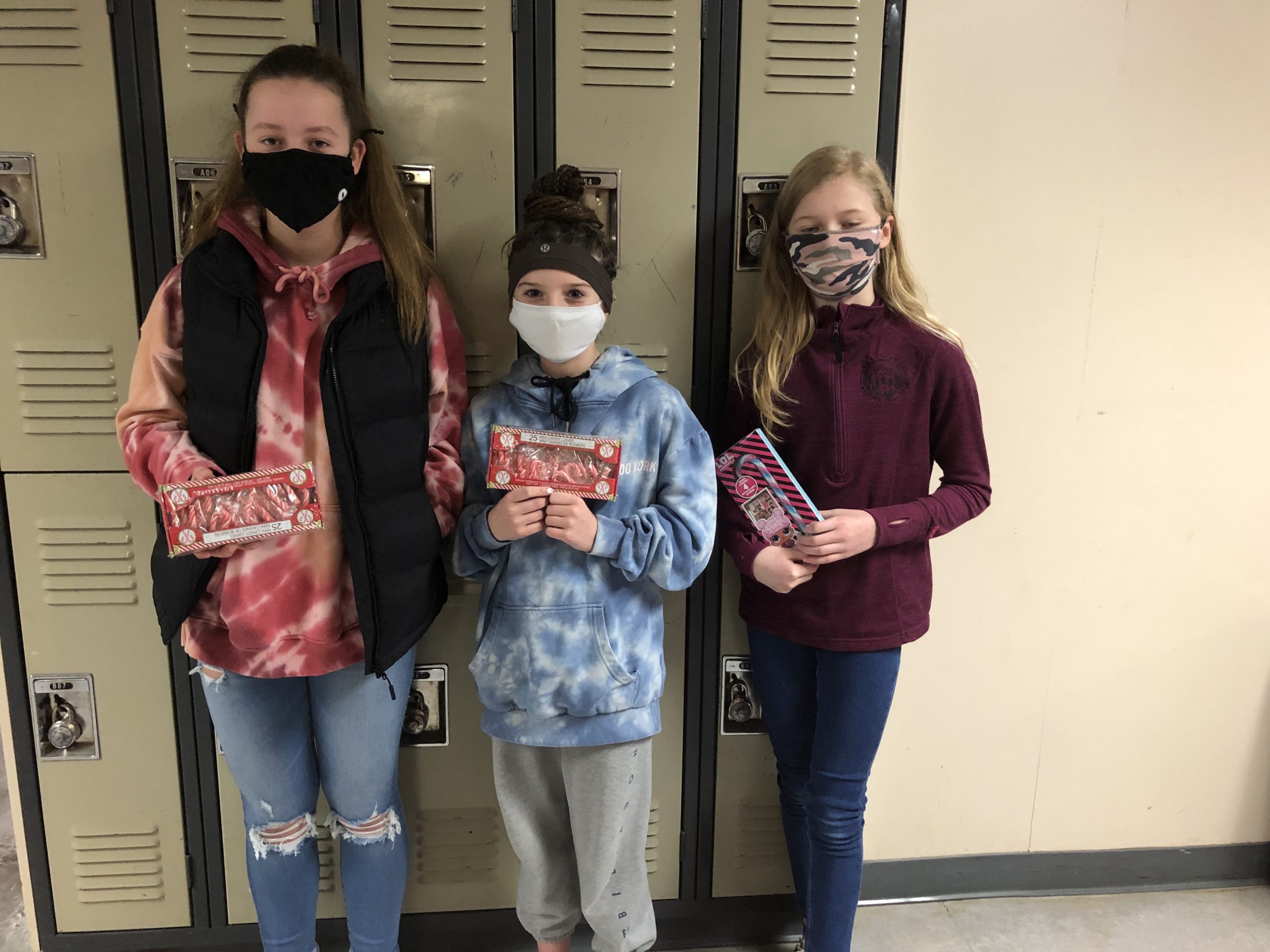 More great displays of Remarkable Black heros of our time to celebrate Black History Month
Mr. Van Meer literally "flipped" his classroom to engage his students in a "Thinking Classroom" activity in Mathematics – so amazing!
Since Valentine's Day is on the way – why not consider a Blind Date with a BOOK!  Our Literacy goals are going strong in the Learning Commons with present wrapped books with the first sentence displayed to peak your interest!
RESIDENT READER IS COMING BAAACK!!!!   That's right everyone – be sure to check the CLUES!
Thanks again to our Langley City Firefighters for their ability to "coerce" this door open – so we can access the fire panel and let everyone back inside during our fire drill.  Thanks gents!
NEW INFORMATION TO SHARE:
LSS GRADE 9 STUDENT & PARENT INFORMATION NIGHT
On Monday, February 8, at 6:30 pm we are holding our LSS Grade 8 Course Planning evening; this is for students who will be entering Grade 9 in September 2021.  Due to COVID restrictions, we will be holding this evening online, on Teams; here is the Teams invitation link:
https://teams.microsoft.com/l/meetup-join/19%3ameeting_YTkyZWNiYzQtOWY0My00NmVhLTgwMDUtYmQ3ODI2NGQ1YTdj%40thread.v2/0?context=%7b%22Tid%22%3a%22fcabfaae-f80a-4f74-b6a7-ba15c2a4bb24%22%2c%22Oid%22%3a%229ca1e522-9a3c-4079-aaa7-b839a27db58a%22%2c%22IsBroadcastMeeting%22%3atrue%7d
This evening is both for parents, and students in Grade 8.  We will be presenting some very important information that you will need to have prior to the students making their course selections for next year.  We are planning for it to be a very informative evening!

VALENTINES TREAT DAY – POSTPONED.
It has been amazing to see everyone's support of our PAC with all of the order for the Feb 11th Valentine's Treat Day. It was to be our first since the beginning of Covid and were really excited to see all how quickly Parents showed enthusiasm with this fundraiser. It does make it a bit harder to announce Valentine's Treat Day will be postponed until further notice due to Covid guidelines. We are hopeful that in the next few months we will be able to pick up a grab bag fundraiser to clear stock from Hawks nest and will work towards getting paid orders credited to your accounts.
Stay safe & Happy,
Your HDSMS PAC 2020/21
ENHANCED SAFETY MEASURES FOR K-12 SCHOOLS
The District appreciates all the hard work from students, staff, and families in helping keep our community safe. We continue to work closely with the Ministry of Education and Provincial Health Office. This week the province announced changes to COVID-19 health and safety guidelines for schools. Mask requirements for middle and secondary school students and K-12 staff have been amended. Guidelines have also been strengthened for physical education and music classes.
It is important to note, our schools will need some time to implement these new changes; all changes will be in effect as of February 26, 2021. Your continued patience and support are appreciated. If you have any questions, please contact the school.
Please read below and full details found in the province's news release located on the District website here.
 Changes to Mask Wearing
All middle and secondary students and K-12 staff will now be required to wear non-medical masks in all indoor areas, including when they are with their learning groups. The only exceptions are when:
sitting or standing at their seat or workstation in a classroom;
there is a barrier in place; or
they are eating or drinking.
For elementary students, wearing masks indoors remain a personal choice.
It is important to note, as advised by the province, these changes above do not apply to grade 6 and 7 students attending an elementary school.
Changes to Physical Education and Music Classes
High-intensity physical activities are to be held outside as much as possible. Shared equipment or items, such as weight machines, treadmills or musical instruments, can be used only if they are cleaned between use, according to strict school sanitization guidelines. Students using equipment or playing instruments should also be spaced at least two metres apart and masks are to be used when singing.
SchoolMessenger Communications Message from the Langley School District 
The District is aware of parents/guardians receiving a message from the Langley School District. This text message is a request to opt-in for text messaging notifications from their child's school. This is a component of the District's plan to roll out a new parental outreach notification system called SchoolMessenger. This is not spam. This is a communication message from the Langley School District. We acknowledge this alert was unexpected for families. Our plan was to roll this out to our school communities in February, with the full system in place by the middle of the month. We will be sharing more information in the coming days.
WELLNESS TOGETHER PORTAL
Wellness Together Canada was funded by the Government of Canada in response to the unprecedented rise in mental distress due to the COVID-19 pandemic. People are being challenged like never before due to isolation, physical health concerns, substance use concerns, financial and employment uncertainty, and the emotional dialogue around racial equality. We're all going through this together, and we believe that mental health is a journey, not a destination. Each day, we can take a step for our own wellbeing. Wellness Together Canada is here to support everybody on that journey.
For information on COVID and a physical self-assessment of COVID-19 symptoms, click here. Or  here: https://ca.portal.gs/
FSA ( Foundational Skills Assessment) Change of Administration Dates:
The BC Ministry of Education has adjusted the administration dates for this year's Foundation Skills Assessment (FSA). All Langley students in grades 4 and 7 will now complete the FSA in the new administration window between February 15 and March 12, 2021. 
Information on the exact dates students will write their FSA's will be provided by your child's classroom teacher in the coming weeks. Parents of students in grade 4 and 7 would have received a letter in September from Gord Stewart, Superintendent of Langley Schools, regarding the annual Foundation Skills Assessment (FSA) for the 2020/2021 school year. The letter indicated that this year's FSA would be administered between October 5 and November 13, 2020. The remainder of the information outlined in the letter still applies and if parents have any questions regarding the FSA – please contact the school.
REMINDER TO FAMILIES ABOUT DAILY HEALTH CHECK FORM:
Health and safety continues to be our top priority. As we start this new year, we want to remind students and families to complete the Daily Health Check. Thank you for your ongoing cooperation and doing your part to ensure our school community is healthy and safe.
The form is available in multiple languages on the District website here: https://bit.ly/2Mw0jo5
GRADE 8 TO GRADE 9 TRANSITIONS – SAVE THE DATES
February 8th @ 6:30pm (Virtual) – Grade 8 LSS Parent Information Night

Event to be hosted via MS TEAMS Live.( See above)

February 9th – Course Planning Intro with Grade 8 Classes

During the day  – Schedules will go home to parents for approval.

February 11th – Taste of LSS (Virtual) –

LSS Staff to Virtually Tour the school with Grade 8 students.

February 16th – Grade 9 Course Planning @ HDSMS

LSS Counsellors will be on site to complete the course planning process online with students.
FOUNDRY SURVEY: MIDDLE AND SECONDARY
Plans are in the works to bring a Foundry Centre to Langley to support youth wellness and your help is needed. Youth 12-24 and their caregivers are encouraged to complete a survey to provide their input on the design of the centre and supports that are needed. Send in your response and you can enter a chance to win a $50 gift card (see attached flyers) or complete the survey here: http://ow.ly/NCpz50CPAAp
Our community partner, Encompass Support Services Society, is also looking for youth advisory committee members to contribute to this project.
For more info email: support@encompass-support.com
CLOSED CAMPUS & SKIP THE DISHES REMINDERS
Please be reminded that HDSMS is currently a closed campus to everyone but students and staff.  We are seeing an increased flow of parent traffic to drop off various items throughout the day.  The doors are locked and parents need to call the school first if they require access.
Please DO NOT order Skip the Dishes delivered to the school – this brings an unnecessary safety risk to our building.
PARKING
Just a reminder that there is no stopping/parking on Grade Crescent in front of HD Stafford Middle School. In consideration of our community neighbours and for the safety of our students, please refrain from blocking driveways and crosswalks and jaywalking. Please have a conversation with your child(ren) of where an appropriate place to meet up after school could be. There is lots of available parking by City Park which is just a short walk away for our students.
STUDENT SAFETY AROUND SCHOOLS – WEATHER
With the days growing shorter and the weather changing to rain, fog, and frost, HD Stafford Middle is reminding all our students to take extra precaution when walking to and from school. Please be aware of your surroundings, walk on the sidewalk and with someone whenever possible, and avoid wearing headphones. We also ask drivers in our school community to be vigilant on our roads. Student safety is our priority. Thank you for your cooperation and support in keeping everyone safe.
MASKS AND WATERBOTTLES:
MASKS – Please ensure that your children have their masks each day.

 
WATER BOTTLES – please remind your children that they need to have a  water bottle at school.
STAYING CONNECTED:
HDSMS will continue to work towards being a completely paperless school when it comes to communication with parents. In order to stay informed, please be sure you use at least one of the following on-line methods:
PAC NEWS:
New Information Below:

The PAC is actively fundraising to continue to "Middle-ize & beautify" our building.  More pictures to come of the scope of our projects – but this will include stairwells, inspirational quotes on walls, engaging displays and a middle makeover of our common spaces.

  Any questions or if you are interested in joining our PAC initiatives please contact hdsmspac@gmail.com
COMING UP THIS WEEK:
| | | | |
| --- | --- | --- | --- |
| DAY | EVENT | WHERE/WHO | WHEN |
| MONDAY | Gr. 8 Boys Basketball Practice | Gym | 7:50 – 8:35am |
|   | Exploration Rotation Change | All classes | |
|   | LSS Grade 8 Parent Information Night | Online – Current Grade 8 Parents/Guardians | 6:30pm |
|   | MDI Starts | Grade 6 & 8 Classes | Until March 5 |
| TUESDAY | Ensouling Our Schools | Teams/Library | 3:15pm – 5:15pm |
|   | Grade 9 Course Planning Intro | Grade 8 Classes | |
| WEDNESDAY | Gr. 8 Boys Basketball Practice | Gym | 7:50 – 8:35am |
|   | Food For Thought – Literacy | Library – All Interested | Lunch 😊 |
| THURSDAY | School Based Team | Library Annex | Block 7/8 |
| | | | |
|   | Taste of LSS | Online | |
| FRIDAY | Pro-D | Everyone/variety of events | All day! |
PLANNING AHEAD:
Explorations New Rotation:  February 8, 2021
LSS Parent Night (Virtual) – 6:30 pm, February 8, 2021
Course Planning Introduction – February 9, 2021
Taste of LSS (Virtual) – February 11, 2021
Professional Development Day – February 12, 2021
Family Day – February 15, 2021
MDI (Grades 6 & 8) – Feb. 5 – March 5 (More info to come)
FSAs (Grade 7) – Feb. 15- March 12 (More info to come)
Diversity and Respect Week – February 22 – 26, 2021
March 8th – International Women's Day: The International Women's Day theme for 2021 is #ChooseToChallenge, which highlights the importance of challenging biases and misconceptions in the interest of creating a more inclusive and gender-equal world.
LOVING LITERACY:
From the Library Learning Commons
Picture books can be powerful conversation starters and share important stories: Here's one of my favourites, The Undefeated, by Kwame Alexander and Kadir Nelson. This book can be a great starting point to lessons or discussions about black history month. This book is not for younger audiences, but perfect for middle grades or older. Kwame Alexander reads it on the video below:
Kwame Alexander reads from The Undefeated | Authors Live | BBC Scotland
Journal and/or discussion prompts might be:
-How do you define being undefeated?
-What does it mean to be an ally?
-What meaningful and practical things can we do to make sure BIPOC are not fighting these battles alone?
-What are some possible themes of the book? (eg.  perseverance)
-What is the message of the last page?
ATHLETICS UPDATE 🏐🏀⚽🎾🏸🎯🏐🏀⚽🎾🏸🎯
BASKETBALL PRACTICES BEGINNING WITH COVID PROTOCOLS
We are planning to begin Gr. 8 basketball practice in the gym in the morning following all COVID protocols. We've spoken with the coaches and AD, and believe we can provide an opportunity to do this in a safe way.  We will be assigning each class with interested players a hoop, utilizing both gyms on a rotation schedule.   We will be starting with Grade 8 students for now and see how it goes.  If there is a situation where players choose to violate the protocols – they will be asked to leave for the remainder of the season and will not be allowed to return.

MS. LOREE'S COUNSELLING CONNECTION:
FROM THE DISTRICT:
Be sure to checkout the district's webpage for the latest updates: www.sd35.bc.ca
Kindness T-Shirts
To help fund our programs and to celebrate our mission of making learning UNFORGETTABLE for every Langley student, the Foundation has Kindness T-shirts for sale. They are $20 for adults. $10 for children and they come in all sizes. All proceeds go to support our hungry students and families. Purchase online at www.langleyschooldistrictfoundation.com or contact jdorland@sd35.bc.ca.
Kenyan Curios
In keeping with the Foundation's mandate to support global education, we have included on our website an online market featuring exquisite Kenyan curios. Most have been sold, but a few remain at drastically reduced prices. All proceeds go to support global education. To purchase go to www.langleyschooldistrictfoundation.com and click on PA-MOJA page.
4th Annual West Fine Art Show
The Foundation, in partnership with The West Fine Art Show Society, is holding the 4th Annual Art Show at the Glass House Winery in South Langley. Eighteen professional artists will be showing and selling their exquisite pieces. At the same time, the Foundation will host an online exhibition and adjudication of student art with cash prizes for first, second and third. Photography, paintings and 3-D sculptures are eligible and should follow a theme of COVID-19 and what it has wrought on our society (the positives, negatives, changes, trends). Please send images via email to scairns@sd35.bc.ca and rosemary_creative@hotmail.com.
Friday, March 5, 2021 • 5 pm to 9 pm
Saturday, March 6 • 11 am to 7 pm
Sunday, March 7 • 11 am to 5 pm
QUOTE OF THE WEEK: