December 5, 2021


Week of Dec. 5, 2021
It's hard to keep up with all the fantastic "goings-on" this week at HD Stafford!  With clubs and explorations in full swing, students are getting a chance to fully experience all that Middle School has to offer.  We are excited to get back to interschool athletic games this week, while it looks like the Christmas Spirit and Snow is coming early this year – so be sure to wear your jacket and toque!
Here's the Scoop…
PICTURES FROM THE LAST WEEK:
NEW INFORMATION TO SHARE:
Fuel and Travel Restrictions Update – Effective Monday, December 6, 2021
The District is sharing an update with the community regarding the announcement made on November 22, 2021 outlining measures to support the province's fuel and travel restrictions. The Ministry of Education has provided new guidance to school districts regarding sports and extracurricular activities. Schools are now permitted to participate in these types of events such as field trips, sports tournaments, and related learning opportunities that require transportation. To help our school staff and volunteers plan for the transition, this change will be in effect Monday, December 6, 2021 and will continue to winter break or until further notice.
The District recognizes these activities are valuable to student development, learning, and community building. The District will continue with other measures to support the province's effort in conserving fuel and reducing travel. In alignment with the province, the District is encouraging our students, staff, and families to walk, ride a bike, carpool, use transit or alternate modes of transportation. We appreciate your support during these challenging times.
Langley Christmas Bureau 2021
Help fulfill a Christmas wish this holiday season! The Langley Christmas Bureau is once again offering its services to Langley families. Learn how you can help provide a festive dinner or gifts for children in our community by clicking on the QR code on this poster here. If your family is in need of support this year, review the details in this poster here. This initiative is open to families with children from newborn to grade 12. For more information, please visit: langleychristmasbureau.com
LOOKING FORWARD TO SEEING OUR FANS!
With the Skyhawks Athletics Season back in full swing – we wanted to remind all parents that YOU ARE ALLOWED to come and watch your child's games in our gym! A reminder that parents will be required to sign in, sanitize and wear a mask – but also CHEER REALLY LOUD!
We are very excited to roll out the new online Skyhawks Apparel Store to all staff, students and our Stafford community!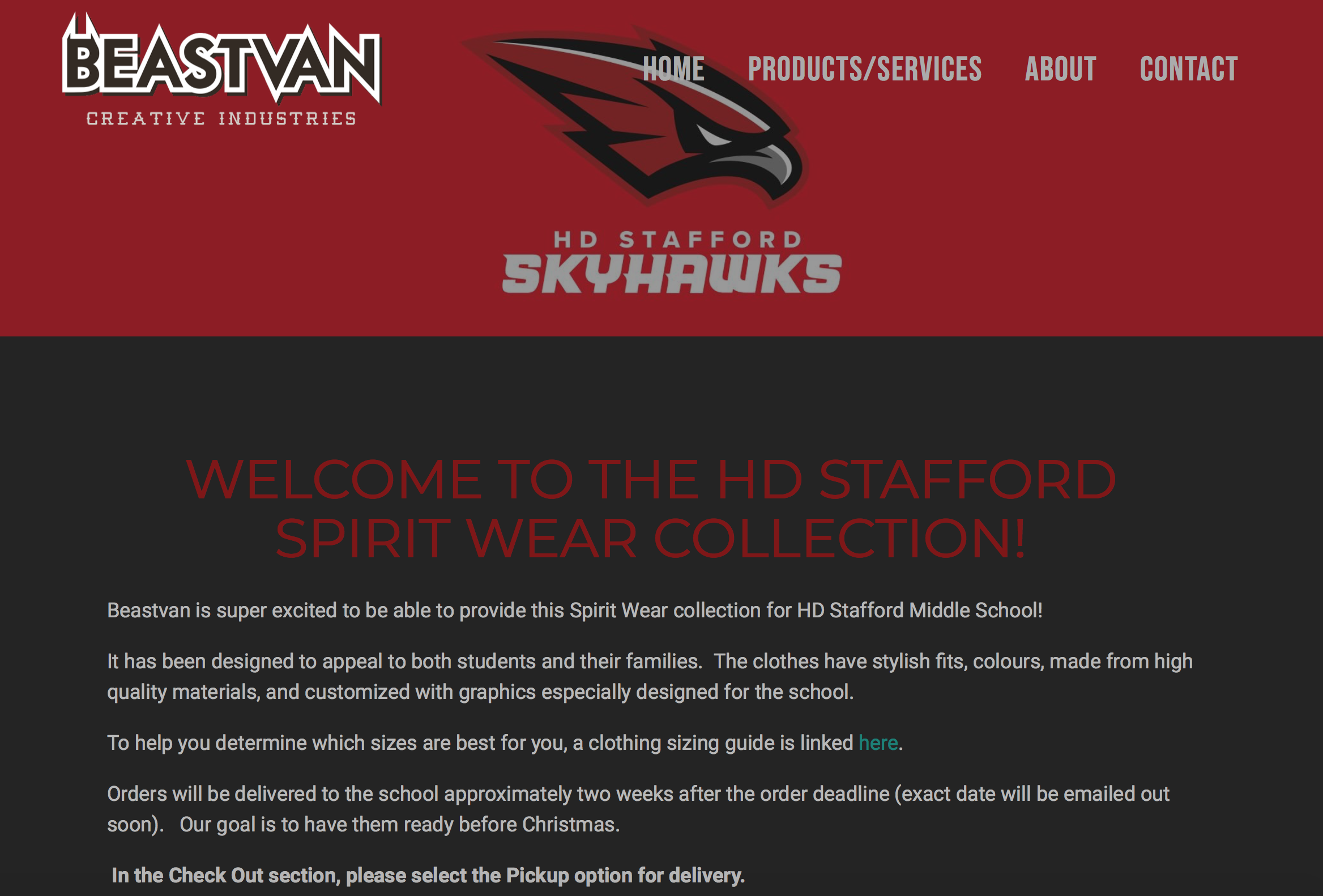 Information About School Status During Inclement Weather
Snow closures and power outages are an annual occurrence in Langley School District. So, where do you go to get information about the status of schools during periods of inclement weather? If you are able to access the internet via computer or smartphone, current information about Langley schools can be accessed on all school websites or www.sd35.bc.ca. Updates are also posted to Twitter @LangleySchools and Facebook at www.facebook.com/langleyschooldistrict. If you don't have internet connectivity but your phone is working, call a relative or friend in an area that has not been affected by the storm and ask them to check the district website for you. Local radio stations are also informed of school status in Langley. Tune in to CKWX 1130AM, CKNW 980AM, Country Radio 107.1FM, Pulse 107.7 or CBC 690AM or 88.1FM for updates.
Please note that Langley District schools are all considered 'open' until a decision to close is required. Decisions on school closures are usually made by 6:30am. As always, it is a parent's decision whether to send their child to school based on safety and individual circumstances. If you feel it is unsafe for you or your child to travel to or attend an open school for any reason, please keep your child home and report an absence to the school.
Possible Change of Clothes
Just a quick reminder that students do go outside for recess and lunch on most days, including those rainy days.  A change of clothes that can be kept in the locker may help stop you having to come pick up your children or coming to drop off clothes.
SUPPORTS FOR PARENTS
I wanted to pass along some community supports that are being offered in the near future.  I've attached a PDF to this email with information, workshops and opportunities that are coming up. Some of these events are  time sensitive and are happening in the next week, so I wanted to make sure you had this information in time. I've also included a list of mental health supports that can be accessed locally.
PARKING REMINDER
Just a reminder that there is no stopping/parking on Grade Crescent in front of HD Stafford Middle School.

In consideration of our community neighbours and for the safety of our students, please refrain from blocking driveways and crosswalks and jaywalking

. Please have a conversation with your child(ren) of where an appropriate place to meet up after school could be. There is lots of available parking by City Park on 48th Ave which is just a short walk away for our students.
STUDENTS and MASKS
Please ensure that your children have their masks each day.
Students MUST always have their masks on – in the classroom, including their workstation (even if physically distanced), working on bulletin boards, going to washroom, filling their water bottles up, going outside, in PE class inside, etc.
Masks do not need to be worn when students are eating/drinking, or participating in high intensity activities outdoors (limited physical contact).
In band, the mask can only come off when they are playing their instrument (brass/woodwind).
REMINDER TO FAMILIES ABOUT DAILY HEALTH CHECK FORM:
As we enter into enhanced safety measures the health and safety of your children continues to be our top priority. As we start this new year, we want to remind students and families to complete the Daily Health Check. Thank you for your ongoing cooperation and doing your part to ensure our school community is healthy and safe.
The form is available in multiple languages on the District website here: https://bit.ly/2Mw0jo5
STAYING CONNECTED:
HDSMS will continue to work towards being a completely paperless school when it comes to communication with parents. In order to stay informed, please be sure you use at least one of the following on-line methods:
COMMUNITY ROOM
The community room supports building confidence in our Skyhawks
Afterschool Programming:  
Mondays:
Wednesdays:
Kids' Play Starting October 27th Multi-sport and mentorship program. Everyone is welcome. This program will be in the Community Room and Multi-purpose Room 3:00pm – 4:15pm. Sign up with Mr.Hendy Bhendy@sd35.bc.ca
Archery 3-5pm Small Gym, Everyone welcome. Please email Dsandquist@sd35.bc.ca to register.
Thursdays:
Rustic Sign Making Course Starting November 18th – December 9th $50.00 for two projects Please see Mr.Hendy to register  Bhendy@sd35.bc.ca Community Room 3pm – 5pm.
Fridays:
After 3 with Taran!!!! 3:00pm – 5:00pm Students will be able to create arts and crafts as well as baking food and play board games.
PUCKS  1:45pm – 4:00pm
Archery 3:30 – 5:00
ATHLETICS UPDATE 🏐🏀⚽🎾🏸🎯🏐🏀⚽🎾🏸🎯
It was great seeing athletes in our gyms these past couple weeks! Here is the schedule for this week in HD Stafford Athletics!
Stafford Athletics Schedule this week:
Morning
Afternoon
Large Gym
Small Gym
Large Gym
Small Gym
Mon
7:30am G6 Volleyball Practice
3:00pm G7 Girls Volleyball Practice
3:00pm Archery
Tues
Boys Basketball Skills

Girls Basketball Skills

G6 Boys and G6 Girls Volleyball vs. LCS 1
5:00pm Archery
Wed
Boys Basketball Skills
G7 Girls Volleyball HDS1 vs. Credo

G7 Girls Volleyball HDS2 vs. LFM 2

3:00pm G7 Boys Volleyball vs. PEM
Thurs
7:30am G7 Girls VBALL Practice
3:00pm G6 Boys Volleyball Practice
5:00pm Archery
Fri
3:00pm Archery
COMING UP THIS WEEK @ HDSMS:
DAY
EVENT
WHERE/WHO
WHEN
MONDAY
Middle School Networking

Find Your Fit

John/Natalie

Small Gym/See Schedule

8am-11am

All Day

TUESDAY
Youth Engagement Forum
Langley Event Center/Natalie & 6 students
10am-1pm
 
Grade 6 Immunizations
Large Gym/Gr. 6 Students – schedule of approx. Times to come
9am-12pm (approx.)
 
Find Your Fit
Small Gym/See Schedule
All Day
WEDNESDAY
 
Superintendent's Meeting
LEC/John and Natalie
8am-12pm
 
School Based Team
Annex
Block 4
 
Christmas Pop Up Shop
All Classes – Art Room
THURSDAY
Staff Meeting
Small Gym
3pm
 
Christmas Pop Up Shop
All Classes – Art Room
FRIDAY
Day 1

 
Report Cards Issued
Everyone!!
 
Staff Christmas Party
PLANNING AHEAD:
December 13-17 – Secret Santa!! – Sign up on Teams – HDSMS – General – if Interested in joining in on the fun (join before December 7th)!
December 14 – Intervention Team Meeting – 9:30am
December 17 – LAST DAY PRIOR TO WINTER BREAK!!!!
December 17 – Spirit Day!! Ugly Sweater or Red and Green
January 4 – School re-opens after winter break (please note that this is TUESDAY)
January 6 – Team Leader Meeting 7:15am
PAC NEWS:
NEW INFORMATION TO SHARE:
Next Hot lunch is Monday, December 13th! Order by Monday, December 6th.  Please contact hdsmspac@gmail.com if you are able to volunteer on these days, 9-11:30am.
The next PAC meeting is on Wednesday, January 12th, 6:30pm in the HD Stafford Library. PAC meetings will alternate between zoom and in person meetings this year. 
Pick up time for Purdy's Orders are Thursday, Dec 9th, from 3-4 outside the school.
Anyone interested to volunteer at Willowbrook Mall for holiday gift wrapping to support Big Brothers & Big Sisters of Langley as a family or a group, go to: https://langley.bigbrothersbigsisters.ca/holiday-gift-wrapping-sign-up/
Keep updated with PAC fundraisers and info through Facebook and Instagram at:
If you have any questions or if you are interested to volunteer at our PAC initiatives, please contact hdsmspac@gmail.com
PAC GENERAL INFORMATION:
Our PAC works to help create effective partnerships between the school and parent community. Building the triangle of support between parent, school, and child will create powerful learning opportunities and ensure our children's success.
Each and every parent or guardian is a member of our PAC. We encourage you to join us for the monthly meetings to participate in the building of PAC community and create learning opportunities for your child.
The meeting schedule for the year – Time: 6:30pm
Wednesday, October 13th, 2021, Zoom
Tuesday, November 16th, 2021, HD Stafford Library
Wednesday, January 12th, 2022, HD Stafford Library
Wednesday, February 9th, 2022, Zoom
Tuesday, April 5th, 2022, HD Stafford Library
Wednesday, May 4th, 2022, Zoom
Wednesday, June 1st, 2022 (AGM) HD Stafford Library
The 2021/22 HDSMS PAC EXECUTIVE:
LOVING LITERACY:
Growing List
Whole room displays of books you have read together, or in small reading groups, is a great visual representation of reading success. It can either be a list that grows over time, or photocopies of front covers posted on door/wall once read.
FROM THE LIBRARY LEARNING COMMONS:
"Be who you are and say what you feel, because those who mind don't matter and those who matter don't mind."- Dr. Suess.
MS. LOREE'S COUNSELLING CONNECTION:

.
FROM THE DISTRICT:
Here are a few items from the Langley School District's Community Bulletin Board. For more community events please visit https://www.s35.bc.ca/news-events/community-bulletin-board/
Summer Program Opportunity for Students Wanting to Learn French or Improve Their French Language (ages 13 and up)
Summer Program to Learn French in Quebec
The Explore Program (formerly the Summer Language Bursary Program) is an intensive French language program for students ages 13 and up, with any skill level in French. All meals, lodging and instructional fees are covered through the program. Secondary students can receive four French elective credits to put towards their Dogwood Diploma. Those interested in this opportunity must apply on the Explore website by February 15, 2022. Please contact Marc.Labelle@gov.bc.ca if you have any questions
Give Warmth 2021 – Langley New Coat Drive
Help Langley families in need to receive a NEW coat this winter. Needed: New coats only, in a range of sizes from XXS-XXL, for infants, children, youth and adults. Please consider giving to this drive so we can ensure our community is warm and dry this winter.
Coat Drive Drop-off Locations:⁠
⁠December 11th from 11am – 2pm at St. Dunstan's Anglican Church (3025 264 Street, Aldergrove)⁠
December 11th from 11am – 2pm at the Raphael Family Support Centre (20471 Douglas Crescent, Langley)⁠
December 12th from 1pm – 4pm at the Living Waters Church (9095 Glover Rd, Fort Langley)⁠
Tax receipts will be issued for cash donations and are accepted through the LSDF.orgwebsite!⁠
To learn more, visit https://lsdf.org/community-give-warmth-2021/⁠
QUOTE OF THE WEEK: