December 19, 2020


Week of December 18th, 2020
Wishing all of you a Merry Christmas, Happy Holidays, and a wonderful New Year.  Here is our Christmas present to our students:
According to analytics we've hit 1500 views in 2 days – and made it to Thailand!
Here's the scoop…
PICTURES FROM THE WEEK: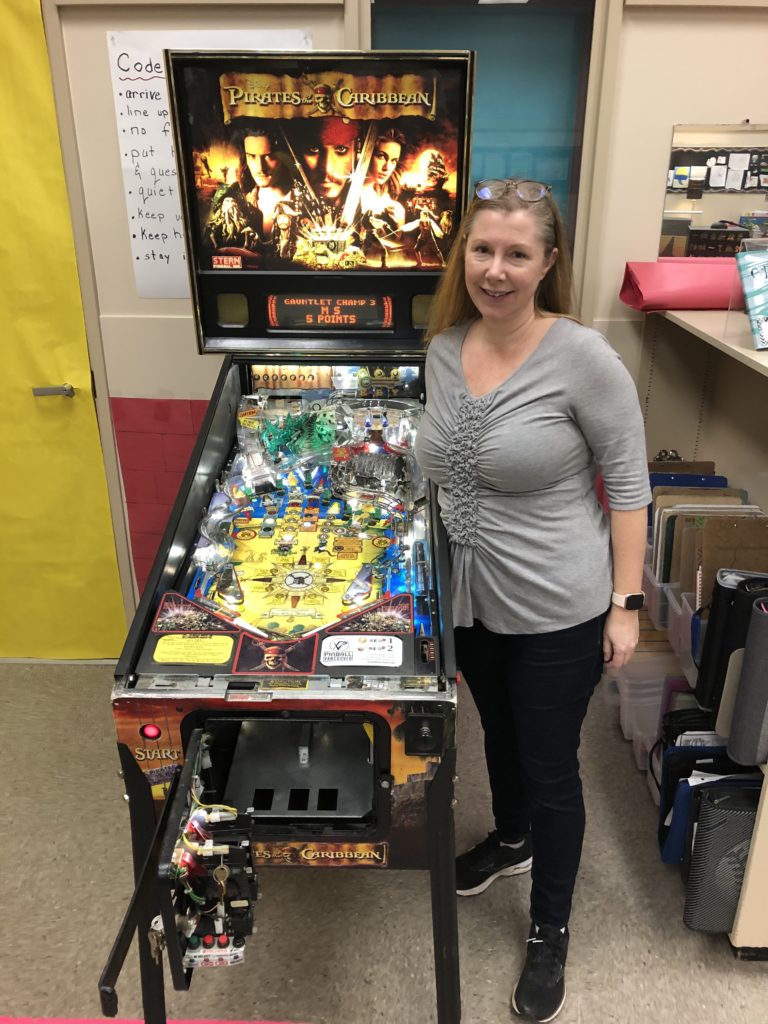 Ms. Debad brought in a couple of very special guests into her Green 6 class for the final week – two top quality pinball machines from Pinball Vancouver!  Needless to say the students ( and the staff!) were very excited to get a chance to play!  Thanks Ms. Debad!!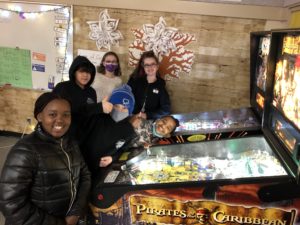 Students in Red 8 made some incredible menus in French using the online graphic software Canva!
Kessler was really excited to show his amazing marble labyrinth – what a great job!!
Kindness bingo is spreading joy throughout the school – seeing these cards filling up all over the Red 7 & 8 hallway is just inspiring!
Ms. Roberts and Mr. Hantke played "Elven Room Service" to thank all our amazing staff for a tremendous first term.
Ms. Fontaine continued her amazing work with our students in Textiles this week, where students were make personalized masks.
Ms. Cowling had her students reconstructing early hominid structures using only what was on hand – and then put them through the earthquake test!!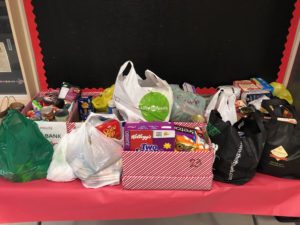 HDSMS WEB Leaders collecting donations for our annual Food Drive – Even in these times our students find ways to give back to our community – Thank you Ms. Cooper & Ms. Chapman!!!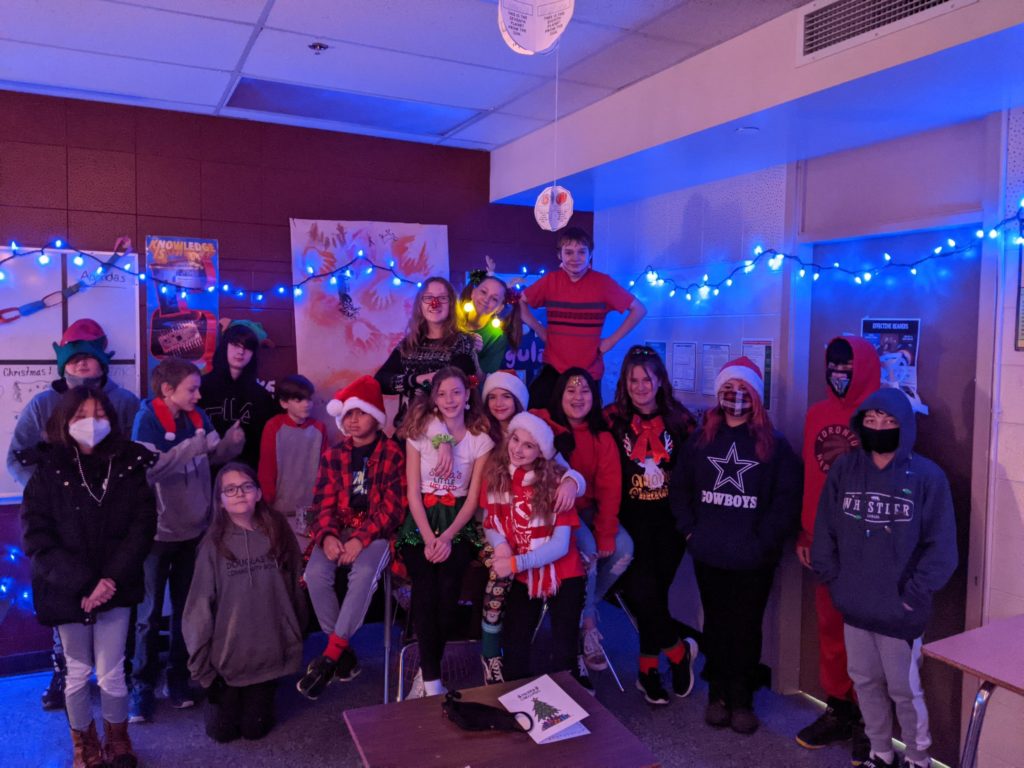 Gold 7 enjoying the Santa Limbo!
Christmas- palooza was in full effect this week at HDSMS – from Santa to Elves to beautiful winter scenes on the doors throughout the building!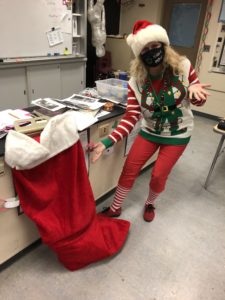 Ms. Cowling definitely wins for the largest stocking – Santa is going to be in tough to fill that one!
Thank you Ms. Mickelby for organizing our Annual Toy Drive for Charity – It's a staff favourite – Each person buys a gift for what they think their colleague would have wanted as a child – and why  –  then we donate them all!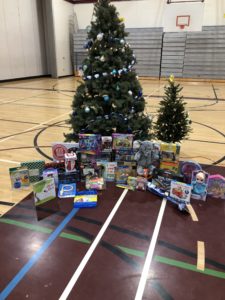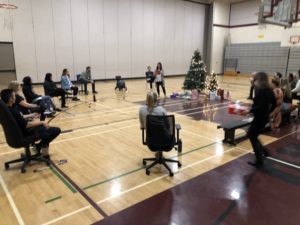 NEW INFORMATION TO SHARE:
REPORT CARDS PUBLISHED & MYED PARENT PORTAL ACCESS
PROGRESS REPORTS HAVE NOW BEEN PUBLISHED – PLEASE CHECK YOUR EMAIL TO ENSURE YOU HAVE RECEIVED IT.
CLOSED CAMPUS & SKIP THE DISHES REMINDERS
Please be reminded that HDSMS is currently a closed campus to everyone but students and staff.  We are seeing an increased flow of parent traffic to drop off various items throughout the day.  The doors are locked and parents need to call the school first if they require access.
Please DO NOT order Skip the Dishes delivered to the school – this brings an unnecessary safety risk to our building.
2019-2020 YEARBOOKS FOR $5
We have 35 yearbooks left over from last year – If you did not get one last year and would still like to purchase one – they are only $5!  A great stocking stuffer :
PARKING
Just a reminder that there is no stopping/parking on Grade Crescent in front of HD Stafford Middle School. In consideration of our community neighbours and for the safety of our students, please refrain from blocking driveways and crosswalks and jaywalking. Please have a conversation with your child(ren) of where an appropriate place to meet up after school could be. There is lots of available parking by City Park which is just a short walk away for our students.
STUDENT SAFETY AROUND SCHOOLS – WEATHER
With the days growing shorter and the weather changing to rain, fog, and frost, HD Stafford Middle is reminding all our students to take extra precaution when walking to and from school. Please be aware of your surroundings, walk on the sidewalk and with someone whenever possible, and avoid wearing headphones. We also ask drivers in our school community to be vigilant on our roads. Student safety is our priority. Thank you for your cooperation and support in keeping everyone safe.
MASKS AND WATERBOTTLES:
MASKS – Please ensure that your children have their masks each day.

 
WATER BOTTLES – please remind your children that they need to have a  water bottle at school.
LANGLEY SCHOOL DISTRICT FOUNDATION SURVEY – 2020-2021
The Langley School District Foundation was established with a mission to make learning UNFORGETTABLE for every Langley student. Our mandate is to support and provide programs that are not funded or fully funded by the Ministry of Education and our goal is to ensure that every Langley student receives the maximum benefit of the education to which they are entitled.
We value your opinion. To better understand the impact our programs and the emerging needs of Langley students, we'd appreciate your participation in this short survey. Please click on the following link: https://bit.ly/SD35-FoundationSurvey.
STAYING CONNECTED:
HDSMS will continue to work towards being a completely paperless school when it comes to communication with parents. In order to stay informed, please be sure you use at least one of the following on-line methods:
PAC NEWS:
Fundraising Update:

The class who sold the most Community Value Coupon books in last month's fundraiser was Division 8-1, selling 22 books, with Scarlette O'Neill selling 20 books.They are the winners of a virtual zoo presentation. Special recognition in other classes where Chloe Hubbs sold 10 books, James Hanna sold 10 books, and Jayden Davis sold 10 books. We want to thank all those who supported this initiative!

New Information Below:

Here is the NEW HDSMS PAC Constitution and Bylaws

We had a great first PAC meeting of the year and the PAC elections were completed. Meet you're new HDSMS PAC TEAM!
  Any questions or if you are interested in joining our PAC initiatives please contact hdsmspac@gmail.com
COMING UP THIS WEEK: STUDENTS RETURN TUESDAY JAN. 5th, 2021 
| | | | |
| --- | --- | --- | --- |
| DAY | EVENT | WHERE/WHO | WHEN |
| MONDAY | No School | | |
| TUESDAY | Students and Staff Return to School | HDSMS / Everyone | Regular schedule |
| WEDNESDAY | | | |
|   | | | |
| THURSDAY | | | |
|   | | | |
| FRIDAY | | | |
ATHLETICS UPDATE 🏐🏀⚽🎾🏸🎯🏐🏀⚽🎾🏸🎯
There is no athletics at this time – we will keep you updated as this situation progresses.

MS. LOREE'S COUNSELLING CONNECTION:
Stay tuned!
FROM THE DISTRICT:
Be sure to checkout the district's webpage for the latest updates: www.sd35.bc.ca
4th Annual West Fine Art Show
The Foundation, in partnership with The West Fine Art Show Society, is holding the 4th Annual Art Show at the Glass House Winery in South Langley. Eighteen professional artists will be showing and selling their exquisite pieces. At the same time, the Foundation will host an online exhibition and adjudication of student art with cash prizes for first, second and third. Photography, paintings and 3-D sculptures are eligible and should follow a theme of COVID-19 and what it has wrought on our society (the positives, negatives, changes, trends). Please send images via email to scairns@sd35.bc.ca and rosemary_creative@hotmail.com.
Friday, March 5, 2021 • 5 pm to 9 pm
Saturday, March 6 • 11 am to 7 pm
Sunday, March 7 • 11 am to 5 pm
QUOTE OF THE WEEK: