September 24, 2017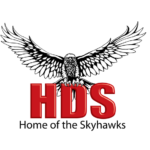 Hopefully everyone had a nice weekend and got out to enjoy the beautiful Fall weather. We have a busy week so here's what's coming up This Week At HDSMS.
Information To Share:
Twoonies For Terry: This Thursday is our Terry Fox Run! All week we will have empty water jugs in the front foyer…students and staff are encouraged to put twoonies (or any coins) in their house team jug. While the competition is friendly, the goal is to raise as much money as possible for cancer research. We will have an assembly and run during blocks 6, 7 & 8 on Thursday.
Orange Shirt Day:  This Friday is Orange Shirt Day in remembrance for Aboriginal Residential Schools. We are proud to be a part of this important day. We are selling one of a kind Orange Shirts for $5.00 which includes our own Aboriginal Skyhawk designed by artist Chad Bedard. These can be purchased at the office on through the School Cash Online.
Instrument Presentations: As a kick off to our band program, we will have a presentation in the large gym this Tuesday.  Kids will get a chance to hear about band and see what the instrument choices are. Please be sure to follow up with your kids about this awesome opportunity and don't hesitate to connect with Mrs Mills, the band teacher or administration if you have any questions.
Langley Secondary Musical Auditions: LSS is looking for some HDSMS students to be a part of their upcoming performances of Chitty Chitty Bang Bang. Auditions are on October 2nd at 5:00pm with rehearsals running on Mondays from 5:00 – 8:00. Actors, singers and dancers wanted.
Intramurals: This week Monday-Friday. Schedules posted on our Big Board, outside the gyms and on your OneDrive.
Student Verification Forms: These were sent home with families on Wednesday, September 5th. Please confirm all information and make any corrections if needed. Please make sure to sign the form and have your child return it to their teacher as soon as possible.
Scrap Fabric: Our Home Arts teacher, Mrs Fontaine, is looking for scrap fabric material to use in our Textiles Exploration. If you can help out, please drop it off at the front office.
Athletics Schedule: We have a lot going on with regards to athletics so please click here each week to see the latest schedule.
PAC Update:
PIZZA!!!! Parents, as the school year is settling in and sports are beginning, it can be hard to find time to make dinner every night. We are here to help you with this. Please see click here to order Panago certificates. Each certificate is $12 (including taxes) and enables you to order ANY medium pizza. You can have one or 10 toppings – it doesn't matter, the price is the same – $12. AND you can use more than 1 at a time. Perfect for hungry teenagers!
We are limited to 50 certificates each month so order yours today. Everything you need to know is in the attached link. Certificates are available as a first come first served basis. Our goal is to have orders in by the 15th of each month so you can receive them by the 20th. As we have already missed these dates for September, you can place your orders as soon as you see this. Turn around time will still be 5 days or less.
This will be an on-going fundraiser each month so don't be discouraged if you don't get some this time.
What's Up At LSS: Langley Secondary regularly puts out a blog celebrating the awesome things going on there. Click here to access the Saints Scoop.
Community Announcements: Often HD Stafford gets valuable information from community organizations in our surrounding area. These will be shared on the following link. This week we have the following:
None this week
Professional Learning: Here are a few of the professional learning articles, websites and videos I have "scooped" to Leadership With Purpose: Random Curation of a Passionate Educator Be sure to check out the following:
None This Week
Coming Up This Week
Monday
Guitar Club 3:00 – 3:30 (In Mr. Cavalli's Room)
Tuesday
Gr. 8 Girls VBall Game v. Fundy 3:15-4:15
Cross Country Race #2 – Aldergrove Bowl 330
Wednesday
Thursday
Terry Fox Run 2017
Gr. 8 Girls VBall Game v. Yorkson 3:15-4:15
Friday
Orange Shirt Day