September 10, 2017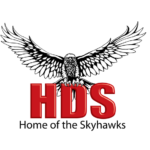 What a GREAT first week! It was amazing to have the energy of the staff and students back in the building. Lots of time spent collaborating and getting to know each  other as we get set for a great year! Here is what's coming up this week at HDSMS!
Information To Share:
Communication With Home: Just a reminder that there are several ways for parents to connect with HD Stafford Middle School while staying informed. The HDSMS website is always a good central place to start as most information is held there. Also, if you click here, you can tap into one of our social media outlets (Facebook, Twitter, Instagram) as well as sign up for text updates through Remind. And remember our doors are always open for a face to face or phone call! It really takes all of us to ensure success for the students.
School Photo Day: This Tuesday, September 12th is our School Photo day.
Staffing Update: A huge thanks to our parent community as we continue to let things settle in with staffing and classes. As you can imagine, this is a year like no other with regards to the number of teaching positions out there. We are working very diligently to fill all our open positions and solidify our Skyhawks teaching team. You can always see our updated staff list on our website.
Please Slow Down: As we get into another school year, we want to remind all drivers in and around HD Stafford Middle School to SLOW DOWN. The safety of our students is paramount and we need everyone to do their part.
First PAC Meeting: Our first PAC meeting is coming up on September 13th at 6:30. Our HD Stafford parent community is a HUGE part of our students being successful so we strongly encourage all of you to attend our monthly meetings! We even have snacks!
Grade 8 Camp: We have had several questions regarding grade 8 camp. Our staff is currently discussing the options regarding camp as the three teachers who have organized this event in the past have all taken positions at other schools. Once we have a plan for our grade 8s year end activity we will send out a message to the students and families. Stay tuned.
Choice Programs: Families applying for first year entry into any choice program for September 2018 will need to apply online. The online application system opens at 12:00PM (noon) Monday, October 2, 2017 and closes 12:00PM (noon), Monday, October 16, 2017.
On December 8, 2015, the Board of Education adopted changes to Policy 5084 (Application to Enter Choice Programs). Important information outlining these changes may be found here, under Programs & Initiatives, Programs of Choice.
These programs include:
Early French Immersion (Kindergarten – Belmont, James Kennedy)
Late French Immersion (Grade 6 – Alex Hope, Noel Booth, Betty Gilbert)
Montessori (Kindergarten – Uplands)
Fine Arts (Kindergarten – Langley Fine Arts)
Fundamental (Kindergarten – Coghlan, Langley Fundamental Elementary)
U-Connect (Kindergarten – Simonds)
Outdoor Education (K-3 – Fort Langley)
Athletics Schedule: We have a lot going on with regards to athletics so please click here each week to see the latest schedule. First one will come next week.
PAC Update: First PAC meeting is this week on Wednesday, September 13th. We hope to see lots of you out ther to help support our students.
What's Up At LSS: Langley Secondary regularly puts out a blog celebrating the awesome things going on there. The first one is coming soon.
Community Announcements: Often HD Stafford gets valuable information from community organizations in our surrounding area. These will be shared on the following link. This week we have the following:
None this week
Professional Learning: Here are a few of the professional learning articles, websites and videos I have "scooped" to Leadership With Purpose: Random Curation of a Passionate Educator Be sure to check out the following:
SOGI 123 Curriculum Resource
Coming Up This Week
Monday 
Tuesday 
Individual Photo day
Wednesday 
PAC Meeting at 6:30
Thursday 
Friday