October 29, 2017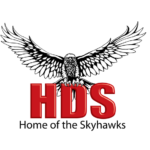 What a beautiful fall weekend! And warm! We'll have to remember this when the rain and snow hit! Here's what's coming up This Week At HDSMS.
Information To Share:
Parent Teacher/Student Led Conferences: Reminder that this Wednesday and Thursday are one hour early dismissal to allow for Parent Teacher/Student Led conferences.
Fall Festival: A huge thank you to everyone who came out for our Fall Festival on Friday. It was a huge success and great to see the community together. Thank you all the staff who helped out as well as the HDSMS PAC and Christian Life Assembly for their awesome support. 
Halloween Costumes: We encourage our students to wear their Halloween costumes this Tuesday. Just a reminder that there are to be no masks, weapons and they must adhere to our dress guidelines.
Community Room Patio: The community room patio is complete thanks to Village Church who coordinated Foris Landscaping to do the work for free. This project is worth over $13,000 and will be of great use to our school.   
Intramurals: Postponed until bleachers are complete. All games will be played, the schedule will be adjusted and posted. 
Athletics Schedule: We have a lot going on with regards to athletics so please click here each week to see the latest schedule.
PAC Update: Our October PAC Newsletter is now up at the HDSMS website. You can access it by clicking here.  
Minutes from our last PAC meeting are now available on the website. Our next meeting is November 15th 6:30 – 8:00.
Our Panago Pizza Fundraiser is currently underway. You can purchase a $12 gift card to Panago which allows you to purchase ANY medium pizza (specialty or unlimited toppings). We are limited to only 50 per month but the fundraiser will be going on all year. Please click here to purchase yours.
What's Up At LSS: Langley Secondary regularly puts out a blog celebrating the awesome things going on there. Click here to access the Saints Scoop.
Community Announcements: Often HD Stafford gets valuable information from community organizations in our surrounding area. These will be shared on the following link. This week we have the following:
None this week
Professional Learning: Here are a few of the professional learning articles, websites and videos I have "scooped" to Leadership With Purpose: Random Curation of a Passionate Educator Be sure to check out the following:
Coming Up This Week
Monday 
Grade 6-8 Boys Soccer @LFA 3:15 (Early Dismissal end of Block 7)
Tuesday 
Halloween Fun Afternoon: Blocks 6, 7 & 8
Wednesday 
Early Dismissal (1:48) Parent Teacher Interviews
After 3 (City of Langley) 3-5pm
Thursday 
Early Dismissal (1:48) Parent Teacher Interviews
SOGI Collective at 11:20
City Youth Council (City Hall) 3:30-5pm
Friday 
PUCKS 2pm – 5PM