October 1, 2017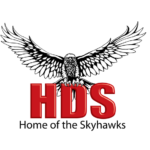 Happy October! What a great first month of school. As usual, the time flew by…probably because we're so busy. And this week is no different so be sure to check out what's coming up This Week At HDSMS.
Information To Share:
Professional Development Day: A reminder that this Friday, October 6th is Curriculum Implementation Day for staff. There is no school for students.
Yearbook Club: We are excited to be starting up our yearbook club this week! Students will have the opportunity to learn photography as well as desktop publishing while putting together one of the most important keepsakes of the year. First meeting is Monday, October 2nd at lunch in Mr Cavalli's room.
Band Starts This Week: First of all, you don't need your instrument…yet. See the next item in the newsletter for info about that. We will be starting with students this Tuesday. We will be running one grade 7/8 beginner band and two grade 6 beginner bands. The schedule on Tuesday/Thursday will be as follows:
Block 3/4: Grade 6 Green and Gold House
Block 5/6: All Grade 7 and 8 Houses
Block 7/8: Grade 6 Red and Blue House
Instrument Presentations: As a kick off to our band program, we will have a presentation in the large gym this Tuesday.  Kids will get a chance to hear about band and see what the instrument choices are. Please be sure to follow up with your kids about this awesome opportunity and don't hesitate to connect with Mrs Mills, the band teacher or administration if you have any questions.
Langley Secondary Musical Auditions: LSS is looking for some HDSMS students to be a part of their upcoming performances of Chitty Chitty Bang Bang. Auditions are on October 2nd at 5:00pm with rehearsals running on Mondays from 5:00 – 8:00. Actors, singers and dancers wanted.
Intramurals: This week Monday-Friday. Schedules posted on our Big Board, outside the gyms and on your OneDrive.
Athletics Schedule: We have a lot going on with regards to athletics so please click here each week to see the latest schedule.
PAC Update: Our Panago Pizza Fundraiser is currently underway. You can purchase a $12 gift card to Panago which allows you to purchase ANY medium pizza (specialty or unlimited toppings). We are limited to only 50 per month but the fundraiser will be going on all year. Please click here to purchase yours.
What's Up At LSS: Langley Secondary regularly puts out a blog celebrating the awesome things going on there. Click here to access the Saints Scoop.
Community Announcements: Often HD Stafford gets valuable information from community organizations in our surrounding area. These will be shared on the following link. This week we have the following:
None this week
Professional Learning: Here are a few of the professional learning articles, websites and videos I have "scooped" to Leadership With Purpose: Random Curation of a Passionate Educator Be sure to check out the following:
• Setting Consistent Expectations To Improve Student Behaviour (and Learning)
• 5 Quick and Easy Adaptations For Students With Learning Differences
Coming Up This Week
Monday 
Guitar Club 3:00 – 3:30
Yearbook Club Sign Up – after lunch eating period in Mr. Cavalli's room
Tuesday 
Gr. 8 Girls VBall Game at Brookswood 3:15-4:15
Cross Country Race #3 – Aldergrove Bowl 330
Wednesday 
Thursday 
Parent Info/Instrument Rental Session 3:00 – 5:00 in band room
WEB Leader Turkey Trot with Grade 6s in Block 8
Gr. 8 Girls VBall Game at Walnut Grove 3:15-4:15
Gr 8 Boys Vball Game v Walnut Grove 3:15 – 4:15
Friday 
Curriculum Implementation Day – no school for students