November 13, 2017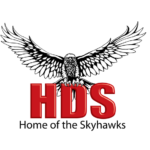 Well the weather didn't totally cooperate, but hopefully everyone was able to enjoy the long weekend. The Christmas break will be here before we know it but there is so much learning to happen in the meantime. Here is what's coming up This Week At HDSMS.
Information To Share:
Term 1 Exploration Reports / Term 2 Explorations Start: Just a reminder that term two explorations start on Tuesday. Reports for term one explorations will be sent home with students this Friday November 17th.
Photo Retakes: We will have the photographers back this Thursday for any students wishing to have retakes done.
LSS Craft Fair Opportunity: LSS is hosting a Craft Fair on Nov.18th. One table has been purchased for HDS and LSS students to contribute crafts and donate the proceeds to Christmas hampers. See Mr Hendy if interested.
Intramurals: The bleachers are finished so we are back in action. Information and schedule is up on the big board in the foyer.
Athletics Schedule: We have a lot going on with regards to athletics so please click here each week to see the latest schedule.
PAC Update: Our October PAC Newsletter is now up at the HDSMS website. You can access it by clicking here.  
Minutes from our last PAC meeting are now available on the website. Our next meeting is November 15th 6:30 – 8:00.
Our Panago Pizza Fundraiser is currently underway. You can purchase a $12 gift card to Panago which allows you to purchase ANY medium pizza (specialty or unlimited toppings). We are limited to only 50 per month but the fundraiser will be going on all year. Please click here to purchase yours.
What's Up At LSS: Langley Secondary regularly puts out a blog celebrating the awesome things going on there. Click here to access the Saints Scoop.
Community Announcements: Often HD Stafford gets valuable information from community organizations in our surrounding area. These will be shared on the following link. This week we have the following:
None this week
Professional Learning: Here are a few of the professional learning articles, websites and videos I have "scooped" to Leadership With Purpose: Random Curation of a Passionate Educator Be sure to check out the following:
Is Adult Drama The Elephant In The Classroom

Math Is Forever (video)
Coming Up This Week
Monday
Remembrance Day Recognized – No School
Tuesday
Grade 6 Girls Volleyball at Yorkson Creek at 3:15
Wednesday
Grade 7 Boys Volleyball at Yorkson Creek 3:15
Grade 7 Girls Volleyball at HDSMS vs LCS (2) 3:15
After 3 (City of Langley) 3-5pm
PAC Meeting 6:30 – 7:30
Thursday
Photo Retakes
SOGI Collective at 11:20
Yearbook Club 3:00 – 4:00
Friday