June 2, 2019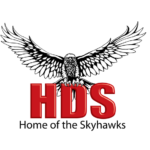 Hopefully everyone enjoyed their weekend. Crazy that we are already in June! The school year really does fly by. Here's the info you need for this week.
New Information To Share:
District Middle School Track Meeting: This Tuesday is our District Middle School Track Meet. Our top athletes will be competing against other Langley schools for top honours. Best of luck to all our athletes.
Panorama Photo: This Wednesday is our school-wide panorama photo. It's a great annual tradition so we hope all students are able to attend that day.
Locker Clean Up: Our year-end locker clean up is coming in a couple weeks. To help make that go more smoothly, please encourage your child to have a look in there to see if they have stuff that can come home now.
Information From Last Week:
Thanks PAC: Last week was our Neon Dance and it was a huge success. The kids had such a great time! Huge thanks to our PAC parents who worked hard to put this event together for our Skyhawks.
This Week At HDSMS Regulars
Intramurals: Information and schedule is up on the big board in the foyer.
Athletics Schedule: We have a lot going on with regards to athletics so please click here each week to see the latest schedule.
PAC Update: All our PAC minutes can be found here.
What's Up At LSS: Langley Secondary regularly puts out a blog celebrating the awesome things going on there. Click here to access the Saints Scoop.
District Community Bulletin Board: The District regularly updates parents and families on communities opportunities in and around Langley. Please click here to regularly check in with what opportunities are available.
Coming Up This Week
Monday
Board Games Club 3:00pm
Archery 3:00 – 5:00
Tuesday
District Middle Track Meet
Open Gym Basketball 7:30 – 8:20
In-Door Soccer 3:00 – 4:00
Wednesday
Fire Drill
Panorama Photo
After Three Club: CANCELLED
Archery 5pm – 9pm
Thursday
Theatre Sport Club 3:00 – 4:00 in Theatre
Friday
WEB Spring Play Day
James Hill Sports Day
Kids Play 3:00 – 4:00