June 16, 2019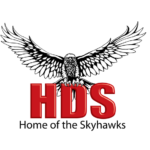 This is the last full week for students. We only have a few days left on this school year but they are no doubt jam packed! Please be sure to read through the information below.
New Information To Share:
Yearbooks: Yearbooks will be distributed on Monday during block 8. Students will need to ensure they have returned all Library books and any outstanding fees before getting their yearbook. There are still some for sale through the office for $40. Please see Mrs D if you would like to purchase one.
Theatre Sports Day: This Thursday is our annual Theatre Sports Day. Teams have been working on their improv skills over the past few weeks and will put their talents to the test against one another, hoping to have their name immortalized on the Theatre Sports Championship plaque.
Stafford Olympics: This Friday is our HD Stafford Olympics for all our students. The day will be full of fun, competitive games on the back field followed by a spirit assembly in the afternoon! Students should wear their house colours on Friday.
Car show:  This year's car show is going to be an amazing fundraiser for our school. It is held on Sunday June 23rd from 10 – 4pm. We have several local bands, food trucks, venders and over 200 cars. Please bring your family to this great event!
Awards Ceremony: Our annual awards ceremony will be held Tuesday June 25th at 9:00am in the gym. Parents of award recipients will be notified this week. All are welcome to attend.
Grade 8 Garden Party: We will be celebrating our grade 8s as they transition from middle to secondary school on Tuesday June 25th. There will be a certificate ceremony starting at 12:30 in the gym followed by our Garden Party in the back field.
Report Cards Distribution: Report cards will be available on Thursday June 27th at 8:30. We will have them shared in the MyEdBC Parent Portal and students can pick up paper copies from their homeroom teachers between 8:30 and 9:30
2019 – 2020 Bussing Information: Transportation registration is now open for the 2019/2020 school year.  Families can register online at https://www.sd35.bc.ca/schools/transportation/.  We now have "E-link", a new additional component that provides updated bus stop information to families at any given time.  "E-link" instructions will be posted on the District website August 19th, and families can access their bussing information there.  We will also make this system accessible to administrators and administrative assistants for increased visibility of transportation assignments.
 PLEASE NOTE:
The deadline of June 28th ensures that the Transportation Administration can meet the requirements of the Commercial Vehicle Safety Enforcement Branch for the September startup.  If you miss the registration, a late registration will be open August 3rd to September 16th.  If you register late, please arrange to transport your child(ren) for a minimum of the first three weeks of the new school year to allow time to load these late registrations.
Additional changes are listed as follows:
Changes to Online Registration
There are two registration links this year: non-International students and International students.
The closing date for registration is June 28th  (Once registration is closed, the transportation staff will create the needed routes and load the registrations)
International Homestay Parents can request refunds via transportationrefund@sd35.bc.ca
Parents will be given access to E-Link by August 19th to allow access to see bus stop locations for their own child(ren).   (More information will be sent out regarding the use of E-Link in August).
Information From Last Week:
Thanks PAC: Last week was our Neon Dance and it was a huge success. The kids had such a great time! Huge thanks to our PAC parents who worked hard to put this event together for our Skyhawks.
This Week At HDSMS Regulars
Intramurals: Information and schedule is up on the big board in the foyer.
Athletics Schedule: We have a lot going on with regards to athletics so please click here each week to see the latest schedule.
PAC Update: All our PAC minutes can be found here.
What's Up At LSS: Langley Secondary regularly puts out a blog celebrating the awesome things going on there. Click here to access the Saints Scoop.
District Community Bulletin Board: The District regularly updates parents and families on communities opportunities in and around Langley. Please click here to regularly check in with what opportunities are available.
Coming Up This Week
Monday
Board Games Club 3:00pm
Archery 3:00 – 5:00
Tuesday
Open Gym Basketball 7:30 – 8:20
In-Door Soccer 3:00 – 4:00
Wednesday
Volunteer Appreciation Lunch
After Three Club
Archery 5pm – 9pm
Thursday
Band Concert Blocks 7/8
Band Concert 6pm
Theatre Sport Club 3:00 – 4:00 in Theatre
Friday
LSS Grad Walk Block 6ish
Staff Vs Student Touch Rugby Game Blocks 7/8