April 3, 2018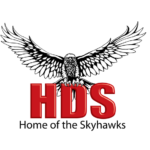 Welcome back! Hope you all had a great Spring Break! We have a short week but lots going on. Here's what's coming up This Week At HDSMS.  
New Information To Share:
Welcome Elise Rehnby: Elise Rehnby will be joining us next Monday as our Vice Principal until at least June. She comes with 20 years experience as a teacher, much of that in Resource. We are excited to have her at HDSMS while Ms Hayer is at home being a mom. When she arrives, please take a moment to say hi and introduce yourself.
Congrats Mrs Cooper: We can now share that Trish Cooper, our staple in the Library for many years will be retiring! Her last day will be April 19th. She has been a huge asset for HD Stafford in our Library and will be missed greatly. We are excited for this next chapter in her life as she will be spending much much more time with her family.
Staffing Update: Welcome to Derek Cooper, who will be covering for Cheryl Chapman while she is off on maternity leave. Austin Lee will be moving into the classroom full time to replace Dominique Miller while she is off on maternity leave. Michael Ostafiew will be covering for Evelyn who is off early on leave awaiting her twins. Antonio Pepe will be taking over for Steph Hamilton who is also off on a maternity leave. We currently have postings out for the Resource position vacated by Austin as well as the upcoming maternity leave Jen Pryor will be taking.
HDS Track Meet: Our first annual school-wide track meet will be held at McLeod Athletic Park (MAP) on Thursday, April 20th 9am-130pm, rain or shine. The 10 events available are listed below. Each student will be required to participate in a minimum of 2 events, of their choosing, to a maximum of 4 events. If you have any questions about the HDS Track meet please feel free to ask Reyhan Safiq, Dave Goulet or Mike Ostafiew. 
Track Events: Field Events:
1500M (8:30 start at MAP) Long Jump
800M High Jump
400M Discus
200M Shot put
100M Ball Throw
*4 x 100M Relay (Time Permitting)
Information From Last Week:
GET YOUR YEARBOOKS: Snapchat doesn't last forever but yearbooks do! Order your Stafford 2017/2018 yearbook now!!! Yearbooks cost $35 now….but the cost goes up after Spring Break. Order at the Stafford office or by clicking this link below. Limited numbers available so don't wait!
EdCamp35 Registration Is Now Open: Registration for EdCamp35 2018 is open! We hope you enjoyed last year's conference as much as we enjoyed hosting it. This year promises much of the same: great conversations about education between teachers, parents, students, and other community members. Sign up for collaboration, inspiration, food truck lunch, prizes and so much more! EdCamp35 takes place Saturday, April 14, 8:30 AM to 2:30 PM at H.D. Stafford Middle School. Coffee, snacks, and lunch provided. If you need a refresher on what to expect, check out our new and improved website with everything you need to know, here. Otherwise, we hope you'll let us know you're coming by registering for free at this link below.
This Week At HDSMS Regulars
Intramurals: Information and schedule is up on the big board in the foyer.
Athletics Schedule: We have a lot going on with regards to athletics so please click here each week to see the latest schedule.
PAC Update: The minutes from our February PAC meeting are available by clicking here. Our next meeting is scheduled for April 18th at 6:30pm
What's Up At LSS: Langley Secondary regularly puts out a blog celebrating the awesome things going on there. Click here to access the Saints Scoop.
District Community Bulletin Board: The District regularly updates parents and families on communities opportunities in and around Langley. Please click here to regularly check in with what opportunities are available.
Professional Learning: Here are a few of the professional learning articles, websites and videos I have "scooped" to Leadership With Purpose: Random Curation of a Passionate Educator Be sure to check out the following:
Coming Up This Week
Monday
No School
Tuesday
No School
Wednesday
After 3 Program 3:00pm – 5:00pm
Mixed Martial Arts 3:00 – 4:00pm
Thursday
SOGI Squad 11:20 – 12:00am
Yearbook Club 3:00 – 4:00pm
Lego Robotics 3:00-4:30pm
Drama Club 3:00 – 4:00pm
Boys Rugby vs. South Delta 3:15 – 4:30pm
Girls Rugby at WA Fraser 2:45 – 4:00pm
Wrestling 4:30-6pm
Friday
PUCKS – 2:00 – 5:30pm