March 31, 2019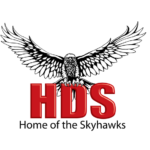 WELCOME BACK! I hope everyone had a wonderful Spring Break! It always goes quickly but it is always nice to have the opportunity to spend time with family and friends. Hopefully you are feeling a little rested … the last term always flies by! Here's what we have coming up this week!
New Information To Share:
Finishing Strong: As we come out of Spring Break an into our last term of the year, it is a great time to remind our students that finishing strong is the best way to head into summer. As the weather gets better, distractions can be much easier to give in to however we want all our Skyhawks to finish the year with the most positive results possible.
Updated Canada Food Guide: In keeping with our changing society, Canada Health has updated their Food Guide for proper eating. Please click here to see what changes have been made to help optimize the health and wellness of our kids (and adults)
Township of Langley Out of School Programs: A representative from the TOL will be at HD Stafford Middle on Monday from 10am-12pm to visit classrooms about free after school programs. They will also set up a table in the community room at Lunch for students to stop by and ask questions.
Track and Field Starting: Our PE classes will be starting their units in Track And Field this week. Our school track meet is coming up on April 26th with our District competition coming up on June 4th.
Collaboration Afternoon: Just a heads up that the next collaboration afternoon is coming up the Friday after this Friday (April 12th). Students will be dismissed at 1:34 on that day.
Information From Last Week:
TEDx LangleyEd: We have our 5th annual TEDxLangleyEd coming up on April 6th.  It is a great line up of speakers/performers and a powerful day of learning and connecting. Check out the website by clicking here. 
This Week At HDSMS Regulars
Intramurals: Information and schedule is up on the big board in the foyer.
Athletics Schedule: We have a lot going on with regards to athletics so please click here each week to see the latest schedule.
PAC Update: The minutes from our last meeting can be found here.
What's Up At LSS: Langley Secondary regularly puts out a blog celebrating the awesome things going on there. Click here to access the Saints Scoop.
District Community Bulletin Board: The District regularly updates parents and families on communities opportunities in and around Langley. Please click here to regularly check in with what opportunities are available.
Coming Up This Week
Monday 
Board Games Club 3:00pm  
Archery 3:00 – 5:00 
Mixed Martial Arts 3:00 – 4:00pm  
Tuesday 
Open Gym Basketball 7:30 – 8:20 
In-Door Soccer 3:00 – 4:00 
Wednesday 
Mixed Martial Arts 3:00 – 4:00pm  
After Three Club 3:00 – 5:00pm  
Archery 5pm – 9pm 
Thursday 
Friday 
Kids Play 3:00 – 5:00pm