Posted: September 29, 2019

Week of September 29, 2019
I think the word of the week would have to be INSPIRING!  Starting the week with a ripping Terry Fox Spirit Assembly, jumping right into creative learning in our explorations with Music and Fine Arts, and then re-centering ourselves with FLOCK – Wow!  It was just incredible to see teachers taking time to connect and foster deep relationships around belonging during the FLOCK times.  Then to top it all off a tremendous Terry Fox Run Day – raising a new record ( I think?!) from our Skyhawk Nation towards Cancer Research. INSPIRING!
This week we will be honouring the survivors of Residential Schools and looking forward to living out Truth and Reconciliation in our Orange Shirt Day Assembly on Monday and in our FLOCK discussions throughout the week.
PICTURES FROM THE WEEK


The Terry Fox Spirit Assembly was a fantastic way to kick off the week and start our fundraising efforts to support Cancer Research.
   
Fine Arts are alive and well in Skyhawk Nation with our Grade 6 students jumping into Band and Art over the past two weeks.  Hendrick shows off his skills, while Mr. Foerster leads a group of Grade 6 musicians.

FLOCK has started at HDSMS!
FLOCK is HD Stafford's advisory program, a central tenant of Middle School where we purposefully build strong relationships with students while trying to build their sense of belonging and social-emotional skills.  FLOCK stands forFostering Learning of Others through Care and Kindness.
FLOCK will run Monday to Thursday for 20 minutes after blocks 1/2, with the goal of  engaging with the students in a non-academic and relational way.  There is a tremendous amount of educational research that shows the direct correlation between a student's sense of belonging and student success.  As part of our Action Plan for Learning at HDSMS we will be foster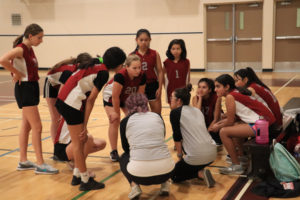 Ms. Robinson & Ms. Miller strategize with our Gr. 8 girls Volleyball team in their first league game against Peter Ewart Middle.
NEW INFORMATION TO SHARE
STAFFING:
New ELL teacher – Sherry Haines will be assisting our ELL Department on Mondays and Wednesdays
SEA Positions: Please congratulate the following SEAs as they have accepted positions:
– Jennifer Johnson 
– Kimberley Buchanan 
– Pooja Mehta 
– Samantha Michl 
NEW BELL SCHEDULE WITH FLOCK
Here is the link to the new HDSMS Bell Schedule with FLOCK included.
PAC MEETING:
This week was our first PAC meeting of the year and during this meeting the PAC election was held.  Here are the minutes from the first meeting.
INFORMATION FROM LAST WEEK:
MIXED MARTIAL ARTS CLUB – We have a group coming in to coach MMA for the entire year. They will start next week from 3:00 – 4:30pm in the multi-purpose room. The days have not been sorted out yet, that information will come soon. If you have students asking please have them sign up with Mr.Hendy.
KWANTLEN NURSES:
Our first round of practicum nurses will be in the building this week. Besides hygiene they are open to coming into classrooms for any health or body related topics. This could include but is not limited to nutrition, sleep, and self-care.  This is a great resource for our students – thank you KPU!

THIS WEEK AT HDSMS REGULARS
Intramurals: These will be starting very soon – stay tuned!
PAC Update: Our first PAC meeting was on Sept 25th beginning at 6:30 pm – Here are the minutes from the meeting
What's Up At LSS: Langley Secondary regularly puts out a blog celebrating the awesome things going on there. Click here to access the Saints Scoop.
District Community Bulletin Board: The District regularly updates parents and families on communities opportunities in and around Langley. Please click here to regularly check in with what opportunities are available.
Coming Up This Week
MONDAY
–        Orange Shirt Day Assembly 9 -10 am

–        Dance Club at Lunchtime – in Dance Studio with Ms. Lyth

–        Games Club – 3:00 -4:00 pm in the Community Room

TUESDAY
–        Open Gym 7:30 -8:30 am

–        Photography Club  – 3:00 – 4:00 pm with Mr. Mitchell in the Woodshop

–        Indoor Soccer 3:00 – 4:00 pm Small Gym

–        Art Club 3:00 – 5:00 pm in the Community Room

WEDNESDAY            
–        SOGI Club at Lunchtime with Ms. Cowling

–        Dance Club at Lunchtime – in Dance Studio with Ms. Lyth

THURSDAY
–        Team Leader Meeting (7:30 am)–        Open Gym 7:30 -8:30 am
FRIDAY
–
ON THE HORIZON…
Sept 30th – Every Child Matters – Orange Shirt Day
October 3rd – Team Leader Meeting 7:30am
October 10th – Grade Group Meetings
October 14th – Thanksgiving Day (School not in Session)
October 17th – Staff Meeting (3:00 – 4:30)
QUOTE OF THE WEEK
"The road we travel is equal in importance to the destination we seek. There are no shortcuts. When it comes to truth and reconciliation we are forced to go the distance."
Murray Sinclair
Chief Commissioner of the Truth and Reconciliation Commission of Canada