Posted: October 21, 2019

Week of October 20, 2019
Another busy week here in Skyhawk Nation!  What a wet and windy couple of weeks, with buckets of rain coming down or "Scottish sunshine" as some call it…but it didn't stop many of Skyhawks from getting outside and enjoying the outdoors!  From Pancake Breakfasts to High Ropes courses, to Nature Walks and Aboriginal artifact creations with countless amazing FLOCK stories – the richness of the middle experience for our middle kids is truly exceptional!
As our country goes to the polls, thank you for sharing with our students the amazing privilege we have to vote in this country.  Some of our students have left everything behind to come to this great country for this very privilege, so no matter who you vote for – it's important that we help educate our kids to do it!
With that – here's a quick recap!
PICTURES FROM THE WEEK
Our Grade 6 students exploring High Knoll Park with Ms. Cowling.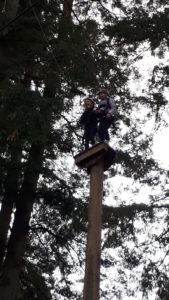 TWU High Ropes course with Red 8 – Mr. Wood and Mr. Ostafiew and company – Don't look down!
Gold House Pancake Breakfast on Friday Morning!
Deni Paquette from our Aboriginal Department join Ms. Chapman's class to explain how the Metis People came to be and how important bead work was to early Metis clothing.
NEW INFORMATION TO SHARE
STAFFING UPDATE:
We have lost Melissa Hinks due to SEA allocation changes – We are very sorry for this loss, however, the contract dictates the process, and we wish her all the best in her new posting (she keeps a position, just at another school)
Welcome to our newest SEA Kimberley Buchanan – She brings lots of skills and compassion to our building and we are very happy to welcome her! Be sure to introduce yourself!
PARENT TEACHER CONFERENCES / INTERVIEWS:
Parent Teacher interviews / conferences are fast approaching next week.  The information sent home to parents is HERE.  If you are new to the online registration – instructions should be in your email or right here.
Tuesday 2:00 – 4:30 pm
Wednesday 2:00 – 8:00 pm with a dinner break coming at 5:00-6:00 pm.
CLOTHES2U EVENT:
We will be giving away clothes, toys, linens, books, footwear, diapers, personal and smaller household items FREE to those in need, male/female, baby to adult. This takes place at Nicomekl Elementary School, 53 Ave. at 200 St. Langley on Saturday Oct. 26 . Admission is $2 at the door, kids 11 and under admitted free. Event hours are 10 AM to 12:30 PM. More information is available atwww.clothes2u.ca. Volunteers will get first pick.
PAC UPDATES
If you are interested in the PAC minutes – Here are the latest PAC minutes
NSTEP AFTER-SCHOOL
We are happy to offer a new after school program called NStep. NStep is a nutritional snack making program for students after-school. NStep will run once a week for 6 weeks in the Home Ec room. We are looking for interested students to sign up for the course. Have students see Mr.Hendy to sign up. The course will cost $10 for the 6 weeks.
INFORMATION FROM LAST WEEK:
NEW BELL SCHEDULE WITH FLOCK
Here is the link to the new HDSMS Bell Schedule with FLOCK included.
PAC MEETING:
This week was our first PAC meeting of the year and during this meeting the PAC election was held.  Here are the minutes from the first meeting.
MIXED MARTIAL ARTS CLUB – We have a group coming in to coach MMA for the entire year. They will start next week from 3:00 – 4:30pm in the multi-purpose room. The days have not been sorted out yet, that information will come soon. If you have students asking please have them sign up with Mr.Hendy.
KWANTLEN NURSES:
Our first round of practicum nurses will be in the building this week. Besides hygiene they are open to coming into classrooms for any health or body related topics. This could include but is not limited to nutrition, sleep, and self-care.  This is a great resource for our students – thank you KPU!

THIS WEEK AT HDSMS REGULARS
Intramurals: These will be starting very soon – stay tuned!
PAC Update: Our Second PAC meeting with be happening on Oct. 23 at 9:30 am at the School in the Sewing Room across from the Wood Shop.  All are welcome!  Please check in at the office and you will be given a visitor pass and directions.  Here are the minutes from the meeting
What's Up At LSS: Langley Secondary regularly puts out a blog celebrating the awesome things going on there. Click here to access the Saints Scoop.
District Community Bulletin Board: The District regularly updates parents and families on communities opportunities in and around Langley. Please click here to regularly check in with what opportunities are available.
Coming Up This Week
MONDAY
–        Orange Shirt Day Assembly 9 -10 am
–        Dance Club at Lunchtime – in Dance Studio with Ms. Lyth
–        Games Club – 3:00 -4:00 pm in the Community Room
TUESDAY
–        Open Gym 7:30 -8:30 am
–        Photography Club  – 3:00 – 4:00 pm with Mr. Mitchell in the Woodshop
–        Indoor Soccer 3:00 – 4:00 pm Small Gym
–        Art Club 3:00 – 5:00 pm in the Community Room
WEDNESDAY            
–        SOGI Club at Lunchtime with Ms. Cowling
–        Dance Club at Lunchtime – in Dance Studio with Ms. Lyth
THURSDAY
–        Team Leader Meeting (7:30 am)
–        Open Gym 7:30 -8:30 am
FRIDAY
–  Professional Development Day
ON THE HORIZON…
October 24th – Fall Festival (Gyms occupied all day)  5:30-8:30 pm
October 25th – Pro-D Day (School not in Session)
October 28-31st – We Scare Hunger Week!  Food Drive and Awareness Week
Oct. 29-30th – Parent Teacher Conferences / Interviews.
QUOTE OF THE WEEK
In honour of our country going to the Voting polls today you have a choice:
"Democracy cannot succeed unless those who have expressed their choice are prepared to choose wisely. The real safeguard of democracy, therefore, is education."  – FDR.
OR
"The world needs more Canada."  – Barrack Obama