Posted: March 1, 2020

Week of Mar. 1, 2020
And it's March!?  Spring is an amazing season because of one thing…the sunshine returns.  It seems like we haven't seen Mr. Sunshine in a long time, and sunshine actually makes us happier! I've often thought about how the sun on your face… the warm glow… can help bring positive memories back, endorphins are released, and most of all, you can feel hope.  Sometimes we need to be reminded that we are the sunshine for our kids – that contagious positivity, hope, and belief in our kids will help them be successful.
Here's what's coming this week…
PICTURES FROM THE WEEK:

  
A great start to the week with a Staff Breakfast before the D&A Day presentations.
 
Ms. Cowling and the SOGI crew have the entire school inspired for Respect & Diversity Week!  She has an outfit for everyday!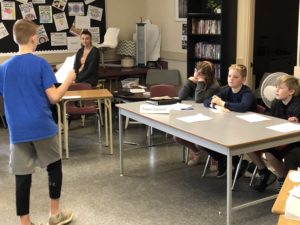 Mr. Bruce's Town Hall meeting talking real world problems was a HUGE success!
 
Students and parents were thoroughly engaged during the White Hatter's Presentation on positive Social media use and internet safety.

Flashlight Friday in RED 6… cozy blankets, a good book and a flashlight (or headlamp!) Kids are in heaven!

Rugby is starting up – complete with door to door recruiters and the STIM crew was off to see the LSS presentation of SEUSSICAL THE MUSICAL.
NEW INFORMATION TO SHARE:

FRASER HEALTH UPDATE ON CORONAVIRUS
On March 11th,Langley Children Youth and Families has an excellent parent presentation planned which will focus on addressing vaping myths, harmful effects of vaping as well as teaching parents what to look for in terms of vape products. As you probably know, many can look like regular objects and can be hard to identify.
It is a free event, but we are asking for registration as we have limited seating capacity. Here is the link to registerhttps://www.eventbrite.ca/e/vaping-youth-parent-info-session-tickets-90248675217
GRADE 9 REGISTRATION INFORMATION & RESOURCES FROM LSS INFORMATION NIGHT
Here are the applications and powerpoint presentation from the Grade 9 Information Night put on by the LSS Admin and Counselling Team:
LSS Grade 9 Course Planning Powerpoint
AVID Program Application Booklet 2020
REMINDER TO PARENTS AROUND COLD WEATHER DRESS & SICKNESS
Just a quick reminder to parents to please have your children dress appropriately for the weather, bringing gloves, jackets and snow gear if applicable.  Please label jackets as we have a had a number of jackets turned into the Lost and Found this year.
ALSO a quick reminder to report your child's absence if they are ill and if your child has a fever, vomiting etc. they need to be clear 24 hours from last occurrence before they return to school.
INFORMATION ABOUT SCHOOL STATUS DURING INCLEMENT WEATHER:
Snow closures and power outages are an annual occurrence in Langley School District. So where do you go to get information about the status of schools during periods of inclement weather? If you are able to access the internet via computer or smartphone, current information about Langley schools can be accessed on all school websites or www.sd35.bc.ca. Updates are also posted to Twitter @LangleySchools and Facebook at www.facebook.com/langleyschooldistrict. If you don't have internet connectivity but your phone is working, call a relative or friend in an area that has not been affected by the storm and ask them to check the district website for you. Local radio stations are also informed of school status in Langley. Tune in to CKWX 1130AM, CKNW 980AM, Country Radio 107.1FM, Pulse 107.7 or CBC 690AM or 88.1FM for updates.
Please note that Langley District schools are all considered 'open' until a decision to close is required. Decisions on school closures are usually made by 6:30am. As always, it is a parent's decision whether to send their child to school based on safety and individual circumstances. If you feel it is unsafe for you or your child to travel to or attend an open school for any reason, please keep your child home and report an absence to the school.
PAC UPDATES
If you are interested in the PAC minutes – Here are the latest PAC minutes
COMING UP THIS WEEK:
 
FOR STUDENTS
MONDAY
·     RESPECT & DIVERSITY WEEK

·     Games Club

·     GREEN 8 Bowling Trip

TUESDAY
·     Photography Club

·     Indoor Soccer

·     Art Club

·     Blacklock Dance 3:30pm – 4:30

·     GOLD 8 Bowling Trip

WEDNESDAY
·     Basketball Jamboree 3-6pm

·     Kids Play

THURSDAY
·    After 3 Community room 3:00 – 4:00pm

·    Grade 8 Trades Fair Field Trip to UFV

FRIDAY
·     Pucks

·     Report Cards are Published

 
ATHLETICS UPDATE 🏐🏀⚽🎾🏸🎯🏐🏀⚽🎾🏸🎯
Here is the Athletics schedule for this week.
Grade 6 Boys Basketball Jamboree – Wednesday March 4th 3-6pm
Staff vs. Students Basketball game has been MOVED to the Spirit Assembly on March 13th to better line up with the schedule and be less of a disruption to classes
Classroom Outdoor Sports Bags have been delivered to Grade 6 classes!
All Grade 6 divisions have received their own bags with new outdoor equipment, including a brand new soccer ball, basketball, football, volleyball, rugby ball, and a frisbee! Please make sure that you write your Classroom Number on each piece of equipment. The plan is to purchase these bags for each division over the next 3 years (Winter 2020 – Grade 6, Fall 2020 – next year's Grade 6, Fall 2021 – Grade 8).

MS. LOREE'S COUNSELLING CONNECTION:
I was so excited to read Ms. Sandher's email last week where she announced that she will begin having her students perform anonymous random acts of kindness.  In our world today kindness and compassion often take a backseat to self-interest and expendable relationships.  Research shows us that practicing kindness increases happiness and lowers depression/anxiety.   Below is a link to a two-minute video called The Science of Kindness.  You may wish to show it to your own kids, and it may lead to some great conversations.
https://www.youtube.com/watch?v=O9UByLyOjBM&fbclid=IwAR0htZEYpeEN8a2JJdvlVIpe4WAh3EMqjj9ndWhj4pjAPFsYlj6j9Sa_wIU
"Do your little bit of good where you are; it's those little bits of good put together that overwhelm the world." — Desmond Tutu
PLANNING AHEAD:
UPCOMING DATES TO NOTE IN THE CALENDAR:
March 6 – Report Cards are Published to the Online Portal
March 6 – 8 – Art show at Peter Ewart, featuring Peter Ewart & live music
March 11 – Parent Teacher Interview Conferences @ HDSMS 2:00 – 7:30 pm
March 12 – Parent Teacher Interview Conferences @ HDSMS 2:00 – 4:30 pm
March 13 – Staff vs Student Basketball Game / Spirit Assembly 1:30pm (Last day before Spring Break  😊)
FROM THE DISTRICT:
Supporting Trauma-Informed Practice Training Resource
As part of the provincial Erase strategy, the Ministry of Education has developed an online Supporting Trauma-Informed Practice training resource to increase awareness of the impact on learning of adverse childhood experience and trauma. The resource contains four customizable publicly-accessible workshop packages that include PowerPoint presentations with embedded videos, facilitator guides, participant handbooks and tip sheets.
Erase:
https://www2.gov.bc.ca/gov/content/erase/mental-health 
Supporting Trauma-Informed Practice resource:
https://mytrainingbc.ca/traumainformedpractice/
FamilySmart(R) "In the Know" March Poster: FamilySmart_InTheKnow_Poster_Langley_March_10-2020
SD35 COMMUNITY BULLETIN BOARD
Here are a few items from the Langley School District's Community Bulletin Board. For more community events please visit https://www.sd35.bc.ca/news-events/community-bulletin-board
QUOTE OF THE WEEK: