Posted: January 27, 2020

Week of Jan. 27, 2020
This past week has been about dreaming and looking ahead to the bright future in front of our Grade 8 Skyhawks. We had an amazing turn out at our Grade 9 Information Night for parents and students, and Taste of LSS was a blast!  Another busy week lies ahead here in Skyhawk Nation is below:
On a personal note, I have loved basketball most of my life, both as a player then a coach. The tragic passing of Kobe Bryant (who is the same age as me), his daughter and seven others, reminds all of us to make our time on this earth count, to chase our dreams, and most of all to hug your loved ones today.  Take good care everyone.
PICTURES FROM THE WEEK: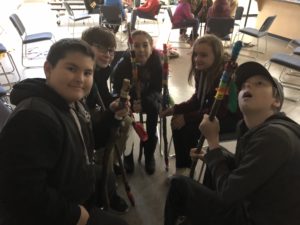 Resident Reader #2 – Mrs. Rehnby enjoys a book outside the Community room – loving this new tradition!
Final days of Term 2 Explorations – OACES campfire time!

TASTE OF LSS – Mr. Nicol talks DNA while Tevan and crew checkout the new Computer Lab
The AVID and the trades classes were buzzing with excitement and questions!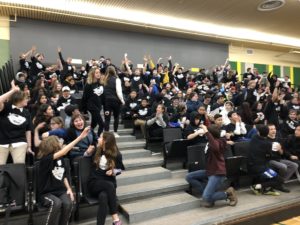 This group of former Skyhawks lead the entire day – So Proud!
NEW INFORMATION TO SHARE:

Discover Trades & Technology Fair – March 5, 2020 @ UFV
This "Try A Trade Event", will provide our grade 8 students with an opportunity to identify how their personal attributes (interests, skills & ideals) can relate to careers in skilled trades and technology.
Our students will be able to try many different interactive, stimulating and fun activities in a safe and engaging environment, as they tour the UFV Trades & Technology Centre. Educators and industry representatives will guide participants through interactive stations located in the various shops (autobody, automotive, carpentry, electrical, heavy mechanical, plumbing & welding) and labs (drafting, electronics, automation & robotics). They will answer questions about future career options and share their own professional experience.
REMINDER TO PARENTS AROUND COLD WEATHER DRESS
Just a quick reminder to parents to please have your children dress appropriately for the weather, bringing gloves, jackets and snow gear if applicable.  Please label jackets as we have a had a number of jackets turned into the Lost and Found this year.
SPEECHFEST IS COMING AGAIN THIS YEAR
Teachers will be working alongside students in the coming term to get them ready for our annual Speechfest this April.  Encourage your child to begin thinking about what they may want to speak about.
WHITE HATTER IS COMING TO HD STAFFORD ( FEB. 24th 2020)
The White Hatter team has presented to over 450 schools and 50 schools and the United States.Our mission is to equip students, teachers, parents, law enforcement, and others with the tools necessary to stay safe and the real world as well as in today's digital world.
The White Hatter – HD Stafford Poster

INFORMATION ABOUT SCHOOL STATUS DURING INCLEMENT WEATHER:
Snow closures and power outages are an annual occurrence in Langley School District. So where do you go to get information about the status of schools during periods of inclement weather? If you are able to access the internet via computer or smartphone, current information about Langley schools can be accessed on all school websites or www.sd35.bc.ca. Updates are also posted to Twitter @LangleySchools and Facebook at www.facebook.com/langleyschooldistrict. If you don't have internet connectivity but your phone is working, call a relative or friend in an area that has not been affected by the storm and ask them to check the district website for you. Local radio stations are also informed of school status in Langley. Tune in to CKWX 1130AM, CKNW 980AM, Country Radio 107.1FM, Pulse 107.7 or CBC 690AM or 88.1FM for updates.
Please note that Langley District schools are all considered 'open' until a decision to close is required. Decisions on school closures are usually made by 6:30am. As always, it is a parent's decision whether to send their child to school based on safety and individual circumstances. If you feel it is unsafe for you or your child to travel to or attend an open school for any reason, please keep your child home and report an absence to the school.
PAC UPDATES
If you are interested in the PAC minutes – Here are the latest PAC minutes
SD35 COMMUNITY BULLETIN BOARD
Here are a few items from the Langley School District's Community Bulletin Board. For more community events please visit https://www.sd35.bc.ca/news-events/community-bulletin-board
COMING UP THIS WEEK:
 
FOR STUDENTS
MONDAY
–     Games Club 3- 5pm

–     Archery – 3-5pm

TUESDAY
–     Photography Club

–     Indoor Soccer

–     Art Club

–     Gr.8 Girls Basketball vs BG at HDS

–     Grade 9 Info Night at HDS – 6:30pm Main Gym

WEDNESDAY
–     SOGI Club at Lunchtime with Ms. Cowling

–     Dance Club at Lunchtime – in Dance Studio with Ms. Lyth

–     Kids Play 3:00 – 4:30

–     BlackLock Dance 3:30pm – 4:30

THURSDAY
–      

–

FRIDAY
–     All Grade 8 students to LSS – Taste of LSS

–     Pucks
ATHLETICS UPDATE 🏐🏀⚽🎾🏸🎯🏐🏀⚽🎾🏸🎯
Here is the Athletics schedule for this week.
| | | |
| --- | --- | --- |
| MON JAN 27 | 3:00pm | G8 Boys vs. BG |
| TUES JAN 28 | 3:00pm | G8 Girls vs LFMS |
| WED JAN 29 | 3:00pm | G8 Boys vs. |
| THURS JAN 30 | 3:00pm | G8 Girls vs WGSS |
Grade 6/7 Basketball is coming!
Schedules have been finalized for Grade 6/7 Basketball, and will be sent out soon to coaches. League play will begin in February, with Grade 7's playing on Tuesdays, and Grade 6's on Wednesdays.
PLANNING AHEAD:
UPCOMING DATES TO NOTE IN THE CALENDAR:
January 27 – Term 3 Explorations start
January 29th – Earthquake Drill beginning of block 5
February 5 – Superintendent's Meeting
February 10 – Ensouling our Schools with Jennifer Katz (3:30-7:30pm)
February 14 – Professional Development Day @ HDSMS (Trauma Informed Practice & Perspectives)
February 19 – School Play. Small Gym Closures BLKS (.  )
February 20 – School Play. Small Gym Closures BLKS (.  )
February 21 – Aboriginal Family Dinner Big Gym Closure 2:00pm
QUOTE OF THE WEEK:
"Education is not the filling of pail, but the lighting of fire."
W.B. Yeats