Posted: February 23, 2020

Week of Feb. 23, 2020
This past week has been about showcasing the amazing talents of HDSMS students and staff!  From growing as professionals during Monday's Pro-D with Dr. Kirk Austin, to the IBM STEM workshop for our young Skyhawk engineers in the making, to the inspiring literacy strategies and works of art on the classroom walls, to visits with our Simonds buddies, to incredibly courageous dramatic performances in 'Stuck in the Middle', and ending with a wonderful Aboriginal Family Gathering Friday evening!
This week we begin Respect & Diversity Week at HDSMS.  Each year during Respect & Diversity Week, HDSMS engages in learning activities that foster an appreciation of the diversity in our communities. All children in our schools should feel SAFE and have the opportunity to learn in a culture of respect & inclusiveness that is fundamental to education. As it says on the front doors of our School:

PICTURES FROM THE WEEK:

Resident Reader #4 – Madison in the Drama Studio preparing for "Stuck in the Middle" and of course Aubrey with the winning RR prize draw!
Amazing Skyhawk Art & Literacy displays on the boards and in the halls!
  


The Stuck in the Middle final performance was an absolute Stunner! Thank you to all the courageous performers for sharing their talents with us and of course to Ms. McArthur & Mr. Gundy!

Ms. Ashcroft sharing with the staff on how she incorporates Mindfulness into her Monday Morning Routines.

IBM STEM for Girls workshop with our future Skyhawk Engineers & Inventors!

Students from Simonds Elementary came to collaborate with Ms. Kobzos & Ms. Lyth's classes on Thursday.

Mr. Hantke is just as excited for the Friday bell as the students!
NEW INFORMATION TO SHARE:

THE WHITE HATTER IS HERE TOMORROW FEB. 24th 2020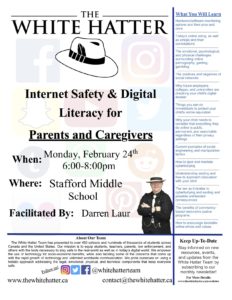 The White Hatter team has presented to over 450 schools and 50 schools and the United States.Our mission is to equip students, teachers, parents, law enforcement, and others with the tools necessary to stay safe and the real world as well as in today's digital world.
The White Hatter – HD Stafford Poster
GRADE 9 REGISTRATION INFORMATION & RESOURCES FROM LSS INFORMATION NIGHT
Here are the applications and powerpoint presentation from the Grade 9 Information Night put on by the LSS Admin and Counselling Team:
LSS Grade 9 Course Planning Powerpoint
AVID Program Application Booklet 2020
REMINDER TO PARENTS AROUND COLD WEATHER DRESS & SICKNESS
Just a quick reminder to parents to please have your children dress appropriately for the weather, bringing gloves, jackets and snow gear if applicable.  Please label jackets as we have a had a number of jackets turned into the Lost and Found this year.
ALSO a quick reminder to report your child's absence if they are ill and if your child has a fever, vomiting etc. they need to be clear 24 hours from last occurrence before they return to school.

LSS ATHLETIC ACADEMIES INFORMATION EVENINGS
Langley Secondary School will be hosting information nights for their sports academy's for the 2020-2021 school year on the following evenings. They will be hosted in the Langley Secondary Learning Commons (New LSS building).
Baseball Academy: Monday, February 24 at 7pm

If you have any questions please contact Troy Bannister tbannister@sd35.bc.ca
On March 11th,Langley Children Youth and Families has an excellent parent presentation planned which will focus on addressing vaping myths, harmful effects of vaping as well as teaching parents what to look for in terms of vape products. As you probably know, many can look like regular objects and can be hard to identify.
It is a free event, but we are asking for registration as we have limited seating capacity. Here is the link to registerhttps://www.eventbrite.ca/e/vaping-youth-parent-info-session-tickets-90248675217
INFORMATION ABOUT SCHOOL STATUS DURING INCLEMENT WEATHER:
Snow closures and power outages are an annual occurrence in Langley School District. So where do you go to get information about the status of schools during periods of inclement weather? If you are able to access the internet via computer or smartphone, current information about Langley schools can be accessed on all school websites or www.sd35.bc.ca. Updates are also posted to Twitter @LangleySchools and Facebook at www.facebook.com/langleyschooldistrict. If you don't have internet connectivity but your phone is working, call a relative or friend in an area that has not been affected by the storm and ask them to check the district website for you. Local radio stations are also informed of school status in Langley. Tune in to CKWX 1130AM, CKNW 980AM, Country Radio 107.1FM, Pulse 107.7 or CBC 690AM or 88.1FM for updates.
Please note that Langley District schools are all considered 'open' until a decision to close is required. Decisions on school closures are usually made by 6:30am. As always, it is a parent's decision whether to send their child to school based on safety and individual circumstances. If you feel it is unsafe for you or your child to travel to or attend an open school for any reason, please keep your child home and report an absence to the school.
PAC UPDATES
If you are interested in the PAC minutes – Here are the latest PAC minutes
COMING UP THIS WEEK:
 
FOR STUDENTS
MONDAY
·     No school

·     RESPECT & DIVERSITY WEEK BEGINS

TUESDAY
·     Photography Club

·     Indoor Soccer

·     Art Club

·     Blacklock Dance 3:30pm – 4:30

WEDNESDAY
·     PINK SHIRT DAY

·     Kids Play

THURSDAY
·    After 3 Community room 3:00 – 4:00pm

·    Red Day

FRIDAY
·     Pucks

·     Orange Day
ATHLETICS UPDATE 🏐🏀⚽🎾🏸🎯🏐🏀⚽🎾🏸🎯
Here is the Athletics schedule for this week.
TUES FEB 18             3:00pm            G7 Boys vs. LCS 2
TUES FEB 18             3:00pm            G7 Girls 1 vs. BES
WED FEB 19             3:00pm            G6 Boys 1 vs. LFA
WED FEB 19             3:00pm            G6 Girls vs. LFMS 1

MS. LOREE'S COUNSELLING CONNECTION:
I was so excited to read Ms. Sandher's email last week where she announced that she will begin having her students perform anonymous random acts of kindness.  In our world today kindness and compassion often take a backseat to self-interest and expendable relationships.  Research shows us that practicing kindness increases happiness and lowers depression/anxiety.   Below is a link to a two-minute video called The Science of Kindness.  You may wish to show it to your own kids, and it may lead to some great conversations.
https://www.youtube.com/watch?v=O9UByLyOjBM&fbclid=IwAR0htZEYpeEN8a2JJdvlVIpe4WAh3EMqjj9ndWhj4pjAPFsYlj6j9Sa_wIU
"Do your little bit of good where you are; it's those little bits of good put together that overwhelm the world." — Desmond Tutu
PLANNING AHEAD:
UPCOMING DATES TO NOTE IN THE CALENDAR:
February 24 – Design & Assessment Day – (CSL Morning, Report Card Prep Afternoon)
February 24 – White Hatter Parent Presentation 6:00 – 8:00pm (Main Gym)
February 25 – Respect & Diversity Week & White Hatter Student Presentation 9-11:00 am (Main Gym)
March 6 – Staff vs Student Basketball Game 1:30pm
March 6 – 8 – Art show at Peter Ewart, featuring Peter Ewart & live music
March 13 – Last day before Spring Break  😊
FROM THE DISTRICT:
SEUSSICAL THE MUSICAL COMING TO LSS!!!
The LSS Musical Theatre Department is proud to announce that Seussical the Musical is coming to LSS!  Come and watch our talented and dedicated students in Musical Theatre perform in this dedication to the fabulous works of the famous author, Dr. Seuss!
Performances:  Feb 21, 22, 27, 28, 29 at 7pm plus 2pm shows on Feb 22 and 29
Tickets reservationsvia email to lss@gmail.com
Pay at the door in cash or via schoolcashonline at:https://sd35.schoolcashonline.com/Fee/Details/21149/111/False/True
SD35 COMMUNITY BULLETIN BOARD
Here are a few items from the Langley School District's Community Bulletin Board. For more community events please visit https://www.sd35.bc.ca/news-events/community-bulletin-board
QUOTE OF THE WEEK: