Posted: February 2, 2020

Week of Feb. 2, 2020
What happened to January!? The month after Christmas just flew by, with students getting back into routines, teachers creating amazing learning opportunities, and HD Stafford again becoming incredibly busy place with sports, arts, and clubs getting back in full swing.  It was sure nice to see our old friend "the Sun" on Wednesday, only to be left wondering if we all should be building an ARK on Friday with the unbelievable amount of rain that came down!  Change seems to be a theme this time of year with weather, and it certainly is true with our Learning Commons. We also can start to see changes in our students, as they become more aware of relationships, social media, and for our grade 8 Skyhawks, their future beyond the walls of HDSMS.  I want to encourage of all us to continue to help our children to seek out a "growth mindset" around change so they see these changes as opportunities to grow and learn in this positive place.  Having caring adults surrounding them, both at home and at school, modelling this growth mindset, really makes a difference!  Happy Sunday Everyone – Go Chiefs!
PICTURES FROM THE WEEK: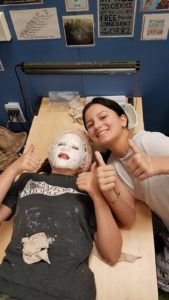 The Learning Commons renovations are in full swing, and speaking of make overs…Gold 6 with Ms. Cowling are creating beautiful plaster self portraits!
Stuck in the Middle our Drama Presentation is Opening February 19th & 20th
NEW INFORMATION TO SHARE:

Welcome New Staff:
Leaving: Andrew Gundy (Gr. 6) is off to take care of his family and new baby for the month of February – Congratulations Andrew!
Arriving: April Parchoma (Gr. 6) will be taking over for the month in Andrew's Blue 6 classroom – when you have a moment please pop in and introduce yourself!

GRADE 9 REGISTRATION INFORMATION & RESOURCES FROM LSS INFORMATION NIGHT
Here are the applications and powerpoint presentation from the Grade 9 Information Night put on by the LSS Admin and Counselling Team:
LSS Grade 9 Course Planning Powerpoint
AVID Program Application Booklet 2020

Discover Trades & Technology Fair – March 5, 2020 @ UFV
This "Try A Trade Event", will provide our grade 8 students with an opportunity to identify how their personal attributes (interests, skills & ideals) can relate to careers in skilled trades and technology.
Our students will be able to try many different interactive, stimulating and fun activities in a safe and engaging environment, as they tour the UFV Trades & Technology Centre. Educators and industry representatives will guide participants through interactive stations located in the various shops (autobody, automotive, carpentry, electrical, heavy mechanical, plumbing & welding) and labs (drafting, electronics, automation & robotics). They will answer questions about future career options and share their own professional experience.
REMINDER TO PARENTS AROUND COLD WEATHER DRESS & SICKNESS
Just a quick reminder to parents to please have your children dress appropriately for the weather, bringing gloves, jackets and snow gear if applicable.  Please label jackets as we have a had a number of jackets turned into the Lost and Found this year.
ALSO a quick reminder to report your child's absence if they are ill and if your child has a fever, vomiting etc. they need to be clear 24 hours from last occurrence before they return to school.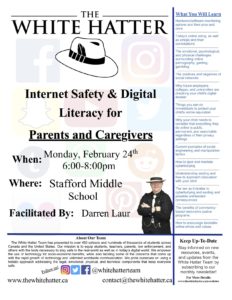 WHITE HATTER IS COMING TO HD STAFFORD ( FEB. 24th 2020)
The White Hatter team has presented to over 450 schools and 50 schools and the United States.Our mission is to equip students, teachers, parents, law enforcement, and others with the tools necessary to stay safe and the real world as well as in today's digital world.
The White Hatter – HD Stafford Poster

COMING SOON! ACADEMIES INFORMATION EVENINGS
Langley Secondary School will be hosting information nights for their sports academy's for the 2020-2021 school year on the following evenings. They will be hosted in the Langley Secondary Learning Commons (New LSS building).
Hockey Academy: Monday, February 10 at 6pm
Softball Academy:  Monday, February 10 at 7pm
Baseball Academy: Monday, February 24 at 7pm

If you have any questions please contact Troy Bannister tbannister@sd35.bc.ca
On March 11th,Langley Children Youth and Families has an excellent parent presentation planned which will focus on addressing vaping myths, harmful effects of vaping as well as teaching parents what to look for in terms of vape products. As you probably know, many can look like regular objects and can be hard to identify.
It is a free event, but we are asking for registration as we have limited seating capacity. Here is the link to registerhttps://www.eventbrite.ca/e/vaping-youth-parent-info-session-tickets-90248675217
INFORMATION ABOUT SCHOOL STATUS DURING INCLEMENT WEATHER:
Snow closures and power outages are an annual occurrence in Langley School District. So where do you go to get information about the status of schools during periods of inclement weather? If you are able to access the internet via computer or smartphone, current information about Langley schools can be accessed on all school websites or www.sd35.bc.ca. Updates are also posted to Twitter @LangleySchools and Facebook at www.facebook.com/langleyschooldistrict. If you don't have internet connectivity but your phone is working, call a relative or friend in an area that has not been affected by the storm and ask them to check the district website for you. Local radio stations are also informed of school status in Langley. Tune in to CKWX 1130AM, CKNW 980AM, Country Radio 107.1FM, Pulse 107.7 or CBC 690AM or 88.1FM for updates.
Please note that Langley District schools are all considered 'open' until a decision to close is required. Decisions on school closures are usually made by 6:30am. As always, it is a parent's decision whether to send their child to school based on safety and individual circumstances. If you feel it is unsafe for you or your child to travel to or attend an open school for any reason, please keep your child home and report an absence to the school.
PAC UPDATES
If you are interested in the PAC minutes – Here are the latest PAC minutes
COMING UP THIS WEEK:
 
FOR STUDENTS
MONDAY
–     Games Club 3- 5pm

–     Archery – 3-5pm

TUESDAY
–     Photography Club

–     Indoor Soccer

–     Art Club

–     Gr.8 Girls Basketball vs BG at HDS

–     Grade 9 Info Night at HDS – 6:30pm Main Gym

WEDNESDAY
–     SOGI Club at Lunchtime with Ms. Cowling

–     Dance Club at Lunchtime – in Dance Studio with Ms. Lyth

–     Kids Play 3:00 – 4:30

–     BlackLock Dance 3:30pm – 4:30

THURSDAY
–     Me to we hot dog day @ lunch (Hawk's Nest)

–

FRIDAY
 

–     Pucks
ATHLETICS UPDATE 🏐🏀⚽🎾🏸🎯🏐🏀⚽🎾🏸🎯
Here is the Athletics schedule for this week.
TUES FEB 4      3:00pm            G7 Boys @ BGMS
TUES FEB 4      3:00pm            G7 Girls 1 vs. Credo
TUES FEB 4      3:00pm            G7 Girls 2 vs. LCS 2
WED FEB 5      3:00pm            G6 Boys 1 @ BGMS
WED FEB 5      3:00pm            G6 Boys 2 vs. LFMS 2
WED FEB 5      3:00pm            G6 Girls vs. LCS 1
MS. LOREE'S COUNSELLING CONNECTION:
This past week I have dealt with multiple issues related to social media use.  When discussing with Mr. Hantke, he recommended a Ted Talk by Collin Kartchner.  I am so glad that he did!  Not only did I watch it, but I have shared it countless times with friends, colleagues and with the parents that I met with this week.  If you are a parent, know a parent or plan on being a parent then you will probably find watching it well worth your time.
https://www.ted.com/talks/collin_kartchner_can_flip_phones_end_our_social_media_addiction
PLANNING AHEAD:
UPCOMING DATES TO NOTE IN THE CALENDAR:
February 5 – Superintendent's Meeting
February 10 – Ensouling our Schools with Jennifer Katz (3:30-7:30pm)
February 14 – Professional Development Day @ HDSMS (Trauma Informed Practice & Perspectives)
February 19 – School Play. Small Gym Closures BLKS (.  )
February 20 – School Play. Small Gym Closures BLKS (.  )
February 21 – Aboriginal Family Dinner Big Gym Closure 2:00pm
FROM THE DISTRICT:
SEUSSICAL THE MUSICAL COMING TO LSS!!!
TheLSS Musical Theatre Department is proud to announce that Seussical the Musical is coming to LSS!  Come and watch our talented and dedicated students in Musical Theatre perform in this dedication to the fabulous works of the famous author, Dr. Seuss!
Performances:  Feb 21, 22, 27, 28, 29 at 7pm plus 2pm shows on Feb 22 and 29
Tickets reservationsvia email to lss@gmail.com
Pay at the door in cash or via schoolcashonline at:https://sd35.schoolcashonline.com/Fee/Details/21149/111/False/True
SD35 COMMUNITY BULLETIN BOARD
Here are a few items from the Langley School District's Community Bulletin Board. For more community events please visit https://www.sd35.bc.ca/news-events/community-bulletin-board
QUOTE OF THE WEEK: