Posted: December 8, 2019

Week of Dec. 8th , 2019
Christmas Festivities are in full swing now around HDSMS!  It's awesome to see all the doors decorated and the Holiday cheer in your rooms!  We have a number of special events this week from our WEB Christmas Activity (now happening in block 5/6), House team hamper food drive,  to our own Stafford Invitational Basketball Tournament!
PICTURES FROM THE WEEK: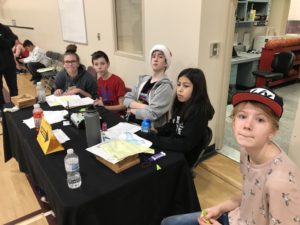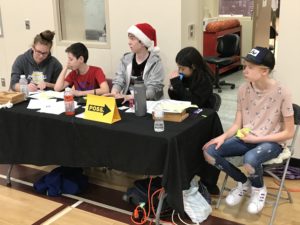 The Skyhawk Invitational Tournament in full swing with our rockstar Minor Officials!
Ugly Christmas Sweater Day in Ms. Paul's class!
Grade 8 Boys Basketball Team at Brookswood tournament – Manager Shaden at the helm!
Ms. Rehnby at the SD35 Community Forum for at risk youth.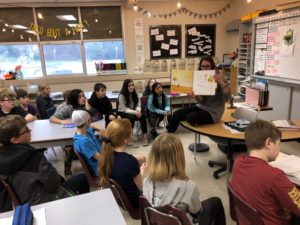 Ms. Robinson picture book reading with reflection questions around alliteration and literary devices!
Grade 8 Girls Competing in the Annual Skyhawk Invitational and our Grade 7 Girls Volleyball competed on Wednesday with coaches Ashcroft and Vaughn!
Our very own Ms. Reimer and Ms. Favero presenting to our Langley Principals their passions for authentically incorporating First Nations learning into our lessons.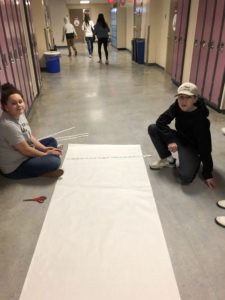 Ms. Cowling took a group of Grade 6 to High Knoll Park for some place based learning – Gimme Shelter!
NEW INFORMATION TO SHARE:

NEW BELL SCHEDULE WITH MODIFIED FLOCK SCHEDULE:
Please find the updated BELL SCHEDULE with FLOCK moving to Mondays & Thursdays.
A reminder we will be beginning this change TOMORROW MONDAY DEC. 2nd
CHRISTMAS NITE IN DECEMBER
Me to WE is starting to put together our Nite in December concert on Wednesday December 18th starting at 6:30 pm. We are hoping to have contributions from all over the school, cross-grade and cross-house.  It should be a wonderful night of performances!
NEW WEBSITES WITHIN HDSMS:
We have so much amazing stuff happening within our school we can't contain it!  Here are two new sites for you to check out!
Photography Club Website:  https://www.hdsphotography.org
Music Program Website:  https://hdsmsmusic.weebly.com/
SD35 COMMUNITY BULLETIN BOARD
Here are a few items from the Langley School District's Community Bulletin Board. For more community events please visit https://www.sd35.bc.ca/news-events/community-bulletin-board
PAC UPDATES
If you are interested in the PAC minutes – Here are the latest PAC minutes
INFORMATION ABOUT SCHOOL STATUS DURING INCLEMENT WEATHER:
Snow closures and power outages are an annual occurrence in Langley School District. So where do you go to get information about the status of schools during periods of inclement weather? If you are able to access the internet via computer or smartphone, current information about Langley schools can be accessed on all school websites or www.sd35.bc.ca. Updates are also posted to Twitter @LangleySchools and Facebook at www.facebook.com/langleyschooldistrict. If you don't have internet connectivity but your phone is working, call a relative or friend in an area that has not been affected by the storm and ask them to check the district website for you. Local radio stations are also informed of school status in Langley. Tune in to CKWX 1130AM, CKNW 980AM, Country Radio 107.1FM, Pulse 107.7 or CBC 690AM or 88.1FM for updates.
Please note that Langley District schools are all considered 'open' until a decision to close is required. Decisions on school closures are usually made by 6:30am. As always, it is a parent's decision whether to send their child to school based on safety and individual circumstances. If you feel it is unsafe for you or your child to travel to or attend an open school for any reason, please keep your child home and report an absence to the school.
COMING UP THIS WEEK:
MONDAY
–      Games Club 3- 5pm

–      Archery – 3-5pm

TUESDAY
–        Photography Club

–         Art Club

–         Indoor Soccer

–        Grade 8 girls Basketball vs. Credo @ HDS

WEDNESDAY
–        SOGI Club at Lunchtime with Ms. Cowling

–        Dance Club at Lunchtime – in Dance Studio with Ms. Lyth

–        Kids Play 3:00 – 4:30

THURSDAY
–       Block 5/6 WEB Leaders and Grade 6's will be doing a Christmas craft together. 

–        Nstep 3:00 – 4:30

–        Staff Meeting 3:00pm (All Staff)

FRIDAY
–        Term 1 Report Cards Issued
ATHLETICS UPDATE 🏐🏀⚽🎾🏸🎯🏐🏀⚽🎾🏸🎯
Here is the Athletics schedule for this week.
PLANNING AHEAD:
Dec. 18 – Christmas Nite to Remember Concert – 6:00 pm
Dec. 20 – Christmas Spirit Assembly – 10:30 am
QUOTE OF THE WEEK
DON'T JUDGE EACH DAY BY THE HARVEST YOU REAP,
BUT BY THE SEEDS YOU PLANT."