Posted: September 18, 2022


Week of Sept. 19, 2022
Happy Sunday Skyhawks Parents & Guardians!
With the first full week school now in the books and staff and students both "finding their feet"  – it's so encouraging to hear that so many of you are really excited about the year ahead!  Thank you to all the parents for passing on those encouraging emails and comments to our staff and office!  Your daily encouragement at the beginning school helps build that sense of community and partnership within our building and beyond.  Thank you also for taking the time to speak with your children as they navigate the beginning of the school year – as this can be exciting and difficult at times.  Your support is so appreciated!  Speaking of support it was so encouraging to see over 30 parents out to our first PAC meeting of the year – WOW!
I would also like to take a moment to honour the life of Queen Elizabeth II.  She was Queen of the United Kingdom and other Commonwealth realms from 6 February 1952 until her death in 2022.  Her reign of 70 years and 214 days is the longest of any British monarch, the longest recorded of any female head of state in history, and the second-longest verified reign of any sovereign in history.  She would be the first to tell  you that she was far from perfect and made mistakes, but a truly remarkable leader and woman – there is no doubt.
NEW INFORMATION TO SHARE:
HDSMS WELCOME BACK BBQ ( MEET THE TEACHER NIGHT):
This year's "Welcome Back BBQ" for our Skyhawks community will be Thursday September 22, 2022 from 5:00 pm to 7:00pm on the back field.
This is a BBQ for all our Skyhawks families that will take place outside the community room and back field from 5-7pm and is a fantastic opportunity to meet/connect with all our Skyhawks Staff in a casual outdoor setting with food and fun!  We'll be sending out more information in the coming days – but we hope to see all of you there!
BREAKFAST PROGRAM VOLUNTEERS NEEDED!
Our school is excited to get the breakfast program up and running soon! If you are interested in a volunteer position at our school, please email our Community School Coordinator at Ksandher@sd35.bc.ca. The breakfast program runs out of the community room on Mondays through Fridays, for our kids  from 8:00-8:30am. Let us know if you would like to volunteer! Volunteers will be helping to make light breakfast meals for some of our kiddos!
STAFFORD ATHLETICS & AFTER SCHOOL EVENTS
🏐🏀⚽🎾🏸🎯🏐🏀⚽🎾🏸🎯
REMINDERS
We are very excited to roll out the new online Skyhawks Apparel Store to all staff, students and our Stafford community!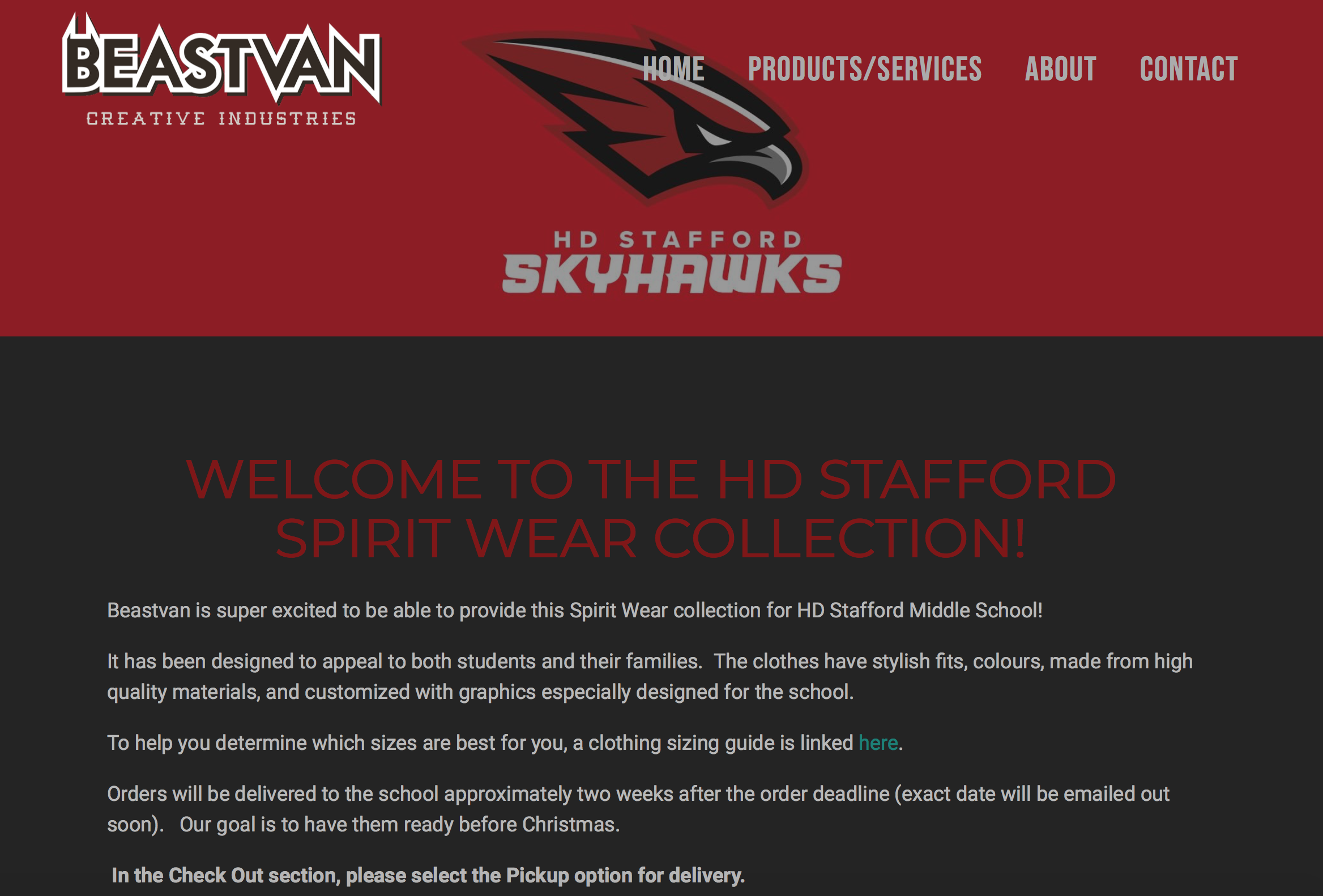 STAYING CONNECTED:
HDSMS will continue to work towards being a completely paperless school when it comes to communication with parents. In order to stay informed, please be sure you use at least one of the following on-line methods:
PAC NEWS:


NEW INFORMATION TO SHARE:
Our first fundraiser is coming! The Community Values Coupon book is available to buy now until Sept 29th! Lots of coupons have been added, supporting businesses from Aldergrove, Langley and Cloverdale.
The PAC is helping to support the Meet the Teacher evening, next Thursday, Sept 22nd, from 5-7pm. Enjoy a hot dog, meet the teachers and help build partnerships between the home and school. Volunteers are needed for afterschool setup and preparing hot dogs.
Coming in November… Growing Smiles Pointsettias and Purdy's Chocolates
Upcoming PAC meetings (6:30 pm in the HD Stafford Library):
Wednesday, October 5th and 
Wednesday, November 9th 
Wednesday, January 11th
Our next PAC meeting is Wednesday, October 5th, 6:30pm in the HD Stafford Library Commons room.
Hot lunches are coming!
Please take time to sign up for at munchalunch.com in order to access hot lunches or fundraisers. Signing up does not mean that you have to order hot lunches, but it will give you options to help order items during fundraising activities.http://www.munchalunch.com/schools/HDStafford/
(If you have a Grade 6 child and were previously registered at a different school or need an account at two different schools and you're having trouble setting up your account, please email support@munchalunch.com for help)
If you have any questions or if you are interested to volunteer at our PAC initiatives, please contact hdsmspac@gmail.com
Keep updated with PAC fundraisers and info through Facebook and Instagram at:
PAC GENERAL INFORMATION:
Our PAC works to help create effective partnerships between the school and parent community. Building the triangle of support between parent, school, and child will create powerful learning opportunities and ensure our children's success.
Each and every parent or guardian is a member of our PAC. We encourage you to join us for the monthly meetings to participate in the building of PAC community and create learning opportunities for your child.
The 2022/23 HDSMS PAC EXECUTIVE:
FROM THE LIBRARY LEARNING COMMONS:
Can't wait to share all the awesome literacy events coming this year.
COMMUNITY SUPPORTS FOR PARENTS:


FROM THE DISTRICT: