Posted: November 6, 2022


Week of Nov. 7th, 2022
Happy Sunday Skyhawks Parents & Guardians!
What a tremendous week we had here in Skyhawk Nation!  Our week kicked off with quite the party on Halloween with over 13 theme rooms for all 700 Skyhawk students to choose from in the afternoon.   There was dancing, games, escape rooms, movies, scary stories, cookie decoration and so much more!  We jumped back into learning for the rest of week, with science experiments, culinary skills, outdoor spotted owl sightings, and some fantastic literacy and numeracy instruction!
This week is highlighted by Remembrance Day and our first full school Remembrance Day assembly since Nov. 2019.  We will be honouring all our soldiers across history, race, gender, and culture at the Tomb of the Unknown Soldier, and we thank Mr. Miller, Mr. Goulet, Mrs. Wallace, Mr. Lauser and Mr. Bell for all their work on bringing this incredible ceremony to reality.
As we look ahead to Remembrance Day this coming Friday, as a school we will be remembering the courage and sacrifice of all people who have served or are currently serving in our military to provide safety and support both here in Canada, and also internationally. Along with what we are doing here at school, we would encourage you to talk with your own children about the reason we acknowledge Remembrance Day in Canada. Here is a great link to some of the stories of the diverse people who have served in recent times as well as the past:
https://www.veterans.gc.ca/eng/remembrance/people-and-stories
Lest We Forget.
Here's the SCOOP!
THE WEEK AHEAD AT HD STAFFORD
NEW INFORMATION TO SHARE:
Remembrance Day Assembly
Community Room Homework Club on Wednesdays! Let your Kiddos know!
Homework club started on September 28 and will run from 3-4 on Wednesdays in the Community Room. Students will receive academic support and build positive relationships. The first half of homework club we will work on homework and from 3:30 to 4:00 we'll change gears and do fun activities together! We're looking forward to seeing you there! A huge thank you to Langley Church (Youth unlimited) for their support. See Mrs. Sandher if you would like to join any after-school activities.
The Breakfast Program has started! Students can enjoy light breakfast items between 8:00-8:30. Students will enter through the exterior doors of the Community Room, and when the bell rings they will line up with their classes. The breakfast program is for all kiddos!
LUNCH PROGRAM: The lunch program is for families who need extra support. Please contact Mrs. Sandher, our Community Coordinator, at Ksandher@sd35.bc.ca, if your child needs clothing, food, and/or other support.
STUDENT DROP OFF & PICK UP PROCEDURES:
We understand there has been frustration with both before and after school during student drop off and pick up times.  We are currently working with both the school district staff and community partners to ensure a long term sustainable solution to this problem as inevitably our enrolment will rise.  In the meantime, we want to remind all parents to please use the student drop off and pick up lanes on the east side of the school.  Do not drive through the main entry way of the school during these times.    Some other suggestions for decreasing congestion during pick up specifically include:
Consider having your child walk along 48th Ave and picking them up by the City Park fields (there is much more room)
Consider picking your child up after 3:00pm (as much of the congestion is gone by then)
FORMS, FEES, & LOCKERS
Lockers have now been distributed to all classes and students, however we are hoping to finish collecting school fees and online permission forms as soon as possible.  If you can please do the following:
Pay your school fees using the SchoolCashOnline link here.
Complete the Online permission forms that also on your SchoolCashOnline account.
STAFFORD ATHLETICS & AFTER SCHOOL EVENTS
🏐🏀⚽🎾🏸🎯🏐🏀⚽🎾🏸🎯
REMINDERS
We are very excited to roll out the new online Skyhawks Apparel Store to all staff, students and our Stafford community!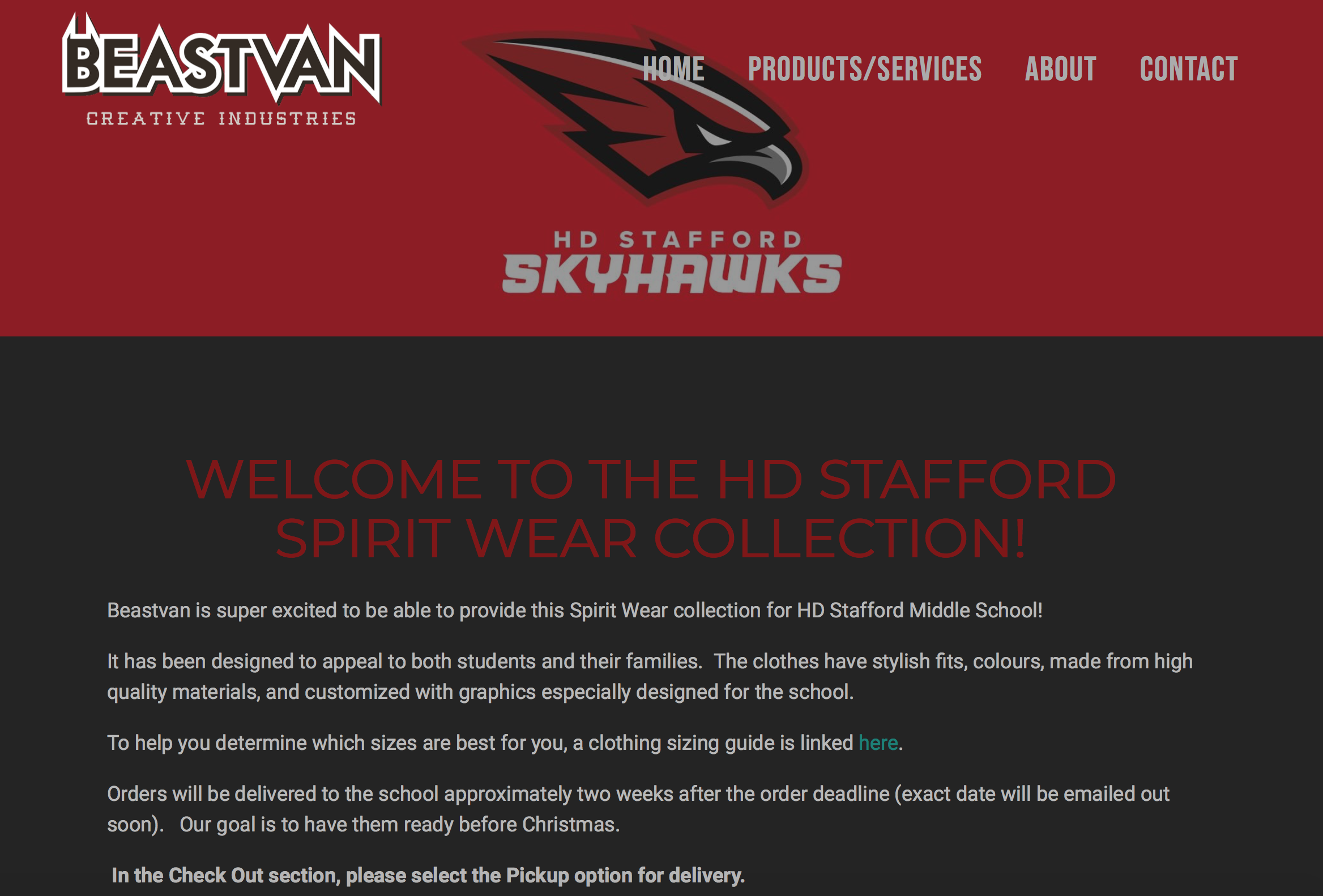 STAYING CONNECTED:
HDSMS will continue to work towards being a completely paperless school when it comes to communication with parents. In order to stay informed, please be sure you use at least one of the following on-line methods:
PAC NEWS:
NEW INFORMATION TO SHARE:
Thank you to all the hot lunch volunteers last Friday! 
Buy pointsettias and christmas greenery through the Growing Smiles fundraiser here.
Order by Nov 11th and pick up Nov 26th
PURDY'S CHOCOLATE ORDERS 
Order your Purdy's Chocolates early here.
Order #59343
Order by Nov 21st and pick up at school Dec 8th
CHRISTMAS FAMILY PHOTO OPPORTUNITY
Fewer than 15 slots left! The PAC is providing an opportunity to create Christmas photos for your family. The $30 sitting fee is donated to the PAC and you receive a complimentary 8X10 print!  Sitting sessions are quick. Book your times on Nov 9th and Nov 14th here.
HOT LUNCH DATES
Munchalunch ordering for hot lunches – deadline is usually one week before.
Thurs, Nov 17th Taco Del Mar
Friday, Dec 9th Little Caesars
Friday, Dec 16th Frozen Treats & Cobs
(If you have a Grade 6 child and were previously registered at a different school or need an account at two different schools and you're having trouble setting up your account, please email support@munchalunch.com for help)
POPCORN DAYS & THE HAWKS NEST
Nov 9th  Gr7 popcorn
Nov 16th Gr8 Hawk's Nest
Nov 23rd Gr 6 Hawk's Nest
Dec 7th Gr 8 popcorn
Dec 14th Gr 7 Hawk's Nest
UPCOMING PAC MEETINGS
Wednesday, November 9th @ 6:30pm in HD Stafford Learning Commons
Wednesday, January 11th
 All meetings are 6:30pm in the HD Stafford Library Commons room
If you have any questions or if you are interested to volunteer at our PAC initiatives, please contact hdsmspac@gmail.com
Keep updated with PAC fundraisers and info through Facebook and Instagram at:
PAC GENERAL INFORMATION:
Our PAC works to help create effective partnerships between the school and parent community. Building the triangle of support between parent, school, and child will create powerful learning opportunities and ensure our children's success.
Each and every parent or guardian is a member of our PAC. We encourage you to join us for the monthly meetings to participate in the building of PAC community and create learning opportunities for your child.
The 2022/23 HDSMS PAC EXECUTIVE:
Please direct any general questions to hdsmspac@gmail.com
FROM THE LIBRARY LEARNING COMMONS:
Can't wait to share all the awesome literacy events coming this year.
COMMUNITY SUPPORTS FOR PARENTS:


FROM THE DISTRICT: