Posted: November 27, 2022


Week of Nov. 28th, 2022
FORMS, FEES, & LOCKERS
Lockers have now been distributed to all classes and students, however we are hoping to finish collecting school fees and online permission forms as soon as possible.  If you can please do the following:
Pay your school fees using the SchoolCashOnline link here.
Complete the Online permission forms that also on your SchoolCashOnline account.
STAFFORD ATHLETICS & AFTER SCHOOL EVENTS
🏐🏀⚽🎾🏸🎯🏐🏀⚽🎾🏸🎯
REMINDERS
We are very excited to roll out the new online Skyhawks Apparel Store to all staff, students and our Stafford community!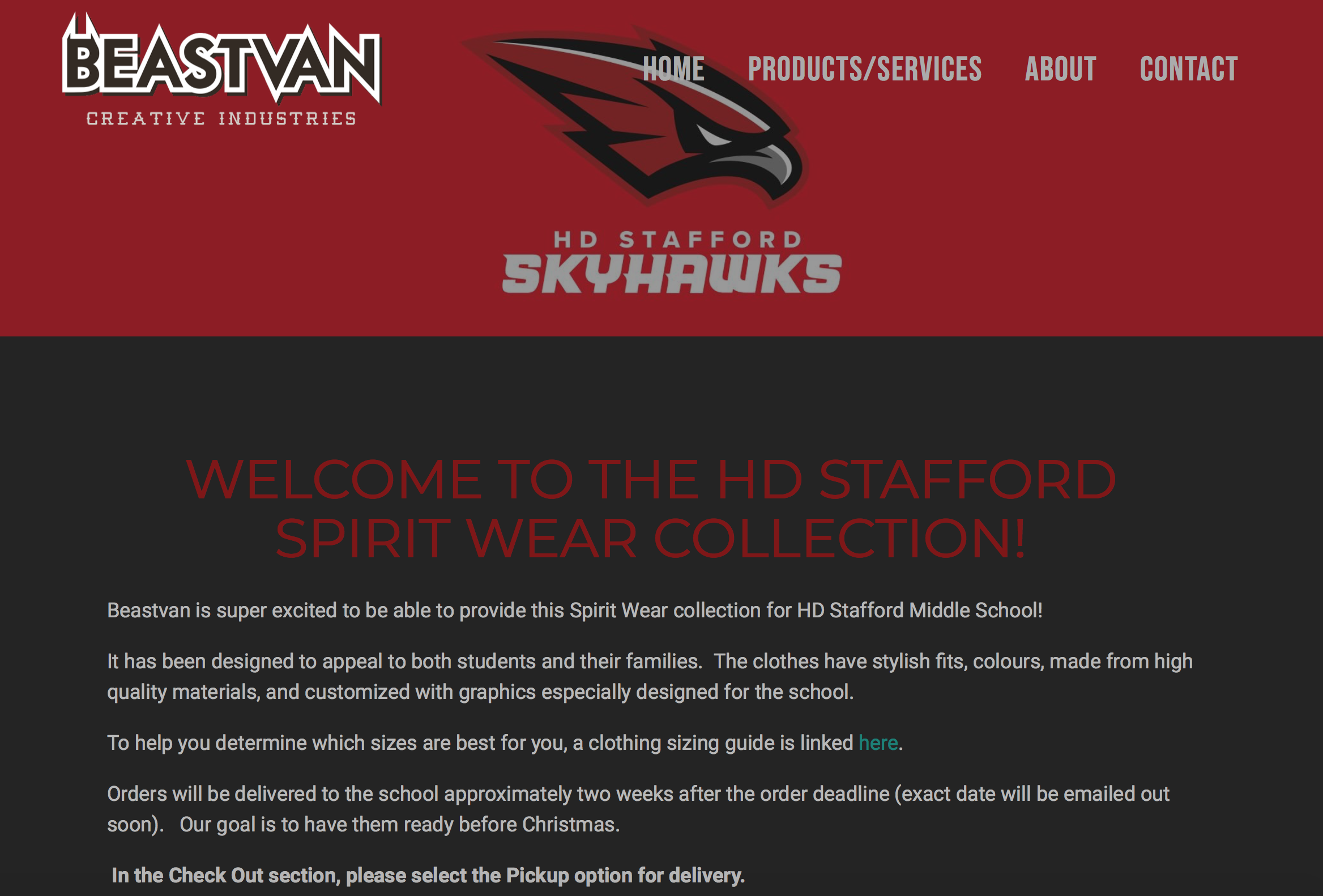 STAYING CONNECTED:
HDSMS will continue to work towards being a completely paperless school when it comes to communication with parents. In order to stay informed, please be sure you use at least one of the following on-line methods:
PAC NEWS:
Thank you for your support of the Fall Fundraisers!
Community Value Coupon Books – Profits of $1974.54
Growing Smiles Fundraiser – Profits of $194.11 
Purdy's Chocolates – Profits of $619.90. Pick up will be after school Dec 8th. 
Mountain West Photos – Profits of $690.00 Reminder to claim your complimentary 8×11 photo while ordering under the 'sheets' tabs. You can also order packages. 
Remaining Popcorn & Hawk's Nest Days before the holidays:
Nov 30th Gr 6 Hawk's Nest
Dec 7th Gr 8 popcorn
Dec 14th Gr 7 Hawk's Nest
Upcoming PAC meetings:
 6:30pm in the HD Stafford Library Commons room.
Wednesday, January 11th
Wednesday, February 8th
HOT LUNCH DATES
Munchalunch ordering for hot lunches – deadline is usually one week before.
Friday, Dec 9th Little Caesars
Friday, Dec 16th Frozen Treats & Cobs
(If you have a Grade 6 child and were previously registered at a different school or need an account at two different schools and you're having trouble setting up your account, please email support@munchalunch.com for help)
If you have any questions or if you are interested to volunteer at our PAC initiatives, please contact hdsmspac@gmail.com
Keep updated with PAC fundraisers and info through Facebook and Instagram at:
PAC GENERAL INFORMATION:
Our PAC works to help create effective partnerships between the school and parent community. Building the triangle of support between parent, school, and child will create powerful learning opportunities and ensure our children's success.
Each and every parent or guardian is a member of our PAC. We encourage you to join us for the monthly meetings to participate in the building of PAC community and create learning opportunities for your child.
The 2022/23 HDSMS PAC EXECUTIVE:
Please direct any general questions to hdsmspac@gmail.com
FROM THE LIBRARY LEARNING COMMONS:
Can't wait to share all the awesome literacy events coming this year.
COMMUNITY SUPPORTS FOR PARENTS:
FROM THE DISTRICT: