Posted: March 5, 2023


Week of March 6th, 2023
Happy Sunday Skyhawks Parents & Guardians!
Spring Break is almost here!  For many of us – this conjures up images of warm, sunny weather – a time where we are reaching for our shorts instead of our ski jacket…well I'm not sure we're there yet!  Saying that, Spring is a time of growth and renewal – a time where we look forward to colour returning to the trees and flowers, longer days and  – for our students and staff – a break before the final term of the school year begins. We hope you take some time in these coming weeks to do what feeds your soul – to rest, recharge and renew for the season ahead!  We want to wish all a wonderful Spring Break with your families filled with rest, great memories, adventures and most of all – FUN!
Here's the SCOOP!
Early dismissal and our PT conferences are coming up on March 8th from 2:00pm to 4:30pm and on March 9th from 2:00pm to 7:30pm.  Each appointment will be 15 minutes in person or virtually.
There will be a dinner break from 5:00pm to 6:00pm on March 9th.
using the School Appointments Online application is easy and convenient, an innovative web service for scheduling parent teacher conferences without tying up valuable school administrative resources. Inexpensive, fast and easy for all users and schools.
hdsms.schoolappointments.com
HD Stafford SPA:TH Club is getting ready to kick off!
The HDSMS SPA:TH club is an after school program that aims to support indigenous youth's self esteem, sense of belonging and school success by providing homework supports, cultural teachings, positive peer relationships and fun activities! Plus – there are SNACKS!
Cold Temperatures and Winter Weather:
This week is calling for freezing temperatures and maybe even some snow. Just a reminder to reduce the risk of slip and falls during the icy weather: when possible, please tell your children to follow the designated walking paths and avoid shortcuts and unsalted areas. Also, walk slowly and deliberately in icy areas and expect the pavement and sidewalks to be slippery.
Also a reminder as the weather gets increasingly cold and wet,  please send your children to school with appropriate clothing and footwear as many students ( especially in the snow) do love to go outside!
Community Room Homework Club on Wednesdays! Let your Kiddos know!
Homework club started on September 28 and will run from 3-4 on Wednesdays in the Community Room. Students will receive academic support and build positive relationships. The first half of homework club we will work on homework and from 3:30 to 4:00 we'll change gears and do fun activities together! We're looking forward to seeing you there! A huge thank you to Langley Church (Youth unlimited) for their support. See Mrs. Sandher if you would like to join any after-school activities.
The Breakfast Program  Students can enjoy light breakfast items between 8:00-8:30. Students will enter through the exterior doors of the Community Room, and when the bell rings they will line up with their classes. The breakfast program is for all kiddos!
LUNCH PROGRAM: The lunch program is for families who need extra support. Please contact Mrs. Sandher, our Community Coordinator, at Ksandher@sd35.bc.ca, if your child needs clothing, food, and/or other support.
FORMS, FEES, & LOCKERS
Lockers have now been distributed to all classes and students, however we are hoping to finish collecting school fees and online permission forms as soon as possible.  If you can please do the following:
Pay your school fees using the SchoolCashOnline link here.
Complete the Online permission forms that also on your SchoolCashOnline account.
STAFFORD ATHLETICS & AFTER SCHOOL EVENTS
🏐🏀⚽🎾🏸🎯🏐🏀⚽🎾🏸🎯

REMINDERS
We are very excited to roll out the new online Skyhawks Apparel Store to all staff, students and our Stafford community!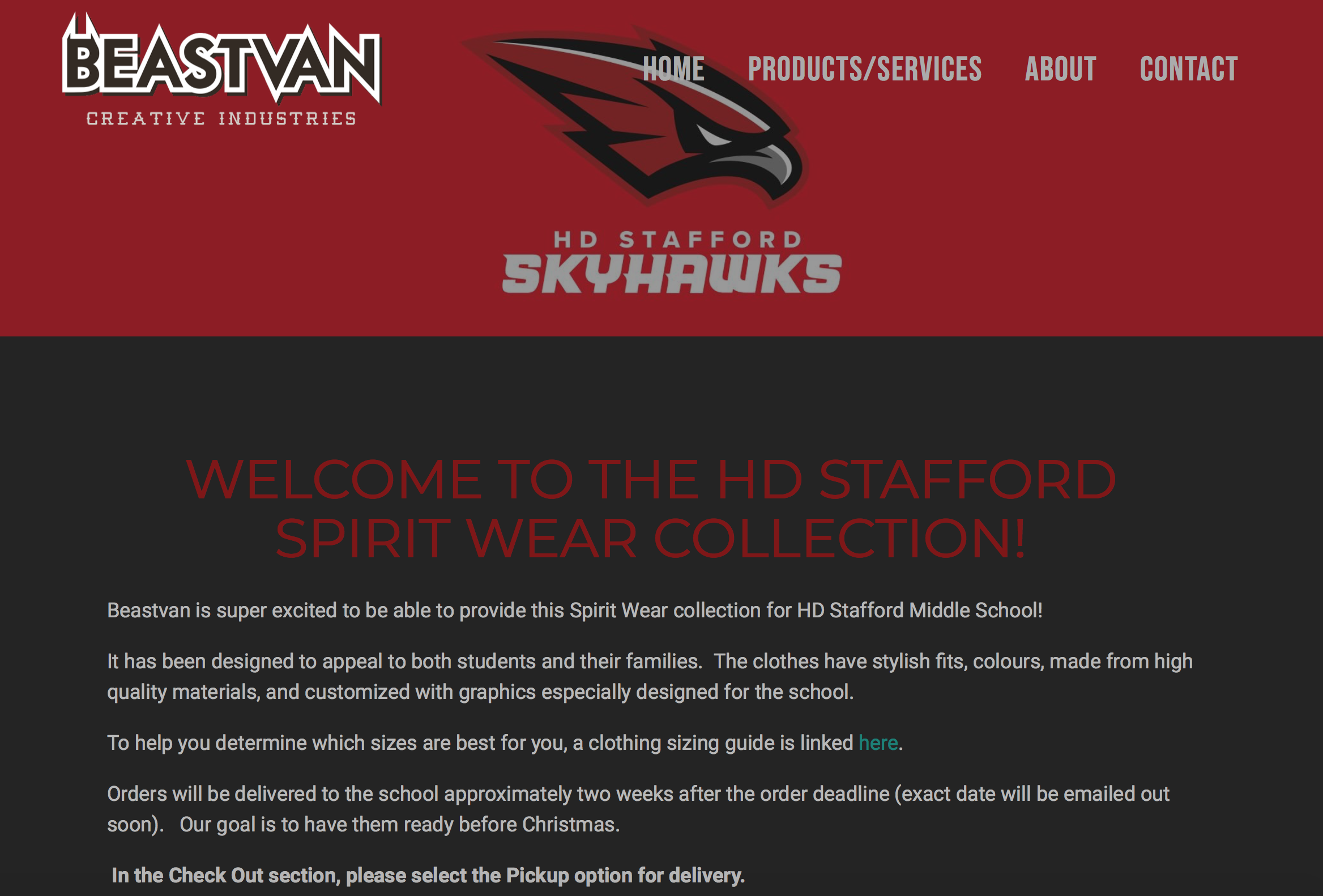 STAYING CONNECTED:
HDSMS will continue to work towards being a completely paperless school when it comes to communication with parents. In order to stay informed, please be sure you use at least one of the following on-line methods:
PAC NEWS:
PAC Bake Sale!
Thursday, March 9th
Baked goods available at lunch, after school and during evening parent-teacher interviews
Please bring store-bought or baked goods to the office after school Wed March 8th or in the morning, Thursday, March 9th… or email Gina at hdsmspresident@gmail.com for other arrangements. Leave at my door in Murrayville! Anything welcome – cookies, muffins, loaf cakes, bars, pies, cupcakes. Individually wrapped, or not – we'll get it ready for you.
Sign up here!
Upcoming Popcorn Dates:
Wait for announcement for new dates starting after Spring Break
Upcoming Hawk's Nest Dates:
Wait for announcement for new dates starting after Spring Break
Upcoming Hot Lunch Dates:
Munchalunch ordering for hot lunches – deadline is usually one week before.
Friday March 10th – Little Caesar's Pizza – order cut off Thurs Mar 2nd
April 24th – Booster Juice
May 26th – Subway
June 12th – Little Caesar's
Upcoming PAC meetings:
6:30pm in the HD Stafford Library Commons room.
If you have any questions or if you are interested to volunteer at our PAC initiatives, please contact hdsmspac@gmail.com
Keep updated with PAC fundraisers and info through Facebook and Instagram at:
Neufelds frozen savoury and sweet items Fundraiser:

Ordering April 3-19th, Pick up Sat, April 29th, 10am

Krispy Kreme Donuts Fundraiser!

Thursday April 6th (pre-ordered boxes will be delivered to students' classrooms)
Keep an eye out for ordering through Munchalunch
BCCPAC Position 
Anyone interested in a BCCPAC position, the nomination deadline is Feb 28th, email to info@bccpac.bc.ca
More info about BCCPAC at https://bccpac.bc.ca
Spring Fundraiser put hosted by Langley School District Foundation
Saturday, April 22nd, limited tickets left.
PAC GENERAL INFORMATION:
Our PAC works to help create effective partnerships between the school and parent community. Building the triangle of support between parent, school, and child will create powerful learning opportunities and ensure our children's success.
Each and every parent or guardian is a member of our PAC. We encourage you to join us for the monthly meetings to participate in the building of PAC community and create learning opportunities for your child.
The 2022/23 HDSMS PAC EXECUTIVE:
Please direct any general questions to hdsmspac@gmail.com
FROM THE LIBRARY LEARNING COMMONS:
Can't wait to share all the awesome literacy events coming this year.
COMMUNITY SUPPORTS FOR PARENTS:
FROM THE DISTRICT: