Posted: December 4, 2022


Week of Dec. 5th, 2022
Happy Sunday Skyhawks Parents & Guardians!
Well December arrived with bang to get us all into the swing of the holidays with laughter, cheer, and even a Snow Day! Things always seem to be just a little busier this time of year – so be sure to take a moment and give yourself grace to just breathe and take in "the present".  I've often thought about how we talk a lot about doing this – more than we actually do.  "The Present" is just that – a gift.  We will never have these moments with our family, our friends, our colleagues, our neighbours again.  We will never be younger than we are right now ( I remind myself of this every time we take a picture J).  So taking the time to enjoy the moment – to savour the gift of "the present" is a great way to get peace of mind in this very busy season!
Here's the SCOOP!
THE WEEK AHEAD AT HD STAFFORD
PICTURES FROM LAST WEEK!:
Cold Temperatures and Winter Weather:
This week is calling for freezing temperatures and maybe even some snow. Just a reminder to reduce the risk of slip and falls during the icy weather: when possible, please tell your children to follow the designated walking paths and avoid shortcuts and unsalted areas. Also, walk slowly and deliberately in icy areas and expect the pavement and sidewalks to be slippery.
Also a reminder as the weather gets increasingly cold and wet,  please send your children to school with appropriate clothing and footwear as many students ( especially in the snow) do love to go outside!
STUDENT DROP OFF & PICK UP PROCEDURES UPDATE (Nov. 28th, 2022):
We had a scheduled meeting with School District Leadership Staff and the City of Langley Engineering Dept last week to discuss both short and long termsolutions to the ongoing issue of congestion during pick up and drop with parent traffic.  The meeting was very productive and we will be gathering information in the coming days regarding how many students are picked up by vehicle and how many students walk home.  This will help better inform the city engineers as to the best solution moving forward.
In the meantime, we want to remind all parents to please NOT park in our neighbour's driveways.  Please continue to use the student drop off and pick up lanes on the east side of the school.  Do not drive through the main entry way of the school during these times.    Some other suggestions for decreasing congestion during pick up specifically include:
Consider having your child walk along 48th Ave and picking them up by the City Park fields (there is much more room)
Consider picking your child up after 3:00pm (as much of the congestion is gone by then)
Community Room Homework Club on Wednesdays! Let your Kiddos know!
Homework club started on September 28 and will run from 3-4 on Wednesdays in the Community Room. Students will receive academic support and build positive relationships. The first half of homework club we will work on homework and from 3:30 to 4:00 we'll change gears and do fun activities together! We're looking forward to seeing you there! A huge thank you to Langley Church (Youth unlimited) for their support. See Mrs. Sandher if you would like to join any after-school activities.
The Breakfast Program has started! Students can enjoy light breakfast items between 8:00-8:30. Students will enter through the exterior doors of the Community Room, and when the bell rings they will line up with their classes. The breakfast program is for all kiddos!
LUNCH PROGRAM: The lunch program is for families who need extra support. Please contact Mrs. Sandher, our Community Coordinator, at Ksandher@sd35.bc.ca, if your child needs clothing, food, and/or other support.
FORMS, FEES, & LOCKERS
Lockers have now been distributed to all classes and students, however we are hoping to finish collecting school fees and online permission forms as soon as possible.  If you can please do the following:
Pay your school fees using the SchoolCashOnline link here.
Complete the Online permission forms that also on your SchoolCashOnline account.
STAFFORD ATHLETICS & AFTER SCHOOL EVENTS
🏐🏀⚽🎾🏸🎯🏐🏀⚽🎾🏸🎯

REMINDERS
We are very excited to roll out the new online Skyhawks Apparel Store to all staff, students and our Stafford community!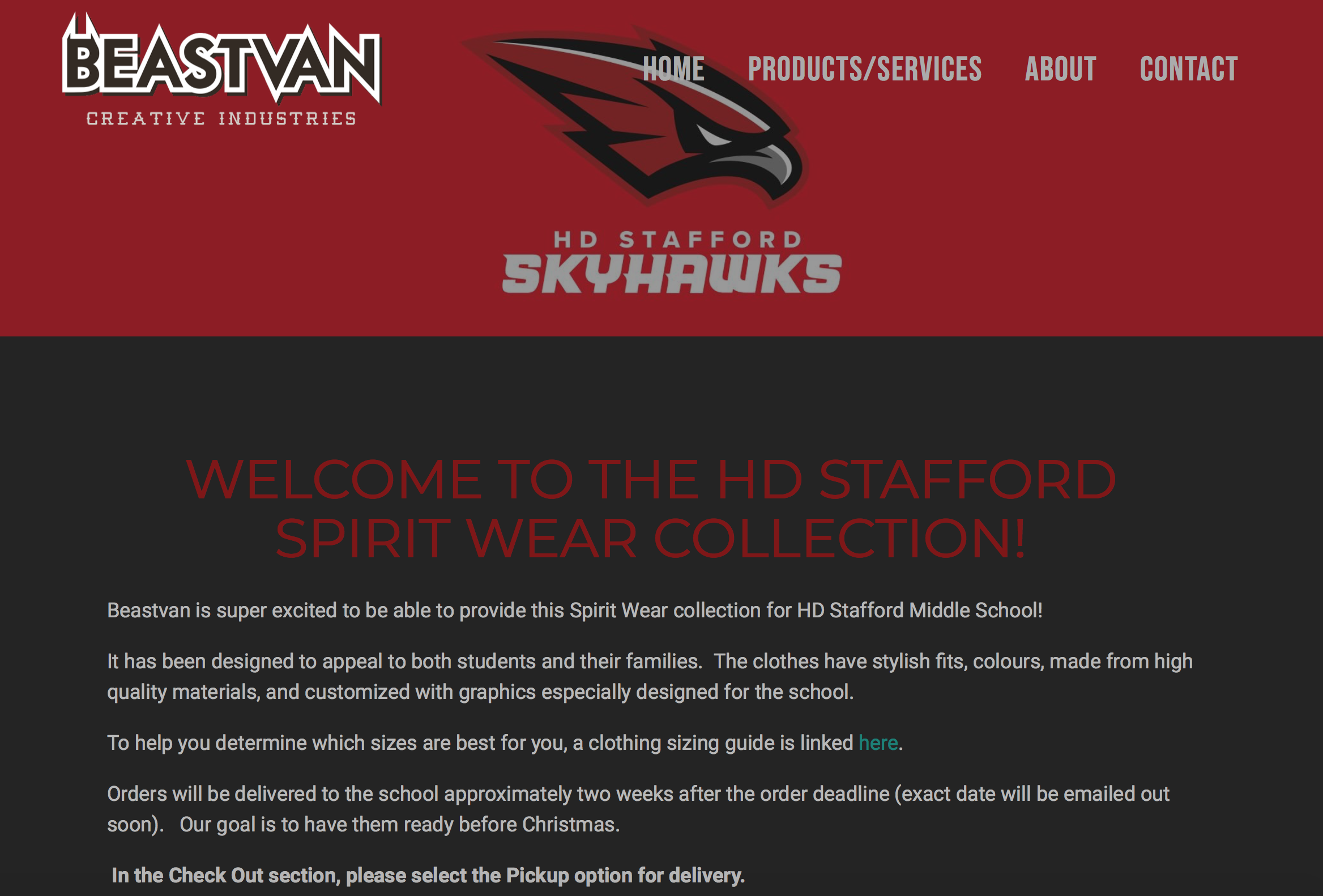 STAYING CONNECTED:
HDSMS will continue to work towards being a completely paperless school when it comes to communication with parents. In order to stay informed, please be sure you use at least one of the following on-line methods:
PAC NEWS:
Anyone wanting to donate warm jackets to students in need, please drop off at the office or contact community coordinator ksandher@sd35.bc.ca
Thank you for your support of the Fall Fundraisers!
Community Value Coupon Books – Profits of $1974.54
Growing Smiles Fundraiser – Profits of $194.11 
Purdy's Chocolates – Profits of $619.90. Pick up will be after school Dec 8th. 
Mountain West Photos – Profits of $690.00

Reminder to claim your complimentary 8×11 photo while ordering under the 'sheets' tabs. You can also order packages. 
Remaining Popcorn & Hawk's Nest Days before the holidays:
Dec 7th Gr 8 popcorn
Dec 14th Gr 7 Hawk's Nest
Upcoming PAC meetings:
 6:30pm in the HD Stafford Library Commons room.
Wednesday, January 11th
Wednesday, February 8th
HOT LUNCH DATES
Munchalunch ordering for hot lunches – deadline is usually one week before.
Friday, Dec 9th Little Caesars
Friday, Dec 16th Frozen Treats & Cobs
(If you have a Grade 6 child and were previously registered at a different school or need an account at two different schools and you're having trouble setting up your account, please email support@munchalunch.com for help)
Save the date! School dance after the holidays – Thursday, January 26th. 
If you have any questions or if you are interested to volunteer at our PAC initiatives, please contact hdsmspac@gmail.com
Keep updated with PAC fundraisers and info through Facebook and Instagram at:
PAC GENERAL INFORMATION:
Our PAC works to help create effective partnerships between the school and parent community. Building the triangle of support between parent, school, and child will create powerful learning opportunities and ensure our children's success.
Each and every parent or guardian is a member of our PAC. We encourage you to join us for the monthly meetings to participate in the building of PAC community and create learning opportunities for your child.
The 2022/23 HDSMS PAC EXECUTIVE:
Please direct any general questions to hdsmspac@gmail.com
FROM THE LIBRARY LEARNING COMMONS:
Can't wait to share all the awesome literacy events coming this year.
COMMUNITY SUPPORTS FOR PARENTS:
FROM THE DISTRICT: