Posted: September 26, 2021


Week of Sept 26, 2021
This week was highlighted with having our Skyhawks Community returning into our building!  It was wonderful to have our parents in our building, in our classrooms, and experiencing all the amazing opportunities you provide for our students every day!  It was also awesome to see our Grade 8 girls volleyball team welcome sports back into the nest for the first time in 18 months!  We ended this week with our school improvement day where we were able to walk away from the day, knowing more about what we need to do for our students, knowing more about each other, and appreciating how our own stories will impact our teaching.
Here's the SCOOP…
PICTURES FROM THE LAST WEEK:
Ms. Forbes really getting into the fall season while beating the "Boiler Breakdown"!
So wonderful to welcome parents back into our building on Meet the Teacher Night #Skyhawkpride!
This week we welcomed back Skyhawk Sports with our Grade 8 Girls Volleyball team!  Coach McKellar & Coach Twigg were so positive with the team in their first game against Brookswood!  GO SKYHAWKS GO!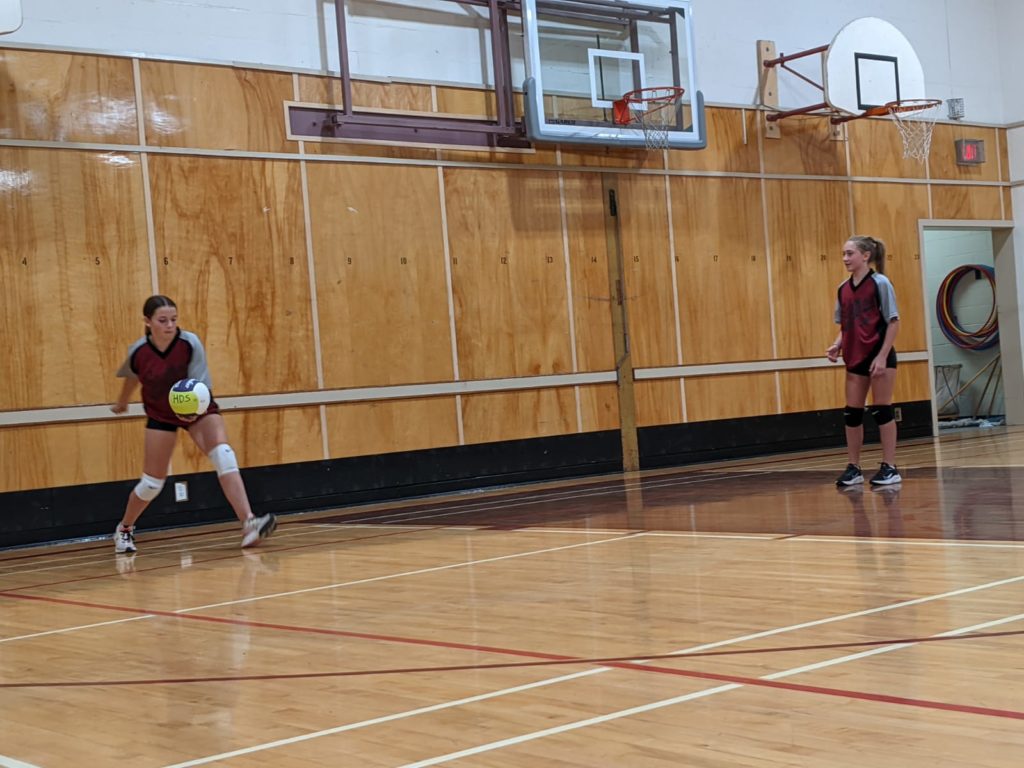 Map of Red 8s Hearts – connecting important personal attributes to geographical features.
The students in Red 8 were examining the power of "Blackout Poetry" to find the story within the story.
Red 7 students spent an hour to give back to our environment by keeping our field clean!  Thanks Skyhawks!
Our Literacy Teachers working on strategies and interventions for each proficiency level.
The week ended with our School Improvement Day – A powerful day of learning centered around out students and our stories. Above our Numeracy teachers are working on a baseline common assessment for Numeracy at each grade level to help identify and target supports in mathematics.
Staff paricipated in indignenous drumming during our workshop on Ways of Knowing with Dr. Vicki Kelly from SFU.
Ms. Wright is expecting her first baby – we wanted to wish her well on her maternity leave – and we're looking forward to welcoming the newest Skyhawk to the nest!
NEW INFORMATION TO SHARE:
ANNUAL FALL FESTIVAL 2021 – OUTDOORS!
Many more details to come in the next two weeks – but we wanted to get the word out!
OCTOBER 7th 3pm – 7pm
HDS Back Field & Courtyard
Outdoor afterschool festival activities and treats
Rain or Shine
Activities and games for all ages
We are looking for parents to donate pies or cakes for the Fall Festival. Please bring them to the school on Oct.7th
STUDENTS and MASKS
Please ensure that your children have their masks each day.
Students MUST always have their masks on – in the classroom, including their workstation (even if physically distanced), working on bulletin boards, going to washroom, filling their water bottles up, going outside, in PE class inside, etc.
Masks do not need to be worn when students are eating/drinking, or participating in high intensity activities outdoors (limited physical contact).
In band, the mask can only come off when they are playing their instrument (brass/woodwind).
REMINDER TO FAMILIES ABOUT DAILY HEALTH CHECK FORM:
As we enter into enhanced safety measures the health and safety of your children continues to be our top priority. As we start this new year, we want to remind students and families to complete the Daily Health Check. Thank you for your ongoing cooperation and doing your part to ensure our school community is healthy and safe.
The form is available in multiple languages on the District website here: https://bit.ly/2Mw0jo5
Just a reminder that there is no stopping/parking on Grade Crescent in front of HD Stafford Middle School. In consideration of our community neighbours and for the safety of our students, please refrain from blocking driveways and crosswalks and jaywalking. Please have a conversation with your child(ren) of where an appropriate place to meet up after school could be. There is lots of available parking by City Park on 48th Ave which is just a short walk away for our students.
STAYING CONNECTED:
HDSMS will continue to work towards being a completely paperless school when it comes to communication with parents. In order to stay informed, please be sure you use at least one of the following on-line methods:
PAC NEWS:
Welcome to the 2021/22 HD Stafford PAC!
Our PAC works to help create effective partnerships between the school and parent community. Building the triangle of support between parent, school, and child will create powerful learning opportunities and ensure our children's success.
Each and every parent or guardian is a member of our PAC. We encourage you to join us for the monthly meetings to participate in the building of PAC community and create learning opportunities for your child.
The meeting schedule for the year – Time: 6:30pm
The 2021/22 executive is up and running.
 Our first fundraiser is coming! The Community Values Coupon book sales have started!  Lots of coupons have been added, supporting businesses from Aldergrove, Langley and Cloverdale. Ordering is available until Oct 12th through munchalunch.com, cash or cheque written to HD Stafford PAC.
 Munch a Lunch – Please take time to sign up for Munch a Lunch in order to access hot lunches or fundraisers.
 Our first PAC meeting is on Wednesday, October 13th, 6:30pm via Zoom. A Zoom link will be emailed out prior to the meeting. PAC meetings will alternate between zoom and in person meetings this year.
 PAC will be helping out at the outdoor Fall Fair (Oct 7th) with concession, cake walk and craft table. Look out for a sign up list for volunteers, coming out next week
Keep updated with PAC fundraisers and info through Facebook and Instagram at:
If you have any questions or if you are interested to volunteer at our PAC initiatives, please contact hdsmspac@gmail.com
COMING UP THIS WEEK:
DAY
EVENT
WHERE/WHO
WHEN
MONDAY
Middle School Networking
SBO – John and Natalie

Erin is Teacher in Charge

8-11am
 
Opening Sharing Circle
Classrooms
Throughout the day
TUESDAY
Team Leader Meeting
Learning Commons
7:15 AM
 
DART Inservice
Learning Commons/New to DART or want a refresher
Lunch
 
Ballantyne Project – Indian Residential School Program
Classrooms/Teams
9am
WEDNESDAY
Orange Shirt Day

 

Please see schedule
Please see schedule
 
Walk With the Truth
Meet on back field – fire drill formation (approx. 25-minute walk)
Grade 6 – 10:10

Grade 7 – 12:03

Grade 8 – 1:28

 

 
Healing Garden Planting
Outdoor Classroom Area
 
 
Paper T-Shirts
Classrooms/ Each Class
Throughout the day
 
SBT
Library Annex
Block 4
THURSDAY
National Day for Truth and Reconciliation
School Not in Session
Opportunities for our students to do the Walk With the Truth with their families
FRIDAY
Day of Reflection
Classrooms
Throughout the day
 
JHSC – September Meeting
Library Annex
10am
PLANNING AHEAD:
Sept. 29 – HDSMS Honours National Day for Truth & Reconciliation
Sept. 30 – National Day for Truth & Reconciliation
October 1 – Day 1
October 8 – Terry Fox Run
October 11 – Thanksgiving
October 15 – Day 1
October 20/21 – Parent Teacher Conferences
October 22 – Provincial Professional Development Day
October 29 – Spirit Day – Halloween or Orange/Black!
October 29 – Day 2
LOVING LITERACY:
"I don't know what book to read…"
How many of us have heard this as the excuse for our kids not reading during silent reading time?
Maybe it is the reason for all the overwhelmed faces of kids during library book exchange time. Well, here is a resource that can help you, help them. It is a link to booklists that have been curated by Pernille Ripp based on her middle school students' preferences over each of the last few years.
I have read a bunch of them, and there has not been one book she recommended that I didn't like or love!
Happy reading!
FROM THE LIBRARY LEARNING COMMONS:
What Our Students Are Reading
The Top 10 Circulations of this past school year:
The Hunger Games, Suzanne Collins
Smile, Raina Telgemeier
Ghosts, Raina Telgemeier
Sisters, Raina Telgemeier
Catching Fire, Suzanne Collins
The End of the Wild, Nicole Lea Helget
The Boy at the Back of the Class, Onjali Rauf
Rodrick Rules, Jeff Kinney
The Baby-Sitters Club: Boy Crazy Stacey, Gale Galligan
Bone #1: Out From Boneville, Jeff Smith
ATHLETICS UPDATE 🏐🏀⚽🎾🏸🎯🏐🏀⚽🎾🏸🎯



MS. LOREE'S COUNSELLING CONNECTION:

.
Grounding is a mindfulness technique that encourages students to focus on the present.  Grounding exercises often help to calm students when they become caught up in anxious or negative thoughts and big emotions, but they can also help with transitioning from one activity to another.  At home, the morning is often chaotic for many of our students.  Taking a moment when they first arrive to do grounding exercises may lead to a smoother start to the school day.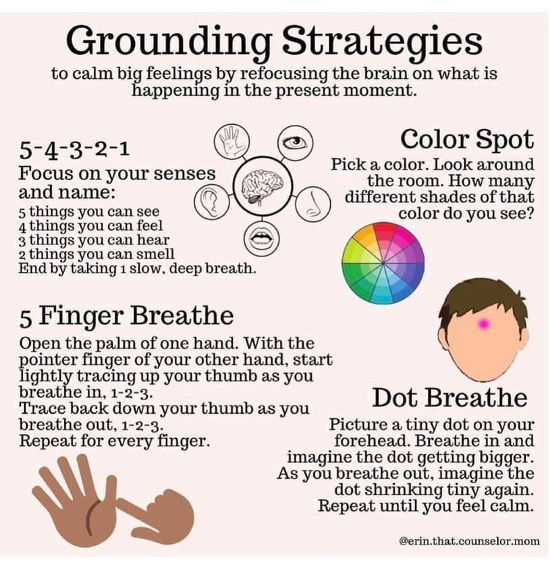 FROM THE DISTRICT: