Posted: September 13, 2021


Week of Sept 10, 2021
WELCOME BACK SKYHAWKS!
WOW!  That was a very full first week here at HDSMS!  Staff have done tremendous work getting their classrooms ready,  materials prepped, and they put in countless extra hours put in to make opening week here such a great experience for our new & returning Skyhawks amidst all the continuing COVID Protocols!
Personally, I just wanted to reiterate how excited we are to be back with all the students here at HD Stafford.  We're looking forward to sharing all the amazing opportunities middle school offers with your kids – so here we go!
Here's the SCOOP…
PICTURES FROM THE LAST WEEK:
Ms. Favero was in last week to prepare all the welcome signs for our newest Skyhawks!
In Gold 7, Ms. Jammu asks the question " Who wrote these lyrics ?"
Our amazing Stafford students created these cubes to represent their journey to Canada. One side reflected their past in their home country, one represented their journey to Canada and the other represented their futures. It was a Story Telling project done for the Langley Local Immigration Partnership.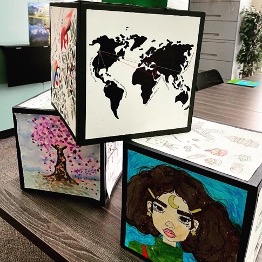 Mrs. Jones, Mrs. Markle and Ms. Clarke are excited to welcome all our new Skyhawks! Learn to navigate your way through the Library Learning Commons by completing this awesome Harry Potter Scavenger Hunt!  A prize draw will be held at the end of the month!
In Science this week, students put the scientific method into practice with an experiment involving water and gravity.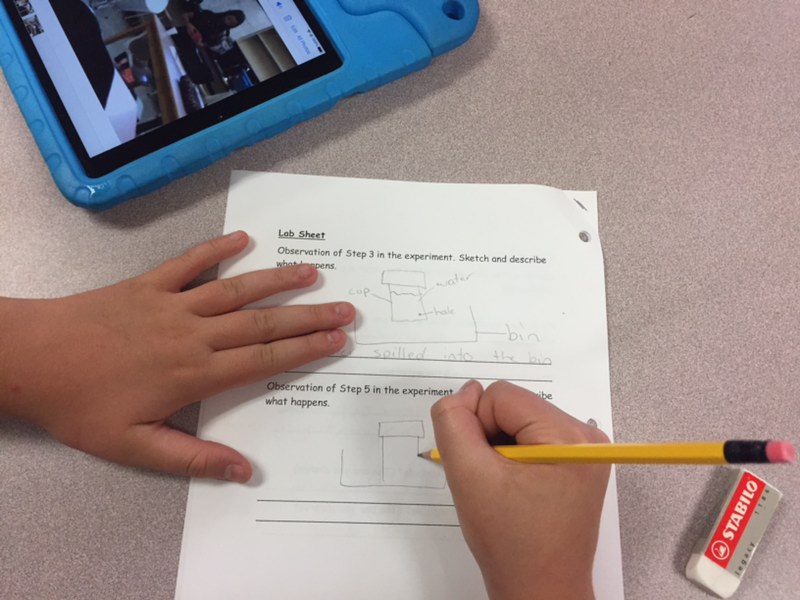 NEW INFORMATION TO SHARE:
NEW TRANSIT PROGRAM
Starting Wednesday, September 1, children 12 and under will be able to ride TransLink services free of charge as part of a new provincial program. The program will make transit more affordable for families and help to encourage children to become lifelong transit riders.
Here's what you need to know about children 12 and under riding our different services:
Children 12 and under will be able to ride buses free of charge without requiring a transit pass, identification or an accompanying fare paying customer.
Riding the bus
Children 12 and under will be able to ride on SkyTrain, SeaBus, and West Coast Express free of charge only if accompanied by a fare paying customer. A fare paying customer can accompany up to a maximum of four children through the fare gates.
Children 12 and under will continue to be able to access the gated system by themselves with the purchase of a fare to tap through fare gates.
Riding SkyTrain, SeaBus, and West Coast Express
Children 12 and under who are registered HandyDART customers or children who are accompanying a registered HandyDART customer will be able to travel for free on HandyDART without requiring a fare product or identification.
Riding HandyDART
While travel for children 12 and under will be free, parents and guardians are responsible for educating and making decisions about the safety and care of their children whenever travelling on transit. This includes when children are travelling unaccompanied where permitted and determining if their children can or should take transit independently.
Please visit translink.ca/kidsridefree for more information about the program. For resources and youth travel initiatives, please visit the TravelSmart page under the "TravelSmart for Schools" section.
STUDENTS and MASKS
Please ensure that your children have their masks each day.
Students MUST always have their masks on – in the classroom, including their workstation (even if physically distanced), working on bulletin boards, going to washroom, filling their water bottles up, going outside, in PE class inside, etc.
Masks do not need to be worn when students are eating/drinking, or participating in high intensity activities outdoors (limited physical contact).
In band, the mask can only come off when they are playing their instrument (brass/woodwind).
REMINDER TO FAMILIES ABOUT DAILY HEALTH CHECK FORM:
As we enter into enhanced safety measures the health and safety of your children continues to be our top priority. As we start this new year, we want to remind students and families to complete the Daily Health Check. Thank you for your ongoing cooperation and doing your part to ensure our school community is healthy and safe.
The form is available in multiple languages on the District website here: https://bit.ly/2Mw0jo5
CANADIAN TIRE JUMP START PROGRAM
Removing Financial Barriers For Kids in Sport
Sometimes, families need financial assistance to get their kids into a sport or physical activity. We're committed to helping all families access a range of activities, from boxing to bowling and skating to skiing, and more.
If you would like to apply for financial assistance to get your child into a sport program please visit
https://jumpstart.canadiantire.ca/pages/individual-child-grants
Our Community Coordinator Brad Hendy is happy to help any families that would like to apply.
Contact: bhendy@sd35.bc.ca
PARKING
Just a reminder that there is no stopping/parking on Grade Crescent in front of HD Stafford Middle School. In consideration of our community neighbours and for the safety of our students, please refrain from blocking driveways and crosswalks and jaywalking. Please have a conversation with your child(ren) of where an appropriate place to meet up after school could be. There is lots of available parking by City Park on 48th Ave which is just a short walk away for our students.
STAYING CONNECTED:
HDSMS will continue to work towards being a completely paperless school when it comes to communication with parents. In order to stay informed, please be sure you use at least one of the following on-line methods:
PAC NEWS:
Welcome to the 2021/22 HD Stafford PAC!
Our PAC works to help create effective partnerships between the school and parent community. Building the triangle of support between parent, school, and child will create powerful learning opportunities and ensure our children's success.
Each and every parent or guardian is a member of our PAC. We encourage you to join us for the monthly meetings to participate in the building of PAC community and create learning opportunities for your child.
The meeting schedule for the year – Time: 6:30pm
| | |
| --- | --- |
| Wednesday, October 13th, 2021 | Zoom link will be emailed out |
| Tuesday, November 13th, 2021 | HD Stafford Library |
| Wednesday, January 11th, 2022 | HD Stafford Library |
| Wednesday, February 9th, 2022 | Zoom link will be emailed out |
| Tuesday, April 5th, 2022 | HD Stafford Library |
| Wednesday, April 4th, 2022 | Zoom link will be emailed out |
| Wednesday, June 1st, 2022 (AGM) | HD Stafford library |
The 2021/2022 PAC executive:
| | | |
| --- | --- | --- |
| Name | Position | Email |
| Gina Twellmann | President | hdsmspresident@gmail.com |
| Alex Joehl | Vice President | hdsmsvicepresident@gmail.com |
| Carmen Phelan | Treasurer | hdsmstreasurer@gmail.com |
| Cathy Worrall | Secretary | hdsmspac@gmail.com |
| Chantale Hubbs | D-PAC Rep | hdsmsdpacrep@gmail.com |
| Solanlle Paguinao | Member at Large | hdsmsmal1@gmail.com |
| Alexandra Harper | Member at Large | hdsmsmal2@gmail.com |
| Lisa Tatarniuk | Member at Large | hdsmsmal3@gmail.com |
| Gina Twellmann | Fundraising | hdsmsfundraising@gmail.com |
| Cathy Worrall | Hot Lunch | hdsmshotlunch@gmail.com |
| Chantale Hubbs | Long Term Planning Committee | hdsmsltpc@gmail.com |
If you have any questions or if you are interested to volunteer at our PAC initiatives, please contact hdsmspac@gmail.com
Keep updated with PAC fundraisers and info through Facebook and Instagram at:
COMING UP THIS WEEK:
| | | | |
| --- | --- | --- | --- |
| DAY | EVENT | WHERE/WHO | WHEN |
| MONDAY | | | |
|   | | | |
| TUESDAY | SEA meeting | All SEAs | 2:15pm in the Library |
|   | | | |
| WEDNESDAY | Superintendent's Meeting | | 8:00-11:00am |
|   | SBT Meeting | Library Annex | 1:30pm |
| THURSDAY | Staff Meeting | Small Gym | 3:00-4:30pm |
|   | | | |
| FRIDAY | DAY 2 | | |
PLANNING AHEAD:
Sept. 22 – Meet the Teacher Night -5:30pm – 7:00pm
Sept. 23 – School Photo Day
Sept. 24 – Professional Development Day – Students do not attend.
Sept. 29 – Orange Shirt Day
Sept. 30 – National Day for Truth & Reconciliation
LOVING LITERACY:
FROM THE LIBRARY LEARNING COMMONS:
What Our Students Are Reading
The Top 10 Circulations of this past school year:
The Hunger Games, Suzanne Collins
Smile, Raina Telgemeier
Ghosts, Raina Telgemeier
Sisters, Raina Telgemeier
Catching Fire, Suzanne Collins
The End of the Wild, Nicole Lea Helget
The Boy at the Back of the Class, Onjali Rauf
Rodrick Rules, Jeff Kinney
The Baby-Sitters Club: Boy Crazy Stacey, Gale Galligan
Bone #1: Out From Boneville, Jeff Smith
ATHLETICS UPDATE 🏐🏀⚽🎾🏸🎯🏐🏀⚽🎾🏸🎯



MS. LOREE'S COUNSELLING CONNECTION:

.
FROM THE DISTRICT: