Posted: October 30, 2020

Week of October 30, 2020
Today was fun… It was great to see kids smiling, participating in games, engaged in learning and well… just being kids.  The contagious positivity in the building was fantastic! Thank you again to all our parents who were able to connect with us in person, virtually, or over the phone to discuss your child's learning journey.  It's so important that we continue to foster these open lines of communication in order that your children can reach their full potential.  We have a tonne of great photos from the activities today we'll be sure to send a video of our "VIDEO GAME THEMED" costume extravaganza.   Wishing everyone a SPOOKY, happy and safe Halloween!
Here's the Scoop…
PICTURES FROM THE WEEK:
Learning about oppositional forces with nail balancing in Mr. Briscoe's class!
Auditions and practice continues with "War of the Worlds 2020" – Mr . Gundy guides the team!
October 27 was Drop Everything And Read – so we did – literally across the school!
Scary stories in Mr. Briscoe's class!
Pajama Day: Elijah–style, complete with Yoshii topped Dragon 🙂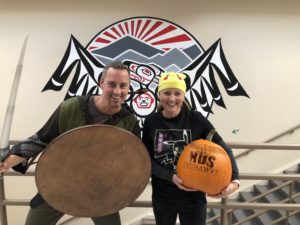 Mr. Hantke is looking for Princess Zelda and Mrs. Roberts is Detective Pikachu!
Real life "AMONG US" in Mr. Plocktis's class – so engaged in deductive reasoning- our little Sherlocks!
VIDEO GAMES was our staff theme this year and the costumes were incredible!!  The video is coming soon! Old School Gamin' with Mr. Miller, Ms. Wright and Ms. Vaughan!
Mini Pumpkins in Gold 8 – who just so happened to win our Spirit Day Point Contest.
A work of art pumpkin carved by our DPAC rep and SKYHAWKS parent Chantal Hubbs & family – WOW!
NEW INFORMATION TO SHARE:
MASKS AND WATERBOTTLES:
MASKS – Please ensure that your children have their masks each day.

We have no more masks to give out in the office at the moment.
WATER BOTTLES – please remind your children that they need to have a  water bottle at school.
REUNIFICATION FORMS
Student Reunification forms will be going home with students on Monday. They will be located in your mailboxes. These forms will let the school know who the child can go home with in the event of an emergency.
IMMUNIZATIONS POSTPONED:
Immunizations have been postponed due to the increase in covid numbers.  All public health nurses have been re-deployed.  They are hoping to rebook in January.
LOCKDOWN DRILL:
We will be having a Lockdown drill on Tuesday November 3 – 10:20am in accordance with our Health and Safety Guidelines.
ABOVE AND BEYOND NOMINATIONS:
The Langley Advance Times is highlighting the efforts of seven local educators who go "Above and Beyond" in an upcoming special publication. The paper is looking for anyone involved in education in Langley – teachers, administrators, education assistants, Aboriginal support workers, coaches, club leaders, custodial staff, bus drivers – who have made a big difference for Langley students during the pandemic. Each person selected will be the subject of a feature article and photo in an upcoming publication. To nominate someone, email contests@langleyadvancetimes.com and submit up to 250 words explaining why the person you are nominating deserves to be featured. Please include your contact information so staff at the paper can follow up with you and reach out to your nominee. A small committee at the Langley Advance Times will be making decisions, so there is a November 13th (5 pm) deadline for nominations.
COMMUNICATING STUDENT LEARNING INFORMATION SESSION (RECORDING):
As a district, we are moving away from letter grades toward proficiency scales.  This is an exciting change and HDSMS has been a leader in the district in this area for a couple of years.  Please take a moment ( or 40 ) and watch the Parent info session as presented by our Director of Instruction Dawne Tomlinson.
STAYING CONNECTED:
HDSMS will continue to work towards being a completely paperless school when it comes to communication with parents. In order to stay informed, please be sure you use at least one of the following on-line methods:
PAC NEWS:
We had a great first PAC meeting of the year and the PAC elections were completed. Meet you're new HDSMS PAC TEAM!
  Any questions or if you are interested in joining our PAC initiatives please contact hdsmspac@gmail.com
CLUBS & ACTIVITES:
At this point there is a hold on all after school clubs and activities, we will keep you up-to-date as soon as we know more
COMING UP THIS WEEK:
| | | | |
| --- | --- | --- | --- |
| DAY | EVENT | WHERE/WHO | WHEN |
| MONDAY |  Ensouling our Schools Session | HDSMS LLC – TEAMS | 3:30pm |
| TUESDAY | Intervention Team Meeting | Counselling Area | 9-10am |
|   | Lockdown Drill | School-wide | 10:20am |
|   | | | |
|   | | | |
| WEDNESDAY | Superintendent's Meeting | Principal & VP | 12:30-2:30pm |
|   | Workout Wednesdays! | Main Gym – All are welcome | 3:00-4:00pm |
| THURSDAY | | | |
|   | | | |
| FRIDAY | | | |
|   | | | |
ATHLETICS UPDATE 🏐🏀⚽🎾🏸🎯🏐🏀⚽🎾🏸🎯
There is no athletics at this time – we will keep you updated as this situation progresses.
Classroom Outdoor Sports Bags 
All Grades have now received their activity bags!

MS. LOREE'S COUNSELLING CONNECTION:
We can only reach a certain level of success all on our own.
To reach our full potential we need to work together.
More and more, research and experience point to the important
roles belonging and connection play in ensuring health and well-being,
both for individuals and for our success in teams and organizations.
I could be a very healthy individual and have strong practices
of self-care, but if I go into the workplace where I don't
feel valued and cared for, I will not be well.
The highest performing teams are not the ones with the
smartest or hardest working individuals, but the ones where
everyone feels connected and valued.
FROM THE DISTRICT:
Be sure to checkout the district's webpage for the latest updates: www.sd35.bc.ca
QUOTE OF THE WEEK: