Posted: October 17, 2021


Week of Oct. 18, 2021
Another great week here at HD Stafford!  It is soooo encouraging to see the great teaching, thinking, and learning that is happening the classrooms!  You could be re-creating your favourite book character in a pumpkin for the Learning Commons contest with Ms. Markle & Mrs. Jones, or planting bulbs in the Garden of Hope with Ms. Villenueve and Mr. Hendy, or maybe you were playing volleyball with Mr. Cotten, Mrs. McKellar and Ms. Twigg, or perhaps you were learning all about ultraviolet light with Mr. Briscoe or Gravity with Mr. Goulet!  A huge thank you to the entire staff who continue to go above and beyond for our students everyday.  Together with our parent community we are giving our students the belief in themselves as learners and the providing them with skills to back up that belief!
Here's the Scoop…
PICTURES FROM THE LAST WEEK:
The library is getting in the Halloween spirit! Check out our spooky "Books that go bump in the night!" display or enter our Book-Character Pumpkin Decorating Contest! There are prizes to be won!
In OACES with Ms. Villeneuve students were planting bulbs in the Garden of Hope – Can't wait to see what the garden will bring in the Spring!
CRIB MADNESS was going in Mr. Goulet's class as the mental math activity of the day!
Volleyball is in the AIR and in our GYM!  Mrs. McKellar, Brooklyn, and Ms. Twigg are our Grade 8 Girls coaches this year and the girls are doing awesome!!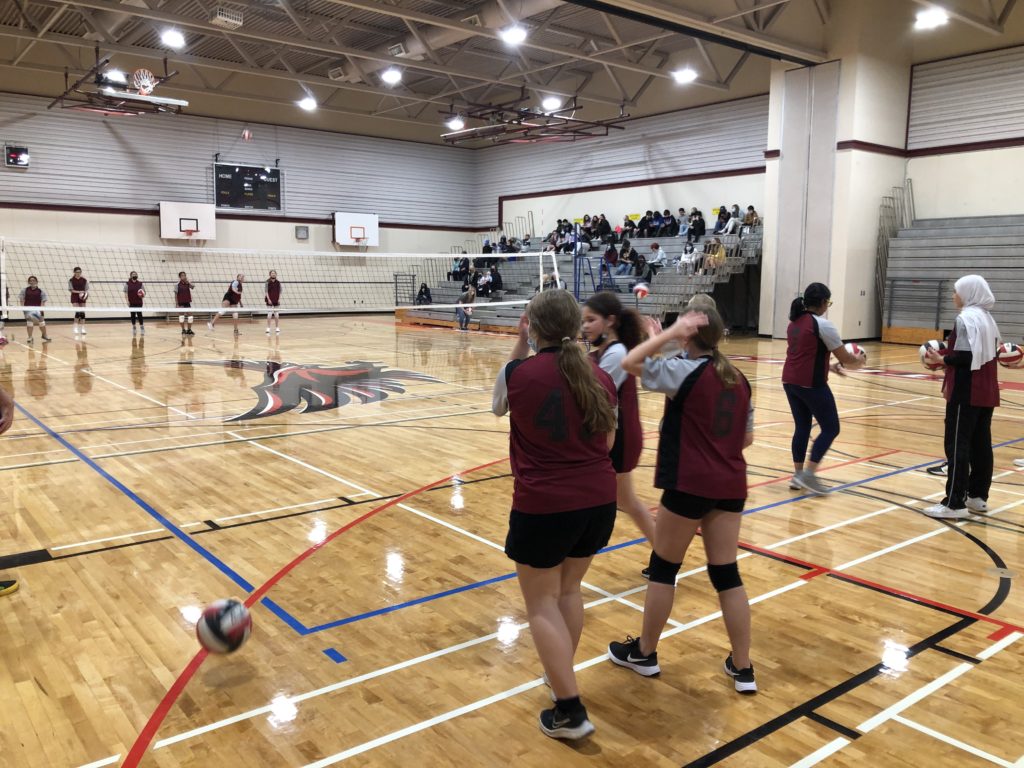 Below Mr. Cotten and the Grade 8 boys team battle it our against LFMHS on Tuesday!  GO SKYHAWKS!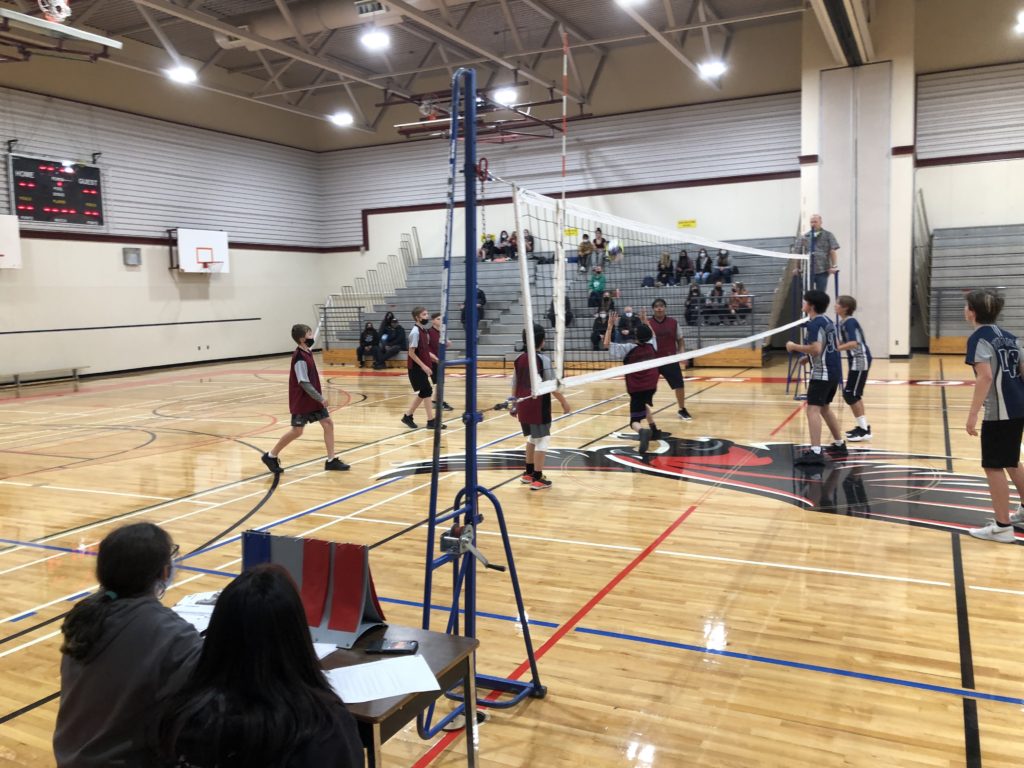 Blue 6 was learning about Gravity and its effects with Mr. Goulet, while in Ms. Cooper's Class Parliamentary Role Play was on center stage during Reader's Theatre
NEW INFORMATION TO SHARE:
PARENT TEACHER CONFERENCES UPDATE:
PARENT TEACHER CONFERENCES will be happening again this year at HD Stafford Middle School and we highly encourage you to book a time to speak with your child's teacher around their progress.  We see these opportunities as a great way to celebrate the learning that has already taken place and to plan ahead for any potential challenges that may arise later in the year.
Parent
teacher
interviews will take place on
Wednesday, October 20th (2:00pm-4:30pm) and

Thursday, October 21st (2:00pm – 7:30pm).
Meetings will be set up for online bookings starting on Tuesday, October 12th for 15-minute time slots either

by virtual or in person

.  
Please use the links below to book your virtual or in-person appointment:
PARKING REMINDER
Just a reminder that there is no stopping/parking on Grade Crescent in front of HD Stafford Middle School.

In consideration of our community neighbours and for the safety of our students, please refrain from blocking driveways and crosswalks and jaywalking

. Please have a conversation with your child(ren) of where an appropriate place to meet up after school could be. There is lots of available parking by City Park on 48th Ave which is just a short walk away for our students.
Foundation Skills Assessment
Every year students in grades 4 and 7 participate in the Foundation Skills Assessment (FSA), a province- wide assessment, mandated by the Ministry of Education. This year, the FSA will be administered in Langley between October 4 and November 12, 2021. The following information is intended to clarify for Langley parents the purpose and use of the FSA.
STUDENTS and MASKS
Please ensure that your children have their masks each day.
Students MUST always have their masks on – in the classroom, including their workstation (even if physically distanced), working on bulletin boards, going to washroom, filling their water bottles up, going outside, in PE class inside, etc.
Masks do not need to be worn when students are eating/drinking, or participating in high intensity activities outdoors (limited physical contact).
In band, the mask can only come off when they are playing their instrument (brass/woodwind).
REMINDER TO FAMILIES ABOUT DAILY HEALTH CHECK FORM:
As we enter into enhanced safety measures the health and safety of your children continues to be our top priority. As we start this new year, we want to remind students and families to complete the Daily Health Check. Thank you for your ongoing cooperation and doing your part to ensure our school community is healthy and safe.
The form is available in multiple languages on the District website here: https://bit.ly/2Mw0jo5
STAYING CONNECTED:
HDSMS will continue to work towards being a completely paperless school when it comes to communication with parents. In order to stay informed, please be sure you use at least one of the following on-line methods:
COMMUNITY ROOM
The community room supports building confidence in our Skyhawks
Afterschool Programming:
Wednesdays:
Kids' Play Starting October 27th Multi-sport and mentorship program. Everyone is welcome. This program will be in the Community Room and Multi-purpose Room 3:00pm – 5:00pm. Sign up with Mr.Hendy Bhendy@sd35.bc.ca
Fridays:
After 3 Starting October 15th 3:00pm – 5:00pm  Students will be able to create arts and crafts as well as baking food and play board games.
PUCKS Starting October 29th at Twin Rinks. This program is for students who have always wanted to try ice-hockey but have never had the opportunity. Please see Mr.Hendy for the registration forms. 1:45pm – 4:00pm Transportation and gear is supplied.
ATHLETICS UPDATE 🏐🏀⚽🎾🏸🎯🏐🏀⚽🎾🏸🎯
It was great seeing athletes in our gyms these past couple weeks! Here is the schedule for this week in HD Stafford Athletics!
Grade 8 Volleyball continues this week, with our Grade 8 Girls traveling to YCMS, and our G8 Boys hosting BGMS!
OCTOBER 18-22 Gym Schedule
LARGE GYM
SMALL GYM
Before School
After School
Before School
After School
MONDAY
G8 VBALL Practice
Archery
TUESDAY
Girls Basketball Skills
WEDNESDAY
G8 VBALL Practice
THURSDAY
G7 Girls VBALL Practice
G8 Boys VBALL HOME vs. BGMS

G8 Girls VBALL AWAY @ YCMS

FRIDAY
PRO-D Day
COMING UP THIS WEEK @ HDSMS:
| | | | |
| --- | --- | --- | --- |
| DAY | EVENT | WHERE/WHO | WHEN |
| MONDAY |   |   |   |
| TUESDAY | Intervention Team | Counselling Area/The Team | 9:30-10:30 |
| WEDNESDAY | Parent Teacher Conferences | 2:00-4:30pm | Dismissal at 1:48pm |
| THURSDAY | Parent Teacher Conferences | 2:00-7:30pm | Dismissal at 1:48pm |
|   | Great Canadian Shakeout | School-Wide Earthquake Drill | 9:45am |
| FRIDAY | Professional Development Day | Students Do Not Attend | All Day |
PLANNING AHEAD:
October 25 – Drop Everything and Read Day (DEAR)!
October 27 – School Based Team
October 28 – Team Leader Meeting – 7:15am
October 29 – Spirit Day – Halloween or Orange/Black!
October 29 – Day 2
November 2 – Intervention Team Meeting
November 3 – Photo Retakes AND Class Photos
November 4 – Staff Meeting
November 5 – Day 1
November 10 – Remembrance Day Assemblies (more information to come)
November 11 – Remembrance Day (School Closed)
November 12 – Design and Assessment Day (Students do not attend)
November 16 – BC Wall and Ceiling Arrival!
November 16 – Intervention Team Meeting
November 19 – Day 2
PAC NEWS:
Welcome to the 2021/22 HD Stafford PAC!
Our PAC works to help create effective partnerships between the school and parent community. Building the triangle of support between parent, school, and child will create powerful learning opportunities and ensure our children's success.
Each and every parent or guardian is a member of our PAC. We encourage you to join us for the monthly meetings to participate in the building of PAC community and create learning opportunities for your child.
The meeting schedule for the year – Time: 6:30pm
The 2021/22 executive is up and running.
NEW INFORMATION TO SHARE:
Thank you for support of the Community Values Coupon book fundraiser. Over $2000 was raised. Mr. Goulet's Division 602 class sold the most books and win the visit from the zoo. Thank you for your patience as last week's orders get filled. Coupon prizes and books will be given out later in the week.
The first Hot lunch is coming Oct 21st! Order deadline is one week before. Please take time to sign up for Munch a Lunch in order to access hot lunches or fundraisers. The next Hot Lunches are November 19th and December 13th. Please contact hdsmspac@gmail.com if you are able to volunteer on these days, 9-11:30am.
Our next PAC meeting is on Tuesday, November 16th, 6:30pm in the HD Stafford Library. PAC meetings will alternate between zoom and in person meetings this year.
Keep updated with PAC fundraisers and info through Facebook and Instagram at:
If you have any questions or if you are interested to volunteer at our PAC initiatives, please contact hdsmspac@gmail.com
LOVING LITERACY:
 How to choose a book
Think about the last time you visited the cereal aisle in the grocery store. Did you choose something you know you like because you have eaten it before? Did someone recommend that cereal to you? Did you like the design on the box? Did you read the nutrition information? Or, did you walk out empty handed because you were overwhelmed by the options and couldn't figure out how to make a choice?
Over the years, hopefully you have learned how to make choices. You learned that decision making is a process and there are consequences for your choices. The organic version of Frosted Flakes doesn't taste as good but it has less sugar. You prefer Cheerios over Frosted Mini-Wheats but the jumbo box of Mini-Wheats is less expensive.
Regardless of the choice you make, if you have a purpose for making a choice, and if you are responsible for the choice, you likely feel ownership of the outcome.
Why choice matters.
The same phenomenon occurs when kids choose books. Kids need to have a purpose for choosing a book and they need to know how to make a choice before they can feel ownership of their decisions. Research demonstrates that engaging kids in choice drives motivation and motivation drives reading outcomes. This can only be achieved if kids are taught how to make choices.
Choice is a key pillar of Book Trust.
Choice, Celebration, and Consistency. These three key components of Book Trust are woven together to drive students' motivation to read. And when kids who want to read have books that they are interested in reading, they read more and become better readers. This is what Book Trust is committed to—inspiring a passion for reading and life-long learning through book choice and ownership.
So how to help your students choose a book? Use these 5 criteria. Might even be a good idea to post a graphic / poster near your classroom library.
FROM THE LIBRARY LEARNING COMMONS:
The Importance of Intellectual Freedom- In response to his recent book ban and cancelled appearance in a Texas school district, here is Newbery medal winner Jerry Craft's statement, with regards to his book The New Kid

https://www.oif.ala.org/oif/?p=26995

We have this book, as well as the sequel, Class Act, in the Library Learning Commons. Come take it out or ask us for any other recommendations to help our students see themselves in books.
MS. LOREE'S COUNSELLING CONNECTION:

.
Grounding is a mindfulness technique that encourages students to focus on the present.  Grounding exercises often help to calm students when they become caught up in anxious or negative thoughts and big emotions, but they can also help with transitioning from one activity to another.  At home, the morning is often chaotic for many of our students.  Taking a moment when they first arrive to do grounding exercises may lead to a smoother start to the school day.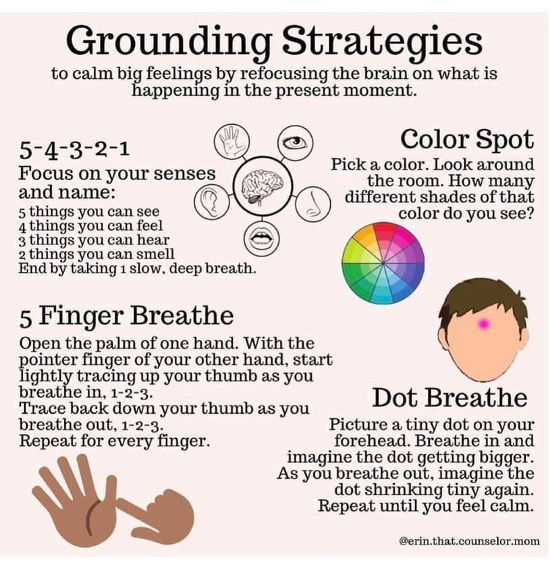 FROM THE DISTRICT: