Posted: November 27, 2020

Week of November 27, 2020
What happened to November? And just like that December starts next week!  As we approach the holiday season sometimes things can get… well….stressful ( and I'm not talking about missing that Black Friday Deal).  It's important in these times to lean on each other, listen to our bodies and take care of ourselves.  I was thankful to start our week out with an amazing spread and "Thank You Coffee Bar" from our PAC executive! Ms. Favero and Ms. Robinson did an amazing job leading us through all the CSL changes and questions, and it was so encouraging to see all the collaborative conversations that were taking place amongst staff. We know many teachers will be putting time in this weekend to their report cards . Both Mrs. Roberts and myself are so thankful for the effort our staff go to in order to describe the learning and progress of our kids.  The positive story, the encouraging story, the story of hope, and development in our kids.  We are also so thankful for all the support and input you provide us to help us know and understand your child's strengths and stretches.  This is school and community working together for student success.  I'm blessed to be part of such a dynamic community!
Here's the scoop…
PICTURES FROM THE WEEK:
PAC President & VP bright and early on Monday to say thank you to our staff! WOW what a spread!
Need a "hard-nosed" Lanyard for that mask?  Check out these beauties in the office!
Trevin's Hockey Lace Lanyards! Only $5!
Great minds think alike (and apparently like Lulu Lemon) with Mrs. Roberts and Ms. Robinson!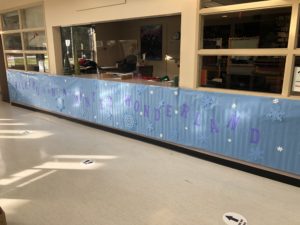 Christmas Decorating is in full swing – that trees are coming – Letters to Santa – It's a Winter Wonderland!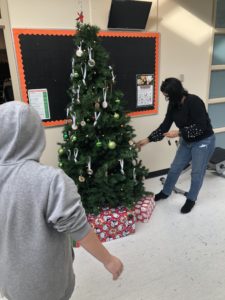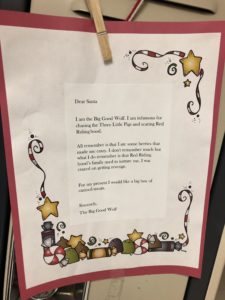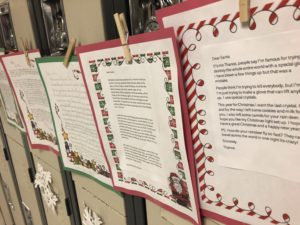 Apparently Red 6 knows about something 🙂
Cells Cells Everywhere! They were on display from Green House this week!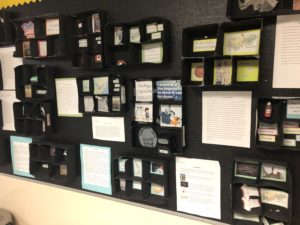 Longships in Red 8 , Novel Memory Boxes, or even crafting authentic Harry Potter Wands in Blue 6!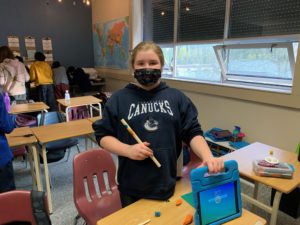 NEW INFORMATION TO SHARE:
WELCOME
Please welcome AIMEE WEISS (SEA) who will be joining us on Tuesday & Thursdays in Green 6 and Gold 6.
Please welcome CST. THOMAS LEYDIER to the HDSMS School Liaison team!
MYED PARENT PORTAL ACCESS
With report cards coming up December 11, we want to make sure families have access to the MyEd Parent Portal.
MyEd Parent Portal Assistance:  https://www.sd35.bc.ca/students-parents/myedbc-family-portal-help/
Log in site: https://www.myeducation.gov.bc.ca/aspen/logon.do
Request for Assistance: https://www.sd35.bc.ca/students-parents/myedbc-family-portal-help/myedbc-request-for-assistance-form/
PARKING
Just a reminder that there is no stopping/parking on Grade Crescent in front of HD Stafford Middle School. In consideration of our community neighbours and for the safety of our students, please refrain from blocking driveways and crosswalks and jaywalking. Please have a conversation with your child(ren) of where an appropriate place to meet up after school could be. There is lots of available parking by City Park which is just a short walk away for our students.
STUDENT SAFETY AROUND SCHOOLS – WEATHER
With the days growing shorter and the weather changing to rain, fog, and frost, HD Stafford Middle is reminding all our students to take extra precaution when walking to and from school. Please be aware of your surroundings, walk on the sidewalk and with someone whenever possible, and avoid wearing headphones. We also ask drivers in our school community to be vigilant on our roads. Student safety is our priority. Thank you for your cooperation and support in keeping everyone safe.
MASKS AND WATERBOTTLES:
MASKS – Please ensure that your children have their masks each day.

We have no more masks to give out in the office at the moment.
WATER BOTTLES – please remind your children that they need to have a  water bottle at school.
LANGLEY SCHOOL DISTRICT FOUNDATION SURVEY – 2020-2021
The Langley School District Foundation was established with a mission to make learning UNFORGETTABLE for every Langley student. Our mandate is to support and provide programs that are not funded or fully funded by the Ministry of Education and our goal is to ensure that every Langley student receives the maximum benefit of the education to which they are entitled.
We value your opinion. To better understand the impact our programs and the emerging needs of Langley students, we'd appreciate your participation in this short survey. Please click on the following link: https://bit.ly/SD35-FoundationSurvey.
REUNIFICATION FORMS
Student Reunification forms will be going home with students on Monday. They will be located in your mailboxes. These forms will let the school know who the child can go home with in the event of an emergency.
ABOVE AND BEYOND NOMINATIONS:
The Langley Advance Times is highlighting the efforts of seven local educators who go "Above and Beyond" in an upcoming special publication. The paper is looking for anyone involved in education in Langley – teachers, administrators, education assistants, Aboriginal support workers, coaches, club leaders, custodial staff, bus drivers – who have made a big difference for Langley students during the pandemic. Each person selected will be the subject of a feature article and photo in an upcoming publication. To nominate someone, email contests@langleyadvancetimes.com and submit up to 250 words explaining why the person you are nominating deserves to be featured. Please include your contact information so staff at the paper can follow up with you and reach out to your nominee. A small committee at the Langley Advance Times will be making decisions, so there is a November 13th (5 pm) deadline for nominations.
LOVING LITERACY:
Conversations About Reading
Talk to your kids about what you are reading and ask them what they are currently reading. What do they like about their book, what are you loving about yours? These conversations help to give them the language to talk about literature. Also help them find books to read when you visit the library. Something I have found helpful is to ask the reluctant readers what kind of movies they like, then head over to that section the library. We choose a book and I ask them to "take it for a spin." Just read the first chapter and see how it feels. If it's a no, we can try another –  this has really helped some kiddos get into books that otherwise wouldn't be interested.
STAYING CONNECTED:
HDSMS will continue to work towards being a completely paperless school when it comes to communication with parents. In order to stay informed, please be sure you use at least one of the following on-line methods:
PAC NEWS:
New Information Below:
We had a great first PAC meeting of the year and the PAC elections were completed. Meet you're new HDSMS PAC TEAM!
  Any questions or if you are interested in joining our PAC initiatives please contact hdsmspac@gmail.com
CLUBS & ACTIVITES:
At this point there is a hold on all after school clubs and activities, we will keep you up-to-date as soon as we know more
COMING UP THIS WEEK:
DAY
EVENT
WHERE/WHO
WHEN
MONDAY
Middle School Networking
John & Natalie (Teams)
8:30-11:00am
 
TUESDAY
Reports Cards due
Teachers to provide to Admin –

John – Gold and Blue

Natalie – Red & Green

 
Intervention Meeting
Counselling Area
9:00-10:00am
 
 
WEDNESDAY
 
Fire Drill
Grade 6 Classes – 8:50

Grade 7 Classes – 9:15

Grade 8 Classes – 9:35

 
THURSDAY
Team Leader Meeting
HDS Learning Commons
7:15-8:30am
FRIDAY
SPIRIT DAY – Flannel Funtime!
ALL DAY!!!
 
ATHLETICS UPDATE 🏐🏀⚽🎾🏸🎯🏐🏀⚽🎾🏸🎯
There is no athletics at this time – we will keep you updated as this situation progresses.

MS. LOREE'S COUNSELLING CONNECTION:
THE WHITE HATTER APP
The link is to the White Hatter safety resource app which is a collection of helpful tools and sources for students, teens, teachers, and parents who need help from a variety of challenges such as bullying, mental illness, substance abuse, sexuality, and various emergencies.  They are all Canadian links and many are available 24/7.
Students used to come and use the QR code outside my office to access it but that is no longer possible.
https://www.thewhitehatter.ca/mobileapp?fbclid=IwAR2dmrrcHkJT29eGuu0K9RrgWfFM2dB2VHBPnews6lkkdauadNN7f-PFPIE
FROM THE DISTRICT:
Be sure to checkout the district's webpage for the latest updates: www.sd35.bc.ca
4th Annual West Fine Art Show
The Foundation, in partnership with The West Fine Art Show Society, is holding the 4th Annual Art Show at the Glass House Winery in South Langley. Eighteen professional artists will be showing and selling their exquisite pieces. At the same time, the Foundation will host an online exhibition and adjudication of student art with cash prizes for first, second and third. Photography, paintings and 3-D sculptures are eligible and should follow a theme of COVID-19 and what it has wrought on our society (the positives, negatives, changes, trends). Please send images via email to scairns@sd35.bc.ca and rosemary_creative@hotmail.com.
Friday, March 5, 2021 • 5 pm to 9 pm
Saturday, March 6 • 11 am to 7 pm
Sunday, March 7 • 11 am to 5 pm
QUOTE OF THE WEEK: