Posted: May 16, 2021


Week of May 14th, 2021
The sun is here and May brings beautiful nights and warmer days!  We had the opportunity to visit all our incoming Grade 5 "Future Skyhawks" this week and we're very excited for next year as we have a great crew coming in!
Here's the SCOOP…
PICTURES FROM THE LAST WEEK:
Grade 5 Visits to all our Feeder Schools have taken place over the past two weeks – kids are excited to come!
Grade 6 students are working hard inside and out on various topics to prepare for their Global Issues Fair!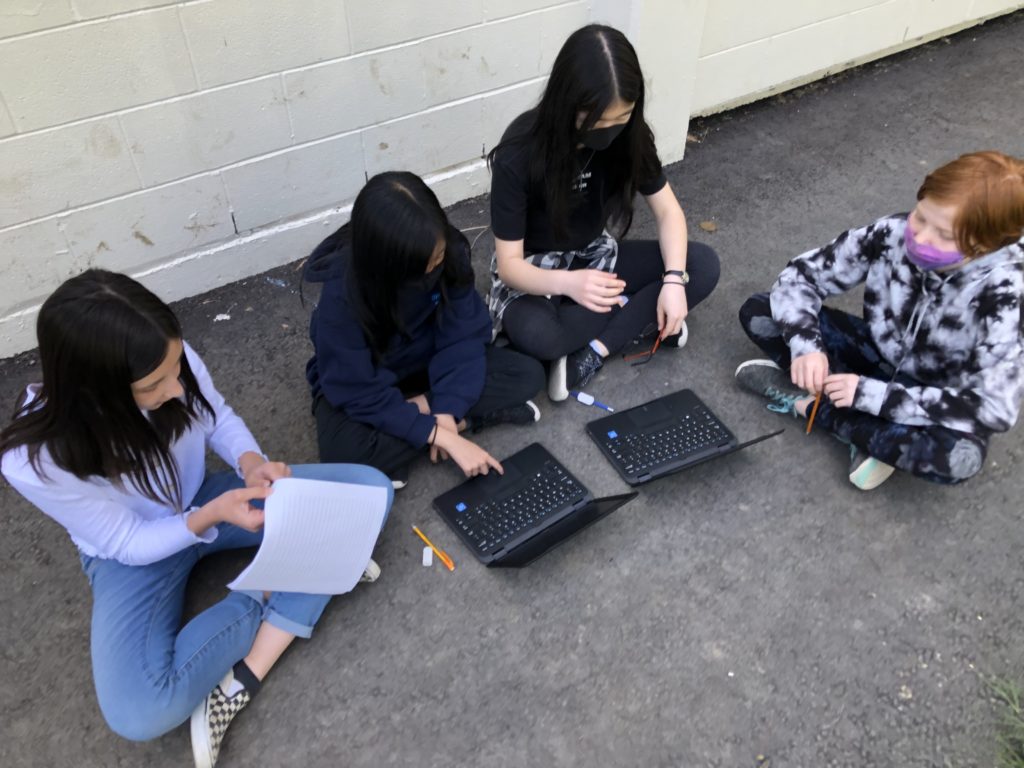 Mrs. Jonasson, Ms. Wright, Mrs. Loree, and Mrs. Roberts  were virtually meeting with our Grade 5 teachers from all our Feeder Schools to ensure that our newest Skyhawks are supported and ready for Grade 6.  Thank you Ladies!!
Mrs. Chapman spend Wednesday guiding our Grade 7 & 8 Mathletes through the University of Waterloo GAUSS Math Contest – We had some incredible results!
In the halls of Red 7 – Investigations into Essential Nutrients and Blackout Poetry are appearing all over the place!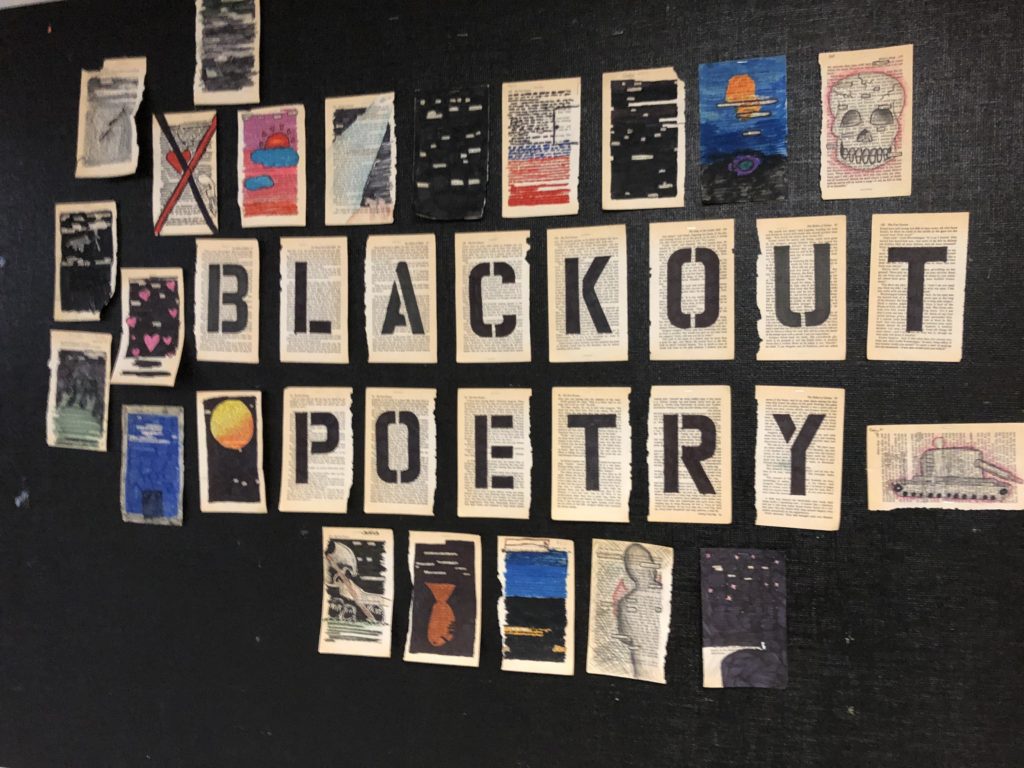 Meanwhile in Gold 7 – both classes we able to earn enough class points for a special Friday walk to 7-11 for an ice cream treat!  Well done everyone!
Gold 8 was doing their Eye Dissections this week – #handsonscience!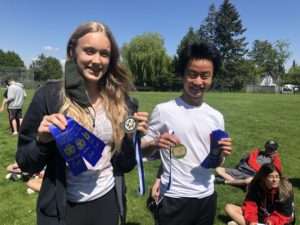 GOLD 8 ran a special Track Meet on our beautiful Friday afternoon – complete with sprints, discuss, shotput and long jump events!  Congratulations to all competed!
Mr. Mitchell is at it again – working with his Explorations classes to create Atomatons!
Jayden always goes above and beyond the call of action. Jayden put incredible amounts of effort and thought into every piece of work and recently helped ensure a peer understood all the work they had missed while being away.
NEW INFORMATION TO SHARE:
REMINDER TO ALL PARENTS:
The HD Stafford Middle School morning starts at 8:30am.  Our late lineup is growing significantly and we are also noticing that students  are missing out on awesome Exploration explanations, OACES, other academic concepts.  Please do your best to have your child in at school before 8:30am with a refillable water bottle.  Thank you for your continued support!

H.D. Stafford Radio Theatre's "The War of the Worlds" is a student-written and student-voiced adaptation of the 1938 radio show. Arranged as a series of radio news interviews, testimonials, distress signals, and sound recordings, "The War of the Worlds" -as it has been told and retold through the years- reminds us that human society may just be one more global catastrophe away from collapse. At the same time, it is a story that gives us hope in the resiliency of the human soul.
All recordings and art will be accessible through the months of May and June '21 on our website.
Transportation Registration
Transportation Registration for the 2021-22 school year opens on May 3. All riders who are currently in the system and expected to continue riding next year will receive a letter with instructions to register. Please note the instructions to register are different for each category of rider. To help in our planning and creation of bus routes, registrations must be submitted by June 18, 2021. The District cannot guarantee approval after the deadline. New and existing riders can find more information on our Transportation Registration webpage here.
Family Tech Time – New Interactive Tool from Langley Literacy Network
Want your next talk about screen time, social media, and video games to be more positive with your child or teen? The Langley Literacy Network is launching Family Tech Time, which is a new interactive tool to support conversations in our families and our community around how to use technology to build healthy relationships rather than disrupt them. This tool includes a resource containing questions to help foster positive dialogue on topics including expectations around usage, privacy, consent, and how to enjoy activities on and off screen. You can access the Langley Literacy Network tool and resource on this website here. As part of the launch, you will notice #LangleyTechTime weekly social media campaign posts to highlight talking points that will help empower families over the next ten weeks.
Virtual Parenting Group
I wanted to inform you of a Virtual Parenting Group that one of our clinicians and intern will be running, starting May 4th. We will be running it for three cumulative sessions (parents must agree to attend all three dates) and then hope to run one more round in the beginning of June. In creating this group, we are hoping to be proactive with our services and provide psychoeducation and practical skills to parents during this difficult time. I have attached our flyer which explains a little more as well as our referral form. Although we will accept referrals of parents who have 6-18 year olds, we are hoping to target parents with kids in the 10-14 age range.
If it's too short notice for some, a referral can come in at any time for the next round.
Please don't hesitate to reach out if you would like further information.
LANGLEY YOUTH HUB MAY CALENDAR

Understanding Our Children's Digital World –  Parent Information Evening
The digital world brings with it potential for many positive experiences but can also have negative impacts. Join us on Tuesday, April 27th for Understanding Our Children's Digital World – A Parent Information Evening. This session will help parents understand the considerations of various digital tools and proactive strategies to help your child and your family use these tools. Presenter and District Teacher, Sandra Averill is a parent, educator, and has been supporting students and parents with internet safety and digital citizenship for the past 14 years. This presentation is suitable for parents with children of all ages. To watch online click on LINK to Understanding Our Children's Digital World Session For more info: https://bit.ly/3mJ1sqx
STUDENTS and MASKS
Please ensure that your children have their masks each day.
Students MUST always have their masks on – in the classroom, including their workstation (even if physically distanced), working on bulletin boards, going to washroom, filling their water bottles up, going outside, in PE class inside, etc.
Masks do not need to be worn when students are eating/drinking, or participating in high intensity activities outdoors (limited physical contact).
In band, the mask can only come off when they are playing their instrument (brass/woodwind).
CANADIAN TIRE JUMP START PROGRAM
Removing Financial Barriers For Kids in Sport
Sometimes, families need financial assistance to get their kids into a sport or physical activity. We're committed to helping all families access a range of activities, from boxing to bowling and skating to skiing, and more.
If you would like to apply for financial assistance to get your child into a sport program please visit
https://jumpstart.canadiantire.ca/pages/individual-child-grants
Our Community Coordinator Brad Hendy is happy to help any families that would like to apply.
Contact: bhendy@sd35.bc.ca
REMINDER TO FAMILIES ABOUT DAILY HEALTH CHECK FORM:
As we enter into enhanced safety measures the health and safety of your children continues to be our top priority. As we start this new year, we want to remind students and families to complete the Daily Health Check. Thank you for your ongoing cooperation and doing your part to ensure our school community is healthy and safe.
The form is available in multiple languages on the District website here: https://bit.ly/2Mw0jo5
PARKING
Just a reminder that there is no stopping/parking on Grade Crescent in front of HD Stafford Middle School. In consideration of our community neighbours and for the safety of our students, please refrain from blocking driveways and crosswalks and jaywalking. Please have a conversation with your child(ren) of where an appropriate place to meet up after school could be. There is lots of available parking by City Park which is just a short walk away for our students.
STAYING CONNECTED:
HDSMS will continue to work towards being a completely paperless school when it comes to communication with parents. In order to stay informed, please be sure you use at least one of the following on-line methods:
PAC NEWS:

NEW INFORMATION FROM THE HDSMS PAC:

Thank you to families for your support of the Smencils and Clearview Basket fundraisers! 384 eco-friendly smencils were sold and 44 flower baskets were purchased!

Our final fundraiser of the year is open until midnight of Thursday, May 6th.

Pick up of orders will be at HD Stafford on Tuesday, May 18th at 6pm.
A huge note of appreciation and thanks from the PAC to our hard-working TTOC's and Teachers during Teacher and TTOC Appreciation Week. 
Note on your calendars: 
Parent Meet and Greet – come meet the PAC and meet other parents – open to all HD Stafford parents/guardians as well as new families of Grade 5 feeder schools who will be joining HD Stafford next week. – Wednesday, May 5th 7pm
Check out the Facebook HDSMS Parent Hub for zoom links before the meeting.
Upcoming PAC AGM & Elections – Wednesday May 19th at 6:30pm via ZOOM
  Any questions or if you are interested in joining our PAC initiatives please contact hdsmspac@gmail.com
COMING UP THIS WEEK:
| | | | |
| --- | --- | --- | --- |
| DAY | EVENT | WHERE/WHO | WHEN |
| MONDAY | Spring DART Continues | Grades 6-8 | From May 10-20 |
| TUESDAY | Food For Thought – SEL Edition | Learning Commons | Lunch! |
| WEDNESDAY | | | |
| THURSDAY | | | |
| FRIDAY | Pro-D Day | | All day! |
PLANNING AHEAD:
May 24 – Victoria Day – No School
May 25-28 – Grade 6 Global Issues Fair
May 25 – Class Photos
May 27 – SBT
May 28 – Day 1
June 2 – Grade 8 Power Play
June 4 – Day 1
June 8- Grade 7 Science "Hallway walk"
June 10 – Staff Meeting
June 10 – Last SBT Meeting
June 11 – Day 2
June 18 – Day 1
June 21 – National Indigenous People Day
June 25 – Last regular day/expos for students
June 25 – Day 2
June 28 – Student Success Day
June 30 – Admin Day
LOVING LITERACY:
WHO: local author Sarah Suk will speaking about her YA novel– Made In Korea which is now available.
WHAT: the session will include two parts:
-Part I: An author sharing about her writing journey, the process of becoming an author AND
-Part II: A conversation about the importance of representation, and the role of schools and teachers in making that happen
Throughout the presentation Q/A will occur for authentic engagement with the author. Three books will be given away, a draw including those that attend. Hoping this is an opportunity to talk about literature and fill our buckets
Sign up here:
https://read-speak-champion.thinklangley.com/
From The Library Learning Commons
Our monthly library contest is a crossword of Library Learning Commons words! Let's make sure out students know how to use Libraries everywhere

ATHLETICS UPDATE 🏐🏀⚽🎾🏸🎯🏐🏀⚽🎾🏸🎯

MS. LOREE'S COUNSELLING CONNECTION:
Throughout the years I've had the opportunity to spend time with some really angry kids.  Anger is a great way of protecting oneself when being vulnerable is just too scary.  When I find myself getting frustrated, I pull out this visual to remind myself that underneath the angry (and often rude) exterior is a really hurt kid who has learned that expressing anger is way safer than expressing other emotions.

FROM THE DISTRICT:
Be sure to checkout the district's webpage for the latest updates: www.sd35.bc.ca
Digital Citizenship Supports
Just an FYI that we are working on supports that will assist teachers in developing digital citizenship skills with their students. Digital Citizenship skill development is not a "one-off" learning session. The learning needs to be scaffolded throughout the year and over the course of the child's educational journey. To that end, we are developing a scope and sequence to support this learning and will share when it is ready in the Fall. In the meantime, we do have some resources at: https://k12adst.weebly.com/6-7-digital-lit.html
Contest Invites Students to Design a Flag on the Theme of Accessibility
To help celebrate National AccessAbility Week (May 31st – June 6th), Easter Seals invites Grades 6-10 students across the province to enter its Access Ability Flag Design Contest. Interested students are asked to design a flag that symbolizes the theme Making BC a Better Place to Live Through an AccessAble Society. This is a great opportunity for students to share their ideas on what an inclusive and accessible society looks like for people with a disability.
Please share the details on this contest with your students. The grand prize includes a $200 honorarium for the winning student, $750 for the winning student's classroom to purchase learning materials, a pizza lunch for the classroom, and a real flag with the student's design for the school. Contest entries will be accepted until 12:00 pm PDT on May 14th.
The BC education system recognizes that not all students learn successfully at the same rate, in the same learning environment and in the same ways, which is reflected in the curriculum. Students with disabilities may have support needs in the one or more domain area(s): Cognitive, Independent Living and Self Determination, Communication, Social/Emotional, Auditory and/or Visual. Any of these domains may be reflected in the flag design.
BCCDC Survey – BC COVID-19 SPEAK
The BC Centre for Disease Control is inviting families to take part in a survey to examine how British Columbians have been affected and how their experiences may inform recovery and re-opening. The survey closes May 9. Please see details here.
Other Items of Interest!
Kelty Mental Health Webinar: Building Compassionate Classrooms
If interested: Building Compassionate Classrooms will provide school professionals, teachers, support staff, and administrators with information, ideas, and strategies to create compassionate spaces for students, especially during difficult times. Dr. Linda O'Neill's one hour presentation will explore how to build compassionate learning environments, allowing both staff and students to thrive. Holly Vivier will moderate a half hour Q & A and discussion period to follow, with participants invited to submit questions during the webinar and in advance. Upon registration, a Zoom link and a Google Doc to submit questions will be emailed to participants.
May 6, 2021 4:00-5:30
https://keltymentalhealth.ca/event/2021/05/building-compassionate-classrooms
QUOTE OF THE WEEK: