Posted: June 5, 2022


Week of June 6, 2022
Happy Sunday Skyhawks Parents & Guardians!
It's hard to believe that we are 2 weeks into June already – especially with all the rain we've had this past week!  One thing the weather has been able to dampen is the excitement of the past week!  I apologize that last week's Scoop did not make it out to parents from a mailing glithc – and so I want to acknowledge the tremendous efforts of our amazing PAC this year! They ran a fantastic PAC Spring Picnic last week, and have also raised funds, supported projects, and built school spirit for our students all year long – THANK YOU! 
This past week started out with all our Grade 8's showing off their entrepreneurial and marketing skills at the Grade 8 Powerplay event.  Then Tuesday had our Grade 7s off to Camp Kakawa in Hope to make some amazing memories, meanwhile our Grade 6 music students are skillfully preparing for our "Return of the Musicians" Concert on June 16 at 7pm!  There were eyeball dissections, Math challenge problems, and Twin Day to cap it off.
This coming week has our school going to the LEC for the FV Bandits basketball game on Tuesday, and the Grade 7 Science Fair on Wednesday – here we go!
Here's the SCOOP!
THE WEEK AHEAD AT HD STAFFORD


Big Gym Closure:
The Big Gym will be closed starting next week Monday May 9th as we begin to preparation for the new mural. The small gym, multipurpose room, and outside fields will be our gym options for the next couple of weeks. We are very excited to see the finished product!
2022 Langley School Day Game-Bandits Basketball Action THIS WEEK! 
We are excited to be taking over 450 Skyhawks to the Fraser Valley Bandits Basketball Game this Tuesday during the school day!  We will have transportation and lunch provided at no cost – and it should be an awesome time with all the other middle schools in Langley.
New Community Resources/ Opportunities
I wanted to pass along some community supports that are being offered in the near future.  I've attached a PDF to this email with information, workshops and opportunities that are coming up. Some of these events are  time sensitive and are happening in the next week, so I wanted to make sure you had this information in time. I've also included a list of mental health supports that can be accessed locally.
STAFFORD ATHLETICS & AFTER SCHOOL EVENTS
🏐🏀⚽🎾🏸🎯🏐🏀⚽🎾🏸🎯
It was great seeing athletes in our gyms these past couple weeks! Here is the schedule for this week in HD Stafford Athletics!

REMINDERS
We are very excited to roll out the new online Skyhawks Apparel Store to all staff, students and our Stafford community!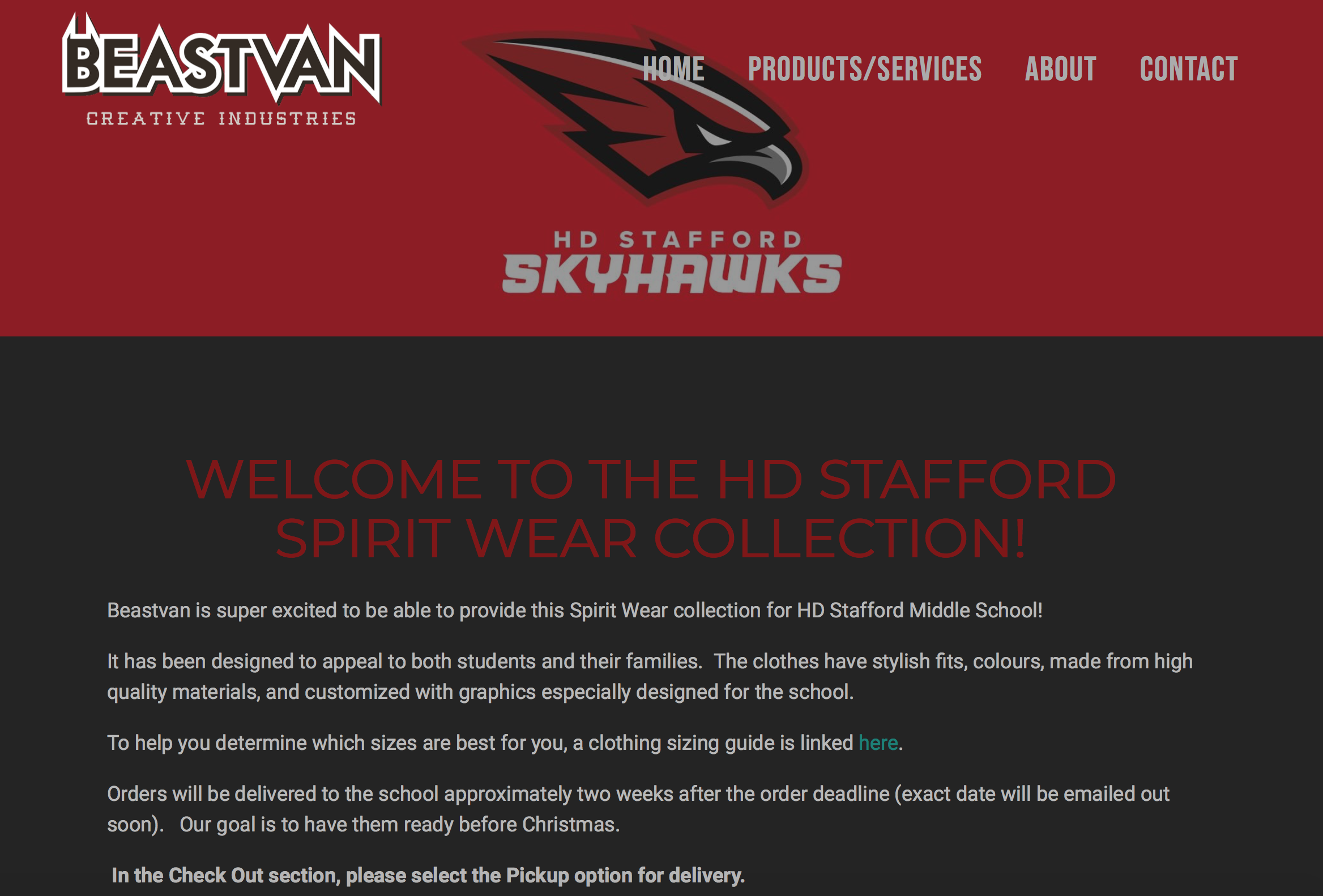 STAYING CONNECTED:
HDSMS will continue to work towards being a completely paperless school when it comes to communication with parents. In order to stay informed, please be sure you use at least one of the following on-line methods:
PAC NEWS:
Thank you to all the volunteers that helped with the Skyhawks PAC Picnic Day. Another thanks to LSS Avid volunteers who did a great job. Despite the rain, it was a great afternoon. Many thanks to donations and gift cards from Robert at M&M's, Safeway and Save On Foods.
Mr. Goulet's Grade 6 class enjoyed a long-awaited visit from Urban Safari on Friday, May 27th as the prize for the class who sold the most Community Value Coupon books. See photos above!
The last Hot lunch day is on June 17th.  This one is frozen treats during Stafford Olympics Day. Deadlines are one week before. Order now at www.munchalunch.com
Last popcorn day of the year! Students can bring a loonie to school. Please note the changes. All grades can bring a loonie to school and drop by the Hawk's Nest at lunch Wednesday, June 8th to pick up popcorn. No change given.
Anyone able to help out making pancakes from 8-10:30am, Thursday, June 23rd with a visit from the firefighters, please email Gina at hdsmspresident@gmail.com
If you're interested to be more involved in the PAC, daytime or evening, reach out to hdsmspresident@gmail.com or hdsmspac@gmail.com.
Keep updated with PAC fundraisers and info through Facebook and Instagram at:
If you have any questions or if you are interested to volunteer at our PAC initiatives, please contact hdsmspac@gmail.com
PAC GENERAL INFORMATION:
Our PAC works to help create effective partnerships between the school and parent community. Building the triangle of support between parent, school, and child will create powerful learning opportunities and ensure our children's success.
Each and every parent or guardian is a member of our PAC. We encourage you to join us for the monthly meetings to participate in the building of PAC community and create learning opportunities for your child.
The meeting schedule for the year – Time: 6:30pm
Wednesday, May 4th, 2022, Zoom
Wednesday, June 1st, 2022 (AGM) HD Stafford Library
The 2021/22 HDSMS PAC EXECUTIVE:
LOVING LITERACY:
FROM THE LIBRARY LEARNING COMMONS:
FROM THE DISTRICT:
Be sure to check out the SD#35 Homepage for the latest Community Opportunities!
QUOTE OF THE WEEK: