Posted: June 19, 2022


Week of June 20, 2022
Happy Sunday Skyhawks Parents & Guardians!
Well here we are – the last full week of the school year!  It's hard to believe that the entire school year is coming to a close, especially since the weather makes it feel like we're going on Winter break and not Summer!  But we wanted to take this opportunity to thank everyone for all their efforts during a year like no other.  As a community, you have been INCREDIBLE –  helping all our  students to experience success, growth, and encouragement  – EVERYDAY –  it is inspiring!  Despite all the challenges, protocols, and obstacles you faced – you were steadfast in helping us create a unified, engaging culture of care & learning in this place – and we are very thankful and blessed to work alongside such amazing parents!  Thank you for all you do every day!
We have a very busy week highlighted with celebrating National Indigenous Day on Tuesday, our Grade 8 field trip to the waterpark at Aldergrove Pool, an All School Pancake Breakfast on Thursday morning with our PAC and Langley Firefighters, and finally our Grade 8 Farewell celebration on Friday Morning starting at 10am in the newly painted Main Gym!
A special shout out to all our SKYHAWK DADS this weekend – Thanks for all you are, and all you do for your kids!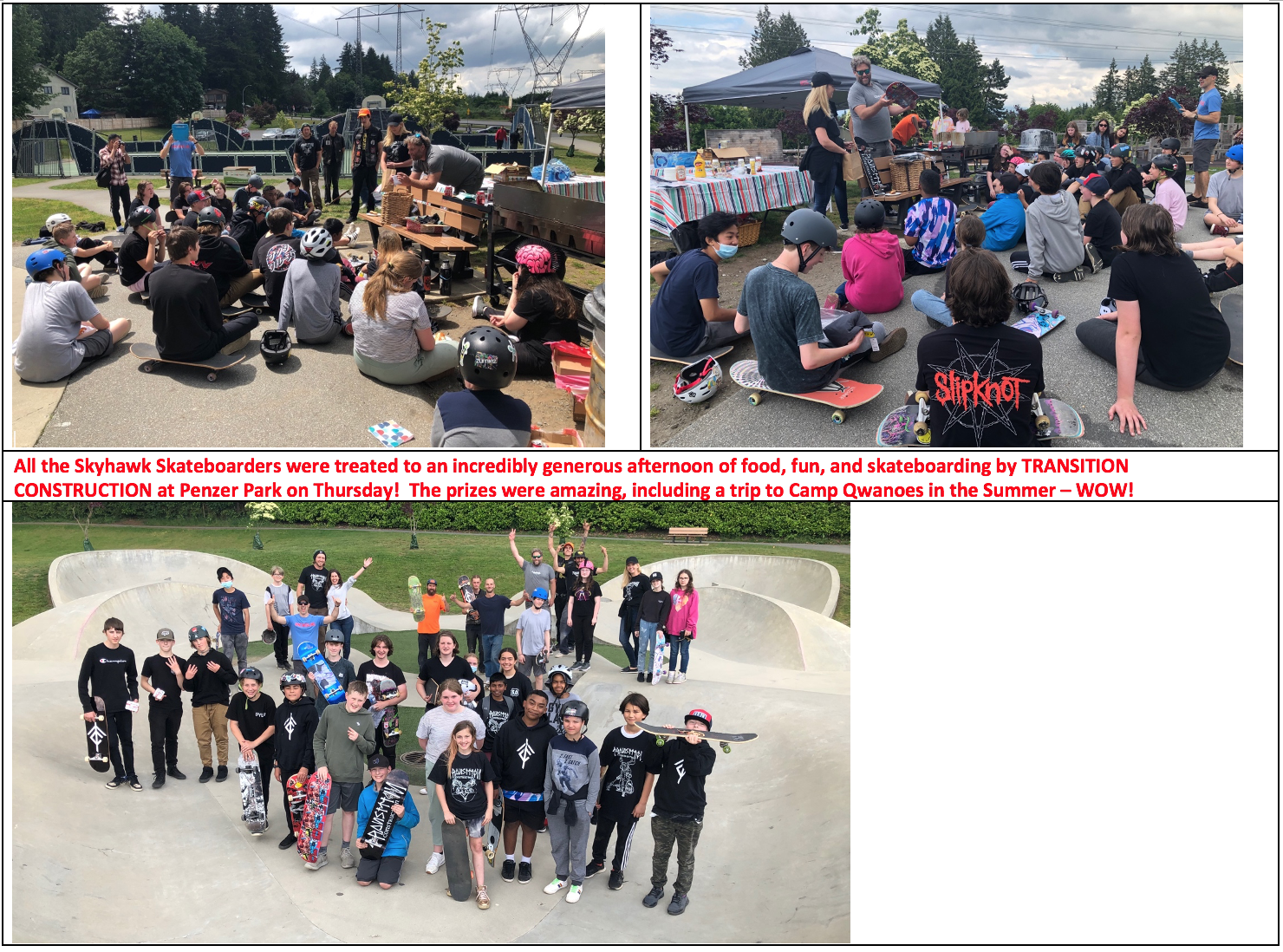 STAFF VS GRADE 8s
RED & GREEN HOUSE vs. BLUE & GOLD HOUSE
NEW INFORMATION TO SHARE:
GRADE 8 FAREWELL CELEBRATION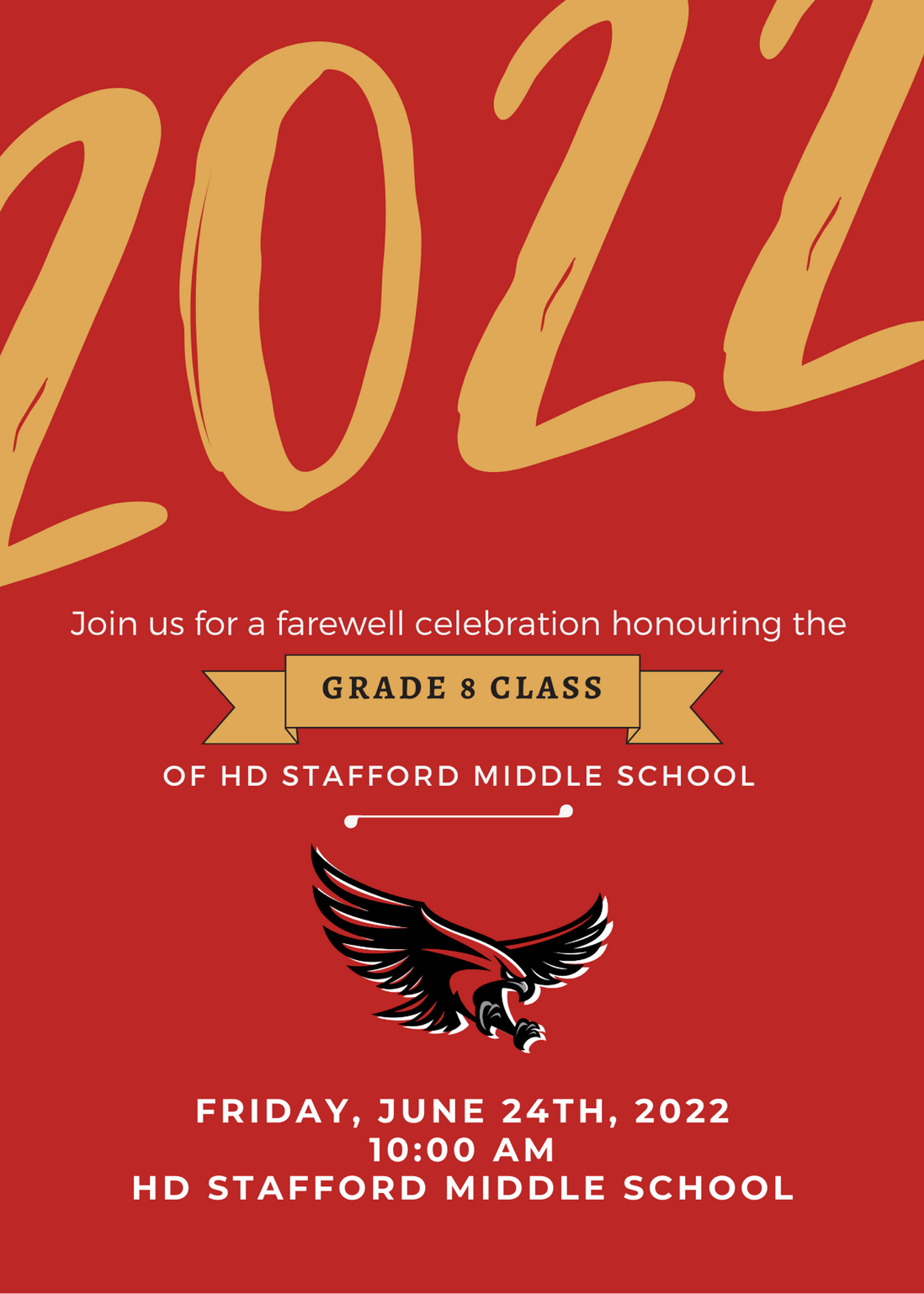 We are pleased to invite you to our HD Stafford Grade 8 Farewell on the morning of Friday, June 24th at 10:00am. We know that our students would not be here without your care and support, so we hope you will join us in celebrating all their effort and growth. This ceremony provides us with an important moment to pause and reflect on our students' time at Stafford, marking the closing of one chapter and the opening of another. Whether your student began at HDSMS three years ago as a bright-eyed sixth grader, or if they only joined our community recently, their time as a Skyhawk has played an important role in the person they are today—and we can't wait to honour them together.
We ask that you please RSVP using the following link: RSVP
Logistics
The ceremony will take place in our Main Gymnasium at HDSMS at 10:00am. There is limited parking available onsite, so carpooling is encouraged. When you arrive, please sign in at the front table before making your way to the gymnasium. Please do not go through other areas of the building as classes will be in session.
Post-Ceremony
After the ceremony is complete, you are invited to join us on the back fields to gather and continue our celebrations. There will be lawn games, snacks, and plenty of time to take pictures and connect with other students and families. You are encouraged to bring lawn chairs & blankets to make yourselves comfortable.
RSVP:
https://docs.google.com/forms/d/e/1FAIpQLScLaZSu4m6O4r-VT5qP-5LoTGhw3D6Pva_CTeG6splwKg6rYQ/viewform?usp=sf_link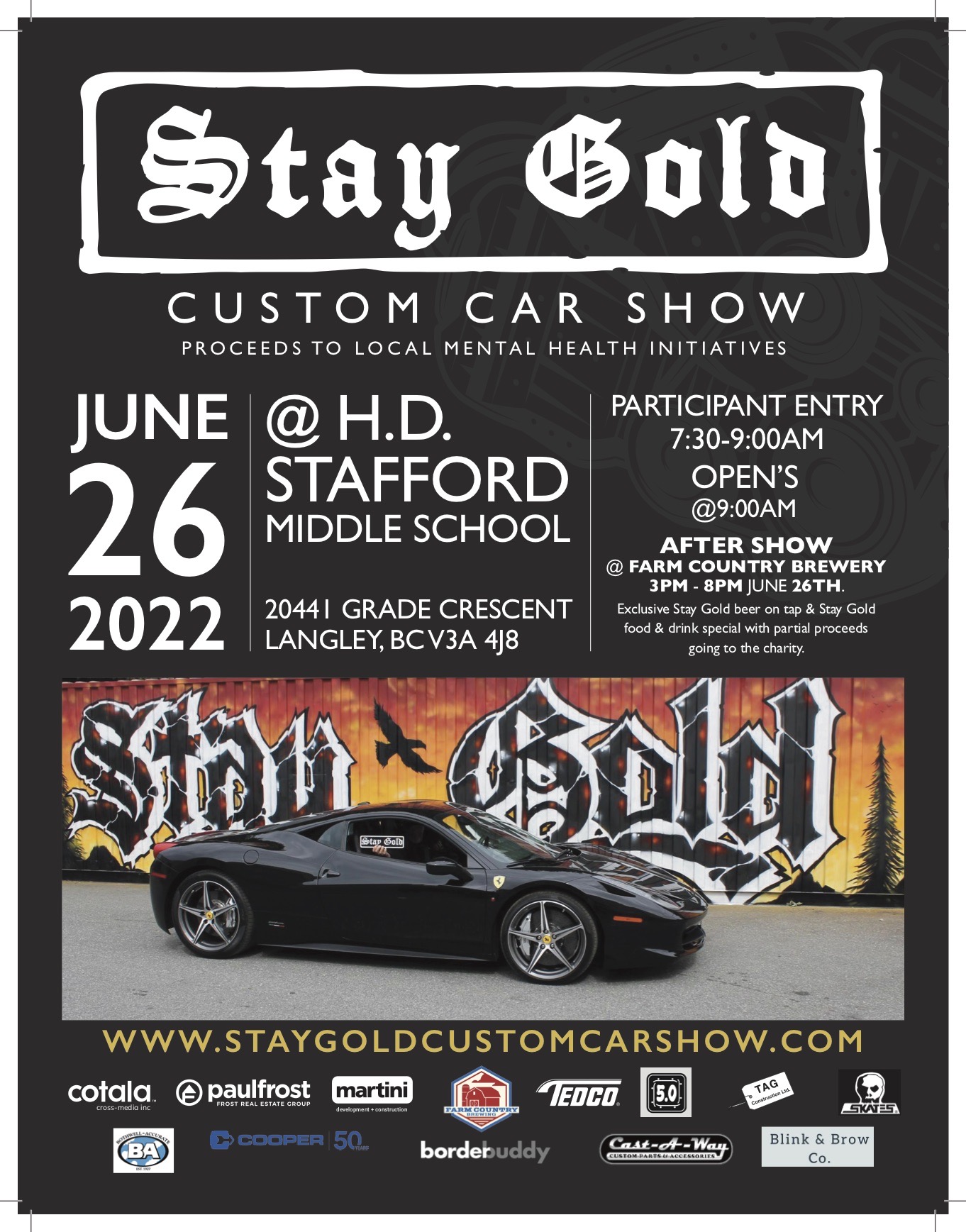 Big Gym Closure:
The Big Gym will be closed starting next week Monday May 9th as we begin to preparation for the new mural. The small gym, multipurpose room, and outside fields will be our gym options for the next couple of weeks. We are very excited to see the finished product!
New Community Resources/ Opportunities
I wanted to pass along some community supports that are being offered in the near future.  I've attached a PDF to this email with information, workshops and opportunities that are coming up. Some of these events are  time sensitive and are happening in the next week, so I wanted to make sure you had this information in time. I've also included a list of mental health supports that can be accessed locally.
STAFFORD ATHLETICS & AFTER SCHOOL EVENTS
🏐🏀⚽🎾🏸🎯🏐🏀⚽🎾🏸🎯
It was great seeing athletes in our gyms these past couple weeks! Here is the schedule for this week in HD Stafford Athletics!

REMINDERS
We are very excited to roll out the new online Skyhawks Apparel Store to all staff, students and our Stafford community!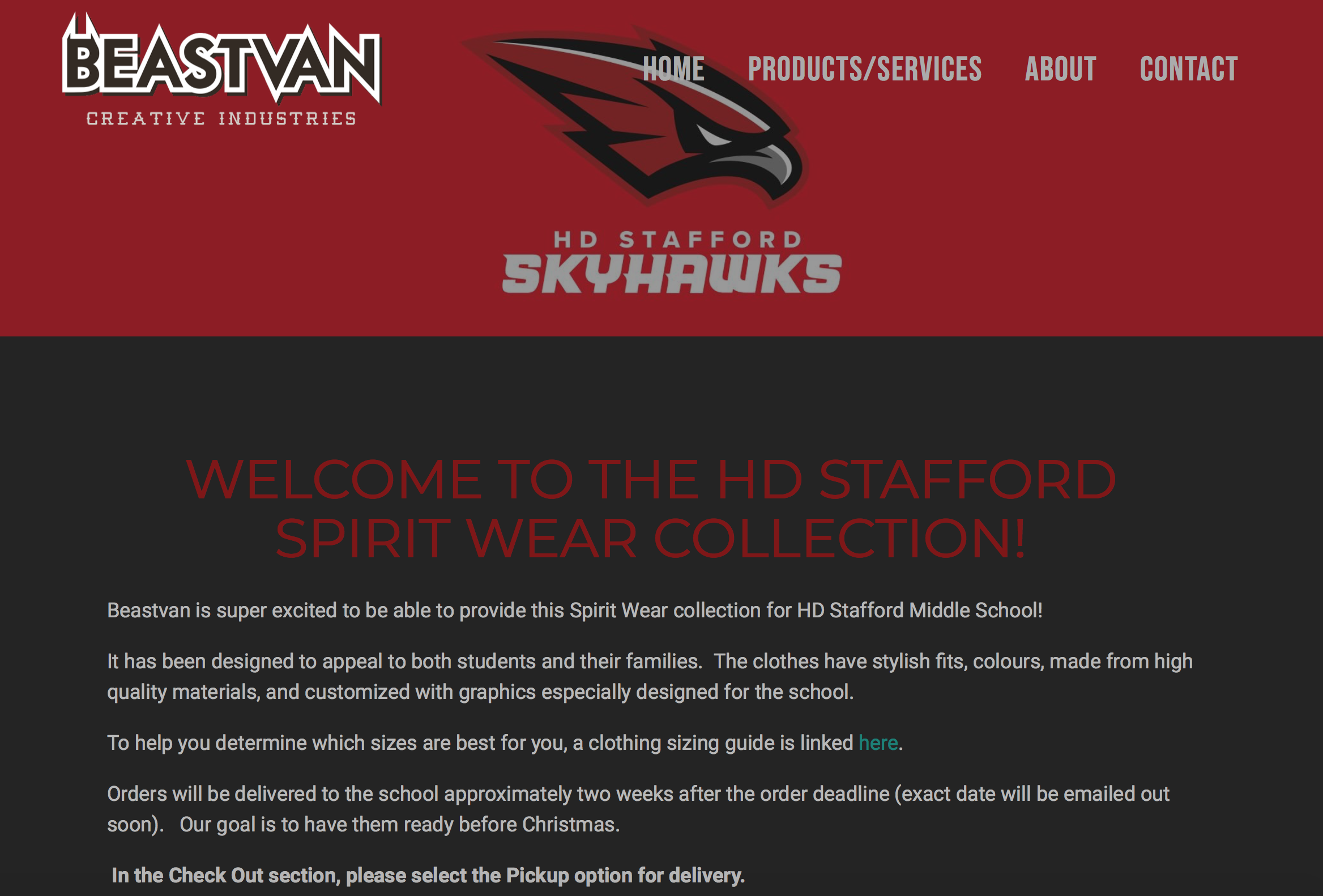 STAYING CONNECTED:
HDSMS will continue to work towards being a completely paperless school when it comes to communication with parents. In order to stay informed, please be sure you use at least one of the following on-line methods:
PAC NEWS:
We need volunteers to help with this year's Car Show on Sunday, June 26th. A percentage of the proceeds will be generously donated back to HD Stafford community programs. Please sign up here to volunteer.
Munchalunch is closing down for the summer. If you are leaving HD Stafford and need a refund for money still on your account, please email hdsmshotlunch@gmail.com
Anyone able to help out making pancakes from 8-10:30am, Thursday, June 23rd with a visit from the firefighters, please email Gina at hdsmspresident@gmail.com
The first PAC meeting of the 2022/2023 school year will be Wednesday, September 14th at 6:30pm in the HD Stafford Library. Anyone interested to be part of committees can be added then.
Following the PAC AGM on June 1st, the following positions were elected and volunteered for:
President – Gina Twellmann
Vice President – Alex Joehl
Secretary – Cathy Worrall
Treasurer – Carmen Phelan
DPAC Rep – Chantale Hubbs
Member at Large – Solanlle Paguinao
Member at Large – Lisa Tatarniuk
Member at Large – Cindy Chung
Committees:
Hot Lunch – Cathy Worrall
Hawk's Nest – Lisa Tatarniuk
Fundraising – Cathy Worrall
Events – Sarah Preston
Long Term Planning – Cindy Chung, Jen Elderkin, Chantale Hubbs
Anyone able to help out making pancakes from 8-10:30am, Thursday, June 23rd with a visit from the firefighters, please email Gina at hdsmspresident@gmail.com
If you're interested to be more involved in the PAC, daytime or evening, reach out to hdsmspresident@gmail.com or hdsmspac@gmail.com.
Keep updated with PAC fundraisers and info through Facebook and Instagram at:
If you have any questions or if you are interested to volunteer at our PAC initiatives, please contact hdsmspac@gmail.com
PAC GENERAL INFORMATION:
Our PAC works to help create effective partnerships between the school and parent community. Building the triangle of support between parent, school, and child will create powerful learning opportunities and ensure our children's success.
Each and every parent or guardian is a member of our PAC. We encourage you to join us for the monthly meetings to participate in the building of PAC community and create learning opportunities for your child.
The 2022/23 HDSMS PAC EXECUTIVE:
LOVING LITERACY:
FROM THE LIBRARY LEARNING COMMONS:
FROM THE DISTRICT:
Be sure to check out the SD#35 Homepage for the latest Community Opportunities!
QUOTE OF THE WEEK: