Posted: January 23, 2021


Week of January 22nd, 2021
It's been another busy week here in Skyhawks Nation!  From Mr. Bailie's birthday promotion to Liverpool's new coach, to diffusion discoveries, masterful myth creation stories, zany ziggaurat structures, complex camouflages, and even musical mathematics….not to mention alliterations 🙂
Here's the scoop…
PICTURES FROM THE WEEK:
One of our staff members received a promotion on his special day!  Happy B-day Mr. B!
Gold 8 with Ms. Chapman learning about the Kinetic Molecular Theory through their diffusion lab.
Whether we're builiding family trees in with Ms. Cowling or ancient Marble Ziggarauts with Mr. Miller the cross curricular connections are awesome!
In Red 7, incredibly encouraging letters were written to a local student who experienced discrimination – a beautiful and touching gesture!
Huge thanks to Ms. Favero for creating our Respect and Diversity Buttons for our upcoming Respect & Diversity week at the end of the month
Our Literacy goal is alive and well in the thinking classrooms of Red 8!
Incredibly creative myth stories in Red 8 with Ms. Bhamra  – the only thing more impressive than the artwork is the story!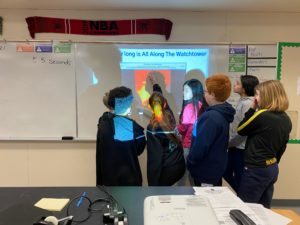 Mr. Bruce is using Music to teach fractions in Mathematics!
Ms. Paul and Gold 7 are learning about animal adaptations and specifically the art of camoflauge!  Did you spot all the butterflys?
NEW INFORMATION TO SHARE:
PLEASE WELCOME STEPHANIE HUSEON (SEA) who will be joining Blue 6 and Red 6 until the end of the year. When you have a moment introduce yourself and welcome her to the Skyhawks family!
SchoolMessenger Communications Message from the Langley School District 
The District is aware of parents/guardians receiving a message from the Langley School District. This text message is a request to opt-in for text messaging notifications from their child's school. This is a component of the District's plan to roll out a new parental outreach notification system called SchoolMessenger. This is not spam. This is a communication message from the Langley School District. We acknowledge this alert was unexpected for families. Our plan was to roll this out to our school communities in February, with the full system in place by the middle of the month. We will be sharing more information in the coming days.
WELLNESS TOGETHER PORTAL
Wellness Together Canada was funded by the Government of Canada in response to the unprecedented rise in mental distress due to the COVID-19 pandemic. People are being challenged like never before due to isolation, physical health concerns, substance use concerns, financial and employment uncertainty, and the emotional dialogue around racial equality. We're all going through this together, and we believe that mental health is a journey, not a destination. Each day, we can take a step for our own wellbeing. Wellness Together Canada is here to support everybody on that journey.
For information on COVID and a physical self-assessment of COVID-19 symptoms, click here. Or  here: https://ca.portal.gs/
FSA ( Foundational Skills Assessment) Change of Administration Dates:
The BC Ministry of Education has adjusted the administration dates for this year's Foundation Skills Assessment (FSA). All Langley students in grades 4 and 7 will now complete the FSA in the new administration window between February 15 and March 12, 2021. 
Information on the exact dates students will write their FSA's will be provided by your child's classroom teacher in the coming weeks. Parents of students in grade 4 and 7 would have received a letter in September from Gord Stewart, Superintendent of Langley Schools, regarding the annual Foundation Skills Assessment (FSA) for the 2020/2021 school year. The letter indicated that this year's FSA would be administered between October 5 and November 13, 2020. The remainder of the information outlined in the letter still applies and if parents have any questions regarding the FSA – please contact the school.
REMINDER TO FAMILIES ABOUT DAILY HEALTH CHECK FORM:
Health and safety continues to be our top priority. As we start this new year, we want to remind students and families to complete the Daily Health Check. Thank you for your ongoing cooperation and doing your part to ensure our school community is healthy and safe.
The form is available in multiple languages on the District website here: https://bit.ly/2Mw0jo5
GRADE 8 TO GRADE 9 TRANSITIONS – SAVE THE DATES
February 8th @ 6:30pm (Virtual) – Grade 8 LSS Parent Information Night

Event to be hosted via MS TEAMS Live.

February 9th – Course Planning Intro with Grade 8 Classes

During the day  – Schedules will go home to parents for approval.

February 11th – Taste of LSS (Virtual) –

LSS Staff to Virtually Tour the school with Grade 8 students.

February 16th – Grade 9 Course Planning @ HDSMS

LSS Counsellors will be on site to complete the course planning process online with students.
FOUNDRY SURVEY: MIDDLE AND SECONDARY
Plans are in the works to bring a Foundry Centre to Langley to support youth wellness and your help is needed. Youth 12-24 and their caregivers are encouraged to complete a survey to provide their input on the design of the centre and supports that are needed. Send in your response and you can enter a chance to win a $50 gift card (see attached flyers) or complete the survey here: http://ow.ly/NCpz50CPAAp
Our community partner, Encompass Support Services Society, is also looking for youth advisory committee members to contribute to this project.
For more info email: support@encompass-support.com
GRADE 8 PRE – IB PROGRAM INFORMATION NIGHT @ RE MOUNTAIN SECONDARY. 

CLOSED CAMPUS & SKIP THE DISHES REMINDERS
Please be reminded that HDSMS is currently a closed campus to everyone but students and staff.  We are seeing an increased flow of parent traffic to drop off various items throughout the day.  The doors are locked and parents need to call the school first if they require access.
Please DO NOT order Skip the Dishes delivered to the school – this brings an unnecessary safety risk to our building.
PARKING
Just a reminder that there is no stopping/parking on Grade Crescent in front of HD Stafford Middle School. In consideration of our community neighbours and for the safety of our students, please refrain from blocking driveways and crosswalks and jaywalking. Please have a conversation with your child(ren) of where an appropriate place to meet up after school could be. There is lots of available parking by City Park which is just a short walk away for our students.
STUDENT SAFETY AROUND SCHOOLS – WEATHER
With the days growing shorter and the weather changing to rain, fog, and frost, HD Stafford Middle is reminding all our students to take extra precaution when walking to and from school. Please be aware of your surroundings, walk on the sidewalk and with someone whenever possible, and avoid wearing headphones. We also ask drivers in our school community to be vigilant on our roads. Student safety is our priority. Thank you for your cooperation and support in keeping everyone safe.
MASKS AND WATERBOTTLES:
MASKS – Please ensure that your children have their masks each day.

 
WATER BOTTLES – please remind your children that they need to have a  water bottle at school.
STAYING CONNECTED:
HDSMS will continue to work towards being a completely paperless school when it comes to communication with parents. In order to stay informed, please be sure you use at least one of the following on-line methods:
PAC NEWS:
New Information Below:

The PAC is actively fundraising to continue to "Middle-ize & beautify" our building.  More pictures to come of the scope of our projects – but this will include stairwells, inspirational quotes on walls, engaging displays and a middle makeover of our common spaces.

  Any questions or if you are interested in joining our PAC initiatives please contact hdsmspac@gmail.com
COMING UP THIS WEEK:
DAY
EVENT
WHERE/WHO
WHEN
MONDAY
Middle School Networking
John and Natalie – SBO
8-11:30am
 
TUESDAY
 
WEDNESDAY
THURSDAY
Team Leader Meeting
Learning Commons
3-4:30pm
 
SBT
Learning Commons Annex
Blocks 7/8
FRIDAY
JHSC Meeting

9am

Learning Commons Annex
9am
PLANNING AHEAD:
Fire Drill – Friday Jan. 2

Gr. 6 – 12:15 pm
Gr. 7 – 12:50 pm
Gr. 8 – 1:40 pm

MDI (Grades 6 & 8) – Feb. 5 – March 5 (More info to come)
FSAs (Grade 7) – Feb. 15- March 12 (More info to come)
Diversity and Respect Week – February 22 – 26, 2021
March 8th – International Women's Day: The International Women's Day theme for 2021 is #ChooseToChallenge, which highlights the importance of challenging biases and misconceptions in the interest of creating a more inclusive and gender-equal world.
LOVING LITERACY:
Around this time of year, teachers often notice that during Silent Reading some students have lost their focus and reading engagement has diminished.
Based on the work of Gail Boushey and Joan Moser and their Daily 5 book, the following is a worthwhile activity you may wish to try. But, don't just take my word for it, ask Madison or Mike. They have both recently used this strategy and have positive things to say about providing our students with the skills to take responsibility for choosing great books for themselves.
How do you PICK a good book?
P – Purpose:
Does this book serve my purpose? Do I want to learn, to be entertained, to laugh, to cry, to get lost in a fantasy world…?
I – Interest:
Does this book actually interest me? Does it capture my attention?
C – Comprehension:
Do I understand the text? Does it make sense to me?
K – Know:
Do I know most of the words? Can I learn some new vocabulary, but still understand the text?
ATHLETICS UPDATE 🏐🏀⚽🎾🏸🎯🏐🏀⚽🎾🏸🎯
BASKETBALL PRACTICES BEGINNING WITH COVID PROTOCOLS
We are planning to begin Gr. 8 basketball practice in the gym in the morning following all COVID protocols. We've spoken with the coaches and AD, and believe we can provide an opportunity to do this in a safe way.  We will be assigning each class with interested players a hoop, utilizing both gyms on a rotation schedule.   We will be starting with Grade 8 students for now and see how it goes.  If there is a situation where players choose to violate the protocols – they will be asked to leave for the remainder of the season and will not be allowed to return.

MS. LOREE'S COUNSELLING CONNECTION:
Happy New Year!  I hope you all managed to find some time to rest and renew over the holiday.
'Langley Children' is hosting a virtual parenting workshop with Kim Barthel on the evening of January 26th.  Kim is a world-renowned speaker and, in my opinion, one of the most engaging and informative presenters I have seen to date.  If you are interested, I encourage you to register right away as herworkshops fill up very quickly.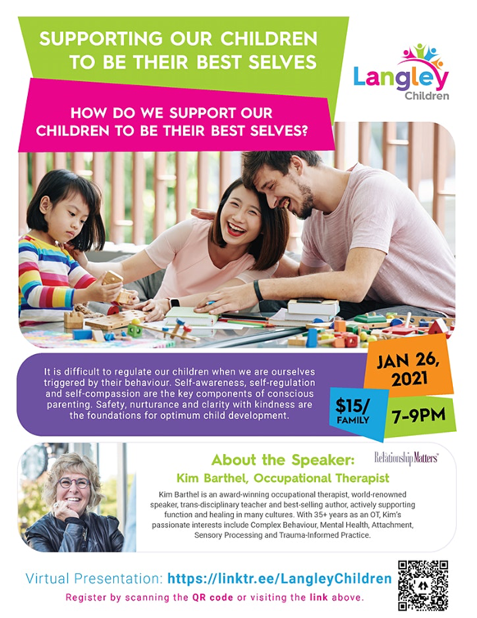 FROM THE DISTRICT:
Be sure to checkout the district's webpage for the latest updates: www.sd35.bc.ca
Kindness T-Shirts
To help fund our programs and to celebrate our mission of making learning UNFORGETTABLE for every Langley student, the Foundation has Kindness T-shirts for sale. They are $20 for adults. $10 for children and they come in all sizes. All proceeds go to support our hungry students and families. Purchase online at www.langleyschooldistrictfoundation.com or contact jdorland@sd35.bc.ca.
Kenyan Curios
In keeping with the Foundation's mandate to support global education, we have included on our website an online market featuring exquisite Kenyan curios. Most have been sold, but a few remain at drastically reduced prices. All proceeds go to support global education. To purchase go to www.langleyschooldistrictfoundation.com and click on PA-MOJA page.
4th Annual West Fine Art Show
The Foundation, in partnership with The West Fine Art Show Society, is holding the 4th Annual Art Show at the Glass House Winery in South Langley. Eighteen professional artists will be showing and selling their exquisite pieces. At the same time, the Foundation will host an online exhibition and adjudication of student art with cash prizes for first, second and third. Photography, paintings and 3-D sculptures are eligible and should follow a theme of COVID-19 and what it has wrought on our society (the positives, negatives, changes, trends). Please send images via email to scairns@sd35.bc.ca and rosemary_creative@hotmail.com.
Friday, March 5, 2021 • 5 pm to 9 pm
Saturday, March 6 • 11 am to 7 pm
Sunday, March 7 • 11 am to 5 pm
QUOTE OF THE WEEK: