Posted: January 17, 2021


Week of January 15th, 2021
First off, thank you. Thank you for being a community that believes in the mission of our school – that true care of our students involves instilling a belief in our kids as learners and teaching them the skills to back up that belief.  I won't deny that I'm passionate about giving kids our very best everyday, and in the words of Rita Pearson "INSISTING that they become the very best that they can be".  I'm so fortunate to work alongside a group of educators who aren't afraid of this challenge and are "born to make a difference." So with that – I have the tendency to get ahead of myself and say "LET'S GO!"…
I also fully that everyone's plate right now is full – beyond full – so when a friend sent me this – it was a great reminder for me this week and hopefully this speaks to you too in an area of your life whether family, health, finances, or work.  With some of these areas, it can feel like we're making very little head way – but it's progress not perfection – and the journey requires patience – I'm still working on this myself 🙂
You're eager to get it now, finish it now, fix it now, know it now. Yet there's a very good chance you could benefit from a little patience.
It's great you're so enthusiastic, and have such a powerful sense of urgency. Just remember though, that good things can take time.
Give the good things in your life the time they deserve. Allow for the time that will make those good things far better than anything you could achieve in an instant.
Take a breath, slow your racing mind and hyped-up expectations. Savor what you're doing, sink peacefully into the moment that is, and avoid speeding ahead too fast.
Don't compromise the quality of your entire future just to get what you want right now. Give the goodness you seek the time it needs to be the best it can be.
Patience multiplies your efforts far beyond what they could otherwise achieve. Give yourself, and your patience, plenty of time and space to bring new richness to life.
Here's the scoop…
PICTURES FROM THE WEEK:
Beautiful Geometic Paper Art in Gold 7 Hallway – the fantastical fusion of fractional Math and Art
Green 8 is displaying their art work and synopsis of the novel No Fixed Address along with Peer reviews of the novel – Great Stuff Ms. Hayne!
The BRAVO board is proudly displayed inside Ms. Paul's room with student's self portraits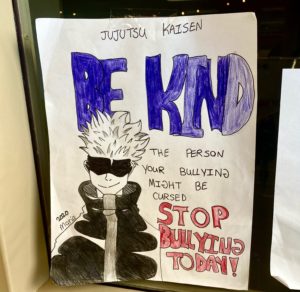 Ms. Sidjak's room in Green 7 is full of creative and powerful Kindness Campaign Posters
A collaboration between our local salmon habitat, OACES program and Green 6  our classes will be learning about the salmon spawning process by nurturing and growing salmon eggs.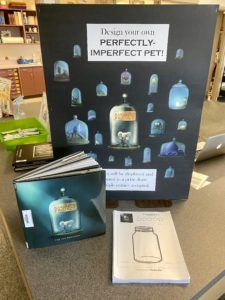 Ms. Jones and Ms. Markle in the Learning Commons are at in again!  In response to reading the Barnabus Project – they have created a contest for our students to design their our "perfect pet".  Some amazing entries have already come in!
Celebrating women role models in STEM ( Science Tech Engineering & Mathematics with Ms. Favero
Ms. Jammu's door in Gold 6 proudly displaying her Literacy wall!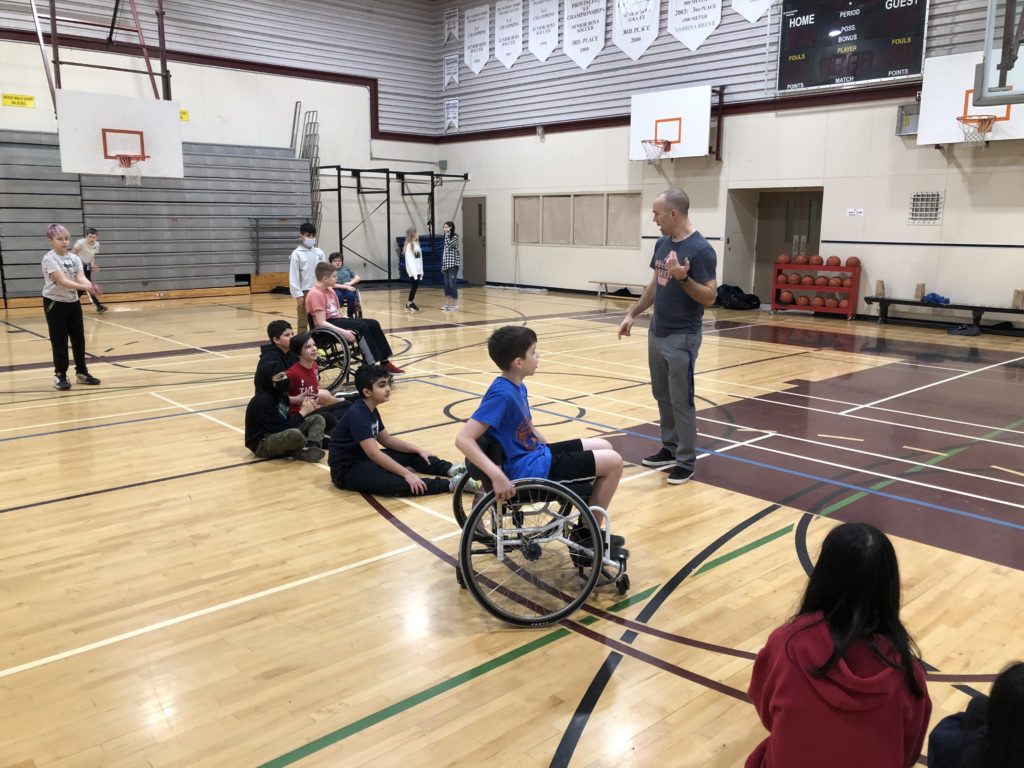 Students in Red 6 are learning the incredible skills required to play Wheelchair basketball with their classmates.
We are very proud to be able to showcase our updated Action Plan for Learning with our staff and community. It has been a collaboration with our Team Leaders, Administration and District Staff – as we continue to work our educational goals as a school and district.
NEW INFORMATION TO SHARE:
FSA ( Foundational Skills Assessment) Change of Administration Dates:
The BC Ministry of Education has adjusted the administration dates for this year's Foundation Skills Assessment (FSA). All Langley students in grades 4 and 7 will now complete the FSA in the new administration window between February 15 and March 12, 2021. 
Information on the exact dates students will write their FSA's will be provided by your child's classroom teacher in the coming weeks. Parents of students in grade 4 and 7 would have received a letter in September from Gord Stewart, Superintendent of Langley Schools, regarding the annual Foundation Skills Assessment (FSA) for the 2020/2021 school year. The letter indicated that this year's FSA would be administered between October 5 and November 13, 2020. The remainder of the information outlined in the letter still applies and if parents have any questions regarding the FSA, please contact the school.
ONLINE RED CROSS BABYSITTER COURSE INFORMATION
Red Cross Babysitter Course Information
This course is designed for youth in grades 6+ who want to become a babysitter or may already be one. The Babysitting Course covers the responsibilities of a babysitter, safety tips for children of all ages, basic childcare skills and what to do in case of an emergency.
Course Details:
Three day course (students must attend all three Zoom sessions)
Tuesday, February 2nd   3pm – 5pm
Wednesday, February 3rd 3pm – 5pm
Friday, February 5th          3pm – 5pm 
Cost $62.10 per student
Register at https://pulsecheck.ca/babysittersbc.html
REMINDER TO FAMILIES ABOUT DAILY HEALTH CHECK FORM:
Health and safety continues to be our top priority. As we start this new year, we want to remind students and families to complete the Daily Health Check. Thank you for your ongoing cooperation and doing your part to ensure our school community is healthy and safe.
The form is available in multiple languages on the District website here: https://bit.ly/2Mw0jo5
GRADE 8 TO GRADE 9 TRANSITIONS – SAVE THE DATES
February 8th @ 6:30pm (Virtual) – Grade 8 LSS Parent Information Night

Event to be hosted via MS TEAMS Live.

February 9th – Course Planning Intro with Grade 8 Classes

During the day  – Schedules will go home to parents for approval.

February 11th – Taste of LSS (Virtual) –

LSS Staff to Virtually Tour the school with Grade 8 students.

February 16th – Grade 9 Course Planning @ HDSMS

LSS Counsellors will be on site to complete the course planning process online with students.
FOUNDRY SURVEY: MIDDLE AND SECONDARY
Plans are in the works to bring a Foundry Centre to Langley to support youth wellness and your help is needed. Youth 12-24 and their caregivers are encouraged to complete a survey to provide their input on the design of the centre and supports that are needed. Send in your response and you can enter a chance to win a $50 gift card (see attached flyers) or complete the survey here: http://ow.ly/NCpz50CPAAp
Our community partner, Encompass Support Services Society, is also looking for youth advisory committee members to contribute to this project.
For more info email: support@encompass-support.com
GRADE 8 PRE – IB PROGRAM INFORMATION NIGHT @ RE MOUNTAIN SECONDARY. 

CLOSED CAMPUS & SKIP THE DISHES REMINDERS
Please be reminded that HDSMS is currently a closed campus to everyone but students and staff.  We are seeing an increased flow of parent traffic to drop off various items throughout the day.  The doors are locked and parents need to call the school first if they require access.
Please DO NOT order Skip the Dishes delivered to the school – this brings an unnecessary safety risk to our building.
PARKING
Just a reminder that there is no stopping/parking on Grade Crescent in front of HD Stafford Middle School. In consideration of our community neighbours and for the safety of our students, please refrain from blocking driveways and crosswalks and jaywalking. Please have a conversation with your child(ren) of where an appropriate place to meet up after school could be. There is lots of available parking by City Park which is just a short walk away for our students.
STUDENT SAFETY AROUND SCHOOLS – WEATHER
With the days growing shorter and the weather changing to rain, fog, and frost, HD Stafford Middle is reminding all our students to take extra precaution when walking to and from school. Please be aware of your surroundings, walk on the sidewalk and with someone whenever possible, and avoid wearing headphones. We also ask drivers in our school community to be vigilant on our roads. Student safety is our priority. Thank you for your cooperation and support in keeping everyone safe.
MASKS AND WATERBOTTLES:
MASKS – Please ensure that your children have their masks each day.

 
WATER BOTTLES – please remind your children that they need to have a  water bottle at school.
STAYING CONNECTED:
HDSMS will continue to work towards being a completely paperless school when it comes to communication with parents. In order to stay informed, please be sure you use at least one of the following on-line methods:
PAC NEWS:
New Information Below:

Here is the NEW HDSMS PAC Constitution and Bylaws

  Any questions or if you are interested in joining our PAC initiatives please contact hdsmspac@gmail.com
COMING UP THIS WEEK:
DAY
EVENT
WHERE/WHO
WHEN
MONDAY
TUESDAY
Intervention Team Meeting
Intervention Team – Counselling Area
9am
 
EA Meeting
Learning Commons
2:15 pm
WEDNESDAY
THURSDAY
FRIDAY
Day 1 –

*Fire Drill

Whole School – Grade Groups
Gr. 6 – 12:15

Gr. 7 – 12:50

Gr. 8 – 1:40
PLANNING AHEAD:
Fire Drill – Friday Jan. 2

Gr. 6 – 12:15 pm
Gr. 7 – 12:50 pm
Gr. 8 – 1:40 pm

MDI (Grades 6 & 8) – Feb. 5 – March 5 (More info to come)
FSAs (Grade 7) – Feb. 15- March 12 (More info to come)
Diversity and Respect Week – February 22 – 26, 2021
March 8th – International Women's Day: The International Women's Day theme for 2021 is #ChooseToChallenge, which highlights the importance of challenging biases and misconceptions in the interest of creating a more inclusive and gender-equal world.
LOVING LITERACY:
Around this time of year, teachers often notice that during Silent Reading some students have lost their focus and reading engagement has diminished.
Based on the work of Gail Boushey and Joan Moser and their Daily 5 book, the following is a worthwhile activity you may wish to try. But, don't just take my word for it, ask Madison or Mike. They have both recently used this strategy and have positive things to say about providing our students with the skills to take responsibility for choosing great books for themselves.
How do you PICK a good book?
P – Purpose:
Does this book serve my purpose? Do I want to learn, to be entertained, to laugh, to cry, to get lost in a fantasy world…?
I – Interest:
Does this book actually interest me? Does it capture my attention?
C – Comprehension:
Do I understand the text? Does it make sense to me?
K – Know:
Do I know most of the words? Can I learn some new vocabulary, but still understand the text?
ATHLETICS UPDATE 🏐🏀⚽🎾🏸🎯🏐🏀⚽🎾🏸🎯
BASKETBALL PRACTICES BEGINNING WITH COVID PROTOCOLS
We are planning to begin Gr. 8 basketball practice in the gym in the morning following all COVID protocols. We've spoken with the coaches and AD, and believe we can provide an opportunity to do this in a safe way.  We will be assigning each class with interested players a hoop, utilizing both gyms on a rotation schedule.   We will be starting with Grade 8 students for now and see how it goes.  If there is a situation where players choose to violate the protocols – they will be asked to leave for the remainder of the season and will not be allowed to return.

MS. LOREE'S COUNSELLING CONNECTION:
Happy New Year!  I hope you all managed to find some time to rest and renew over the holiday.
'Langley Children' is hosting a virtual parenting workshop with Kim Barthel on the evening of January 26th.  Kim is a world-renowned speaker and, in my opinion, one of the most engaging and informative presenters I have seen to date.  If you are interested, I encourage you to register right away as herworkshops fill up very quickly.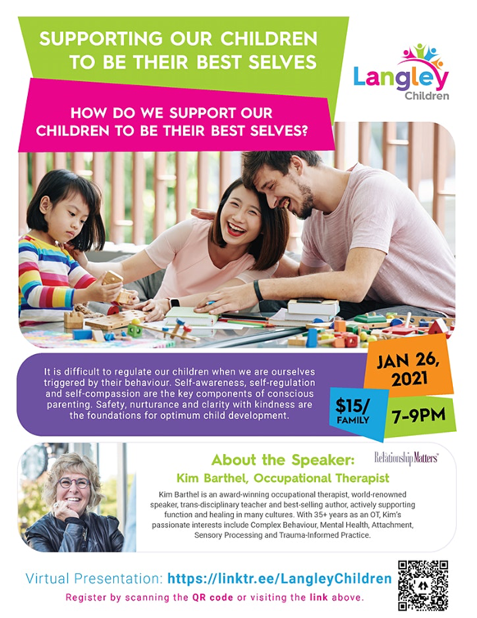 FROM THE DISTRICT:
Be sure to checkout the district's webpage for the latest updates: www.sd35.bc.ca
Kindness T-Shirts
To help fund our programs and to celebrate our mission of making learning UNFORGETTABLE for every Langley student, the Foundation has Kindness T-shirts for sale. They are $20 for adults. $10 for children and they come in all sizes. All proceeds go to support our hungry students and families. Purchase online at www.langleyschooldistrictfoundation.com or contact jdorland@sd35.bc.ca.
Kenyan Curios
In keeping with the Foundation's mandate to support global education, we have included on our website an online market featuring exquisite Kenyan curios. Most have been sold, but a few remain at drastically reduced prices. All proceeds go to support global education. To purchase go to www.langleyschooldistrictfoundation.com and click on PA-MOJA page.
4th Annual West Fine Art Show
The Foundation, in partnership with The West Fine Art Show Society, is holding the 4th Annual Art Show at the Glass House Winery in South Langley. Eighteen professional artists will be showing and selling their exquisite pieces. At the same time, the Foundation will host an online exhibition and adjudication of student art with cash prizes for first, second and third. Photography, paintings and 3-D sculptures are eligible and should follow a theme of COVID-19 and what it has wrought on our society (the positives, negatives, changes, trends). Please send images via email to scairns@sd35.bc.ca and rosemary_creative@hotmail.com.
Friday, March 5, 2021 • 5 pm to 9 pm
Saturday, March 6 • 11 am to 7 pm
Sunday, March 7 • 11 am to 5 pm
QUOTE OF THE WEEK: