Posted: February 21, 2021


Week of February 17th, 2021
This week is Respect & Diversity Week at HDSMS.  It is a week that we celebrate and honour that our strengths as a school community lie in our diversity.   Where we strive to promote inclusion and belonging for all, where black lives matter, love is love and Kindness wins.
Here's the SCOOP…
PICTURES FROM THE WEEK:
The imaginative and endearing creations entered in the Learning Common's Perfectly Imperfect Pets Contest!
Mr. Foerster has the Grade 7 Band HUMMING!  Check out this link to hear the performance!
Green 6 is exploring both circulatory and nervous systems in their adventures in the body!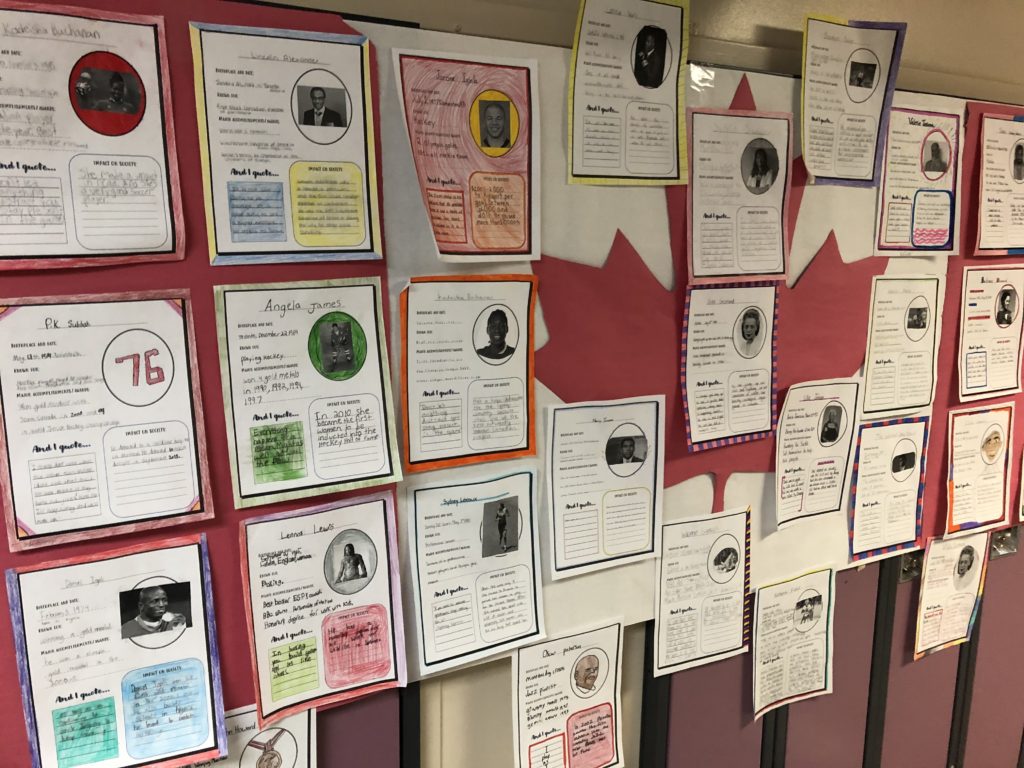 Celebrating Canadian Black Heroes Ouside of Red 7 as we continue to honour and celebrate Black History Month.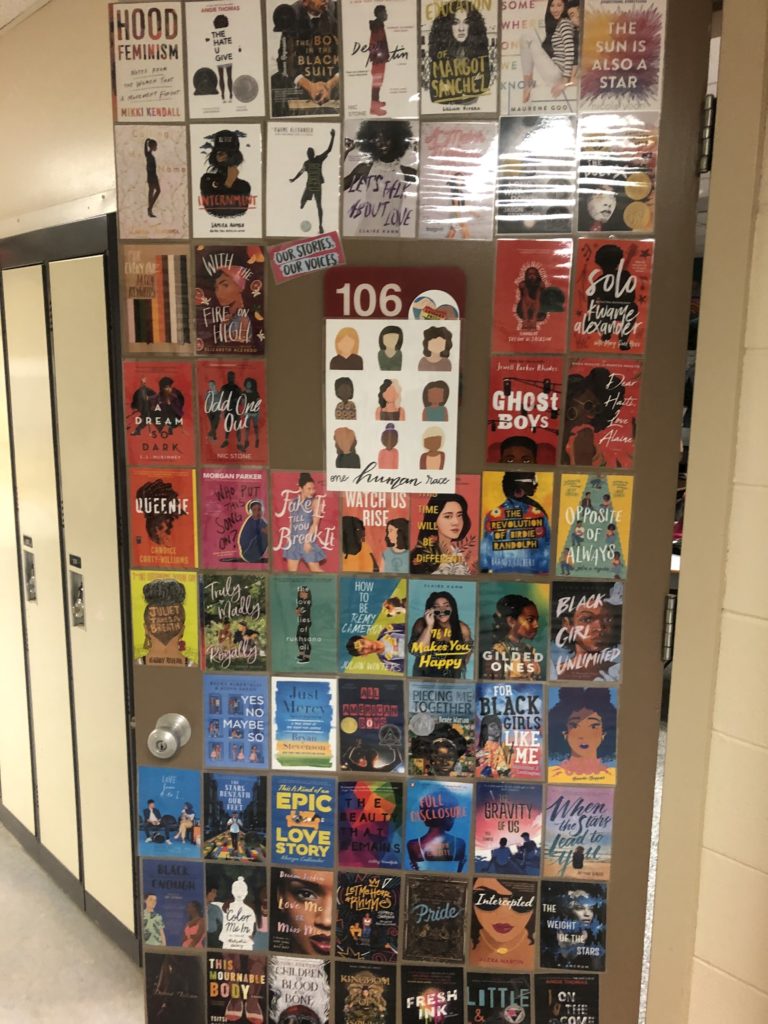 Literacy Displays in Gold 6 – Making "Mug Cakes" with Mr. Lane – and Random Acts of Kindness baskets in the Staff room!
NEW INFORMATION TO SHARE:
WELCOME!
Please welcome ADRIANNA CULLEN to BLUE 7 – We are excited to have her join us until June as will be taking over for Ms. Robinson.
REMINDER TO FAMILIES ABOUT DAILY HEALTH CHECK FORM:
As we enter into enhanced safety measures the health and safety of your children continues to be our top priority. As we start this new year, we want to remind students and families to complete the Daily Health Check. Thank you for your ongoing cooperation and doing your part to ensure our school community is healthy and safe.
The form is available in multiple languages on the District website here: https://bit.ly/2Mw0jo5
VIRTUAL HEART FUNDRAISER
SCHOLASTIC BOOK FAIR IS COMING!
Just a friendly reminder that the Scholastic Book Fair will be in the library learning commons from March 1-5th. Students can preview the books and then order them online. Please come during your regularly scheduled library time! See you then!
HDSMS PHOTO CONTEST FOR STUDENTS!
ENHANCED SAFETY MEASURES FOR K-12 SCHOOLS
The District appreciates all the hard work from students, staff, and families in helping keep our community safe. We continue to work closely with the Ministry of Education and Provincial Health Office. This week the province announced changes to COVID-19 health and safety guidelines for schools. Mask requirements for middle and secondary school students and K-12 staff have been amended. Guidelines have also been strengthened for physical education and music classes.
It is important to note, our schools will need some time to implement these new changes; all changes will be in effect as of February 26, 2021. Your continued patience and support are appreciated. If you have any questions, please contact the school.
Please read below and full details found in the province's news release located on the District website here.
 Changes to Mask Wearing
All middle and secondary students and K-12 staff will now be required to wear non-medical masks in all indoor areas, including when they are with their learning groups. The only exceptions are when:
sitting or standing at their seat or workstation in a classroom;
there is a barrier in place; or
they are eating or drinking.
For elementary students, wearing masks indoors remain a personal choice.
It is important to note, as advised by the province, these changes above do not apply to grade 6 and 7 students attending an elementary school.
Changes to Physical Education and Music Classes
High-intensity physical activities are to be held outside as much as possible. Shared equipment or items, such as weight machines, treadmills or musical instruments, can be used only if they are cleaned between use, according to strict school sanitization guidelines. Students using equipment or playing instruments should also be spaced at least two metres apart and masks are to be used when singing.
FSA ( Foundational Skills Assessment) Change of Administration Dates:
The BC Ministry of Education has adjusted the administration dates for this year's Foundation Skills Assessment (FSA). All Langley students in grades 4 and 7 will now complete the FSA in the new administration window between February 15 and March 12, 2021. 
Information on the exact dates students will write their FSA's will be provided by your child's classroom teacher in the coming weeks. Parents of students in grade 4 and 7 would have received a letter in September from Gord Stewart, Superintendent of Langley Schools, regarding the annual Foundation Skills Assessment (FSA) for the 2020/2021 school year. The letter indicated that this year's FSA would be administered between October 5 and November 13, 2020. The remainder of the information outlined in the letter still applies and if parents have any questions regarding the FSA – please contact the school.
PARKING
Just a reminder that there is no stopping/parking on Grade Crescent in front of HD Stafford Middle School. In consideration of our community neighbours and for the safety of our students, please refrain from blocking driveways and crosswalks and jaywalking. Please have a conversation with your child(ren) of where an appropriate place to meet up after school could be. There is lots of available parking by City Park which is just a short walk away for our students.
STUDENT SAFETY AROUND SCHOOLS – WEATHER
With the days growing shorter and the weather changing to rain, fog, and frost, HD Stafford Middle is reminding all our students to take extra precaution when walking to and from school. Please be aware of your surroundings, walk on the sidewalk and with someone whenever possible, and avoid wearing headphones. We also ask drivers in our school community to be vigilant on our roads. Student safety is our priority. Thank you for your cooperation and support in keeping everyone safe.
MASKS AND WATERBOTTLES:
MASKS – Please ensure that your children have their masks each day.

 
WATER BOTTLES – please remind your children that they need to have a  water bottle at school.
STAYING CONNECTED:
HDSMS will continue to work towards being a completely paperless school when it comes to communication with parents. In order to stay informed, please be sure you use at least one of the following on-line methods:
PAC NEWS:
New Information Below:

The PAC is actively fundraising to continue to "Middle-ize & beautify" our building.  More pictures to come of the scope of our projects – but this will include stairwells, inspirational quotes on walls, engaging displays and a middle makeover of our common spaces. Below is the banners we will be displaying with pride in our Main entrance to celebrate our family of schools.


  Any questions or if you are interested in joining our PAC initiatives please contact hdsmspac@gmail.com
COMING UP THIS WEEK:
DAY
EVENT
WHERE/WHO
WHEN
MONDAY
Design & Assessment Day/Report Card Prep
Teams/School
8:30-11:00 and PM for Report Card Prep
 
Freedom to Read Week
All of us!
Feb 21-27
TUESDAY
Respect & Diversity Week – Wear Black/Brown for BIPOC

All of us!
All Day!
 
Photography Contest Starts
Grade 6-8 Students
Feb. 23 – March 10
WEDNESDAY
Gr. 8 Boys Basketball Practice
Gym
7:50 – 8:35am
 
Respect & Diversity Week –Pink Shirt Day
All of us!
All day!
THURSDAY
TEAM LEADER MEETING
HDSMS LLC
7:15-8:30am
 
SBT
Annex
1:30
 
Respect & Diversity Week –

Wear Rainbow (at least 3 colours) for LGBTQ2+

All of us!
All day!
FRIDAY
Respect & Diversity Week – Wear Grey – Respect for elders and grandparents
All of us!
All day!
 
Report Cards due to Admin
Red/Green – Natalie

Gold/Blue – John

3pm
 
Day 2
PLANNING AHEAD:
FSAs (Grade 7 classes) – 15- March 9, 2021 (online portion can be completed by March 12) ** Please return the booklets to Natalie as soon as they are finished. I must take them to the SBO on March 10 at the absolute latest.
MDI (Grade 6 & 8) – Feb 15 – March 5
March 1 – Middle School Networking Meeting – John and Natalie (Teams) – AM
Food for Thought – Literacy – Learning Commons – March 2!
International Women's Day – March 8, 2021
Early Dismissal March 10th and 11th Parent/Teacher Interviews
March 15-26th – SPRING BREAK!!!
LOVING LITERACY:
Short Story: Thank You Ma'am by Langston Hughes
Preview:  Connecting to the Literature In "Thank You, M'am," a boy learns an important lesson about kindness and trust from a surprising source. Before reading, think about an unexpected act of kindness you have done for someone or someone has done for you.
Background "Thank You, M'am," by Langston Hughes, is set in Harlem, a community in New York. Like many urban areas, Harlem experienced rapid population growth early in the twentieth century. Many single-family buildings were converted into small apartments. The character Mrs. Jones lives in one of these "kitchenette" apartments—a bathroom and one large room with a mini-kitchen in the corner of the room.
Thank You Ma'am by Langston Hughes – PDF
Thank You Ma'am – A Short Film – this short film, though not the greatest production quality, challenges the presumptions we make about the characters in the story and shows an interesting visualization.
Short Story: Jamaican Fragment by A.L. Hendricks
A.L. Hendricks: Arthur Lemière Hendriks (1922-1992) was a Jamaican poet, writer, and broadcasting director (known as Micky Hendriks in his broadcasting career). He was born in 1922 in Kingston, Jamaica, to a Jamaican father and a French mother. He was particularly well known for his contributions to the Christian Science Monitor, The Daily Gleaner, and BIM. He also contributed as a columnist and literary critic to the Daily Gleaner. He died in 1992 at the age of 69.
Summary: 'Jamaican Fragment' tells the story of a Jamaican who witnesses a young white boy "imposing his will upon a little black boy" 'Jamaican Fragment' deals with a Jamaican's internal suspicions regarding racial inferiority in his homeland. As he walks one morning, he notices a young black boy and a young white boy playing in a garden. After a deep observation, he realizes that the white boy was dominating the black boy, while the black boy submitted himself. Struggling to find reason behind the black boy's lack of resistance, the man's 'faith in his people was shaken for the day'. Thus, the lesson brings out the prejudice that almost every person suffers from denominational issues like colour, caste, sex etc.
From The Library Learning Commons
Just a friendly reminder that the Scholastic Book Fair will be in the library learning commons from March 1-5th. Students can preview the books and then order them online. Please come during your regularly scheduled library time! See you then!
ATHLETICS UPDATE 🏐🏀⚽🎾🏸🎯🏐🏀⚽🎾🏸🎯
BASKETBALL PRACTICES BEGINNING WITH COVID PROTOCOLS
We are planning to begin Gr. 8 basketball practice in the gym in the morning following all COVID protocols. We've spoken with the coaches and AD, and believe we can provide an opportunity to do this in a safe way.  We will be assigning each class with interested players a hoop, utilizing both gyms on a rotation schedule.   We will be starting with Grade 8 students for now and see how it goes.  If there is a situation where players choose to violate the protocols – they will be asked to leave for the remainder of the season and will not be allowed to return.

MS. LOREE'S COUNSELLING CONNECTION:
FROM THE DISTRICT:
Be sure to checkout the district's webpage for the latest updates: www.sd35.bc.ca
Kindness T-Shirts
To help fund our programs and to celebrate our mission of making learning UNFORGETTABLE for every Langley student, the Foundation has Kindness T-shirts for sale. They are $20 for adults. $10 for children and they come in all sizes. All proceeds go to support our hungry students and families. Purchase online at www.langleyschooldistrictfoundation.com or contact jdorland@sd35.bc.ca.
Kenyan Curios
In keeping with the Foundation's mandate to support global education, we have included on our website an online market featuring exquisite Kenyan curios. Most have been sold, but a few remain at drastically reduced prices. All proceeds go to support global education. To purchase go to www.langleyschooldistrictfoundation.com and click on PA-MOJA page.
4th Annual West Fine Art Show
The Foundation, in partnership with The West Fine Art Show Society, is holding the 4th Annual Art Show at the Glass House Winery in South Langley. Eighteen professional artists will be showing and selling their exquisite pieces. At the same time, the Foundation will host an online exhibition and adjudication of student art with cash prizes for first, second and third. Photography, paintings and 3-D sculptures are eligible and should follow a theme of COVID-19 and what it has wrought on our society (the positives, negatives, changes, trends). Please send images via email to scairns@sd35.bc.ca and rosemary_creative@hotmail.com.
Friday, March 5, 2021 • 5 pm to 9 pm
Saturday, March 6 • 11 am to 7 pm
Sunday, March 7 • 11 am to 5 pm
QUOTE OF THE WEEK:
See the Top!