Posted: April 24, 2022


Week of April 25, 2022
Happy Sunday Skyhawks Parents & Guardians!
It's hard to believe we are approaching the month of May! We had a week of "new life" here in Skyhawk Nation – with a number of "firsts" in the last two years!  We had a tremendous week with both teams competing and dominating in rugby, some of band students taking a limousine bus downtown to what Harry Potter with the VSO, the Hawk's Nest re-opening thanks to our PAC, Hot Lunch day, building and testing linguini bridges in grade 6, celebrating both Earth Day with our OACES program and our amazing Aboriginal Support Work – Ms. Matthews!!
Here's the SCOOP!
THE WEEK AHEAD AT HD STAFFORD

HD Stafford Theatre Program Presents:
Join us at H.D. Stafford Middle School for a delightful double-feature of fairy tales. We revisit the timeless, familiar stories of Cinderella and Pinocchio, but with a twist: our tour guides are the slapstick, zany clowns of Commedia dell'Arte. Laugh with us as these Italian Renaissance stock-types stumble and tumble through their retellings of the classics with an assortment of hijinks and fourth-wall breaking shenanigans! With their handy-dandy tickle trunk, they will transport you to the magical stories. These days, we can all use a little bit of the medicine of humour. Come one and come all!
Our shows run during the evenings of the 3rd, 4th, 5th, and 6th of May.
Cinderella starts at 7pm; Pinocchio starts at 8:15pm.
Tickets are $15 for one show for adults and $5 for one show for students.
Adults can purchase a double-feature ticket for $20.
Tickets can be purchased at https://www.schoolcashonline.com or at the box-office.
There will be a cash-only concession stand that will sell snacks and drinks between shows.
2022 Langley School Day Game-Bandits Basketball Action 
The Langley School District and the Fraser Valley Bandits are excited to announce our inaugural School Day Game event at the Langley Event Center. We believe that basketball should be inclusive and accessible. Watching the sport at the professional level should be no different. This annual event will promote healthy and active living and is a tangible manifestation of District's vision to create "an innovative, inspiring, and unified learning community." This is a rare opportunity for Langley students to come together and enjoy a shared experience. We will be looking to send a large group from HD Stafford to this game as much of the costs are being covered!  See below:
BANDITS BASKETBALL INFORMATION LETTER FOR PARENTS
Explorations: Multisport & Games!
The main goal of the Explorations program is to have fun, take part in activities, engage in interesting discussions, learn new skills, hangout with friends, meet new ones and spend time with great leaders!
Each week, mentors will lead students through a different sports and group games such as soccer, hockey, badminton, tag and dodgeball to list a few!
Douglas Park Community School, Langley
Tuesday 6pm -7:45pm
Running April 26th – June 7th
For students in grades 4-6
HD Stafford Middle School
Thursdays 3pm -5pm
Running April 28th – June 9th
For students in grade 5 & 6
The applications can be found here:  Multi-Sport Explorations – Big Brothers Big Sisters of Langley
SD35 Drone Camp – UPDATE
The Langley School District and Volatus Aerospace are pleased to offer a Youth Drone Camp for students 12 – 17 years of age at Yorkson Creek Middle School (20686 84 Ave, Langley). Students will learn the essentials of operating drones including piloting, regulations, safety and communication. In addition, students will participate in a drone race against other students. Certified Drone Pilot instructors will provide the students with basic knowledge of drone photography, videography principles and basic drone coding commands. The cost to each student is $50 to participate in this Two-Day Camp. The price includes a t-shirt, camp session and access to the Volatus Aerospace Basic RPAS (Remotely Piloted Aircraft Systems) Ground School online course to prepare for the Transport Canada Basic RPAS pilot certification exam (minimum age may apply).The camp will take place over 2 days with 5-hour sessions on each day, May 14 and May 15, 2022. Please indicate on the application form which session is preferred (mornings or afternoons) and we will try to accommodate your request. This Drone Camp is organized through the School District's Career Education Department. Students will be getting 2/3 ten-minute breaks. Lunch is not provided, however, snacks will beprovided.
Volatus Aerospace Youth Camp Application-including schedule.pdf
New Community Resources/ Opportunities
I wanted to pass along some community supports that are being offered in the near future.  I've attached a PDF to this email with information, workshops and opportunities that are coming up. Some of these events are  time sensitive and are happening in the next week, so I wanted to make sure you had this information in time. I've also included a list of mental health supports that can be accessed locally.

STAFFORD ATHLETICS & AFTER SCHOOL EVENTS
🏐🏀⚽🎾🏸🎯🏐🏀⚽🎾🏸🎯
It was great seeing athletes in our gyms these past couple weeks! Here is the schedule for this week in HD Stafford Athletics!

REMINDERS
We are very excited to roll out the new online Skyhawks Apparel Store to all staff, students and our Stafford community!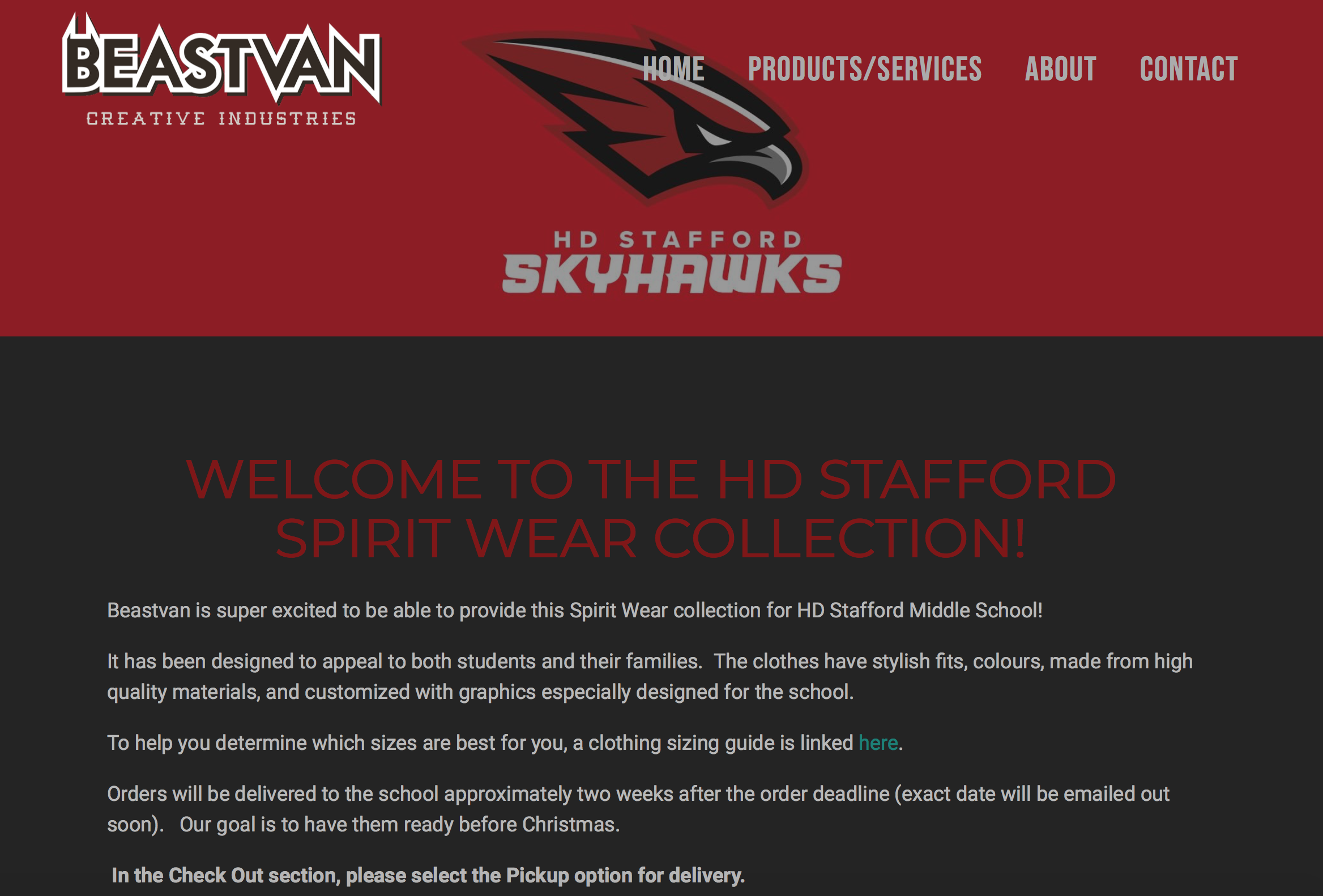 STAYING CONNECTED:
HDSMS will continue to work towards being a completely paperless school when it comes to communication with parents. In order to stay informed, please be sure you use at least one of the following on-line methods:
PAC NEWS:
NEW INFORMATION TO SHARE:
Upcoming Hot lunches are May 9th and treats on June 17th  Order now at www.munchalunch.com
Clearview Hanging Baskets ordering is closed. Vouchers will be given to you through your child's classroom April 29th to be redeemed May 1-31st.
Save the date! The PAC will be hosting a Skyhawks Spring Picnic with lots of games,
beginning after school on Thursday, May 26th, 3-6:30pm Pre-orders for BBQ will be sent out.
Neufeld's orders are coming soon – May 4-18. Get ready to stalk up for BBQ!
The next Hawk's Nest will be open for all Grades on Wednesday, May 4th at lunch with a few food and non-food treats. Students can bring loonies and toonies.
A box is set up outside the office for clothing donations to support the community room and students in need. Please drop off shorts, t-shirts, leggings in various middle-school sizes until the end of this week.
A clarification that the PAC receives a portion from First Aid Hero signups only for classes that are booked online. Apologies for any confusion.
Reminder that if you mention you support HD Stafford at M&M's by Safeway and the Bypass, the PAC will receive a percentage of your purchase.
If you can help the PAC support the school lunch program this Friday, April 29th, please sign up here April 29th school lunch program signup
The next PAC meeting is on Wednesday, May 4th 6:30pm online via Zoom. PAC meetings will alternate between zoom and in person meetings this year. If you're interested to be more involved in the PAC this year or next, reach out to hdsmspresident@gmail.com or hdsmspac@gmail.com.
Keep updated with PAC fundraisers and info through Facebook and Instagram at:
If you have any questions or if you are interested to volunteer at our PAC initiatives, please contact hdsmspac@gmail.com
PAC GENERAL INFORMATION:
Our PAC works to help create effective partnerships between the school and parent community. Building the triangle of support between parent, school, and child will create powerful learning opportunities and ensure our children's success.
Each and every parent or guardian is a member of our PAC. We encourage you to join us for the monthly meetings to participate in the building of PAC community and create learning opportunities for your child.
The meeting schedule for the year – Time: 6:30pm
Wednesday, May 4th, 2022, Zoom
Wednesday, June 1st, 2022 (AGM) HD Stafford Library
The 2021/22 HDSMS PAC EXECUTIVE:
LOVING LITERACY:
FROM THE LIBRARY LEARNING COMMONS:
FROM THE DISTRICT:
Be sure to check out the SD#35 Homepage for the latest Community Opportunities!
QUOTE OF THE WEEK: