Posted: April 24, 2021


Week of April 23rd, 2021
We celebrated Earth Day this week – and with that celebration comes a sense of responsibility to take care of the gift of nature.   I have always been a big fan of the idea of "stewardship" – that as Chief Seattle says "The Earth does not belong to us – we belong to the earth."  Stewardship involves understanding that for our time on the earth we are to do our best to take care of it, to nurture its growth, and ensure that it is ready for the next generation.  Clearly we have some work to do – however I'm optimistic that with our students in exploring OACES infused with Indigenous principles and combined with the global thinking concerning our environment – the is hope for the future.
Here's the SCOOP…
PICTURES FROM THE LAST WEEK:
Makenna & Carmen from Blue 6 took on a tremendous effort these past two weeks to plan, promoting an execute an EARTH DAY BOTTLE DRIVE at the school.  We collected almost 4000 containers and raised over $180 dollars to donate to World Resource Initiatives.  For their amazing efforts – they were presented with our SKYHAWKS OF THE WEEK certificates and T-shirts!  Well Done Ladies!!!!
Green 6-1 made, dried, cut and bagged the seed paper in OACES with Ms. V and Ms. M. for Earth Day to share with everyone in the school!  Well done!
Earth Day was highlighted in the Learning Commons this week with a selection of titles that are environmentally focused. Students could even create poetry around the idea – combining Earth day and Poetry Month!
Infographic Earth Day Medallions were made while Gold 7 hunted on Google Earth for the Northwest Pacific Garbage patch!  The Seed Paper that was created last week by our OACES students was packaged and ready for all classes.
Our own HD STAFFORD Theatre Crew is gearing up for their premiere of WAR OF THE WORLDS – All students can participate in submitting their art work for some key scenes in the Audio Play!
Get to know our staff!  Mr. Van Meer has been taking time to highlight our staff via Instagram with #STAFFORDSTORIES – be sure to check them out HERE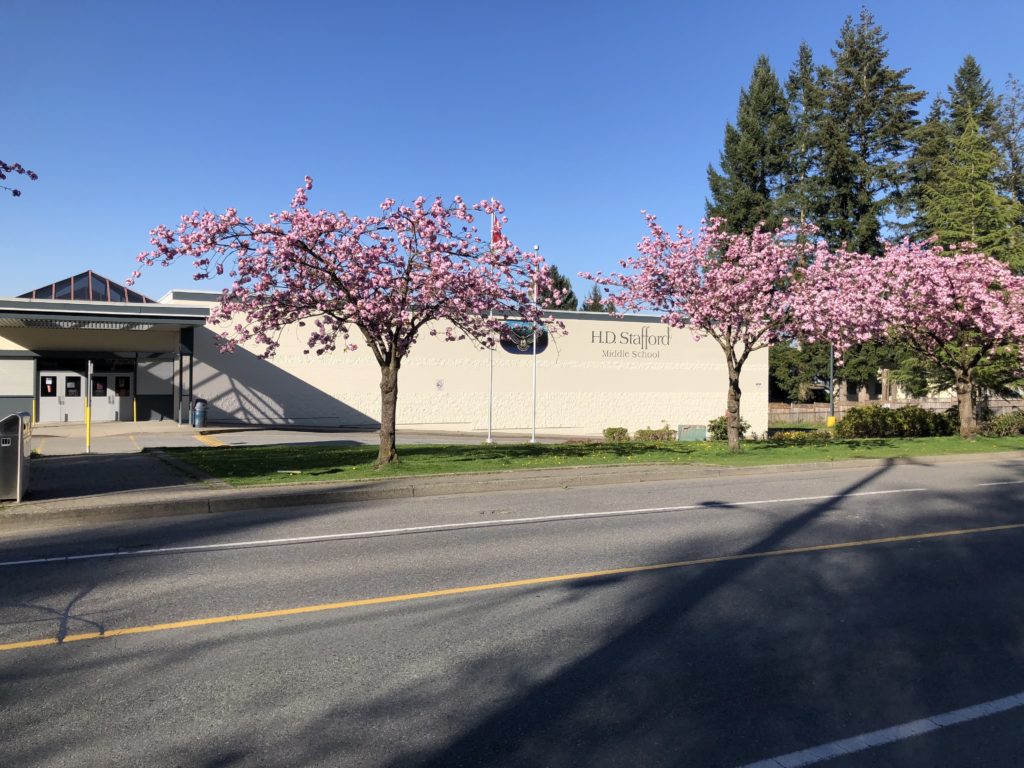 Spring is in the air and blooms in front of the school are amazing!
Whether inside or outside – Grade 8 in Red 8 and Green 8 students continue to engage in problem solving stories and collaborative learning.  Mr. Wood's Class was using the great weather to measure shadows!
NEW INFORMATION TO SHARE:
Family Tech Time – New Interactive Tool from Langley Literacy Network
Want your next talk about screen time, social media, and video games to be more positive with your child or teen? The Langley Literacy Network is launching Family Tech Time, which is a new interactive tool to support conversations in our families and our community around how to use technology to build healthy relationships rather than disrupt them. This tool includes a resource containing questions to help foster positive dialogue on topics including expectations around usage, privacy, consent, and how to enjoy activities on and off screen. You can access the Langley Literacy Network tool and resource on this website here. As part of the launch, you will notice #LangleyTechTime weekly social media campaign posts to highlight talking points that will help empower families over the next ten weeks.
Virtual Parenting Group
I wanted to inform you of a Virtual Parenting Group that one of our clinicians and intern will be running, starting May 4th. We will be running it for three cumulative sessions (parents must agree to attend all three dates) and then hope to run one more round in the beginning of June. In creating this group, we are hoping to be proactive with our services and provide psychoeducation and practical skills to parents during this difficult time. I have attached our flyer which explains a little more as well as our referral form. Although we will accept referrals of parents who have 6-18 year olds, we are hoping to target parents with kids in the 10-14 age range.
If it's too short notice for some, a referral can come in at any time for the next round.
Please don't hesitate to reach out if you would like further information.
LANGLEY YOUTH HUB APRIL CALENDAR
Understanding Our Children's Digital World –  Parent Information Evening
The digital world brings with it potential for many positive experiences but can also have negative impacts. Join us on Tuesday, April 27th for Understanding Our Children's Digital World – A Parent Information Evening. This session will help parents understand the considerations of various digital tools and proactive strategies to help your child and your family use these tools. Presenter and District Teacher, Sandra Averill is a parent, educator, and has been supporting students and parents with internet safety and digital citizenship for the past 14 years. This presentation is suitable for parents with children of all ages. To watch online click on LINK to Understanding Our Children's Digital World Session For more info: https://bit.ly/3mJ1sqx
LSS CHOIR VIDEO:
Patti Thorpe is the music teacher up at LSS and is looking to generate more interest for the Choir Program.  Here is a link to an informative video for any students you feel that may want to sign up for this course!

STUDENTS and MASKS
Please ensure that your children have their masks each day.
Students MUST always have their masks on – in the classroom, including their workstation (even if physically distanced), working on bulletin boards, going to washroom, filling their water bottles up, going outside, in PE class inside, etc.
Masks do not need to be worn when students are eating/drinking, or participating in high intensity activities outdoors (limited physical contact).
In band, the mask can only come off when they are playing their instrument (brass/woodwind).
CANADIAN TIRE JUMP START PROGRAM
Removing Financial Barriers For Kids in Sport
Sometimes, families need financial assistance to get their kids into a sport or physical activity. We're committed to helping all families access a range of activities, from boxing to bowling and skating to skiing, and more.
If you would like to apply for financial assistance to get your child into a sport program please visit
https://jumpstart.canadiantire.ca/pages/individual-child-grants
Our Community Coordinator Brad Hendy is happy to help any families that would like to apply.
Contact: bhendy@sd35.bc.ca
REMINDER TO FAMILIES ABOUT DAILY HEALTH CHECK FORM:
As we enter into enhanced safety measures the health and safety of your children continues to be our top priority. As we start this new year, we want to remind students and families to complete the Daily Health Check. Thank you for your ongoing cooperation and doing your part to ensure our school community is healthy and safe.
The form is available in multiple languages on the District website here: https://bit.ly/2Mw0jo5
PARKING
Just a reminder that there is no stopping/parking on Grade Crescent in front of HD Stafford Middle School. In consideration of our community neighbours and for the safety of our students, please refrain from blocking driveways and crosswalks and jaywalking. Please have a conversation with your child(ren) of where an appropriate place to meet up after school could be. There is lots of available parking by City Park which is just a short walk away for our students.
STAYING CONNECTED:
HDSMS will continue to work towards being a completely paperless school when it comes to communication with parents. In order to stay informed, please be sure you use at least one of the following on-line methods:
PAC NEWS:

NEW INFORMATION FROM THE HDSMS PAC:

Thanks to all those who contributed to the Virtual Hearts Fundraiser! $1120 was raised towards the HD Stafford Beautification project.
Last week's Scholastic Book Fair was a success to promote continuing literacy in the school.
Upcoming Events! Mark on your calendar!

Smencils – Fun scented pencils made of recycled newspapers for Earth Day – April 19-23rd
Clearview Hanging Baskets – Just in time for Mother's Day – April 12-23rd
Neufeld's Savoury and Dessert Items – April 26th – May 7th

  Any questions or if you are interested in joining our PAC initiatives please contact hdsmspac@gmail.com
COMING UP THIS WEEK:
| | | | |
| --- | --- | --- | --- |
| DAY | EVENT | WHERE/WHO | WHEN |
| MONDAY | Middle School Networking | Teams – John and Natalie | 8:15-10:30 |
|   | Expo Rotation #4 Begins | | |
| TUESDAY | Food For Thought – Numeracy | Learning Commons | Lunch |
|   | | | |
| WEDNESDAY | | | 4-6pm |
| THURSDAY | SBT | Library Annex | Block 7/8 |
|   | Mobile Dental Clinic | Outside/Student bookings | Variety of times |
| FRIDAY | Day 1 | | All day! |
|   | JHSC Meeting | Library Annex | 9am |
PLANNING AHEAD:
April 26/27 – First Day of Expo Rotation #4
April 27 – Food For Thought – Numeracy Edition! – Lunch
April 29 – SBT
April 30 – JHSC Meeting 9am
April 30 – Day 1
May 6 – Staff Meeting
May 10-May 20 – Spring DART
May 12 – Gauss Math Contest (For those Grade 7 and 8 students registered)
May 12 – RTI Session #3 (4-6pm Learning Commons)
May 13 – SBT
May 21 – Pro-D Day
May 24 – Victoria Day – No School
May 25 – Class Photos
May 27 – SBT
June 1- Grade 7 Science "Hallway walk"
June 10 – Staff Meeting
LOVING LITERACY:
With the Summer months fast approaching, how cool would it be to begin the dialogue of encouraging our kiddos to sign up or re-discover their love of visiting their local libraries. The FVRL run a ton of contests during the summer months. Recently I showed my reading group my FVRL account, they quickly noticed the fines I have accumulated…oops😊. We took some time and navigated the website. There is a ton of digital content and exciting  platforms to help foster that love of literacy.
From The Library Learning Commons
New Orca Currents! For those students who still want a good story, but without complex vocabulary, give our Orca Currents a try! Come see us at the library for more information.
ATHLETICS UPDATE 🏐🏀⚽🎾🏸🎯🏐🏀⚽🎾🏸🎯
BASKETBALL PRACTICES BEGINNING WITH COVID PROTOCOLS
We are planning to begin Gr. 8 basketball practice in the gym in the morning following all COVID protocols. We've spoken with the coaches and AD, and believe we can provide an opportunity to do this in a safe way.  We will be assigning each class with interested players a hoop, utilizing both gyms on a rotation schedule.   We will be starting with Grade 8 students for now and see how it goes.  If there is a situation where players choose to violate the protocols – they will be asked to leave for the remainder of the season and will not be allowed to return.

MS. LOREE'S COUNSELLING CONNECTION:
Throughout the years I've had the opportunity to spend time with some really angry kids.  Anger is a great way of protecting oneself when being vulnerable is just too scary.  When I find myself getting frustrated, I pull out this visual to remind myself that underneath the angry (and often rude) exterior is a really hurt kid who has learned that expressing anger is way safer than expressing other emotions.

FROM THE DISTRICT:
Be sure to checkout the district's webpage for the latest updates: www.sd35.bc.ca
Digital Citizenship Supports
Just an FYI that we are working on supports that will assist teachers in developing digital citizenship skills with their students. Digital Citizenship skill development is not a "one-off" learning session. The learning needs to be scaffolded throughout the year and over the course of the child's educational journey. To that end, we are developing a scope and sequence to support this learning and will share when it is ready in the Fall. In the meantime, we do have some resources at: https://k12adst.weebly.com/6-7-digital-lit.html
Understanding Our Children's Digital World –  Parent Information Evening
The digital world brings with it potential for many positive experiences but can also have negative impacts. Join us on Tuesday, April 27th for Understanding Our Children's Digital World – A Parent Information Evening. This session will help parents understand the considerations of various digital tools and proactive strategies to help your child and your family use these tools. Presenter and District Teacher, Sandra Averill is a parent, educator, and has been supporting students and parents with internet safety and digital citizenship for the past 14 years. This presentation is suitable for parents with children of all ages. To watch online click on LINK to Understanding Our Children's Digital World Session For more info: https://bit.ly/3mJ1sqx
QUOTE OF THE WEEK: