Posted: April 18, 2021


Week of April 16th, 2021
I'm continually inspired by nature, and the rainbow is one nature's greatest optical phenomenon.  The sighting of a rainbow never fails to bring a smile to people's faces.  They signify optimism and positivity; with them comes the sunshine after the rain.
That or you are in Ms. Chapman's or Mr. Wood's Science 8 class studying Optics :).
Here's the SCOOP…
PICTURES FROM THE LAST WEEK: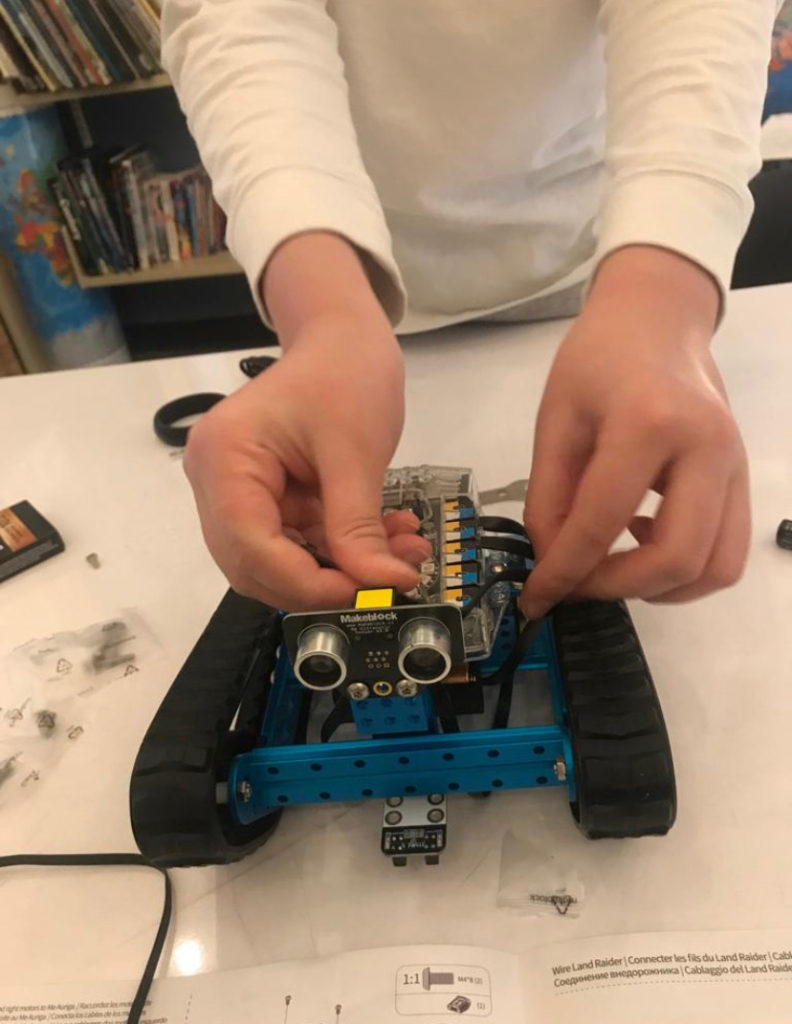 Gold 7 is active using "Maker" techniques – coding and prototyping!
Outside of Red 7 – Students have been walking through the story writing process and have made their own!
There is a new Resident Reader!  Clues are on the board – Do you know where this is?
Outside Gold 6 we see amazing and beautiful student learning and reflections after reading "A Long Walk to Water"
Mr. Mitchell showing his students how to stay safe whlie using the drill press – Hands on Learning time!
Outside Green 6 – our Salmon Hatchery watch as our "school" continues to grow and in looking into body systems with Ms. Kaur.
Black out Poetry outside the Gold 7 Classroom – as beautiful as it is powerful
Greek Gods are showing up all over the place including Mt. Olympus and the hallways of HDSMS!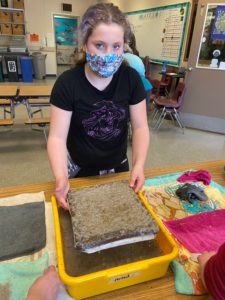 In OACES with Ms. Matthews & Ms. Villeneuve, Blue 6 spent some time creating seed paper on Earth Day!
The power of OPTICS in Science 8 – Gold and Red 8 investigate the properties of Light through magnification and refraction.
Students being challenged with Geometric problems in Blue 7 with Mr. Plocktis – #Problemsolvers!
Gold 6 with Mr. Bruce were also tackling percentile problems using Dezmos and iPads – #Mathletes!
This month we are honouring Sikh Hertitage outside Red 8 – thanks Ms. Bhamra!
Gold 6 Teachers stand proudly with Paige Vanderstar – this week's Skyhawk of the Week!  We weekly celebrate students who reflect our Skyhawk values of Respect, Responsibility, Courage, Empathy, and Kindness in their actions and their efforts at HDSMS.
NEW INFORMATION TO SHARE:
Understanding Our Children's Digital World –  Parent Information Evening
The digital world brings with it potential for many positive experiences but can also have negative impacts. Join us on Tuesday, April 27th for Understanding Our Children's Digital World – A Parent Information Evening. This session will help parents understand the considerations of various digital tools and proactive strategies to help your child and your family use these tools. Presenter and District Teacher, Sandra Averill is a parent, educator, and has been supporting students and parents with internet safety and digital citizenship for the past 14 years. This presentation is suitable for parents with children of all ages. To watch online click on LINK to Understanding Our Children's Digital World Session For more info: https://bit.ly/3mJ1sqx
LSS CHOIR VIDEO:
Patti Thorpe is the music teacher up at LSS and is looking to generate more interest for the Choir Program.  Here is a link to an informative video for any students you feel that may want to sign up for this course!
STUDENTS and MASKS
Please ensure that your children have their masks each day.
Students MUST always have their masks on – in the classroom, including their workstation (even if physically distanced), working on bulletin boards, going to washroom, filling their water bottles up, going outside, in PE class inside, etc.
Masks do not need to be worn when students are eating/drinking, or participating in high intensity activities outdoors (limited physical contact).
In band, the mask can only come off when they are playing their instrument (brass/woodwind).
CANADIAN TIRE JUMP START PROGRAM
Removing Financial Barriers For Kids in Sport
Sometimes, families need financial assistance to get their kids into a sport or physical activity. We're committed to helping all families access a range of activities, from boxing to bowling and skating to skiing, and more.
If you would like to apply for financial assistance to get your child into a sport program please visit
https://jumpstart.canadiantire.ca/pages/individual-child-grants
Our Community Coordinator Brad Hendy is happy to help any families that would like to apply.
Contact: bhendy@sd35.bc.ca
REMINDER TO FAMILIES ABOUT DAILY HEALTH CHECK FORM:
As we enter into enhanced safety measures the health and safety of your children continues to be our top priority. As we start this new year, we want to remind students and families to complete the Daily Health Check. Thank you for your ongoing cooperation and doing your part to ensure our school community is healthy and safe.
The form is available in multiple languages on the District website here: https://bit.ly/2Mw0jo5
PARKING
Just a reminder that there is no stopping/parking on Grade Crescent in front of HD Stafford Middle School. In consideration of our community neighbours and for the safety of our students, please refrain from blocking driveways and crosswalks and jaywalking. Please have a conversation with your child(ren) of where an appropriate place to meet up after school could be. There is lots of available parking by City Park which is just a short walk away for our students.
STUDENT SAFETY AROUND SCHOOLS – WEATHER
With the days growing shorter and the weather changing to rain, fog, and frost, HD Stafford Middle is reminding all our students to take extra precaution when walking to and from school. Please be aware of your surroundings, walk on the sidewalk and with someone whenever possible, and avoid wearing headphones. We also ask drivers in our school community to be vigilant on our roads. Student safety is our priority. Thank you for your cooperation and support in keeping everyone safe.
STAYING CONNECTED:
HDSMS will continue to work towards being a completely paperless school when it comes to communication with parents. In order to stay informed, please be sure you use at least one of the following on-line methods:
PAC NEWS:

NEW INFORMATION FROM THE HDSMS PAC:

Thanks to all those who contributed to the Virtual Hearts Fundraiser! $1120 was raised towards the HD Stafford Beautification project.
Last week's Scholastic Book Fair was a success to promote continuing literacy in the school.
Upcoming Events! Mark on your calendar!

Smencils – Fun scented pencils made of recycled newspapers for Earth Day – April 19-23rd
Clearview Hanging Baskets – Just in time for Mother's Day – April 12-23rd
Neufeld's Savoury and Dessert Items – April 26th – May 7th

  Any questions or if you are interested in joining our PAC initiatives please contact hdsmspac@gmail.com
COMING UP THIS WEEK:
| | | | |
| --- | --- | --- | --- |
| DAY | EVENT | WHERE/WHO | WHEN |
| MONDAY | | | |
| TUESDAY | Intervention Meeting | Counselling Area | 9am |
|   | | | |
| WEDNESDAY | RTI Session #2 | Learning Commons | 4-6pm |
| THURSDAY | | | |
| FRIDAY | Day 2 | | |
PLANNING AHEAD:
April 26/27 – First Day of Expo Rotation #4
April 27 – Food For Thought – Numeracy Edition! – Lunch
April 29 – SBT
April 30 – JHSC Meeting 9am
April 30 – Day 1
May 6 – Staff Meeting
May 10-May 20 – Spring DART
May 12 – Gauss Math Contest (For those Grade 7 and 8 students registered)
May 12 – RTI Session #3 (4-6pm Learning Commons)
May 13 – SBT
May 21 – Pro-D Day
May 24 – Victoria Day – No School
May 25 – Class Photos
May 27 – SBT
June 1- Grade 7 Science "Hallway walk"
June 10 – Staff Meeting
LOVING LITERACY:
April: International Poetry Month
"A time to celebrate poets and their craft."
What this is going to look like here at Stafford:
Our announcement crew will read a famous poem
Poetry Contest in the library
Available Ideas:
https://www.youtube.com/watch?v=FMmSnZKSPI8
Talking up your favourite poem or song
Blackout Poetry
From The Library Learning Commons
Rethinking Easy Reads.
Pernelle Ripp's blog on "Easy Reads": https://pernillesripp.com/2021/03/06/on-easy-books-again/#comments
ATHLETICS UPDATE 🏐🏀⚽🎾🏸🎯🏐🏀⚽🎾🏸🎯
BASKETBALL PRACTICES BEGINNING WITH COVID PROTOCOLS
We are planning to begin Gr. 8 basketball practice in the gym in the morning following all COVID protocols. We've spoken with the coaches and AD, and believe we can provide an opportunity to do this in a safe way.  We will be assigning each class with interested players a hoop, utilizing both gyms on a rotation schedule.   We will be starting with Grade 8 students for now and see how it goes.  If there is a situation where players choose to violate the protocols – they will be asked to leave for the remainder of the season and will not be allowed to return.

MS. LOREE'S COUNSELLING CONNECTION:
FROM THE DISTRICT:
Be sure to checkout the district's webpage for the latest updates: www.sd35.bc.ca
2020-21 Student Learning Survey – Available for Parents
The 2021 Student Learning Survey is now available for students in grades 4, 7, 10, and 12, as well as parents, staff and principals/vice-principals. The student and staff surveys are available in English and French, and the parent survey is available in 16 languages. The survey closes April 30, 2021. (You do not need login information from the school – please select Direct Access)
QUOTE OF THE WEEK: