September 23, 2016
What an awesome week! Can feel all the students and staff really hitting their stride as we near the end of the first month. So much to celebrate! Here is the Hawk Squawk: September 23rd. Please be sure to share with family and friends.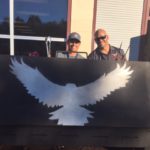 Welcome Back Family BBQ / Meet The Staff Night A Success: On Wednesday we had our annual Welcome Back Family BBQ with over 400 people attending! After a grabbing a hot dog from the BBQ, students were able to introduce their parents, grandparents and other
important adults to their teachers and SEAs! Mother Nature cooperated with a beautiful night! Thanks to everyone who attended and to all the staff for making it such a great success.
Space Travel In Our Refugee Welcome Class: We are so lucky to have had several refugee students from Syria and Karan join our
school over the past few months. They bring such a rich cultural history and a love of learning. During the mornings, they meet as a group to work on their English skills and this past week, they used the
topic of space and planets to further that objective. They made excellent models of our solar system and then presenting their learning to each other.
The Language of Coding: Mr. Brandolini and Mr Grill's classes began working on coding this past week. This topic is part of the re-designed curriculum and is already a favourite of the students. Coding is so
much more than "programming" as it allows students to delve into some of those core competencies of problem solving, creativity and collaboration. It is clear the students are fully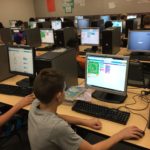 engaged in this awesome learning.
A Balancing Act In Grade Seven: It is so exciting to see so much "challenge based" learning going on in our classrooms. This past week, Mr. Calderon gave his grade 8s two boards and 20 sheets of paper and gave them the task of holding up one student above the ground. As you can see from this video (click here), the class worked
collaboratively on a few ideas before landing on the concept of dispersion to hold the student up. This is a great example of embracing the re-designed curriculum in Science.
Grade 6s Get Organized With H.O.P.S.: This year, our amazing team of Learning Support teachers will be working with all of our grade 6s on how to organize their time, binders and study using a program called H.O.P.S. Students will learn invaluable skills on how to manage all their academics while acquiring time management skills. It will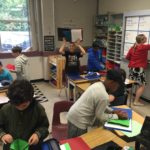 definitely set them up for success this year and beyond!